Cataholic

wrote:

↑

Tue Jun 23, 2020 10:43 am

Here is an article of things that Trump has accomplished while in office.

https://www.washingtonexaminer.com/wash ... se-keeping

I don't agree with some of the items on the list, but to claim that he hasn't done anything while in office is ridiculous. Here are a couple that stand out:

His economic policies have created historic lows for unemployment. The unemployment rates for minorities had never been so low.

Terminated old and created new trade deals with Mexico, Canada and South Korea.

The US has become a world leader in energy under Trumps administration. The US is now the number one producer of crude oil in the world. This energy independence has created jobs and also the ability to make global policy decisions without fearing how the Middle East will respond.

Trump ordered the raid that killed Baghdadi, a terrorist who has killed many Americans. This was part of his efforts to completely eliminate ISIS which had grown in power under Obama's admin.

Pulled out of the awful Iran nuclear deal and placed multiple economic constraints on their economy.

With his threat to pull out of NATO, he has forced NATO allies to contribute significantly more than previous presidential administrations.

Implemented the First Step Act which was focused on addressing the past policies of "mass incarceration". It was fully supported by both parties.

Just last week, Trump signed an executive order for police reform. It was one of the first significant policies for police reform in decades, including the Obama admin which experienced similar unrest with the police (such as Ferguson). Despite this historic step, you only saw criticism in the press and a google search today on Trump executive order will yield results focused on Trump's immigration ban as a result of Covid.
Wow each of those accomplishments could easily be challenged. I don't want to take a lot of time, so I will just hit on the most questionable ones.
Unemployment was trending down when Trump became president. There are few, if any, policies he put in place by his administration that would suggest he had any direct correlational with the continual decrease. Not mentioned of course is that unemployment for Americans and especially minorities are the highest since the Great Depression. Also notable is that the Federal Deficit has hit historical highs (this was before the COVID pandemic) because of the Tax Cut and Jobs Act he signed.
The US energy revolution took place since 2000 with the development of fracking. Unless Trump was involved in that technology, he doesn't get credit...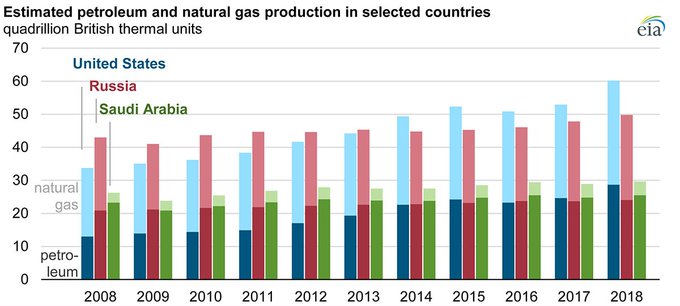 NATO spending from several countries has been ramping up since 2015. Why? Russia's annexation of Crimea (let's not forget Trump held back Congress approved military support to Ukraine for political dirt on Joe Biden).