THE FOUNDATION: Burton is building Vikings from ground up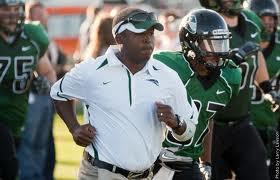 By COLTER NUANEZ
Bobcat Beat
 
Nigel Burton's figurative house isn't a mansion yet, but the foundation has certainly been laid.
 
On the surface, the 12-19 record Portland State's third-year head coach has compiled in the City of Roses seems pedestrian. But take away Portland State's two-point 2011 loss to Saturday's opponent — No. 2 Montana State welcomes PSU to Bozeman for the Bobcats' regular-season home finale — and the Vikings would have been 8-3 and a borderline playoff team.
 
Take a closer look at the Vikings' (2-4 in Big Sky Conference, 3-6 overall) 2012 depth chart. The class PSU inked last February was named the second-best signing class in the Football Championship Subdivision by the Sports Network. Through nine games this season, the fruits of Burton's recruiting work are rising to the surface.
 
A total of 19 freshmen (nine true freshman, 10 redshirt or transfer) have played in a game and the freshmen class has 22 starts among them. Portland State also added three transfers in February and three more before fall camp, including starters junior running back D.J. Adams (Maryland), senior defensive end Marquis Jackson (Texas Southern), junior cornerback Dennis Fite (San Jacinto JC), Zack Ka'ahanui (Northern Arizona) and junior defensive end Nick Alexander (Boise State).
 
Jackson, 6-foot-5, 260-pound athlete, has 6.5 sacks this season, the most by a Viking since 2006. Adams, a 5-foot-10, 210-pound bulldozer, has made just two starts, but he's rushed for 804 yards (fifth in the Big Sky) and eight touchdowns. Fite, a 6-foot-5, 190-pound anomaly, is fifth on the team with 34 tackles and has three pass breakups. Alexander (6-4, 250) has four tackles for loss.
 
"They've actually exceeded our expectations," Burton, a University of Washington safety in the mid-1990s, said. "Recruiting is far from an exact science. Some of the best recruits we've signed at anywhere I've ever been have not panned out. To see these guys come in with the accolades they did and actually earn their way on to the field by beating out veteran players is exciting for our future."
 
The prize of the bunch may be true freshman quarterback Kieran McDonagh. The 6-foot-1, 240-pounder can operate the pistol option attack and play the role of Tim Tebow (333 rush yards, 8 TDs) as well as he can throw with mobility (1,999 passing yards, 13 touchdowns).
 
"Kieran has done an outstanding job," Burton said. "I don't understand how he can't be up for freshman of the year in this conference or nationally with the season he's put together. He's got a great level of accuracy. I'd like to see our receivers help him out a little bit more. His percentages are not just because of him. Then you add his athleticism. I think as the years go, his leadership will grow as well."
 
The injection of concentrated talent into his program has taken a passionate effort on the recruiting trail by Burton. Under former head coach Jerry Glanville (yes, the Man in Black), the Vikings strayed away from recruiting locally. Burton, doesn't have a Texas pipeline and he doesn't bank on California. He believes the greater Portland Area has roughly 40 Division I-caliber recruits and Burton wants them all.
 
"The first thing is you have to get in front of them as much as possible," Burton said. "Whether that's taking advantage of the early contact period or spring recruiting or camps — we work the camp circuit a ton so we can work with guys on the field — or laying the foundation with the high school coaches. We want to be in touch with all the people who can help them in terms of effecting their decisions. I think we did a nice job of getting our story out, what we are about. And getting guys on campus as much as possible. It's all paid off for us."
 
Portland State's challenges have gone far beyond youth. As of Sept. 12, Portland State's defense had given up 744 yards in two games, including six touchdown passes to North Dakota backup quarterback Marcus Hendrickson. The Vikings were 13th out of 13 Big Sky teams in total defense. On Sept. 13, Burton fired Eric Jackson. He has not been replaced.
 
"It was a rough beginning," Burton said. "We are down a coach, but guys have picked up the slack. At that point, we were 13th in the league in total defense. Now we are fifth and I think we are four yards away from being third. I think our staff and our players defensively have really stepped up, in particular controlling the big plays."
 
Burton was the defensive coordinator at Nevada before taking the PSU job. Portland State is giving up an averaged of 387 yards per game. The unit is led by senior linebacker Ian Sluss, the reigning Big Sky Defensive Player of the Week. Sluss has 87 tackles, including 10.5 for loss, two sacks and four interceptions this season. The Vikings have 72 tackles behind the line of scrimmage.
 
Portland State blew a 21-10 halftime lead in a 32-28 loss to Northern Colorado, just the second Big Sky win for the Bears in as many season. The Vikings have struggled to finish this year, losing a shootout to Southern Utah (49-42) and had No. 19 Cal Poly down 25-23 in the fourth quarter.
 
But Burton said he has seen an improvement in intangibles in his three seasons at the helm, from toughness to strength to chemistry.
 
"One (improvement) is a sense of team," Burton said. "I think our team was pretty fractured when we show up. The other was a sense of toughness. When you throw the ball 50 to 60 times a game and the way the practices were structured, it didn't help us with our toughness, especially on defense. People are seeing the pistol for what it is now. It's not a run-heavy offense. It's just a style that helps the run, but we have to stay balanced. You see that. We throw the ball 30 times a game and we run the ball 30 times a game. It's the way it's supposed to be run."
 
Under Glanville, the Vikings ran the vaunted run-and-shoot offense, throwing the ball on nearly every snap.
 
The building of his team has been a concerted effort, one he and his assistants have engaged in to give Viking players a total experience in an effort to mesh quickly.
 
"Shoot, I'm not a genius, but I stole a ton of stuff from Oregon State and Nevada for how we situate our locker room to rotating roommates so guys get to know each other to the multiple barbeques and dinners I have at my house," Burton said. "Everyone is there from walk-ons to staff. We want to get these kids involved with our lives and our families. In the end, that gives them a sense that I'm not just coach, I'm not just the guy who yells at you. I'm a father and I care about you. You've been to my home; you've eaten my chicken. We are here for more than just football."
 
Colter Nuanez can be reached at BobcatBeat56@gmail.com. Follow him on Twitter @Bobcat_Beat. Photo credit to Portland State athletics. 
Categories: