PREPARING FOR THE VIKINGS: Montana State faces stout challenge to whip the pistol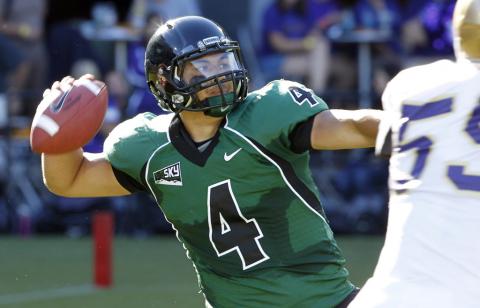 By COLTER NUANEZ
Bobcat Beat
 
Preparing for the option is a unique challenge in itself. Throw in a backfield full of atypical personnel and the Montana State Bobcats must disarm a fully loaded weapon this week.
 
No. 2 Montana State takes on the Vikings of Portland State and their vaunted pistol option attack on Saturday at Bobcat Stadium. In the Vikings' rushing attack, the quarterback lines up in what amounts to a half-shotgun formation, hiding the running back from the defense in the process.
 
Since Nigel Burton took over in 2010, the Vikings have used the attack to rush for an average of 221 yards per game. Last season, PSU rode the slick speed of quarterback Conner Kavanaugh and running back Corey McCaffery to a 7-4 record and a Big Sky Conference-best 248 rushing yards per game.
 
This season, PSU has struggled to finish games defensively, but the 3-6 Vikings are second in the league in scoring offense (35.4 points per game) and total offense (441 yards per game). But the Viking offense has added a new fold. While the team is still third in the league in rushing, quarterback Kieran McDonagh has evolved into a legitimate with his arm. The true freshman is averaging 222 yards per game through the air.
 
"I think the hook this week for our defense is just going to be the scheme," said Montana State head coach Rob Ash, whose team is 8-1 entering its final regular season home game. "This is a different scheme than what we've faced this season. It's a pistol-based option offense run by a quarterback (McDonagh) who is a big man. He's 6-foot-1, 240 pounds so he's almost like a fullback back there, but he has a good arm. He throws the ball extremely well. But then they the run the dive and the pitch, so they run all the phases of the option. Then they combined that with a very sophisticated passing game.
 
"They have the best balance of run and pass of any team we've played all year."
 
Kavanaugh was a breakaway threat, as was McCaffery. McDonagh's size makes him a stark contrast to Kavanaugh's elusiveness under (or rather, behind) center for the Vikings.
 
"Conner was such an explosive runner that they had just as much chance for explosive plays running the football as they did throwing it because he was such a big-play threat," Ash said. "This year, the big plays from the quarterback are coming from the pass instead of the run. But what he is great at is short-yardage, goal-line, 3rd-and-5 type of plays because he is so powerful."
 
Adding to McDonagh's thunder is a stable of tailbacks that can wear down a defense. Including McDonagh, four Vikings have rushed for at least 150 yards this season, led by Maryland transfer D.J. Adams. The bruising 5-foot-10, 210-pound junior is fifth in the Big Sky with 804 rushing yards despite starting just two games.
 
"D.J. is a great player, a transfer from Maryland," Ash said. "He has power and speed. And they keep coming back to him. You can stop him one, two or three times on inside runs or on their pin and pull, but he will just keep coming back again and again until he gets a crease and breaks it. When he gets hot, he gets inspired. We have to try to prevent him from getting on that hot streak."
 
So many weapons in the backfield, including a quarterback with McDonagh's unusual stature brings a special challenge to a Montana State defense that leads the league in five major categories, including ranking among the national leaders by allowing 66 rush yards per contest.
 
"They have a big quarterback, a big kid and they like to run the ball," said senior defensive tackle Zach Minter, who will return to the starting lineup after missing most of MSU's 20-17 win over Sac State last week with a mild concussion. "They have some guys up front who are pretty big. We just have to play assignment-sound football."
 
"It's a pretty unusual body type for a quarterback, but it's intriguing what they are doing with him," Ash added. "Basically, they have a two-back offense with one back. So they have an extra receiver out there that you have to defend as well. Kieran is the fullback and DJ is the tailback. One of them is also the quarterback. They really get two players for the price of one. It really makes it a difficult offense to slow them down."
 
Portland State is fresh off a 32-28 loss to Northern Colorado, only the second Big Sky win for the Bears in the last two seasons. PSU's potent offense combined with a nothing-to-lose contest on the road against one of the FCS' elite has Ash and his troops wary.
 
"I know they were upset last week, which is only going to serve to fire them up for this one," Ash said. "They have a physical football team and they've been close in every game. Plus, they have the ability to put points on the board, which is always a scary thought."
 
'Cat Tracks: Portland State sports information was not certain, but it's believed that McDonagh is the first true freshman quarterback to start PSU's season opener since the 1950s and maybe ever….In 2007, Drew Hubel stared his first game as a true freshman in the seventh week of the season for the Vikings and legendary PSU gunslinger Neil Lomax didn't start until eight games into his freshman season…McDonagh has started all nine games and now has a PSU freshman record of 1,999 passing yards and 13 touchdowns., the most by a Viking since Hubel totaled 2,912 in 2008... McDonagh has run 72 times for 333 yards and eight touchdowns. He is averaging 259.1 yards of total offense per game…Three different players have started at tailback for the Vikings. Adams is the team's leading rusher with 804 yards and eight touchdowns despite starting just two games….No PSU running back has gotten more than 19 carries in a game…Sixteen of Portland State's 38 offensive touchdowns have gone for more than 25 yards…Montana State redshirt freshman Matt Devereux was cleared to practice Tuesday morning and practiced on Tuesday afternoon. He's been out with a concussion after starting MSU's first four games at left guard.
 
 
Categories: