STYLISH SENDOFF: All 17 MSU seniors contribute in blowout win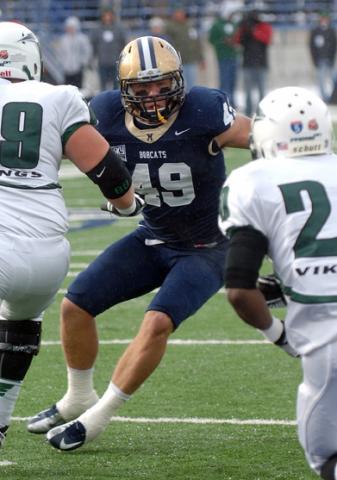 By COLTER NUANEZ
Bobcat Beat
 
Does it get more stylish than that?
 
In the final regular season home game for 17 Montana State seniors, the Bobcats put together an effort no one in attendance will soon forget. The Bobcats scored eight first-half touchdowns in a variety of ways in building a 59-10 lead in their 65-30 win.
 
So dominant was the Bobcat victory that each of the 17 most veteran Bobcats were able to play and contribute.
 
Running back Orenzo Davis and blocking back Tray Robinson contributed to an MSU rushing attack that rolled up 232 yards on the ground. Offensive linemen Shaun Sampson and Steven Foster and tight end Rick Haluszka paved the way. Davis had a 50-yard run to set up a touchdown and averaged 6.3 yards per carry for the game. Haluszka, a Harlem product, found himself open in the flats a few times, but backup quarterback Jake Bleskin couldn't find him.
 
Robinson, Everett Gilbert and Chase Young each caught a pass on a day when junior quarterback DeNarius McGhee hit 10 different receivers. Kruiz Siewing was also on the receiving end of one of McGhee's four touchdown passes, the first score of the season and third of his career for the Saco product.
 
Safety Joel Fuller nearly nabbed his second interception in as many weeks and contributed four tackles to an MSU defensive effort that limited PSU to just two first-half first downs. Cornerback Darius Jones had an interception that set up MSU's first touchdown — a 17-yard burst by junior Cody Kirk — to give Jones four interceptions this season. Cornerback James Andrews broke up a pass, safety Heath Howard made five tackles and cornerback Kazz Siewing broke up two passes. One Siewing's PBUs was nearly a pick and he would have certainly cruised in for six.
 
Linebacker Jody Owens had six tackles, including sniffing out two screen passes and making tackles for no gains. Defensive tackle Brian Bignell had a sack, his fifth of the season despite missing three games and not making a start this year. Defensive tackle Zach Minter collapsed the pocket time and again, helping MSU notch three sacks and 10 tackles for loss. Defensive end Caleb Schreibeis continued to strengthen his candidacy for the Buck Buchanan with a sack, two tackles for loss and two forced fumbles.
 
Despite missing one game due to suspension, the senior captain has 13 tackles for loss, 10 sacks, seven quarterback hurries and a school-record seven forced fumbles.
 
"I was really happy that everybody got to play, especially your Kazz Siewing, Rick Haluszka, your Chase Young that haven't played as much but they've been just as committed," Montana State head coach Rob Ash said following his 48th career win, breaking MSU's all-time record. "They've been super representatives of our program as anybody else and they've never gotten discouraged or down or negative about not playing. They've always just been happy to be part of the team and contributing any way they possibly can. But everybody loves to play, don't get me wrong, so getting them on the on the field and getting them a chance was great. When Kazz Siewing broke on that slant pass and knocked that thing loose, to me that was one of the most satisfying plays of the day. He busts his butt all the time and rarely gets out there and he made two or three nice plays today."
 
With the exception of Davis (Palomar JC transfer) and Robinson (Nebraska transfer), all the Montana State seniors were signed out of high school as part of Ash's first two recruiting classes after taking over in 2007. The group has been a part of 35 of Ash's 48 wins at MSU. It's the most wins by a group of MSU seniors over a four-year span. The win likely sewed up a third straight playoff berth and the team has an outside shot at sharing a third straight Big Sky Conference crown.
 
"This is a great group of seniors, probably the best group I've ever been around," said junior safety Steven Bethley, who intercepted a pass and took it 32 yards for a touchdown on Saturday. "Everybody plays for each other. There's no individual players around here, no one worries about stats. We play together. We knew we wanted to play for them today."
 
Owens, Minter, Gilbert, Jones and Fuller played as true freshmen. The other 12 have been in the program for five years.
 
"To me, they personify everything we try to do when we walked in the door," Ash said. "These are the guys that we went out to find to try to build this program. Now they've been with us for four and five year, now here we are doing great things and it's very, very exciting to know that all that effort that we put into these guys early is now transforming into this great success.
 
"I'll be forever indebted to these guys because they came here before we were good when we were just a new staff. They kind of bought into it sight unseen just based on our personalities and our promises and they've made it work. They've listened to everything we've said. They've done it on and off the field, in the classroom and everything else and winning games right and left. It's an amazing story. They're the basis of our program from the ground up. It's a special day; it's a special group."
 
Colter Nuanez can be reached a BobcatBeat56@gmail.com. Photo courtesy of Jay Thane. 
Categories: