Eligibility update on Montana State's group of transfers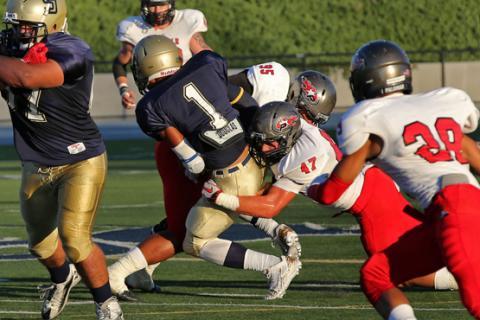 By COLTER NUANEZ
Bobcat Beat
 
On National Signing Day last February, Rob Ash and his coaching staff signed nine transfers. As fall camp approaches, almost all of them are eligible.
 
Senior tight end Beau Sandland, a 6-foot-6, 265-pound transfer from Miami, actually joined the Bobcats last fall. He redshirted and is slated to replace first-team All-Big Sky Conference selection Tiai Salanoa this fall.
 
Junior wide receiver Brandon Brown, a 6-foot, 180-pound transfer from Baylor, and Desman Carter, a 6-foot, 205-pound strong safety from Alabama-Birmingham, arrived on campus in January and participated in spring drills. Both are expected to compete for a starting spot. Bryson McCabe, a sophomore safety transfer from Iowa Western, also arrived in January. The 5-foot-11, 200-pounder who also spent a season at South Dakota State finished spring drills as a backup safety.
 
Montana State signed five other transfers expected to arrive on campus at various times this summer, including sophomore linebacker Marcus Tappan from the FBS ranks. Four junior college players — linebacker Zach Stern and defensive linemen Joe Naotala, Shiloh LaBoy and Jessie Clark — are expected in town before camp opens on August 9.
 
As reported on Monday, LaBoy is on campus and training with the team. The 6-foot-4, 250-pound sophomore spent last season at the College of the Redwoods in California.
 
Naotala, a 6-foot-2, 275-pound defensive tackle from Palomar Junior College in San Marcos, California, told Bobcat Beat that he completed his final summer course last week and is expected to be in Bozeman permanently on Tuesday.
 
Stern, a 6-foot-2, 200-pound outside linebacker from Santa Monica Junior College, told Bobcat Beat he will finish his final summer course this week and is expected in Bozeman on August 3.
 
Clark, a 6-foot-4, 245-pound defensive end from Los Angeles Harbor Community College, has not returned several messages inquiring about his eligibility. He is currently trying to complete two summer school courses. He is thought to be the biggest eligibility concern of any of Montana State's transfers.
 
Colter Nuanez can be reached at BobcatBeat56@gmail.com and followed on Twitter @Bobcat_Beat. 
Categories: