Prukop welcoming the off-season hype surrounding his 'Cats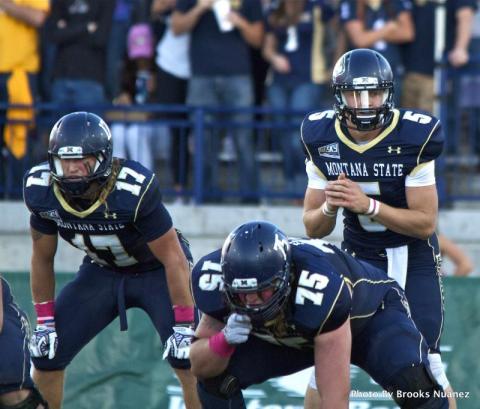 BY COLTER NUANEZ
Bobcat Beat
 
PARK CITY, Utah – The hype surrounding Dakota Prukop has grown throughout the off-season. On Monday, he got the bull's eye squarely placed upon his back.
 
The Montana State junior quarterback was named the quarterback for the Big Sky Conference's preseason all-league team during the Big Sky Kickoff here.
 
The announcement caps an offseason that's seen Prukop land on the STATS FCS Offensive Player of the Year (formerly the Walter Payton) watch list. He spent time working individually with quarterback guru George Whitfield. Even FOX Sports' Bruce Feldman wrote a story about Prukop and Montana State offensive coordinator Tim Cramsey.
 
Last season, the Big Sky featured five quarterbacks who were at one time All-Americas, including Walter Payton Award finalists Vernon Adams of Eastern Washington and Justin Arias of Idaho State. The league also featured the FCS leader in total offense in Sacramento State gunslinger Garrett Safron. All three are gone — Adams transferred to Oregon, the other two graduated — leaving Prukop with the status as the alpha dog quarterback in the league.
 
"It's a motivation factor, a standard that has to be met because the bar is set high," said Prukop, who will serve as a team captain this fall. "But really, this nod is really just a testament to our offense and our coaching staff. You don't win awards by yourself and you for sure don't win awards if you are on a team that is not producing. It's a big award for our offense as a whole."
 
A season ago, Prukop took the league by storm, piling up 2,539 yards passing and nearly 1,000 yards rushing. He totaled 31 touchdowns, including 13 on the ground that included long runs not just goal line bursts. His explosiveness was on full display during a two-week jaunt through California in which he piled up nearly 1,000 yards of offense and piled up 14 total touchdowns as Montana State scored 136 points in wins over Sac State (59-56) and UC Davis (77-37).
 
With the departure of Adams, Arias, Safron and Montana's Jordan Johnson, Prukop and Cal Poly's Chris Brown are the two star quarterbacks in one of the richest quarterback leagues in college football. Despite all the preseason accolades, Prukop isn't buying the hype.
 
"There's no distraction," he said. "None. Since I've been at Montana State, there's been non-stop articles because the quarterback battle was a big thing. That's just a part of the deal. Today, with players, we've grown up with all the social media, Facebook, Twitter, Instagram. All that stuff is normal to our generation. We can handle the exposure. It doesn't distract me at all."
 
MSU head coach Rob Ash, whose team was picked to win the Big Sky by his peer coaches, has had a premier quarterback for the duration of the decade. First, it was two-time Big Sky Most Valuable Offensive Player DeNarius McGhee, a three-time All-America who led the Bobcats to three league titles in four years as a starter. Now it's Prukop, who posted a 7-4 mark in his first season as a starter.
 
"I think he deserves the praise and I think he is the guy," Ash said. "He is one of the top players in the whole country in my opinion. He's got the personality and the persona to handle the spotlight. He's confidence but not cocky or arrogant. And he doesn't think it's going to happen by mistake. He knows he has to prepare.
 
"He's one of those fabulous top tier athletes like a DeNarius McGhee who knows that as good as they are, they still need to work and they can always get better. He studies film, goes to see George Whitfield, goes to extra workouts and is always throwing. He could sit back and think he's pretty good but he NEVER does that. He's working as hard if not harder this summer than he did last summer."
 
For the first time in the history of the Big Sky, a wide receiver was anointed as the preseason Big Sky Offensive MVP. Eastern Washington's Cooper Kupp earned the nod. Kupp, a fourth-year junior, became just the second Big Sky player to snare 100 catches in a season, finishing 2014 with 104. He also set a Big Sky record with 21 touchdown grabs last season and he led the nation with 1,691 yards receiving in 2013. In the first 28 games of his career, he has 197 catches for 3,122 yards and 37 touchdowns.
 
"Preseason stuff is all based on what you've done the year previous and I try my best to, as soon as the season's done, to reflect on that and flush it and let it go because I don't want it to carry over and effect anything I'm working toward next year," Kupp said. "It's cool, it's a great honor but I'm going to go out and play the game I've trained for and put in the work for. Regardless of where anyone thinks I should be, I believe in my preparation."
 
Now Kupp starts anew with Adams' abrupt transfer to Oregon. Jordan West is the slated starter and Kupp said he's got full confidence in the junior. Last season, with Adams on the shelf with a broken foot, West led EWU to a 3-1 record and threw seven touchdowns in the process.
 
"Vernon and I did have a great thing going," Kupp said. "It was great playing with him, a lot of fun and he'll be a lifelong friend to me. Going forward, it will be a different game. Statistically, it doesn't matter how things work out. We will put up points like we need to and whether it's through me, or through Shaq Hill or through the ground game, we will find a way to score. That's all that matters is to make a run for a Big Sky championship and make a run at the national championship we've been striving for. Skeptics can say what they want but it doesn't bother me."
 
The Big Sky has produced a slew of stud defensive ends since the turn of the century, from Idaho State's Jared Allen to Montana's Kroy Biermann to Eastern Washington's Greg Peach to Montana State's Caleb Schreibeis and Brad Daly. All five won the Buck Buchanan Award. Last season, Montana's Zack Wagenmann won the league's Defensive MVP award. Now it seems Southern Utah senior James Cowser is the most dominant defensive end in the league.
 
Last season, Cowser set a Big Sky record of 28.5 tackles for loss. He also piled up 85 tackles and 11.5 sacks. He was named the Big Sky's preseason Defensive MVP during the Big Sky Kickoff.
 
"It's definitely motivation," Cowser said. "People expect a lot of me and they are going to bring their A game so I have to be prepared. I remember being a young guy in the league and looking up to Caleb Schreibeis and Brad Daly and Zack Wagenmann. I knew I had to compete just to keep up with them. To know that there's kids coming after me now, I have to bring my A game.
 
"I'm used to being the marked man. I don't know anything else."
 
The preseason team also included Montana State junior offensive guard J.P. Flynn, also a preseason STATS first-team All-America. Prukop was a third-team All-America pick.
 
Flynn is a 6-foot-5, 325-pounder out of Bettendorf, Iowa. He's working on a streak of 21 straight starts and has earned All-Big Sky honors the past two seasons, including first-team honors last fall. John Weidenaar, a towering 6-foot-9, 295-pound senior from Manhattan, was a preseason All-Big Sky selection at left tackle. He earned third-team All-Big Sky honors last season and is working on a streak of 38 consecutive starts.
 
"Those two are extremely deserving of that honor but we also have other dudes on the line that are deserving as well," Prukop said. "I'm surprised (senior center) Joel Horn is not on that list. Those dudes, they work their butts off, they do the right thing on and off the field and it pays off. I understand that I'm probably the most fortunate quarterback in the league in terms of the offensive line in front of me."
 
Two more Bobcats were named to the Big Sky's preseason team. Chad Newell, a fourth-year junior captain at running back, was named as a special teams player. Taylor Sheridan, a fifth-year senior captain defensive tackle, was named to the defensive team.
 
"Seeing three of our four captains up there was exciting," Ash said. "J.P. and Dakota have been getting a lot of recognition and deservedly so. But I was really happy for the other guys. John Weidenaar, being a four-year starter to finally get some respect, I thought that was huge for him because he is a really good player. He's played that left tackle position forever. Chad Newell of course is one of the best workers in this entire conference and he's a great example of what a college football player ought to be. And same thing with Sheridan. He's fought through injuries and shoulder stingers and committed himself to be tough and to lead. Those are the guys that made me happy."
 
A season ago, Montana State surged to a 5-0 start in Big Sky play behind Prukop and an explosive offense that broke the MSU school record for points in a season. But Prukop's injured knee (against Portland State) combined with a floundering defense that surrendered 33.5 points per game held the Bobcats back. MSU saw its season end at home in the playoffs despite scoring 41 points against South Dakota State.
 
The Bobcats are again the Big Sky title favorites alongside EWU. The two teams have claimed shares of every Big Sky title this decade. The expectations for 2015 remain the same.
 
"The expectation is to win the Big Sky outright," Prukop said. "Goal is to win the national championship. It takes a lot to win the national championship offensively and defensively. I think (new defensive coordinator) Kane Ioane is going to give the defense right. I wouldn't want any other defensive coordinator. He's my guy. I've always loved Kane. Since I've been at MSU, he's always made me feel welcome. He knows what it means to be a Bobcat. He's got the energy, he's got the fire. He's got the young, progressive mindset. With him, our expectation is to win the Big Sky. We have the offense to do it. We have the players to do it. And we want to march on. I want to play 16 games this season."
 
Colter Nuanez can be reached at BobcatBeat56@gmail.com and followed on Twitter @Bobcat_Beat. Photo by Brooks Nuanez, who can be reached at Brooks.nuanez@gmail.com.
 
 
 
 
 
Categories: