Eryon Barnett remembered for his fighter's spirit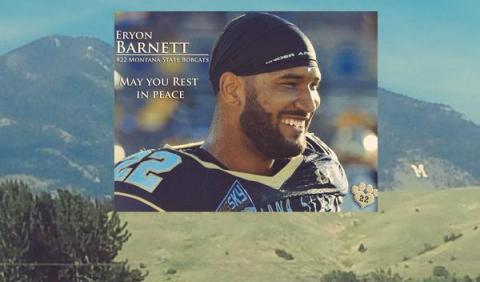 By COLTER NUANEZ
Bobcat Beat
 
Eryon Barnett finally met a battle he could not win.
 
The 24-year-old Dallas, Texas native battled through adversity for most of his life. Even if perseverance was not easy throughout the trials of his youth, one lesson from his father lingered: never leave unfinished business.
 
"In Texas, football is like the sunrise and the sunset. It's going to happen. And one thing I tried to teach my son is when we start something is that we have to finish it," Elzie Barnett, the head football coach at Wilmer-Hutchins in suburban Dallas, said during a phone interview earlier this month. "The course Eryon had to navigate was a very difficult course. But when you think about Eryon, him playing football and being able to graduate, to overcome all those injuries and all the adversity and still get it done, it's extremely remarkable."
 
Barnett faced a devastating knee injury as a high school senior, a year that also saw him have to move in with his once and future teammate DeNarius McGhee. Barnett again blew out his knee during his third year at the University of Texas. He decided to transfer to Montana State where McGhee and fellow Euless Trinity High standout Tray Robinson had already carved out roles as program cornerstones. At Montana State, he had to redefine his identity while battling shoulder and neck injuries that would cost him games each of his three seasons in Bozeman.
 
By the end of the 2013 season, it looked like a once-promising career would finish in lackluster fashion. But Barnett, a 6-foot-2, 210-pound safety with range, loved the game so much, he petitioned the NCAA for a sixth year and won yet another battle. He returned for 2014 only to face his fiercest opponent yet.
 
In the spring leading up to his sixth season, Barnett missed part of spring camp because of severe abdominal pain, an affliction that would later be diagnosed as the first of many bad flare ups of pancreatitis, an inflammation of the pancreas. Another flare up struck in August, causing Barnett to miss a week of fall camp. Perhaps the biggest blow came when pain struck the day before Montana State departed for a huge road game at Cal Poly. Barnett missed that game in San Luis Obispo, an MSU loss, and the next contest too before returning for MSU's signature win, a 44-39 victory over Idaho State that included a Barnett interception.
 
Again, Barnett rallied, participating with fellow 2014 seniors Robert Marshall and Alex Singleton at Montana State's Pro Day and shining. Barnett looked fluid and strong despite spending the previous week in the hospital. He seemed optimistic about his future even if the NFL was a long shot.
 
In May, he earned his degree in sociology. By June, he had a full-time job at the local Verizon Wireless store. By the 4th of July, he was dead.
 
Barnett was hospitalized on July 2 because of what family said was his sixth severe pancreatitis flare up in the last year. At 3:30 p.m. on July 4, Barnett stopped breathing and was pronounced dead. The news sent shockwaves through the Montana State and University of Texas families as the heartache reached the borders of Big Sky country all the way down to the Lonestar State.
 
"Eryon is tough so I knew when he was sick, it was serious but I had no idea the extent of it," said Montana State co-defensive coordinator and safeties coach Jamie Marshall, Barnett's primary coach for his three years at MSU. "When he went in last spring, it was some pretty serious stuff and he had surgery (to remove his gal bladder). And it was reoccurring again toward the end of August and he went to Billings and it seemed like he had it taken care of. But you never think of the death part of it even if it's serious.
 
"I'm so sad for his family, his mom and his son and all his little brothers and sisters who are still around. This one is a tough pill to swallow."
 
Many Bobcats were at the Bozeman-area wedding of Montana State secondary coach and former MSU captain Michael Rider when the news of Barnett's death came down the pipeline, including head coach Rob Ash. Mike Gaus, the father of McGhee and a fervent Bobcat supporter, called Ash on his cell phone. Ash figured it was to check in on the evening's festivities. After a brief exchange Gaus told Ash the tragic news.
 
Barnett and McGhee had been close like brothers for more than a decade. Barnett lived with Gaus and McGhee during their sophomore year at Euless Trinity. Gaus had been unable to reach McGhee so he asked Ash to tell his son.
 
"Boy was that tough," Ash said. "They were just good friends. Him and Tray Robinson and Barnett, they were like brothers. DeNarius took it really hard. It was so emotional for him. It was one of the hardest things I've ever had to do."
 
Barnett had a much-beleaguered career under Ash and Marshall, a three years filled with ups and downs, much scrutiny but also moments that were purely spectacular. His leaping interception against Eastern Washington showed his marvelous athleticism. His quick reflexes were on display when he snared the tipped pass against Idaho State. He also had a couple of bone-crushing hits, one in particular against Montana in 2013 that actually sidelined both players involved.
 
He ended his career with 17 starts and two interceptions, modest stats at best for a one-time five-star recruit who played in the Big XII as a freshman. But Ash will remember Barnett for much more than his statistics.
 
"His legacy in my mind is that he was such a battler," Ash said. "He was so blessed with an array of physical skills – height, speed, athleticism, toughness. But when it came to the maladies, the injuries, the sicknesses, he just seemed to get them all the time. It was such a contradiction in his life. He was one of the most gifted athletes I've ever seen and he had as difficult a time as anyone I've ever coached in terms of adversity."
 
Barnett walked like a cowboy and carried himself with a swagger that accentuated his apparent confidence. Regardless of injury, he was always the leader of the pack, an alpha dog in whatever room he was in, using his charm and his smile to win others over.
 
Marshall spent more time with Barnett than most of the other MSU coaches, particularly after Barnett moved from cornerback to safety before the 2013 season. A little more than a week before his death, Barnett came to Marshall's office. He told his former coach of his job at Verizon and his plans to go back to Texas to help one of his brothers get situated and be closer to his son. Barnett also beamed with pride when speaking of his mother, Stephanie Mooring, who had moved to Bozeman for Barnett's senior season and helped him along the way.
 
"I'll always remember him as a guy who cared a lot about his friends and his family," Marshall said. "He was always a guy who would poke and prod you and try to get under your skin and he would at times, too. He was successful at getting people riled up a little bit. But at the end of the day, those same people he was riling up, he cared a lot about them."
 
Barnett leaves a clan of family behind. Barnett's son, Beckett Jace Woolard-Barnett and Beckett's mother, Sarah Woolard, along with 11 younger siblings, his mother Stephanie Mooring, his father Elzie Barnett and stepmother Edith, two grandmothers, and others, survive him.
 
"No matter how bad it was, he wouldn't let you know how bad it was," Elzie Barnett said. "He always gave you the same old company line: 'I'm ok. I'll be all right. It's not that bad.' It was routine to him. You never thought it would come to this.
 
"When I got that call, I went blank," Elzie continued, emotion ringing in his voice. "It was unreal. When we think of our children, we don't ever think of getting a phone call like that."
 
Days after Eryon's death, Elzie and his wife Edith flew up to Montana to memorialize their fallen son. On July 13, a second service was held in Irving, Texas. McGhee, Robinson and former MSU defensive end Preston Gale attended. All three declined to comment for this story out of respect for Barnett's memory and his family.
 
During what Elzie called the most difficult afternoon of his life, he held Beckett, Eryon's two-year-old son who was born in September of 2013. He couldn't help but think the things he'd tell his grandson about his late son.
 
"I held Beckett at the funeral service here in Dallas and he's a carbon copy of Eryon," Elzie Barnett said. "Me and my son, if ever there was a thing of having a perfect relationship, we had that. So I have high school videos, peewee videos, pictures, scrapbooks, college letters, graduate pictures. When Beckett comes over to Papa — because I'm Papa now — when he comes over to Papa's house and he wants me to tell him about his dad, I will tell him."
 
MSU linebackers coach Jody Owens shares Barnett's Texas roots and Montana love. The Mesquite native came to MSU in 2008 and left as the 2012 Big Sky Conference Defensive Most Valuable Player. Now he's back as a full-time assistant. The first time he met Barnett in 2012, he knew he'd fit right in.
 
"He loved to fish and he loved football. That mixture made this the perfect place for him," Owens said two days after Eryon's death.
 
Barnett's social media is filled with pictures of him fishing in the early mornings and at sunset. When Sarah Woolard, the mother of Barnett's son, first met Barnett back at Trinity High, she remembers him as a "social butterfly" and "such an amazing athlete." She doesn't remember him as much of a fisherman, but once he came to Montana, he fell in love with some of the most pristine waters in the world.
 
Beckett was born during what should have been Eryon's fifth and final season playing college football. When he applied for a sixth year and got it, it sparked a bit of a disagreement with Woolard, a 25-year-old lives in Arlington. She wanted Eryon to be close to Beckett. Barnett felt chasing his NFL dreams would best suit his son.
 
After finishing his degree, Barnett had what Woolard called "a change of heart." For the three months before his death, Barnett would FaceTime with his son almost every day in preparation to his move back to Dallas by the end of the summer to be closer to him. Now only the memories of the summer and stories of those who remember him will linger on for Beckett.
 
"The most important thing I want Beckett to know is that Eryon loved him and did want to be with him," Woolard said in a text message. "I will make sure to take Beckett fishing because that's what Eryon always wanted to do with his son. I know they both would've loved it."
 
Robinson and his wife Gabby have established a fund to help the family with expenses at www.gofundme.com/Eryon-Barnett.
 
Colter Nuanez can be reached at BobcatBeat56@gmail.com and followed on Twitter @Bobcat_Beat. Photo courtesy of Jeff Krogstad, Krogstad Photography.
 
 
Categories: