Prukop named to STATS FCS Offensive POY watch list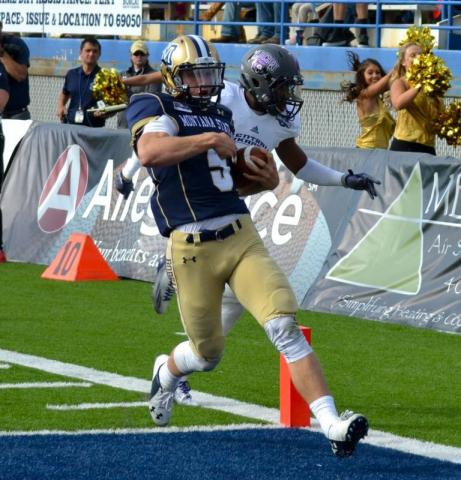 By COLTER NUANEZ
Bobcat Beat
 
On the first day of spring drills at Montana State, Dakota Prukop did not hold back when declaring his personal expectations for his junior season.
 
"Last spring, I was in a battle to be this team's starting quarterback," Prukop said. "Now I'm in a battle to be the best quarterback in the nation."
 
On Monday, the electric playmaker landed himself on the STATS FCS Offensive Player of the Year award watch list alongside several of the most elite quarterbacks in the FCS.
 
Last season, Prukop burst onto the scene in his first year as Montana State's starter. After outlasting Jake Bleskin and Quinn McQueary in a quarterback battle that raged through all of spring drills and the first two weeks of fall camp, Prukop went to work showing his tremendous dual-threat skills and his ability to run Tim Cramsey's triple-option spread offense almost flawlessly.
 
After struggling to find his footing against FBS Arkansas State, Prukop showed his explosiveness in his home debut against Division II Black Hills State. He ripped off rushing touchdowns of 60 and 57 yards while throwing touchdowns of 43 and 33 yards in finishing his first start at Bobcat Stadium with 176 yards rushing and 202 passing, all in one half of work.
 
He racked up nearly 370 yards of total offense in a 43-33 win over Central Arkansas and he piled up 316 yards and threw four touchdowns in a narrow 52-51 loss against Eastern Washington. When the Bobcats hit the road again, Prukop really caught fire.
 
In a 59-56 win over Sacramento State, Prukop rushed for 140 yards and three touchdowns, including a ridiculous 49-yard burst in which he looked like the fastest player on the field. He also threw for 348 yards and five scores. The next week against UC Davis, he rushed for 148 yards and two scores while throwing for 361 yards and four more touchdowns, including bombs of 75, 65 and 46 yards.
 
By Week 10, many thought Prukop was a Payton favorite as the Bobcats held a 7-3 mark, including 6-1 in Big Sky Conference play. The results were even more lofty considering Prukop had taken over for two-time Big Sky MVP DeNarius McGhee, a four-year starter who led the Bobcats to three Big Sky crowns.
 
But Prukop's magic ran out as he sprained his knee against Portland State. He did not play in a 44-39 win over Idaho State or a 34-7 loss at Montana. He returned to throw for 280 yards in a 47-41 playoff loss to South Dakota State but was clearly hobbled. Still, Prukop finished with 3,211 yards of total offense and 31 total touchdowns in his first year at the helm.
 
The 6-foot-2, 195-pounder enters his junior year as one of the top gunslingers in the best offensive league in FCS football. He's also one of five quarterbacks who were finalists for the 2014 Walter Payton Award who return to headline the 2015 FCS Offensive Player of the Year watch list.
 
Villanova senior John Robertson, the 2014 Walter Payton Award winner, is the favorite again. Other 2014 finalists named to the preseason watch list were quarterbacks Jacob Huesman of Chattanooga, Vad Lee of James Madison, Alex Ross of Coastal Carolina and Prukop.
 
In 2014, Robertson led the FCS in passer efficiency (182.9) while completing 67 percent of his passes for 2,629 yards and 35 touchdowns against just three interceptions. He also rushed for more than 1,000 yards and 11 touchdowns as Nova went 10-2. Robertson earned 66 first-place votes and 467 points overall, outlasting Eastern Washington quarterback Vernon Adams and Idaho State quarterback Justin Arias.
 
Adams, the Payton runner-up two years in a row, surprisingly transferred from EWU to Oregon during the off-season and will compete for the Ducks' starting job pending his completion of summer school in Cheney. Arias, a senior in 2014, helped lead ISU to an 8-4 record by throwing for an FCS-best 4,076 yards and 38 touchdowns.
 
With the departure of Arias, Adams, Montana star Jordan Johnson and Sac State stud Garrett Safron (the FCS' leader in total offense last season), Prukop is the presumptive king of the Big Sky. But he'll have plenty of competition for the best in the FCS.
 
Robertson is a proven commodity. Lee, a former Georgia Tech transfer, threw for 3,462 yards and 30 touchdowns for James Madison last season to finish fourth in the Payton voting. Ross, the 2014 Big South MVP, set a conference record with 4,068 total yards. And Huesman, the son of Chattanooga head coach Russ Huesman, helped lead the Monarchs to the FCS quarterfinals by totaling 37 touchdowns.
 
Other returning 2014 Payton finalists include: running backs Marshaun Coprich of 2014 FCS runner-up Illinois State, Khairi Dickson of Saint Francis, Chase Edmonds of Fordham, Connor Kacsor of Dayton, Dy'Shawn Mobley of Eastern Kentucky and Herb Walker Jr. of Morgan State, as well as Eastern Washington wide receiver Cooper Kupp.
 
The 2015 watch list also featured quarterbacks John Gibbs Jr. of Alcorn State, Troy Mitchell of Western Carolina, Tre Roberson of Illinois State, Carson Wentz of four-time reigning national champion North Dakota State and Dalyn Williams of Dartmouth; running backs Tarik Cohen of North Carolina A&T, Johnta Hebert of Prairie View A&M and Darius Victor of Towson; and wide receivers Ed Eagan of Northwestern State and Darrin Peterson of Liberty.
 
The FCS Offensive POY was formerly known as the Walter Payton Award since its inception in 1987. The FCS Defensive POY award was formerly known as the Buck Buchanan Award since its creation in 1995. The FCS Coach of the Year award was formerly known as the Eddie Robinson Award since its creation in 1987. STATS Inc. bought The Sports Network, previously the leader in FCS sports coverage. It's yet to bet determined if former TSN CEO Mickey Charles will grant STATS the rights to the names of the hallowed FCS awards.
 
No Bobcat has ever won the Payton. Caleb Schreibeis captured the Buck Buchanan in 2012 and Brad Daly followed by winning the award in 2013.
 
Colter Nuanez can be reached at BobcatBeat56@gmail.com and followed on Twitter @Bobcat_Beat. Photo by Brooks Nuanez.
 
 
Categories: