Gallatin Valley coroner confirms Barnett's cause of death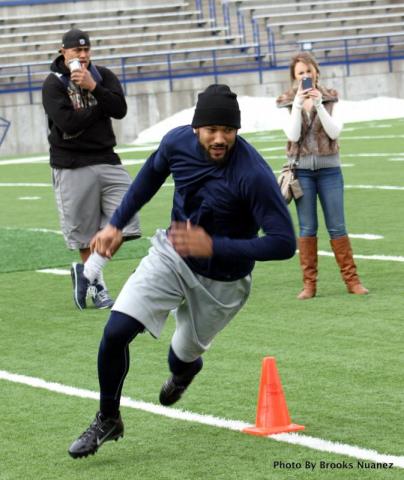 By COLTER NUANEZ
Bobcat Beat
 
Editor's note: a full tribute to Eryon Barnett will be available on Bobcat Beat at a later date.
 
Following the untimely death of former Montana State football player Eryon Barnett on the 4th of July, the Gallatin Valley Sheriff coroner released a cause of death on Tuesday.
 
As suspected, Barnett died from complications stemming from pancreatitis. The disease forced Barnett into the hospital on three other occasions in the last year and a half. He was hospitalized on Thursday before he stopped breathing and suffered cardiac arrest at 3:30 p.m. on Saturday.
 
"We're heartbroken by the loss of Eryon Barnett," MSU coach Rob Ash said in a statement. "He fought through so much as a football player, and always showed a resilient spirit that everyone that knew him drew from and admired."
 
Barnett, a native of Euless, Texas, played in 34 games for the Bobcats over the past three seasons, including 14 starts in 2013 and 2014 combined. As a sixth-year senior, Barnett started in nine games, notching 37 tackles and snaring two interceptions as MSU's strong safety.
 
Barnett missed part of fall camp and three games during the 2014 season due to ailments stemming from pancreatitis. Last spring, Barnett was rushed to the hospital during fall camp because of a pancreas flair up and ended up having his gal bladder removed. He also had an endoscopic retrograde cholangiopancreatography (ERCP) performed to help ease his pancreatic ductal problems.
 
In August, he had another episode that caused him to miss a week of fall camp. The Friday morning before MSU departed to play a pivotal Big Sky Conference game against Cal Poly, he had an episode that forced him to drive to the emergency room in Billings. He was in the hospital all weekend, missing MSU's 35-27 loss in San Luis Obispo.
 
"It's been frustrating because it's one of those things you can't control," Barnett said last November. "I woke up the morning before Cal Poly and my stomach was hurting. I got up and took a shower and realized what it was so I rushed to the ER. It really hurt me because I felt being a senior, I felt I let the guys down being there at the game. The fact that we didn't win the game made it worse."
 
Barnett also spent a week in the hospital in March leading up to his Pro Day workout for three NFL scouts. Just days out of the hospital, the 6-foot-2, 200-pound Barnett showed off his impressive physical skills. He measured a nearly 80-inch wingspan.
He notched a 31-inch vertical, 9-foot-6 in the broad jump, a pair of 4.55s in the 40, a 6.57 in the 3-cone, a 4.39 in the short shuttle and a 11.61 in the long shuttle.
 
"I was impressed with my performance today since I was going through the pancreatitis thing and that I missed a few games," Barnett said. "I actually just got out of the hospital last week. Usually I was supposed to have this week off but I decided to grind out this last week. Took Saturday off to recover and get to today. I was a little surprised. I hope wit the numbers I put up, that reopened the book."
 
Barnett's internal organ battles were just a portion of the physical adversity he encountered as a football player. While prepping at Trinity High, he was among the top ranked defensive back recruits in the country. Despite tearing his ACL as a prep senior, he still signed with the University of Texas. He played in 2010 before reinjuring his knee and missing the entire 2011 season.
 
Barnett's former coach at Texas, Mack Brown, tweeted, "Thoughts and prayers for Eryon's Family & Friends. He left us way too soon. RIP."
 
Barnett transferred to MSU before the 2012 season partially because of his connection with former Bobcat captains DeNarius McGhee and Tray Robinson, also Trinity alums.
 
While at MSU, Barnett battled shoulder injuries as well as internal issues, yet still contributed to 26 Bobcat victories in three seasons.
 
"He obviously has a tremendous love of the game because he keeps coming back," Ash said last fall.
 
Colter Nuanez can be reached at BobcatBeat56@gmail.com and followed on Twitter @Bobcat_Beat.
 
 
 
 
 
Categories: