Colstrip's Sessions is 2nd O-line commit for 2016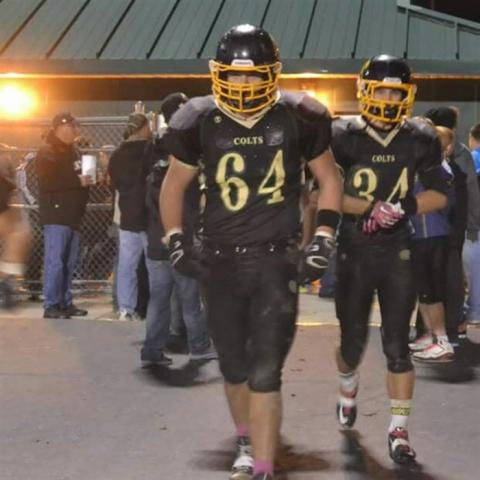 By COLTER NUANEZ
Bobcat Beat
 
Jake Sessions must've really liked his trip to Bozeman.
 
Sessions, a 6-foot-5, 270-pound offensive linemen from Colstrip, verbally committed to Montana State via Twitter. In his first-ever tweet around 7 p.m., Sessions said:
 
"Verbally committed to the Montana State Bobcats!!! Super pumped! #BobcatNation #gocats."
 
Sessions has yet to be reached for comment. Sessions was in Bozeman on June 26 for Montana State's individual camp. He received some extra attention from Montana State first-year offensive line coach Jason Eck.
 
As a junior, the burly two-way player and standout wrestler earned Class B All-State honors. He is the second player from Colstrip to become a Bobcat. Redshirt freshman Tucker Yates is a defensive tackle for the Bobcats.
 
Here's what Bobcat Beat wrote following scouting Sessions at MSU camp.
 
Sessions was by far the most impressive offensive lineman I saw on Friday. The 6-foot-5, 270-pounder towered over most of his peers. He needs to work on keeping his hips low and he must improve his lower body strength if he wants to be able to compete at the Division I level. But he's got long levers as former MSU offensive line coach Jason McEndoo used to always say. He has a good, strong punch and he creates separation with consistency.
 
Sessions' lower body will come along, particularly with his wrestling background. He was a state placer at the Class B meet last winter as a heavyweight.
 
Sessions is the fourth player to verbally commit to Montana State for the Class of 2016. He joins Great Falls CMR wide receiver Karl Tucker, Belgrade defensive end Derek Marks and Killeen, Texas offensive lineman Darrius Mosley.
 
Mosley, a 6-foot-5, 270-pounder, was offered by MSU on May 26 and committed on June 5. He posted on his Twitter a picture of Montana State with the caption "COMMITTED".
 
The recruiting website 24/7 Sports wrote the following about Mosley:
 
The 6-4/260 offensive lineman certainly had one of the more impressive frames at the recent Houston NextLevel camp. He has plenty of room to fill out and has long arms that aid him well in pass protection. He is likely a right tackle at the next level but schools may like him on the inside as well.
 
This story will be updated as prospects are reached for comment. 
Categories: