Everett emphasized community in 6th Man Club address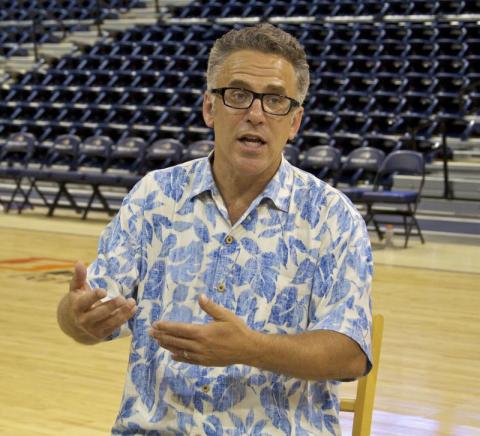 By COLTER NUANEZ
Bobcat Beat
 
The first time Neil Everett had a public speaking engagement in Montana, he was celebrating a centennial and he was in a hurry. On Tuesday night in Bozeman, the SportsCenter superstar decided to stay awhile.
 
Back in 2011, Everett was in his hometown of Spokane celebrating the 100th anniversary of Lewis & Clark High, his alma mater. Using of a personal connection, Missoula Big Sky graduating senior Lizzie Doughty was able to convince Everett, a celebrity of ESPN fame, to speak at the Eagles' commencement ceremony. Everett had a friend willing to lend him a Porsche to race over Lookout Pass to the Garden City for the short but impactful obligation.
 
"We got in that Porsche and just hit it, banged it all the way to Missoula," Everett said to a collection of about half a dozen Bozeman media members gathered at Brick Breeden Fieldhouse on Tuesday afternoon. "Got there, did the speech, Five Guys (hamburgers) right outside the auditorium. So I hammered a Five Guys, got right back in the Porsche and 'Boom, back to Spokane.' But I've always loved Missoula."
 
Everett has been with ESPN for 15 years and an anchor for SportsCenter Los Angeles, the flagship West Coast highlight show, since 2009. Along with Stan Verett, he forms one of the Mothership's most popular anchor teams, a 21st century version of since Dan Patrick and the late Stuart Scott.  During his highlight shows, Everett frequently shouts out the "Mo Club" or "Missoula Club" in Missoula for home run calls.
 
"That's only because I haven't drank in Bozeman yet," Everett said with a laugh.
 
The Oregon alum was in town for the Montana State men's basketball team's Summer Kickoff 6th Man Club party. He's been in and out of Missoula but never had a chance to enjoy Bozeman.
 
 "We have a cabin in Hayden Lake (Idaho). I own a piece of dirt in St. Regis on the Clark Fork. My sister's best friend is from Missoula so I've found my way there in the Mo Club a couple of times. My good buddy lives in Missoula and I went to his wedding there. Listen, you can't beat this country," Everett said while addressing the media before his 6th Man speech. "I'm glad to have made it this far east. Bozeman is beautiful. I love the great Northwest. I love it. I could plant my roots in Bozeman or Couer D' Alene or Missoula or Spokane and not have any problem."
 
Everett came to Bozeman because of a connection through his alma mater with Brian Fish. Everett, a Spokane native born in Portland, earned his degree from Oregon before spending more than 15 years as the sports information director at Hawaii-Pacific. He joined ESPN in 2000. Fish, MSU's second-year head men's basketball coach, spent four years on Dana Altman's staff at Oregon.
 
One night in 2013, Oregon was going for its first road sweep of the Los Angeles schools (Southern Cal, UCLA). Before each game, Altman would always ask Fish who was in the crowd and with the games that weekend in Hollywood, he figured there'd be some stars. Before the Southern Cal game, Fish noticed Everett sitting with Nike founder and famed Oregon alum Phil Knight.
 
"So I tell coach that the SportsCenter guy is here with Phil and he was already nervous," Fish told about 80 attendees for the event at the MSU Alumni Foundation. "We just need to play decent to beat USC and instead, all our guys are throwing behind the back passes and alley-oops trying to impress Neil to get on SportsCenter. We are down 13 at half and Coach just keeps saying, 'Cable TV is screwing up my team."
 
The Ducks ended up beating the Trojans by double digits, setting up a chance for a sweep at UCLA. Everett made an appearance in the UO locker room before the game. A poor first half ensued and Altman again cursed cable television.
 
"We ended up winning that one too so that night Coach and I are watching SportsCenter," Fish said. "Neil comes on and gives us a shout out, says 'Coach Altman and the boys swept the L.A. schools for the first time since Regan was in office.' All Coach could say was, 'That's my boy Neil, taking care of it (laughs)."
 
The loose connection turned into a loose friendship that surely blossomed in Everett's short time in Bozeman.
 
"Whether it's Bozeman or it's Eugene, it's the community's team and if you are part of this community or you went to school here, then you are attached to it," said Everett, who's grandfather played for the 1920 Oregon Rose Bowl team and who's stepfather is legendary Shadle Park High basketball coach Dave Robertson. "So then when you see the people who are brought in to coach your community team, then you become attached to them. And that's how Brian and I became attached."
 
Everett's speech to the 6th Man Club wasn't quite eight minutes long but it delivered a strong message that weaved together multiple worlds. When Everett lived in Hawaii, he befriended a couple of island children who were out on their luck. They would come by his office and he would occasionally take them out to eat.
 
More than a decade later, Everett, who was now at ESPN, got a call from a newspaper reporter in Oakland. She said there was a girl from Oakland who was about to graduate from Cal-Berkeley with honors. The girl had been a four-year track star and a TV reporter. Francesca Weems told the Oakland reporter that Neil Everett was her biggest influence.
 
 
"Francesca was the little girl," Everett said, fighting back emotions.
 
"Francesca now is the anchor at the station I was the anchor at before I went to ESPN. I tell you that because this roster is all your Francescas," Everett continued as he held up Fish's new roster, a collection of talent that includes eight players brand new to Bozeman. "Your brain isn't fully developed until you're 25. All these kids that Coach brought in think they know what they are doing but they don't. They need this to be their community. They need you guys to adopt them like I adopted her. They need to know someone is in their corner besides the coaching staff. It's the right thing to do, man. You can make a difference in their lives. It's so fulfilling to change somebody. These kids aren't going pro, k? But they could be people who settle down here and they could be contributors to your team. It's your team. And that's the message that I wanted to bring. Thank you for letting me be a part of your team because I'm on your team now."
 
Colter Nuanez can be reached at BobcatBeat56@gmail.com and followed on Twitter @Bobcat_Beat. Photo by Brooks Nuanez, who can be reached at Brooks.nuanez@gmail.com.
 
 
Categories: