Whitefish standouts highlight MSU individual camp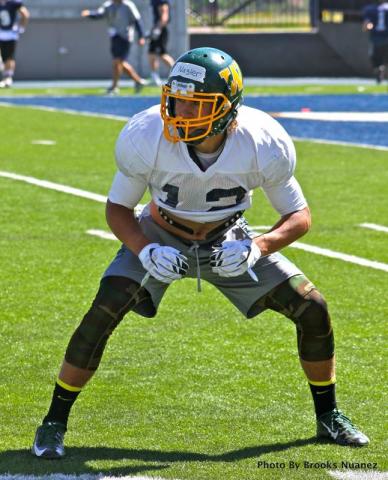 By COLTER NUANEZ
Bobcat Beat
 
On Friday, Montana State hosted its annual individual football camp for players from across the state and the region. This year's version attracted more than 300 campers according to MSU head coach Rob Ash, including about two dozen of the top prospects in the state of Montana.
 
It's incredibly hard to tell who the players are because they are wearing a variety of jerseys, from blue and white jerseys handed out by Montana State to their high school jerseys. I was able to identify a few guys who are considered among Montana's best prospects. Top prospects who did not come to Bozeman included Great Falls CMR running back Andrew Grinde, Great Falls CMR wide receiver Karl Tucker and Helena High defensive end Chase Benson.
 
Grinde is expected to commit to an Ivy League school — likely Yale or Harvard — next week. Tucker has already committed to Montana State. Benson, a 6-foot-5, 255-poun specimen who notched 12 sacks last fall, has offers from Montana and Montana State.
 
The Bozeman defensive duo of defensive end Balue Chapman and linebacker Payton O'Reilly were in attendance but did not participate. O'Reilly, a first-team all-state selection as a junior, is nursing an ankle injury. Chapman, a second-team all-state selection last fall, is recovering from off-season hip and shoulder surgeries. O'Reilly told me he's received interest from the Montana schools, Wyoming, Oregon State and Portland State but does not have an offer yet. Chapman has an offer from Montana State.
 
Of the players who were in attendance, here are the ones who stood out.
 
Jed Nagler, Whitefish, athlete — Nagler was the most impressive physical specimen in attendance. During the weight room measurements, he checked in at a quarter inch short of 6-foot-4 and 207 pounds. He has long arms, long legs and fluid hips. He moves like a natural-born athlete. He will likely play wide receiver in college but he could also play outside linebacker, a spot he showed great flashes at while Ash watched on during Friday morning's session.
 
Nagler has already proven to be one of Montana's best athletes. He earned Class A all-state honors by piling up more than 1,000 yards and catching 13 touchdowns last fall. He's a standout in basketball with a slam-dunk contest championship to his credit. And in track, he has the athleticism of a decathlete. He won the Class A state high jump title with a leap of 6-foot-6. He also won the 100 meters in 11.09 seconds, took third in the 200 in 22.41 and ran legs on the winning 4x100 and 4x400 teams as the Bulldogs finished second as a team.
 
Sean Opland, Troy — Opland is a little shorter than his listed height of 6-foot-1 — he measured in at 5-11, 193 — but he's a very good and polished athlete, particularly for a Class B player. He was among the most fluid linebackers, particularly through the hips and with his change of direction. He was also the standout of an underwhelming group of running backs. His fundamentals carrying the ball are good — he keeps the pigskin high and tight. He has quick feet and explosive cuts, two necessities for his upright running style.
 
Opland is also a standout track athlete where he's competed against athletes from larger schools. He won the 100 and 400 meters at the Archie Row Invite, Flathead High's longstanding large meet. He won the Class B title in the 200 (22.60), finished second in the 100 (11.2), 400 (49.49) and high jump (6-2).
 
Derek Marks, Belgrade — Marks is not as physically formidable as I initially thought. He's 6-foot-3 but he's about 225 pounds. He has a good frame with long limbs and room to grow. He'll need to improve his strength and girth to compete at the Division I level.
 
What he lacks in size he makes up for with quickness. He has good hands and he uses them well. He also has good balance as evidence by his smooth spin moves.
 
Marks is also a standout track athlete that's garnered interest from Oregon, Stanford and Oklahoma. But he struggled in the spring, finishing fourth in the state in the shot put, third in the discus and not placing in the javelin, his specialty.
 
Jake Sessions, Colstrip —  Sessionswas by far the most impressive offensive lineman I saw on Friday. The 6-foot-5, 270-pounder towered over most of his peers. He needs to work on keeping his hips low and he must improve his lower body strength if he wants to be able to compete at the Division I level. But he's got long levers as former MSU offensive line coach Jason McEndoo used to always say. He has a good, strong punch and he creates separation with consistency.
 
Sessions' lower body will come along, particularly with his wrestling background. He was a state placer at the Class B meet last winter as a heavyweight.
 
Kyle Finch, Dillon — I first caught site of Finch because I was watching Marks. Finch stood out right away. He's much faster and explosive than Marks, who's already committed to the 'Cats.
 
Finch was overshadowed in the Southwestern A last season by Butte Central defensive end and future Bobcat Marcus Ferriter and Corvallis defensive end and future Montana Grizzly Jesse Simms. But Friday, Finch showed great burst off the line, a good use of his hands, an explosive playing style and quickness necessary because of his less than stout frame. He's got long arms and a high waist, an ideal frame for a future pass rushing defensive end to grow into. He also plays with a high motor, something that really stood out Friday.
 
Devin Maua, Billings Senior — Maua's frame is one that can carry a lot of girth. And the way his lower body is built, he won't be an end for long. He earned honorable mention all-state honors on the outside last season. By the time he's a collegiate, player, he'll more likely be a 3-technique defensive tackle.
 
One coach helping out with the individual drills commented that Maua was one of the camp's biggest surprises and that he was improving his stock significantly because of his performance. If he was a few inches taller than 6-foot-2, he would be a surefire scholarship player.
 
Dane Warp, Havre — Warp is among the most highly regarded athletes in Montana with one of the longest and loftiest resumes. He's been the golden child of the High-Line since his freshman year. As a 14-year-old, Warp set Class A on fire, throwing for nearly 3,000 yards and 30 touchdowns. He followed that up with a 2,941-yard, 21-TD campaign. As a junior, he completed 69 percent of his passes for 2,629 yards and 27 touchdowns against just five interceptions.
 
Warp is 6-foot-4 and can't weigh more than 190 pounds. He's thin and looks tall, lanky and skinny in pads. On Friday, his arm was somewhat underwhelming compared to what I expected as he struggled throwing the ball with much zip more than 50 yards. But he moves well in and out of the pocket. He has excellent footwork and his feet are rapid fire when he moves, a sign of a fundamentally sound quarterback.
 
And he's decorated. He picked up offensive MVP honors at Washington and Washington State's camps. Scout.com has him listed as a two-star recruit, one of just three Montana players on the site. The site also shows interest from Montana and Montana State (both offered) along with Boise State, Wyoming, Colorado, Washington and Wazzu.
 
As good as Warp is as a quarterback, he might be even better as a basketball player. Last season, he led Class A in scoring at 23.8 points per game, an incredible number for Montana prep hoops.
 
Luke May, Whitefish — The first thing that struck me about May is his size – or lack thereof. He's listed at 6-feet, 185 pounds but he's more like 5-foot-10. He likely won't be able to play quarterback at the Division I level but he certainly has the athleticism to be recruited as an athlete and possibly convert to another position.
 
As a quarterback, May has a low release and throws an interesting ball but he certainly has a very good arm. The state champion javelin thrower moves well in and out of the pocket and has good footwork. His film shows an elusive player who's hard to bring down despite his size. He also has great poise and sneaky toughness, giving him the ability to surprise defenses by breaking off a big run.
 
He and Nagler should make up one of Class A's most dangerous combos next season.
 
Chaffin Ross, Whitefish — After I wandered away from Bobcat Stadium over to the practice fields adjacent to it to watch the linemen, I saw Ross and my first thought was, 'Whitefish is going to be really good next season.'
 
My second thought was that, despite lacking much weight at all, Ross must be a nightmare for an average Class A offensive tackle to block. The long-haired, tall pass rusher has long levers and is explosive off the line. The 6-foot-3 senior possesses supreme quickness and a good burst once he beats his blocker.
 
If Ross can learn to use his hands and create separation consistently, he can be a force even with his weight hovering around 200 pounds. At one point, MSU defensive end Zach Hutchins demonstrated a drill while Ross watched on and the 6-foot-3 Hutchins isn't much bigger than Ross.
 
Michael Banna, Missoula Big Sky — Banna looked like a man amongst boys physically, particularly in the running back group. He's all of 225 pounds with a low center of gravity and a thick lower body.
 
He lacks fluidity in his hips and while running, but you can tell he's strong and knows how to play with a high motor. He's a prototype fullback, but his problem when transitioning to the college game is very few teams use fullbacks anymore. I'm not sure he has the speed or quickness to transition to linebacker and make it at the FCS level but he's certainly a Frontier Conference player on either side of the ball.
 
He made the list because he was a first-team All-State player last season and if he can continue to develop — he's also a hurdler, so he's working on his speed and hip flexibility — he could be a preferred walk-on type player for one of the Montana schools.
 
Seamus Lucostic, Missoula Big Sky — I went over to the linebackers to watch Nagel, Opland and Banna and I found myself watching Lucostic just as much.
 
The lean athlete has a good frame and is all of 6-foot-2. He was an all-state selection as a sophomore before suffering a knee injury. He still is wearing a big brace on his right knee but it doesn't seem to hinder his mobility.
 
He's explosive at the point of attack, has good reaction time and seems to read things well. He also seems to be coachable. He comes from an athletic family — his sister Kelsey plays softball at Montana — and he seems to have a good amount of potential now that he's healthy.
 
Brian FauntLeRoy, Whitefish — I went over to the defensive backs in search of Huntley Project's Dallas Mack and FauntLeRoy stole all the attention. I never did find Mack.
 
FauntLeRoy is, for lack of a better wording, extremely ripped. His veins in his arms and legs ripple. He also seems to have great acceleration and good speed. He's 6-foot-1 and 185 pounds, good size for a corner in the FCS. The obstacle he'll face is that he's a defensive back from Montana, probably the state's least recruited position by Division I schools, particularly for cornerbacks.
 
 
 
 
Categories: