Future 'Cats bond during Badlands Bowl victory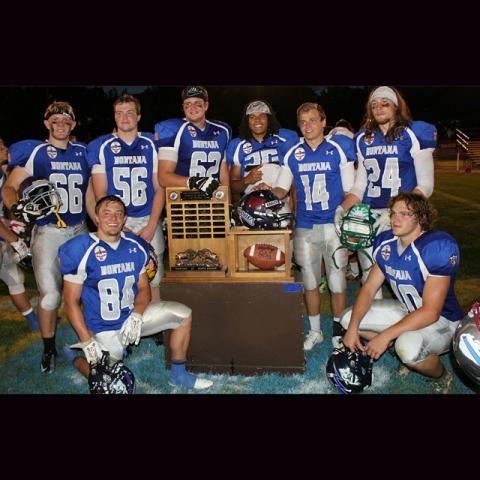 By COLTER NUANEZ
Bobcat Beat
 
As Grady Bennett addressed his group of all-stars, one of the Kalispell Glacier head football coach's assistants made a point that's hard to argue with.
 
In a football-crazed place with nearly everyone on one side or the other of one of the fiercest rivalries in the West, it's rare a group of young football players can unite the Treasure State. But that's what the Knights of Columbus Badlands Bowl is all about.
 
On June 20th, the 34 best football players in the state of Montana took on a group of similarly selected all-stars from North Dakota. The Montana all-stars intercepted six passes and moved to 16-6 in the 22nd version of the game with a 40-25 victory at Connor's Stadium in Miles City. The win a 25-22 defeat in Dickinson, North Dakota last summer.
 
"The coaches took care of us so well and they taught us some great life lessons," said Mitch Brott, a future Montana State Bobcat offensive lineman who helped Montana rush for 220 yards and pile up 579 total yards. "Knowing those guys were the best of the best helped with my confidence. Grady Bennett taught us a great life lesson: every day is a good day and wake up and be ready for the day because it could be a lot worse. I will remember that forever."
 
Dillon product J.D. Ferris split time at quarterback with future Montana State Bobcat Brady McChesney, one of Bennett's pupils up in the Flathead. Ferris hit Helena's Paul Hart with a 35-yard touchdown to give Montana a 20-10 with 2:51 left in the first half. Right before halftime, he ripped off a 42-yard touchdown run. And in the fourth quarter, he hit Logan Jones, another former Wolfpack member who will play for the Bobcats, with a five-yard TD to cap the Montana victory.
 
Ferris was named victor's Offensive MVP. Former Glacier safety Cain Boschee intercepted three passes to earn Defensive MVP honors. Boschee, McChesney and Jones joined Josh Hill, future Montana defensive end Andrew Harris and several other former Glacier standouts in one last performance for Bennett, a former Montana Grizzlies quarterback who led Kalispell's newer high school to its first state title in 2014.
"It didn't really hit me until after the game and then when I was hugging him, I realized this was the last time I would play for him," said McChesney, who threw 38 touchdowns his senior year in earning a preferred walk-on spot from Montana State. "It was a bittersweet moment. We went out on a win but there was eight Glacier guys I've been playing ball with since I was in fourth grade so that was hard to play with them one last time."
 
It won't be the last time playing together for McChesney, Jones and Hill. All three will report to Bozeman the first week of August for their first post-prep fall camps. The Montana also featured future Bobcats Mitch Brott, Brayden Konkol, Byron Rollins, Marcus Ferriter and TreVon Strong.
 
"A lot of the guys, I knew who they were but I'd never introduced myself to them before or played with them or hung out with them," said Hill, a first-team all-state player the last two seasons and the 2014 Class AA Defensive MVP. "It was really cool, especially guys I played against to play with them. It made me excited for the future."
 
The eight future Bobcats joined forces by five future Grizzlies — Holden Ryan, Dalton Daum, Colin Bingham, Andrew Harris and Danny Peoples — to form the collection of Montana's best.
 
"I didn't know what to expect," said Ferriter, the Class A Defensive MVP after leading Butte Central to a state runner-up finish. "I don't know if I was the only one who was nervous, but I was. I didn't know how intense it was going to be. But after that first day, we settled in and we realized how good we could be."
 
McChesney came into the week of practice with an advantage over Ferris because he's stared in Bennett's up-tempo spread offense the last three seasons, throwing for a Montana-record 84 touchdown passes in the process. He had weapons like Butte's speedy Daum, Missoula Big Sky slasher Cory Diaz and Helena's Hart to go along with Jones, his familiar electric security blankets.
 
After halftime, McChesney was able to settle in but he struggled mightily at first. He threw three interceptions, giving way to more early reps for Ferris, a Class A champion who'd been running the offense for a week. North Dakota began the game playing a two-man defensive front.
 
"That kind of confused us at first," McChesney said. "They ran almost a 2-6 and we had never really seen that before. Coach Bennett said that was a pretty good scheme for an all-star game (laughs). We didn't expect it. I would have liked to play a little better but I'm glad we got a win."
 
Jones, a 5-foot-9 dynamo with speed to burn, ran the ball eight times for 92 yards. He caught six passes for 109 yards and he had a 65-yard catch-and-run touchdown in addition to his fourth-quarter score.
 
"On our side, we had so many players who were so freakin' good," said Jones, who will join the Bobcats as a preferred walk-on in August. "We had big guys, fast guys. The skill level was so high for the team. The Montana boys, it's amazing, you find the best 30 players in the state and you see a lot of talent that you go against and you practice with them and it's a lot different."
 
University of North Dakotasignee Aidan Hartness earned the Offensive MVP honors for the visitors. He threw for 145 yards, all to his twin brother and fellow UND signee Tristan Hartness. Noah Krebs intercepted a McChesney pass early in the third quarter and returned it 59 yards for a touchdown to earn North Dakota Defensive MPV honors. The Hartness twins will be joined at UND by lineman Luke Keller of Bismarck. North Dakota State recruits running back Ty Brooks and defensive back Tre Fort also played.
 
"Montana, I thought we were really good," said Konkol, a stout safety from Belgrade who helped the Montana defense hold North Dakota to 40 yards rushing . "I thought we had some really good coaches. North Dakota, they had some good kids, some good speed. They had a receiver who's going to UND. And the NDSU running back was really good. Other than that, they were good, but nothing outstanding."
 
"The twins, the quarterbacks and the wide receiver, they were really good athletes," added Rollins, a burly defensive lineman from Missoula Sentinel. "Their o-line was one of the most solid o-line units I've gone up against. But I felt that the Montana team was better in all aspects."
 
The week leading up to the Badlands included two and three-a-day practices plus plenty of strategic install. But it also included plenty of time bonding with future teammates and opponents.
 
"We had a competition one night where the MSU guys had to sing our school song, the Montana guys had to sing the Griz fight song and everyone else had to do theirs," Jones said. "We went back and forth, telling those guys they should've come to MSU and they would say we should've came to UM."
 
"I like all those guys more than I thought I would (laughs)," added the 6-foot-2, 208-pound Konkol.
 
Players like Harris and McChesney have competed with each other for more than half their lives. Now Harris, who had a 13-yard interception return for a touchdown in Miles City, has different plans for McChesney.
 
"I've played him since third grade and he he's never played against me and now he is always joking that he is going to sack me when he's a Griz," said the 5-foot-11 McChesney. "We will see about that (laughs)."
 
Brott's older brother Wilson and fellow Billings West product is a sophomore tight end for the Bobcats. Konkol is from just up the road and played for former Bobcat running back Eric Kinnaman at Belgrade. Rollins is the son of former Bobcat linebacker Josh Rollins. The Glacier guys have no ties on either side, but Hill admitted he wishes the future Grizzlies who are now his former teammates were future Bobcats.
 
Ferriter is the one future 'Cat who some thought might go west. Ferriter's cousin, Mike — a Helena product who stood out as a UM wide receiver last decade — is now the wide receivers coach for Montana. He recruited his younger cousin. But the success Sean Ferriter, Marcus' older brother, experienced as a standout Bobcat thrower combined with a top-notch engineering program, brought Marcus to MSU.
 
"Playing with the Griz kids that one time was fun and a cool deal but…I can't wait to play against them," said the 6-foot-4, 227-pound Ferriter.
 
Twelve of the 13 Big Sky-bound Badlands Bowl players will link up one more time this summer. The East-West Shrine game commences at Memorial Stadium in Great Falls on July 18. Bingham, Daum, Ferriter, Harris, Jones, McChesney, Peoples and Rollins will join future Grizzy Josh Sandry of Bigfork to lead the West. Ryan, Brott and Konkol will join Great Falls CMR and future MSU offensive lineman Bryan Wilkes will lead the East. Strong and future MSU linebacker Walker Cozzie of Helena Capital are alternates.
 
The trip to the Electric City will be a reunion of sorts for a group that bonded quickly. The very first night in Miles City, a collection of the future Bobcats sat in a hotel room playing video games with the volume turned to the max, competing, joking and laughing with guys they just met. It's a chemistry each said they hope carries on for the next half decade.
 
"It was one of the greatest weeks ever just because of the experience," Jones said. "I got to meet some awesome guys who I will be friends with forever. That first night, we were playing FIFA on the PS4 and we had the volume turned up to 100, just laughing and loving it. Coach Bennett came in and got all mad at us but it was so much fun. We meshed really well. I can't wait to spend five years with those guys."
 
Colter Nuanez can be reached at BobcatBeat56@gmail.com and followed on Twitter @Bobcat_Beat.
 
 
 
Categories: