A look at the fresh faces for the Bobcat basketball team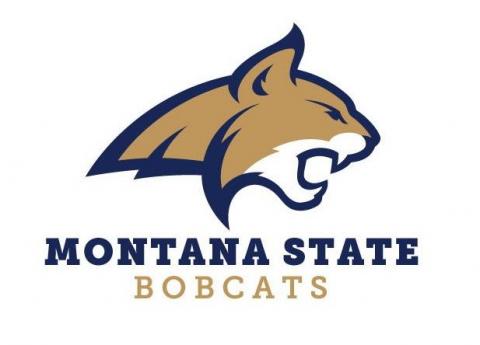 By COLTER NUANEZ
Bobcat Beat
 
The second-to-last week of June, the Montana State men's basketball team is hosting a youth camp at Brick Breeden Fieldhouse. Each day about 4 p.m., the new look 'Cats have been playing half-court games of 4-on-4 while the kids watch on.
 
On Tuesday, I went down to the Fieldhouse to check out some of the new faces. In Brian Fish's second season, the Bobcats will have a completely new squad. MSU graduates Michael Dison, Eric Norman and Blake Brumwell off of last season's 7-24 team. Fish cut senior Terrell Brown along with sophomores Joey Frenchwood and Bradley Fisher. Junior Ryan Shannon retired because of a head injury. The Bobcats return seniors guard Marcus Colbert and forward Danny Robison, junior guard Stephan Holm, sophomore guard Zach Green and sophomore forward Quinn Price.
 
To bolster the talent level, Fish signed eight total players, including five from the junior college ranks and three out of high school. The signees included Tyler Hall (Rock Island, Illinois), Mandrell Worthy (Seattle) and Sam Neumann (Minneapolis) from the prep ranks and Quinton Everett out of Gillette Junior College during the early period. Tohono O'odham Community College (Arizona) point guard Nahjee Matlock, Northeastern (Colorado) Junior College forward Shikei Blake, Gillette JC forward Sarp Gobeloglu, and Laramie Community College forward Tyson Kanseyo signed during the late period.
 
The three high school signees along with Matlock, Gobeloglu and Kanseyo are already on campus. Blake and Everett are still finishing up classes and are expected in Bozeman in July.
 
On Tuesday, the first thing that stood out was the significant upgrade in athleticism the new group brings. Just in pure stature and build, the new guys are a big improvement. Last season, MSU sometimes went with lineups that included the 5-foot-8, Dison, the 5-foot-10 Colbert and the 6-foot-1 Holm all playing at once. The undersized, under-athletic backcourt would sometimes even play with the 6-foot-5 Brumwell playing center and the 6-foot-9, 190-pound Norman manning the paint.
 
Hall is as tall as Brumwell but he's a shooting guard. Matlock is as fast as Dison but he's nearly 6-feet tall. The 6-foot-3 Worthy brings length that the MSU backcourt has been lacking for a few seasons. Gobeloglu is in the Norman mold in his slightness, but he has more developed perimeter skills and will be asked to play outside much more. Kanseyo is a legitimate 6-foot-9, 230-pound big man with soft hands and a solid frame.
 
Holm is not in town — he's home in Utah for the summer working and helping with family obligations. Robison is out until the fall after having surgery on his non-shooting (left) elbow akin to a Tommy John procedure common in baseball pitchers. Neumann, a 6-foot-8 forward with shooting prowess, rolled his ankle last week in a pickup game and didn't participate on Tuesday. Something popped up on Gobeloglu's physical late and he was forced to sit out on Tuesday but shouldn't be out long.
 
To even out the teams, Dison played as did Conner Moore, an Ennis native who played two seasons at Idaho State. 
 
The second thing that stood out was just how good a shooter Hall is. The finalist for Mr. Illinois Basketball is considered the gem of Fish's first recruiting class. It's hard to confirm such an assertion from watching 45 minutes of 4-on-4, but Hall seems to have it all. He can catch and shoot from beyond the 3-point arc. He can create his own shot from deep, midrange and in the paint. He can get in the lane and finish with both hands. He's got tremendous pace and the ability to create separation before using smooth jumping and a quick release to bury shots from all over the floor. Tuesday, he made his first six shots of action with players like Colbert, Dison and Matlock guarding him. In my notes under Hall, I simply wrote "straight knock down shooter."
 
Kanseyo is the most impressive physically of the new players. The native of the Netherlands was forced to go to junior college because of issues with his transcripts but was quickly reclassified by the NCAA and granted the ability to transfer to Division I after one season. Fish told me Kanseyo would be the guy when you first saw him that you would say, 'Wow, that dude should be a player.' He was right. Aside from Hall's soft stroke (to be expected), Kanseyo left the biggest impression Tuesday. My notes on Kanseyo were the most extensive and included things like "put together", "physical specimen", "strong in the post", "good offensive rebounder", "gets low and deep to get position", "surprisingly good hands", and "very strong drop step."
 
Last season, Green developed the most of the four freshmen in Fish's first recruiting class. As a result, he and Price were the only ones asked to return. Fish has said on the record that Price will redshirt next season and Tuesday was a good example of why that's a good idea as Kanseyo manhandled him in the post. Green should be one of the Bobcats that feels the push of the influx of new players most. Tuesday, he played with an invigorated confidence and aggression that was missing down the stretch last season. Green showed flashes of being able to play elite perimeter defense last winter. Now he needs to prove he can lock in his focus and bring that element consistently. On Tuesday, his best play came when he corralled a loose ball, pump faked and drove in the lane before dunking one-handed on Price.
 
Matlock seems to be as advertised, a hyperactive point guard with speed. It's tough to tell his abilities in the open court since the scrimmage was half-court. But you can see he's a good ball handler with the ability to get into the lane and take defenders off the dribble. He isn't billed as a shooter but he did hit three 3-pointers while I was watching, all on catch and shoot.
 
Worthy, a two-time first-team Washington 3A player at Eastside Catholic in Seattle, was billed as one of the top prospects in the Emerald City, widely considered the top basketball hotbed outside of California on the West Coast. In person, Worthy is a long, skinny, raw prospect but he's stout defending the ball already. He seems to have a cool demeanor and he hit a few open set shots, not something he was billed as being able to do when he signed.
 
Colbert is still Colbert. He looks like he's still in in-season shape, if not even better shape. He looked thin to me on Tuesday. He plays with great pace, has the ability to take almost anyone off the dribble with his lull you to sleep style and he can finish inside 12 feet with either hand or with his soft floater. He seems to be reinvigorated with the talent around him. He should be MSU's best leader and best player next season.
 
Colter Nuanez can be reached at BobcatBeat56@gmail.com and followed on Twitter @Bobcat_Beat.
 
 
Categories: