Soratos takes 7th, earns All-America honors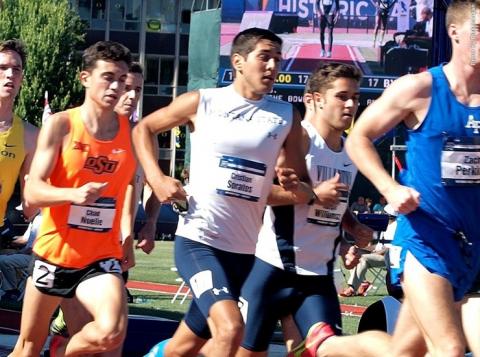 MSU PRESS RELEASE
 
Cristian Soratos ended his Bobcat career as an All-America.
 
The Montana State senior could not emerge from the middle of the pack in the finals of the men's 1,500 meters in Eugene, Oregon. Soratos came into the race ranked third with a personal best and MSU record of 3:41.17. In Eugene, Chad Noelle of Oklahoma State crossed the finish line in first with a pace of 3:54.96; Soratos followed placing seventh with a time of 3:55.60.
 
"Don't mark my words, but that might have been one of the slowest final races in NCAA history," MSU head coach Dale Kennedy said. "Cristian was patient, just like he needed to be, but he just didn't have enough gas left in him in the final 100 meters."
 
The race unfolded different than one might expect, as the second split was more 70 seconds. Despite the slow pace, Soratos was boxed in towards the middle of the pack. As the bell lap approached, the race began to heat up and the pace increased to a final lap of 50 seconds.
 
"What a privilege it has been to have Cristian come to Montana State. He's helped put Montana State back on the national map after a great career as a Bobcat," Kennedy said of his star that also finished second in the nation in the mile during his final indoor season. "His work ethic and determination is one of a kind and I couldn't be more proud of everything he's accomplished."
 
Soratos ended his career at Montana State as one of the most decorated mid-distance runners in school history. The Salinas, California native holds school records in the 1,500 and 800 (indoor and outdoor) in addition to being an All-America national runner-up in the indoor mile.
Categories: