CMR's Karl Tucker II commits to Bobcats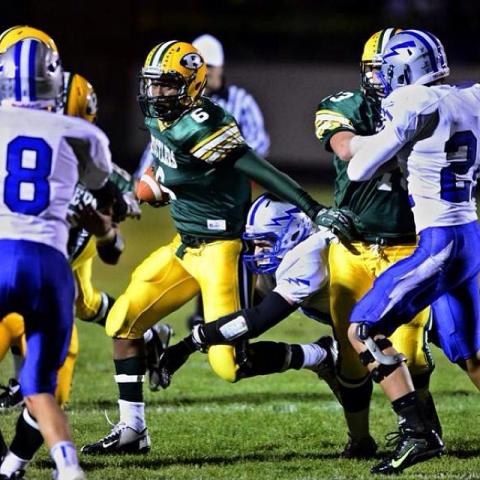 By COLTER NUANEZ
Bobcat Beat
 
Karl Tucker II felt the burden on his shoulders.
 
The Great Falls C.M. Russell standout athlete felt the pressure of his decision mounting already and his junior year is still two weeks from completion. The two-sport athlete knows college is a great financial burden on a family. So Tucker chose to get his decision out of the way early. And now the burden is lifted.
 
The 6-foot-1, 205-pound athlete gave his verbal commitment that he will sign with the Montana State Bobcats in February of 2016. Tucker is the second verbal commitment secured by Montana State from an in-state product. Belgrade's Derek Marks committed last fall.
 
"As of right now, my family isn't doing too well financially and I felt like it was a good fit with the coaches who all treat me very well," Tucker said as he left school on Friday afternoon. "Coach Ash, Coach Cramsey, Cody Kempt, they all treat me so well. They had open arms towards me this whole time. And being a part of that system sounded so great. And being able to go to school for free, nothing can beat that.
 
"This takes off so pressure off going into my senior year before football season already knowing what I'm going to do, where I'm going to go. It definitely takes a lot of pressure off my shoulders. I'm not going to have to stress about when it comes down to February where I'm going to go. Now that I'm staying close to home and it's such a great place, it definitely takes a lot of pressure off of me."
 
Last fall during CMR's run to the state title game, Tucker was the one relieving pressure for much of the season. Behind an offensive line anchored by incoming Bobcat offensive tackle Bryan Wilkes, the Rustlers rushed for more yards than any CMR team before them. Andrew Grinde, a highly touted recruit who already holds offers from Montana State and Montana, won Gatorade Player of the Year honors by rushing for more than 2,000 yards,
 
In an effort to lighten Grinde's load, the Rustlers got Tucker the ball in a variety of ways. Tucker, who was recruited to Bozeman as a wide receiver, operated out of the "Wildcat" formation often last season. He rushed 101 times for 524 yards and nine scores. He also caught 44 passes for 501 yards and two touchdowns in piling up 1,129 all-purpose yards.
 
"We have the Gatorade Player of the Year and I get overshadowed sometimes," Tucker said with a laugh. "We run the ball. A lot. Montana State is pretty balanced but it will be fun to get the ball out in space a lot more."
 
Central Montana is now MSU offensive coordinator Tim Cramsey's recruiting territory. His squad already has a slew of playmakers on the outside and Cramsey's offense is predicated on spreading the ball around. Twenty different Bobcats caught passes last season.
 
"They are so explosive and so much fun to watch, so he just told me I'd be a great fit, that I would work perfect in their system," Tucker said. "The way I look at it, the way they play, I see myself working really well in what they do. I think I can run some of fly and motion stuff, but we will see where I end up."
 
Tucker, who also plays basketball, said he will not attend the summer football camps he had planned on attending now that he is committed. Although he will transition to wide receiver full time once he's a Bobcat, he will spend the summer honing another skill set: he will be CMR's starting quarterback next season.
 
Tucker's transition under center will be eased by the presence of Grinde, the latest in a long line of physical, bruising CMR tailbacks. Although many Bobcat followers would love to land the duo as a package deal, full ride offers from the likes of Yale might sway Grinde to the East Coast.
 
"He's one of my closest friends and he came up and told me congratulations and said it was so sweet," Tucker said. "But I'm pretty sure he's thinking more Ivy league school is where he is going to go. That's hard to turn them down."
 
Tucker said he is still trying to decide whether he wants to pursue an education in business or something in the medical field, specifically physical therapy. But he has more than a year before he has to decide. And his most pressing decision for the immediate future is already out of the way.
 
"It feels so good to know," Tucker said. "They have a lot of young receivers and in that system, there isn't like one go-to guy. Everyone is making plays. It's very fun to watch and something I really want to be a part of."
 
Colter Nuanez can be reached at BobcatBeat56@gmail.com and followed on Twitter @Bobcat_Beat.
 
Categories: