Men's hoops notebook: 'Cat schedule near completion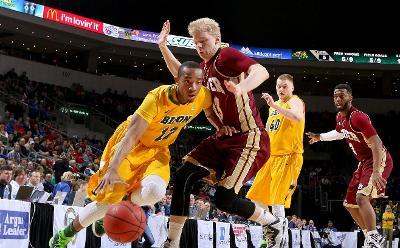 By COLTER NUANEZ
Bobcat Beat
 
A misplaced file made Montana State's men's basketball schedule next winter even more strenuous.
 
When MSU head coach Brian Fish and the MSU athletic department went to work on crafting the schedule for Fish's second season, it wasn't initially known that a return game for last season's game in Bozeman against North Dakota State was under contract. The deal was left over from Brad Huse and his staff.
 
The return game will be played in Fargo this winter and it adds another element to an already brutal schedule.
 
MSU will play 12 non-conference games including the November date at NDSU. Through sources close to the program, Bobcat Beat has confirmed the schedule includes a season-opening trip to Hawaii to play in a tournament that features the host Rainbow Warriors along with Nevada and Prairie View A&M; a home-and-home against Wyoming with the MSU home portion being played in Billings; a home game against Nebraska-Omaha; a return game at Utah Valley; and a home-and-home with San Jose State, the California portion which kicks off a road trip that also includes a make-up date at Buffalo for a game that was snowed out last winter and the capper of the schedule: a trip to the Carrier Dome to play perennial power Syracuse. The rumored Syracuse game has been confirmed by a source close to the program.
 
"The addition of the NDSU game sets us up for a hard four games in a row," Fish said. "That's three straight to finish against teams that quite frankly will probably all three be in the NCAA next year. That's a very worrisome week now, especially with the trip to California before and New York after."
 
During MSU's 7-24 campaign last winter, NDSU came to Bozeman and handed the Bobcats a 71-55 defeat. It was the lone loss during MSU's first four-game home stand.
 
"Probably the most advanced team in terms or returners on our schedule now is NDSU," Fish said. "A lot of teams on our schedule have some things in flux — Buffalo has a new coach (Bobby Hurley is now at Arizona State), Wyoming loses almost everyone — but NDSU has everything in return and should be very good. I know they lost the player of the year (Lawrence Alexander) and I certainly don't want to put him down, but I thought when we played them that they were a very balanced, well-coached team. I didn't notice one guy being tremendously better than the rest."
 
MSU will release its schedule with official dates and times and an official announcement of the Syracuse game at a later date.
 
"That's the last year we have any games left over from the previous staff," Fish said. "We are on our own now."
 
The NCAA released its APR ratings on Tuesday and the MSU men's basketball team saw an improvement. Academic Progress Rating — a score based on eligibility and retention — is used to determine postseason eligibility NCAA teams.
 
The MSU men turned in a score of 946, bringing its four-year average to 935, a two-point improvement from last season. The score came in the final year of head coach Brad Huse's eight-year tenure. Teams must maintain a four-year minimum of 930 to remain post-season eligible.
 
During the current year, MSU will need a score of 949 or better to stay above the minimum. Despite the defection of three players in the off-season — Fish cut senior Terrell Brown and freshmen Joey Frenchwood and Bradley Fisher — the coach is not worried about his team's score next season.
 
"If a player leaves a program with a 2.6 grade-point average or better and he goes to a four-year school, it does not cost us a point," Fish said. "With the current GPA of our guys and where we expect everyone to be at next year, we are hoping for a score of around 970, so we will be just fine in terms of the four-year average.
 
"APR is one of if not the most important thing. You have to get it done academically if you want to compete on the court and we know that. We will do everything in our power to keep the scores as high as we can."
 
All three of the players Fish cut have made decisions about their future. Brown, a 6-foot-4 swingman who contributed as a defensive stopper the last two seasons, has decided he will not play basketball in any form during his final season of eligibility.
 
"Terrell won an NCAA appeal and he will be able to stay here and finish school on scholarship and not be counted towards us," Fish said. "We supported that appeal for him to finish school and wrote a letter for him and he won it on Friday. He can't be involved with basketball but he gets to stay around and finish his degree. It worked out well because he likes it here."
 
Fisher, a 7-footer from the United Kingdom, struggled in his first year of Division I basketball. If not for Kavell Bigby-Williams, his former club teammate, not meeting eligibility requirements, Fisher likely would've redshirted. Instead, he will take his talents to Emporia State, a Division II power in Kansas.
 
"Shaun Vandiver is the coach and I've known him for a long time," Fish said. "He was a first-round NBA draft pick. (MSU assistant Chris) Haslam is a friend with him too. I think Bradley has a chance to be a good player in the right 55 to 60-point system and that's the way they play."
Frenchwood, who started the second half of the conference season more for rotation reasons than talent, is the one APR hit MSU will take. The 6-foot guard will play next season at Hill Junior College in Texas.
 
"He didn't really talk to us much so he handled it on his own," Fish said. "He's a good kid. Hopefully he'll get there, get the minutes and get his shot back up at this level."
 
On June 8, the NCAA Rules Committee will approve several rule changes, including the lowering of the shot clock from 35 to 30 seconds and the moving of the block-charge line an additional foot from the basket.
 
"I was for the 30-second-shot clock. I talked to somebody and they said in a normal year, 30 or 40 proposals go in front of the rules committee. This year, 110 went. I was very worried about an overreaction and I don't think that happened," Fish said. "Having said that, I don't think there's one fix. I think it's a messed up ball of yarn that four, five, six, seven things need to happen. I am excited about the block-charge line. Moving it out another foot will make it easier. There's a couple of other ones I'm interested to see if the pass. The timeout one where you can't bail a guy out in the backcourt with a timeout, he has to get it across could have a major effect. But I was glad to see that there wasn't an overreaction."
 
Fish, a voracious student of the game, has been involved in college basketball in some form for more than 30 years. The current national narrative is that men's college basketball is broken, something perpetuated by low scoring numbers and a style trademarked by physicality more than skill. Fish doesn't think it's broken as much as overexposed.
 
"I take a different view on it. Every single team plays on TV now so there's more exposure to how many teams can be seen and there's more chance to analyze how the game is being played," Fish said. "Even five or six years ago, you only saw three or four teams a week on Big Monday on ESPN. Now there's not a night where I can't watch four or five games. You are seeing every league at every level of play, which I think leads to guys are on TV so they are calling more timeouts and they are over thinking the game because everything is on TV."
 
"When I talked to some guys on the rules committee, they said, 'Don't get so caught up in the rule changes. Be more focused on the game'. A few years ago, teams were shooting 40 or 50 free throws a game to start the season because they were calling everything on the perimeter. And if I remember right, our first 10 games three years ago at Oregon, we averaged 41 free throws a game.  That didn't hold true for the whole season. So everything comes back around.
 
"Again, I was really impressed with the thought process the committee went through because I think they didn't overreact and I think they got it right."
 
Colter Nuanez can be reached at BobcatBeat56@gmail.com and followed on Twitter @Bobcat_Beat.
 
 
Categories: