Women's hoops notebook: 'Cats get to try out new rule on international tour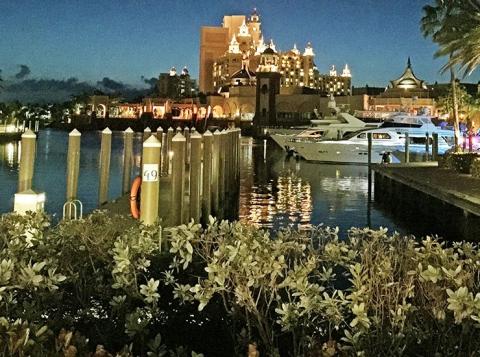 By COLTER NUANEZ
Bobcat Beat
 
Tricia Binford got a bit of a test run for at least one of the rule changes expected to be approved next month.
 
The NCAA Women's Basketball Rules Committee recommended a proposal to go to four 10-minute quarters instead of two 20-minute halves earlier this month. The new rule will become official when the NCAA Playing Rules Oversight Panel approved it officially on June 8. From a fan's perspective, it will be the most noticeable rule change to the women's game since the addition of the 3-point shot almost 30 years ago.
 
Binford, who enters her 11th season at the helm for the Montana State women's basketball team next winter, got a chance to experiment with four-quarter games earlier this month. The Bobcat women spend five days in mid-May in the Bahamas on their international tour, a once-every-four-years experience granted to men's and women's basketball teams across Division I. The Bobcats posted wins over the Bahamas Ladies All-Stars and the Johnson Lady Truckers while in paradise.
 
"The biggest thing that I noticed when we were in the Bahamas playing four quarters was how am I going to do my rotations?," Binford said on Wednesday afternoon from her office in Brick Breeden Fieldhouse in Bozeman. "The first game, I was just thinking in the first quarter that I had to get everybody in. So I substituted too quickly. So the next game, I let the starters play most of the first quarter. So strategically, do you want to get the starters out right before the break to really value that last possession? Or do you want to give them extra breathing time going through the break before you get them in that second quarter? You can go two different ways."
 
Four quarters will mean two bonuses in terms of foul limits. A fifth team foul will mean the bonus for the remainder of the quarter, but will restart when the second quarter begins. Binford said that could make for a more physical game.
 
Binford's Bobcats took its entire team from last season on the trip, including graduated seniors Kalli Durham, Ausha Cole and Jackie Elliott. Players who sat out last season like Ashton Siegner, Hailey Blodgett, Margreet Barhoum and Riley Norgaard got significant playing time for the first time as Bobcats.
 
MSU opened up the trip with a 61-46 win over the Lady All-Stars, a team that Binford compared to Sacramento State and Eastern Washington in terms of defensive prowess and athleticism. Senior Jasmine Hommes, who garnered second-seam All-Big Sky accolades last season, paced MSU with a game-high 16 points. The Lynden, Washington product registered a double-double, hauling down 11 rebounds. Nordgaard, a transfer who sat out last season due to NCAA rules, pulled down a game-high 12 rebounds while scoring eight points. Senior Michelle Seitz, a former JC transfer who's struggled with injuries over the last two seasons, hit three 3-pointers to score nine points. Senior point guard Lindsay Stockton chipped in five points, four assists and seven rebounds.
 
The next day, MSU jolted out to a 27-4 first-quarter lead and never looked back in a 85-35 win over the Johnson Truckers. Nordgaard led the way with 18 points and eight rebounds. Seitz scored 11, Hommes netted 10 and sophomore Delaney Junkermier scored 10. Blodgett scored nine points and grabbed seven rebounds.
 
 "The games were really good for us," Binford said. "We hadn't done anything in two weeks so we were really rusty. We had skill work, the dead week before finals and then finals week so we had two full weeks off. Finding a way to get the ball in the bucket was a little bit challenging the first game. And they really denied us and they had some athletes so our turnovers were drastically high. But we settled in and everyone got good minutes and we played hard.
 
"We are going to be faster in the open court next year. We actually have kids who can get out and run in front of Lindsay which is fun. We are going to have to create more of those opportunities but still take care of the basketball."
 
This trip marks the third international tour for the Bobcats under Binford. Her first one was also a trip to the Bahamas with a trip to Costa Rica in between. The American teams are almost always the favorites during any international tour competition so the two victories were so be expected. The main thing Binford hopes her team gained from this tour is a renewed sense of team continuity.
 
"That's the biggest thing about these," Binford said. "When you think about being together for that period of time and experiencing something that fun together with other people and having different groups every day that you are hanging with, it can only be a positive thing for your team."
 
Amy Starr was a notable longtime member of the Bobcat program missing from the trip. Starr, a former Washington State standout and Binford's top assistant for the past decade, took a similar position at Pacific in April.
 
"First reaction was I was really excited for her and it's a tremendous opportunity, one for her family that I thought made a lot of sense," Binford said. "From the coaches and the team, we were definitely sad to have her go because she's definitely been that right-hand person that has helped build up this program. But at the same time, I've always been an optimist that change can be really good."
 
Wyoming assistant Mike Petrino and former Stanford standout Joslyn Tinkle interviewed for the opening and were offered the position, but each turned it down according to a source close to the situation. Binford said she'd like to have someone hired by June 8. She has already moved current assistants Kelly Barney to her recruiting coordinator and Nate Harris to the head of player development. Still, she said Starr will be tough to replace.
 
"What made her special was the fact that she was about the kids and mentored them and challenged them and really did a great job developing them," Binford said. "I will miss the great loyalty and the ability to be completely open in our conversations and our communications as far as what we needed, what was best for the program. Once we leave these doors, all of us being united on one page has been what's always made this staff so fun to work with and that's what we want to continue."
 
The Bobcats will take the next handful of weeks off before reporting back on June 27 for summer workouts. Cole, Durham and Elliott are officially finished but MSU will add three new faces to the mix.
 
Binford signed Annika Lai from Boulder, Colorado during the early period. Missoula Big Sky product Maddie Shaide and Seward County (Kansas) Community College product Rebekah Hatchard signed in April.
 
Shaide, a 5-foot-7 guard, chose MSU over an offer from Idaho State. She also had strong interest from Montana and Boise State. The first-team Class AA All-State selection averaged 16.8 points per game, tops in the state. She also chipped in 3.0 steals, 2.9 assists and 3.9 rebounds as the Eagles went 14-9.
 
"I like that she's a Montana kid and I like that she's blue collar as far as work ethic, toughness," Binford said. "I like her ability off the bounce. I think she's really gifted off the dribble and I think she's very gifted as a scorer. She can put points on the board. She can really create opportunities for other people as well. And she's a gym rat."
 
Lai, a 6-foot-1 forward from Fairview High School, helped lead her team deep into the Colorado state tournament as a senior. She averaged 18.2 points, 6.9 rebounds, 2.2 steals and 1.5 blocks per game. She also had an offer from Weber State.
 
"We signed her as a 3 and one thing we wanted to do was we wanted to get bigger guards back into the program and she is certainly that," Binford said. "She's really lanky and she really covers ground on the defensive end. She really takes us up a notch as far as locking people down on that end of the floor, creating deflections and being really aggressive. She can get to the rack in the open floor and we loved what she did this last year. She took on a huge load to get her team as far as they did. She's another kid who's a good fit: engineer, 4.0, Bozeman reminded her of Boulder in a lot of ways."
 
Hatchard recently finished her second season at Seward County Community College in Liberal, Kansas. In March, Hatchard helped her squad to a 28-6 overall mark and a Sweet 16 appearance at the National Junior College Athletic Association national tournament. In her two seasons at Seward, she guided the Saints to a 54-12 overall record and a 23-7 conference ledger.
 
"You usually take the best kids you can get at each spot but when you look at our roster, we are really three-deep at each spot," Binford said. "Graduating Kalli at the 2, we wanted to get some experience at that spot and we wanted to have some additional ball handlers with the Sac States of the world, having some other kids who can help break presses so you don't have to solely rely on your point guard. Rebekah was somebody that Amy (Starr) had a chance to see at the junior college tournament and she was solid across the board. On the defensive end, she's really, really tough. She can defend really well. And on the offensive end, she's just skilled, a good ball handler, a good passer, a good shooter."
 
Colter Nuanez can be reached at BobcatBeat56@gmail.com and followed on Twitter @Bobcat_Beat.
 
 
 
Categories: