Bobcat track & field heads to EWU for Big Sky Championships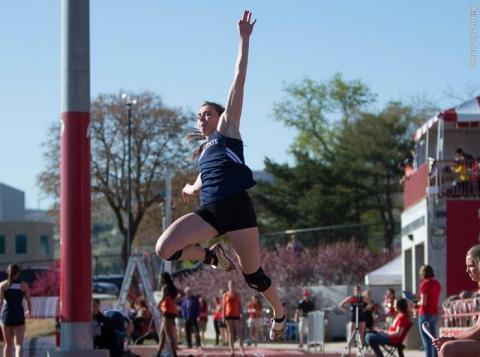 By COLTER NUANEZ
Bobcat Beat
 
The word of the weekend might be redemption for the Montana State Bobcats.
 
Cristian Soratos used it when talking about chasing the national title that has so far eluded him. Sean Ferriter used it when talking about the prospects of his female Bobcat counterparts as they chase an elusive team conference title. And the MSU women certainly feel a need to chase it as a slew of decorated seniors seek the highest team accolade, one that narrowly escaped them in February.
 
The MSU track and field teams take full 24-member men and women's squads to Cheney, Washington this weekend for the 2015 Big Sky Conference Outdoor Championships this weekend. Soratos, among the nation's fastest distance runners, and Ferriter, a senior thrower who hopes to peak at the right time, headline a men's team hoping to surprise with a top-three finish at Eastern Washington University. As of the latest power scores projecting the final team finish, MSU is slated to score 86 points, one more than host EWU for third. Sac State is projected for 162 and Northern Arizona is projected to score 142.
 
Heather Demorest, Carley McCutchen, Chantel Jaeger and Paige Squire are the senior stars on a Bobcat women's team looking to overcome the disappointment of the indoor season. The MSU women built a double-digit lead over Sacramento State at the Indoor Championships in Flagstaff only to see the Hornets rally. Sac's 4x400 relay team out-legged the MSU team that includes Jaeger and Squire to win the race and earn a one-point win and the team trophy.
 
Entering the weekend in Cheney — the decathlon and heptathlon will take place Wednesday and Thursday, the full meet beginning Friday morning — Sac State is projected for 134 points. MSU is next at 121 with Portland State a distant third at 101. But Montana State isn't letting the predictions get in the way of their collective mentality to earn redemption.
 
"It was so heartbreaking coming so close to winning indoor," said Demorest, a senior from Darby who will compete in the 3,000-meter steeplechase, the 1,500 meters and the 5,000. "But I think it made us stronger. It really built us up rather than breaking us down. There's a lot of seniors on this team where this is our last conference meet so I think we are really all just really fired up and ready to bring our best for that team title."
 
Demorest, who's claimed multiple Big Sky Athlete of the Week honors in 2015, will try to pull off the rare distance trifecta. The Indoor Championships Outstanding Female Athlete — she won the 5,000 and the 10,000 — is the favorite in the steeplechase. Her time of 10:14.60 at the Payton Jordan Invite in Stanford, California last week was the ninth-fastest time ever by a Big Sky female. She has the third-fastest seeded time in the 1,500 and the fifth-fastest in the 5,000.
 
"There's pressure from myself mainly," Demorest said. "I don't necessarily want to peak but I definitely want to give it all I've got. I'm in three pretty tough races so I definitely want to score as many points as possible for the team."
 
"I'm honestly going to give all three races everything I have. Ideally, with where my fitness is at, I'm going to try to win them all or score as high as I can. I'm literally going to give every race as much as I can because it's conference. I want to go for it."
 
Demorest is one of several Bobcat standout women with heavy loads this weekend. Senior Carley McCutchen, the reigning indoor champion in the pentathlon, posted solid marks in the 100-meter hurdles, the high jump and the 200 on the first day of the seven-event heptathlon to post a first-day score of 3,038 points, 73 points ahead of junior teammate Danielle Muri (2,965) with Sac State's Kassandra Corrigan in third with 2,922. The event concludes Thursday with the long jump, the javelin and the 800.
 
McCutchen will also gun for points in the long jump, the 100-meter hurdles and the 200 when the full meet begins. Muri, a Billings West product and former North Dakota State basketball player, is a qualifier in the javelin and the long jump.
 
Jaeger, a star ever since winning the 200 meters at the outdoor championships in Bozeman as a freshman in 2012, is looking to finish strong alongside a pair of fellow sprinters who've ran on the same relay team for years. Jaeger will face a stiff challenge from Sac's Caprice Powell in the 200 and Hornet Dominique Whittington in the 400. Each Hornet runs on the 4x100 and 4x400 relay teams, the only squads with faster qualifying relay times than MSU.
 
Senior Paige Squire, a Corvallis product, has steadily improved throughout the season. She's the third seed in the 100-meter hurdles and the top seed by more than half a second in the 400-meter hurdles. She's also a member of each relay team.
 
Senior Iris Hardason, also a qualifier in the 400, is on both relay squads as is sophomore Josephine Petruska. Petruska is also a qualifier in the 400. Senior Kristi VandeBergh is a qualifier in the shot put and the disc, events she's scored in at the conference championships before.
 
Other Bobcat women qualified in multiple events includes Jessica Chrisp (long jump, 100 hurdles), Megan Ralstin (long jump, triple jump), Caroline Hardin (10K, 5K) and Amanda Jaynes (100H, 400H).
 
In the winter, Soratos burst onto the national scene at the Husky Invite in Seattle, running the 11th-fastest mile in NCAA history. He ended up taking second at the national championship meet.
 
"It was a good experience and the way I raced, I went all out and the first time ever at a national championship meet, getting second, I couldn't be disappointed but I certainly wasn't satisfied," Soratos said. "I changed my word of the year to redemption and that's what it's been ever since because that's what I'm looking for."
 
Last week at the Payton Jordan, Soratos ran an unadjusted 3:39.68 to place fourth in a field filled with college and professional standouts. The time was a personal-best and the fourth-fastest in Big Sky history. It ranks sixth in the nation.
 
"A sub-3:40 first time outright, running with the pros at the Payton Jordan Invite at Stanford, that was a big confidence booster and let me know where I'm at physically," Soratos said. "And I still felt like I had something left so I'm in even better shape than I thought, which is a big confidence booster going into the Big Sky Conference meet."
 
Soratos will gun for wins in the 800 and the 1,500 as well. He claimed the 800 title during the indoor season and he's the lone Big Sky athlete to break 1:50 this outdoor season. His seeding time in the 5,000 is the seventh-best in the field.
 
"Not so much urgency but just confidence that I can do it knowing what I did this indoor season," said Soratos, who missed the first month of the outdoor season with a foot injury. "I got hurt and I know I'm still getting in shape. I still have five weeks until nationals and seven weeks until the U.S. National Championships and I want to perform and win nationals, perform really well at the U.S. Championships and show everyone what I can do there. This is only the mid-point for my season. I have a lot of training I can get under my belt, a lot of time to get in shape. I'm still on the way up right now."
 
Soratos will receive relief in the team chase from his talented veteran distance running comrades. Matthew Gotta and Michael Asay will also run the 1,500 while Asay, Seth Garbett and Jake Turner will run with Soratos in the 5,000. Gotta and Turner will also run the 3,000-meter steeplechase.
 
Ferriter is qualified in just the hammer throw, but he's not just chasing a Big Sky title. He also has some unfinished business.
 
During his senior year, Ferriter has won every meet he's participated in aside from the indoor Big Sky Championships. He's gone head to head with two-time indoor champion Jordan Arakawa of EWU on multiple occasions throughout his career. He's never beat the Eagle standout.
 
"I've actually never beaten him in a meet before and this is the last time I'll get to go against him," the former Butte Central standout said. "It's fun to have a rival out there. It's fun to have someone to shoot for."
 
"I think it will take a personal-best, anything around 215, 216 to win. He's already put one out at 215 this year. But I think I have it in me. I just have to do it. You never know when it's going to come but I'm going to go for it."
 
Arakawa and Ferriter have the two top throws in the league by almost five meters. Arakawa will have home-field advantage but Ferriter doesn't think that will play a role in the outcome.
 
"Sometimes when you are competing in a place you are used to, I feel like you don't have as much adrenaline," Ferriter said. "Sometimes when I throw in Bozeman, I'm more relaxed. So I don't know if being at home will help him at all."
 
It's been years since MSU has competed at EWU. On Wednesday, decathlete Mason Storm scored 3,336 points to sit in fourth entering the second day of the multi events. Sac State's Alec Acevedo scored 3,722 for the first-day lead.
 
Storm, a Great Falls product, will also look to score points in the long jump and the 110 hurdles this weekend. Senior Ryan Kropp is a contender in the pole vault while Tanner Gambill and Ty Bermes will battle for the javelin title. Other Bobcat men participating in multiple events include senior Rory Bauer (400, 4x100, 4x400, freshmen Mitchell Hornig (100, 200, 4x100), Christopher Lange (400H, 4x100, 4x400), Alexander Lewis (long jump, triple jump) and Kyle Douglass (shot put, discus) along with junior college transfer Trevor Simanski (long jump, triple jump).
 
Several Bobcats — Ferriter, Soratos, Demorest and McCutchen among them — will likely compete beyond the conference meet at the West Regional and possibly the NCAA Championship. But for most of the Bobcats, this marks the end of the road until next fall and, for some, the end of their careers. The men are a long shot for league title but the women would love nothing more than to end the campaign on a high note.
 
"This team has a lot of love and support for each other and we are all really a family that pushes each other," Demorest said. "We push each other every day to do our best. We've been through so many ups and downs together. It would be really great to just end it on a high note and see everyone's hard work pay off."
 
Colter Nuanez can be reached at BobcatBeat56@gmail.com and followed on Twitter @Bobcat_Beat.
 
 
 
Categories: