Off-season Q&A with the assistants: Tim Cramsey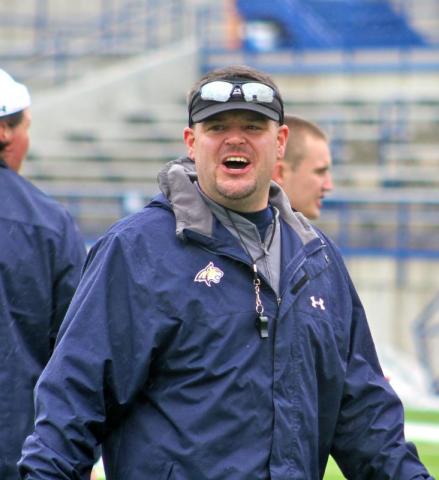 By COLTER NUANEZ
Bobcat Beat
Once the reigns were firmly in Tim Cramsey's hands and the in your face offensive coordinator had all his guys in place, the results, at times at least, were spectacular.
 
In Cramsey's first year in Bozeman, the fourth OC in Rob Ash's eight seasons inherited a veteran offense accustomed to change. But the personnel skill sets of DeNarius McGhee, Cody Kirk and Tanner Bleskin were not suited to Cramsey's up-tempo, spread option attack.
 
Last season, head coach Rob Ash relinquished complete offensive control to Cramsey. With sophomore quarterback Dakota Prukop at the helm behind a stout and experienced offensive line, a group of rookie wide receivers cutting their teeth on the outside and a stacked group of running backs with varying skill sets, the Bobcats ripped through the Big Sky.
 
After a disheartening 52-51 loss to No. 2 Eastern Washington, the Bobcats caught fire. During a two-week jaunt through California, Prukop totaled more than 1,000 yards and 13 touchdowns as Montana State scored 77 points and set a school record with 737 yards against UC Davis, a heck of a finale considering the Bobcats piled up 59 points and surpassed 625 yards the week before at Sacramento State.
 
By the end of the season, Montana State had a school record for points in a season. The Bobcat offense averaged more than 500 yards a game. Shawn Johnson scored touchdowns from all over the field, totaling eight in his senior season that was hindered by injuries. Anthony Knight scored 12 touchdowns as the jackhammer in a between-the-tackles trio that included Gunnar Brekke and Chad Newell as well, each who carried the offense during parts of 2014's 8-5 playoff campaign. On the outside, freshmen Justin Paige and Jayshawn Gates were big plays waiting to happen, averaging more than 45 yards per their six touchdown catches. Slot receiver Mitch Griebel and Mitch Herbert, another rookie on the outside, proved to be reliable when MSU needed to move the sticks. Up front, the trio of center Joel Horn, guard JP Flynn and tackle John Weidenaar proved to be one of the Big Sky's most formidable units.
 
And then there is Prukop. Despite suffering a knee injury that cost him two starts, the sophomore sensation gave Bobcat fans new and renewed optimism after the departure of McGhee, a four-year starter and two-time Big Sky MVP. Prukop rushed for nearly 1,000 yards and scored 13 touchdowns. All told, he piled up 3,211 yards of offense and accounted for 30 touchdowns.
 
As Cramsey enters his third season at the controls of an increasingly explosive attack, the Bobcats look loaded and ready for bear. Just Johnson and the senior tight end duo of Tiai Salanoa and Lee Perkins depart. In their place, MSU will slide in sophomore Nick LaSane and freshman Tavon Dodd in the backfield while adding hulking Miami (Florida) transfer Beau Sandland to the mix at tight end.
 
All factors considered, the Bobcats appear to have all the firepower to make a real run at a conference and national champion. The week before spring drills, Cramsey sat down with Bobcat Beat for a no-holds-barred interview to discuss the future of the Bobcats. For full audio of the interview, click here.
 
 
The interview begins in Cramsey's office. New offensive line coach Jason Eck has just walked out the door.
 
Bobcat Beat: First of all, talk to me about Eck. That's a guy who we've texted about who you've known and you've liked for awhile. Do you remember when you first met? He said he interviewed with you out at New Hampshire at one point too.
 
Cramsey: "I think it was 2009, maybe 2010 but I think it was 2009. We interviewed. It was his. But the head coach gave it to a kid who had played at New Hampshire and is still their tight ends coach. His old man is the head of the boosters….
 
"From that day, I love the guy."
 
BB: Did you know him before that interview?
 
Cramsey: "I didn't."
 
BB: He was just a candidate. Where was he coming from at that point?
 
Cramsey: "Ball State at that point. He just got let go at Ball State. He got caught up in that thing that we are all scared of in this business where you are seven places in eight years and your wife is going to leave you in a heartbeat.
 
"So I was at New Hampshire for nine years and then I went on to three years, two different places, four moves, three houses, two kids, got married, bought a house. And then it was like stop for a second. He's been on that whirlwind for a little bit.
 
"Actually, I was surprised he took this. I knew he wanted to continue moving up. And I knew he wanted to work with me and I wanted to work with him. But I just thought the wife was going to be like, 'Hey, you got a good gig."
 
BB: I know, that was one of the first things I asked him too. I said, 'Hey, I looked at your bio and you've had about 10 jobs in the last little while.
 
Cramsey: "Like I said, he's one of my guys. We never worked together but he made sense to me that day and he's really, really good on the o-line. He's really good with the kids in that sense. Really good with the o-line and we have the same mentality where offensively, last year, he lined up in 10,000 different formations, 10,000 different shifts. We played at the same tempo and have the same mindset so he'll be a really good fit. He's a young guy, energetic guy. That was really important to me. There's been a number of times I tried to get him.
 
"He interviewed with Ash for DaPrato's job when Link left. I kind of knew he wasn't going to get that job because that was more of a special teams gig than tight ends, what DaPrato's gig is. But he's an o-line guy who could've easily done the tight ends but he would've had to learn the special teams.
 
"I just wanted Ash to hear him talk because I knew he'd love him. As soon as Mac told us he was gone, Ash was like, 'Who do you think?' and I was like, 'Jason' and he was like, 'Jason, yeah we really like him.' And I was like, 'Man, we sure do.'
 
"I'm excited to get him on board. As I said before, I think the hardest part about coming into a place is Mac has been with those guys and coached those guys and recruited those guys and they love Mac. And they should. But we are going to give this guy a shot and they'll love him as much as they love Mac once they start learning from him."
 
BB: From a…I have to figure out how to phrase this correctly. From a coaching staff continuity point of view, do you feel like it gives you more continuity on the offensive side of the ball and Mac had been here for so long and there was such an institution of what he has build even stemming from a previous regime? Now you have a bunch of guys are a little bit newer. You have your own staff so to speak.
 
Since Cramsey took over before the 2013 season, Montana State has new position coaches for running backs (Michael Pitre), wide receivers (Cody Kempt), tight ends (Daniel DaPrato) and offensive line. Pitre and Kempt are entering their second seasons. DaPrato came to Bozeman the same year as Cramsey.
 
Cramsey: "Yes. Yeah, I smile and laugh because it's all new staff since I moved here so I don't know if I ran them out, if it's me or what. That being said, Link left for a better job (quality control at Auburn) and we got a better coach in Dan. Demo (Odems), love Demo, he had to go home. No brainer (went to Stephen F. Austin). Pitre, I love Pitre. He's my guy. Von Bergen was fired and he should've been fired. But Cody is 10,000 times the coach he was. Von Bergen didn't fit in my room. He didn't understand it. So it was time for him to go.
 
"Mac and me butted heads initially, and rightfully so. A guy who wants to OC job and some other slapdick from the East Coast comes in. I would be bullish too. We butted heads for a little bit. But I thought last year, we were the perfect contradiction of each other. In my world, I want all 11 guys outside the hashes. In his world, he wants all 11 guys inside the hashes and we kind of met in the middle of the road there and put together some fun stuff. Me and him had a really good relationship, a really good working relationship but now I have Jason (Eck) as our guy. To me now, it's my room, it's our room and it will be good."
 
BB: It's kind of tried and true in all sports but especially in college football tha the continuity behind the scenes is such a key thing.
 
Cramsey: "It's just huge."
 
BB: Having that similar mindset, how will that help you make progress going forward?
 
Cramsey: "I just think ideas are so much easier to come because it's not going to turn into 'Why don't we do this? Because I don't like doing that.'  There's a 99-percent chance that whatever idea you've come up with, I've already come up with or it wouldn't make a lot of sense to me. That's more so the camaraderie of the staff.
 
"I'm a big anally efficient guy. I'm not the type of guy who sits there and studies a play for two hours to figure out if we like it. I look at it, think, 'Well, that's pretty cool' and it's in. It's done. Or we aren't going to work with it.
 
"The camaraderie of this staff will be good. Jason will fit in with these guys big-time. It will be a good situation. We are all the same type of person in there right now. We are a little free will, a little wild, a little open and let's give it a shot, man. We have 80 plays a game. If one of them doesn't work, we'll be all right. We have 79 others to go so we'll give it a shot."
 
Along with Weidenaar, Flynn and Horn, MSU returns seniors Kyle Godecke and Alex Eekhoff, each who sat out spring drills with injuries. The group also includes juniors Dillon Fraley and Doug Hanson along with sophomores Dylan Mahoney and Caleb Gillis.
 
BB: Spring ball is just a week away and like you said, all those guys in the offensive line room, coached by Mac, recruited by Mac and obviously they have a lot of reverence for Mac. He was a me against the world type coach and they were kind of a singular group within the team. What do you hope to see out of them from a reactionary standpoint as far as being coached?
 
Cramsey: "I expect them to be who they are. You are going to hear things differently. We aren't going to change scheme. They are going to hear blocking the same plays and little tweaks as to how Eck does things. My point to them is to give it a shot, give it a try. Jason is smart enough to know that if I put my tweak in and it's not working, don't use it.
"He's been seven places in nine years so he's been in other rooms where coaches have raised their kids. To an extent, you have to as a coach adapt to what they know and what they are good at and how they've heard it but still coach it your way. I really don't expect them to miss a beat with those guys up front.
 
"The other thing we don't have is there's no bad kids on that offensive line, kids that are going to rebel. There's no kids that are going to be pissed off. Even talking to them, they are nervous like who's this new guy you are bringing in but they are excited because it helps you out. You hear something different from somebody else saying the same thing but saying it differently and that's going to make me a better player. Coach Mac did what he could do with me and I am where I am and I want to naturally improve and now this guy is going to teach me something different that Coach Mac didn't know or didn't teach me that way and it will make sense. That's what they will think. Those guys won't skip a beat. On the offensive line, they are smart. Eck will fit in with them perfectly."
 
BB: I thought that was one good thing he said too. He said, 'I don't want to make any of them forget anything that Mac taught them. I want them to remember all of it so I can be on top of it.' Everyone is a different teacher, everyone has a different perspective. Sometimes, things can get…stale is the wrong word but you know what I'm saying. Now Eck might come in here and see one little fundamental tweak he could make on John Weidenaar's pass-pro and all of a sudden Weidenaar still has the baseline and he's got the talent.
 
Cramsey: "That was my thing. I didn't want to bring…I know a lot of guys in this business who are really good o-line coaches but who are also, for lack of a better term, jackasses, like me, East Coast, my way or the highway. That's why I like Jason because Jason is going to coach you hard but he's going to earn your trust before he coaches you hard. I think you have to do that. You can't just come in coaching kids hard. You have to earn the trust first. He'll do that quickly. I'm psyched that he said yes because I'm going to be honest with you, I didn't think he would take it. It's tough to move for the seventh or eighth time. He was an offensive coordinator at a school that went to the national championship. He was in Division II and he's coming to an FCS program that wins. The chance of me and him working together like we've been talking about the last four or five years, getting together and working together and when is it going to happen? I was surprised he actually said yes to be honest with you."
 
BB: The family thing is hard for sure. Especially since he's got three kids.
 
Cramsey: "That's like my wife. When things come up, she's like 'No. Just plain no. I'm not moving to that part of the country.' It's different here when you got a job, a job I like and I like Bozeman and we like Bozeman and my wife is here and all that type of stuff.
 
"But when we were at FIU (Florida International), we got fired. This was the best job we had. It wasn't like we had a choice. We were going to Montana. She was like, 'I don't even know where Montana is.'
 
BB: But now she loves it right?
 
Cramsey: "Now I don't know if I'll be able to get here out of here. But if you have a job and you have a good job and you are in the community and all that kind of stuff, somehow the job that comes along better be a lot better for you to leave than what we are doing."
 
BB: On that note, after a couple years in Montana. I was just over talking to one of my business partners at Specs and he was saying you were a speaker at something in the last week. Anyways, my question is have you been surprised at all by the demands you have outside of these offices for this position and the pedestal, how big of a deal Montana State football is in this state?
 
Cramsey: "Surprised, no because you kind of had a feel for the support when I came in as an opponent in 2011 (at New Hampshire). I think it's awesome, man. It's an FBS mentality, an FBS feeling out here. In the Sun Belt, you don't get that. At FIU, no one gave a shit. You beat Louisville and there's a spot about two inches big in the paper. But on the front page was LeBron James and Dwyane Wade and the Marlins and Ryan Tannehill and however else is with the Dolphins at the time. Here, it's awesome. It would make it hard to leave because of that. That's a big part of it.
 
"I love that stuff, though. You walk into a store and people know who you are and that's cool. Everyone is like, 'They bust your balls, you make a bad call, they are on you.' Well, I'd rather that than someone not care. I'd rather have an article that says, 'Cramsey, you suck' than no one cares. I think it's awesome, the support, being able to go out and talk to people who listen and all that type of stuff, man.
 
"It surprises me sometimes just how important Bobcat football is to people, though. We have a neighbor who lives across the street from us and she's a season-ticket holder her entire life. She sits like four rows up from the opponents' bench. Last year during camp, we have that autograph signing deal. Her and my wife are like really, really close friends so she came with us to hang out a little bit and play with my kids. We walk out to the stadium and she's standing on the blue tarp not on the field yet. She was just standing looking at it and it was like 'Field of Dreams'. She whispers to me, 'Am I allowed to step on the field?' I was like, 'Yeah dude, go ahead.' And it was like the coolest thing in the world to walk on the field. My wife couldn't really understand why it was a big deal.
 
"To me, that's cool. To me, that's the part that, I don't want to say it's surprising, but that's the cool part about how important Bobcat football is to people. It makes you work harder, man. It makes you want to win. Yeah, we win for ourselves and our team but you want to win for these people too. They've been around a long time and haven't seen one for a long time."
 
BB: Does the scrutiny and the irrationality, especially as the offensive coordinator, you are probably hearing it at quarterback club all the time what play you should've called. Does that ever get on you?
 
Cramsey: "I've done a very good job since my first year as a coordinator of staying off all that shit (laughs). My brothers from out of town, they read it. My mom reads it, my sisters read it. I know when it's something bad. But at the same time, shit, I watch the game too. I know when I suck. I know when I was good. I don't need someone saying, 'Hey, you called a great game or you called a shitty game' because I already know if I called a great game or a shitty game.
 
"Sometimes, I thought I called a shitty game but it may have looked like I called a shitty game like the Weber game this year when we only scored 23 points. But really when I broke that down, that was actually one of the better games I've called because I didn't get — this is something I was bad at when I was first a coordinator — I looked at the scoreboard and thought, 'Oh shit, we only have 13 points. We need to score points right now.' But it's not about that. I looked at the scoreboard and I said to myself, 'Shit, we are up 13-3. We are a f***ing touchdown away from winning this game. If we score one more touchdown, Weber is…' you and me can stop Weber's offense. So I knew if we got to 20 at that point, I knew the game was over so my play-calling was depicted upon that. We got in a huddle and we didn't panic. We didn't think we had to score 50 points the next three drives. To me, some of the games to newspapers and to people in the crowd, they might thing that game sucked because we only scored 23, and I say, 'That was one of the better games a mature, level coordinating that I've done.'
 
"The UC Davis, shoot, things just worked in that game. We scored 77, which is awesome and cool. We will probably never score 77 again. But there were plays in there that worked that probably shouldn't have. There's no reason the wheel route is open in this coverage except for those two guys just completely f***ed up."
 
BB: I remember I was on the sidelines too and I remember you walking by one of the defensive coaches and saying, 'Hey, get me a stop so I can take some of my guys out.' And then Davis went and got another score. I went back up to the press box and Lamberty looks at me and says, 'We are going to break every offensive school record in the books because our defense sucks so bad.'
 
Cramsey: "That's what it was (laughs). In the third quarter, Ash looks at me and he says, 'Hey, if we stop them, we are going to take (quarterback) Dakota (Prukop) out. I was like, 'Yeah, thank God. Let's do it.' And they scored again and Dakota has to go right back in."
 
BB: And then they got a stop, the only stop they got all game and then they scored again and now it was like you were only up by a few.
 
Cramsey: "Exactly. To me, I've done good job of not reading that stuff. There's times that are funny in the community where you hear it.
 
"Another funny story. We were out buying a Christmas tree after the playoff game. The Griz kicked our ass of course. I always tell my wife be careful introducing me as the offensive coordinator because there are definitely people who don't like me. Don't go to random people saying, 'This is the offensive coordinator'. I can introduce myself as nobody (laughs).
 
"But there was this older gentleman, 75 or 80 or whatever, all Bobcat'ed out in his car. He had stickers, colors, everything. He got out and my wife was like, 'Oh, are you a Bobcat fan?' He was like, 'I should probably be a Griz fan right now.' I was like, 'Geez.' And my wife says, 'Well, my husband is the offensive coordinator.' I was like, 'Honey, this is where you don't say that.' (Laughs).
 
 "I stay away from that stuff. I don't get on there and look at it. Even articles in the paper, we don't read the paper. You know whether you are doing what you are doing well. I try to tell the kids the same thing. If you had five touchdowns, don't read about it. Don't believe that shit."
 
BB: I think it's hard on kids too because even from a media perspective or on a message board, the kids are getting scrutinized strictly as a football player but I think that goes by the wayside a lot of times. They think they are getting attacked on all sorts of levels and that's what they identify themselves as anyways.
 
Cramsey: "Like the Griz game with Jake (Bleskin). I didn't know all of that was going on. I knew that people were pissed at him. But Coach came into me and was like, 'What are we going to do about this?' I was like, 'What?' I didn't realize how bad it was getting. So finally Ash and Peter and the President stepped in. But you can't read that shit.
 
"There's no reason to read it when you did well. That's the other thing I did as a young coordinator. We would have a good game and I'd read all about it. There's still some things in there, 'Cramsey sucks.' So no use reading it."
 
BB: This day in age too, people have some pretty brass balls when they are anonymous behind a screen. My favorite Teddy Roosevelt quote touches on, 'It takes more courage for the man that's in the arena than from all the people scrutinizing from the stands.'
 
That's why journalism and sports are similar in the fact that your job will be endlessly scrutinized and you are out there for everyone out there to see no matter what. No matter how good you are, there is someone that is going to hate you.
 
Cramsey: "My sister was a producer at a company in Hollywood of a TV show. She won two Emmy awards. She used to always say stuff like that too. She'd say, 'You should do one thing per day that scares you'. The other thing she used to always say is, 'If you have critics, you are doing well.' That goes back to my point about working here as opposed to working at FIU where nobody cared. You beat Louisville, you lose to the school of the blind, no one cares. It's fun, man. I know when there's bad stuff and my wife reads it. You can tell by her reaction what's going on."
 
BB: I'll tell you, no bull shitting, they like you a lot. Most of the Bobcat Nation likes you quite a bit.
 
Cramsey: "For now."
 
BB: Now. That's the thing too. Fickle, very fickle.
 
Cramsey: "If we go out and score 15 points per game the first three games, what will they think? (Laughs).
 
"I'm sure they loved Jamie Marshall a couple of years ago when Schreibeis and Daly were coming off the edge too. But yeah, you are in that position, shit, you have to have tough skin. The way we run offense, we are going to have fun, man. We are going to have fun out there. This is what I do for a living. But if you are tight and I can tell you are tight, you are not going to be in the game. We are just going to have fun and play. That has to be my mentality is, 'Fuck it, let's give it a try. If it works, it works. If not, we will deal with it.'
 
"It took Coach Ash a little while to learn me. He's a detailed, I need a hat on everybody type of guy. He would always ask, 'Who's blocking the Mike linebacker on this play?' I was like, 'No one blocks the Mike on this play.' He would always be like, 'Well how are we going to run a play without blocking the Mike?' I was like, 'Well, Shawn Johnson runs 4.4 and that Mike linebacker runs a five-flat so he's not going to be able to catch Shawn so we don't need to waste time blocking him. Then he started seeing it work so it made sense to him.
 
"Then we started getting real crazy. He would ask, 'Well, why are we blocking anyone?' Well, you have to get a hat on somebody at some point dude.
 
BB: We were just talking about having Coach Eck watch the Eastern game because that was one of your best performances. I have been meaning to ask you this for so long. Think back to that game. There was a play, I can't remember what the score was, but you put Shawn John in the slot, you motioned him on the fake Jet sweep, then you ran an option to the side where Prukop rolled out but then Shawn John kept going on a wheel route up the sidelines and you hit him for like a 47-yard touchdown. I was on the sidelines when you hit that and you were so pumped. What was that all about?
 
Cramsey: "That was a play I put in to fuck with (Ronnie) Hamlin because I didn't like him. I've never met the kid. I'm sure he's a great kid, a good human being. But as we prepared for him, we had all these good players to watch out for and that's why I hated him. He's got his hair flowing down over his face and all that. That play was put in specifically to fuck with him because it showed him Jet sweep, it showed him power and it showed him the option. If you watch that film, and I could pull it up for you, he steps, then he runs in here, then he runs back there, then he realizes, 'Oh shit, I have Shawn Johnson.' And he's about 30 yards behind Shawn Johnson when he scores. And before we ran it, I said to the guys upstairs, 'Watch this play.'
 
"That's why I was excited about it. When you draw something up and it actually works the way it's supposed to work…that's why some of the UC Davis stuff, that shouldn't have happened. But when that play works exactly how you want and the guy you are trying to mess with gets messed with exactly how he did, that's the fun stuff to watch as a coach."
 
BB: The reactionary play calling, the chess match that is college football, I think that gets lost on people. If you are averaging 45 a game, you are going to score 45 every time out. If you are averaging 500 yards a game, you are going to get that every game. What's that like as the season progresses, each game being an individual game? Like Weber, they threw some blitzes on you guys, like they had that corner crack they hadn't shown to anyone and Dakota gets smeared and that turns a third and short to a fourth down you can't get a field goal on anymore and it costs you points. That aspect of football, how challenging is that for a coordinator?
 
Cramsey: "It's very challenging and that's the fun of it. The thing you have to remember is the guys you are going against, they get paid too. I tell our players all the time, the guys you are going against have scholarships too and they are good players. Sometimes, they are going to make a good play.
 
"To me, that's the fun of it and we to an extent the way I do it, I'm setting up weeks and weeks in the summer time all these goofy formations and all the stuff we have and I know Week 1, we are running these two formations. Week 2, we are running these two formations and I'm not running the ones from Week 1. The formations I run in Week 1 I'm not running in Week 2, 3 or 4 because I want the teams we are playing to prepare for those formations because we've never lined up in it.
 
"How long can I waste your time? How much shit can I do to make you practices against stuff that I'm not going to line up in? To me, that's part of the chess match. To me, the good offensive coordinators are four or five plays ahead the defensive coordinator. I'm going to do this and you are going to do this as a reaction so I better have part C ready to go. Or I'm going to go to Part C so you better have a different way to attack it. That's the fun of it and that's the scheme side of it.
 
"But I'll always be a believer that it's not about Xs and Os. It's about the Moes and Joes. Dakota Prukop makes a lot of things happen that maybe shouldn't happen. He allows me to do things that I couldn't do without a quarterback like him. DeNarius is a great player. He didn't want to do what Dakota does. DeNarius is one of the best in school history, one of the best in conference history but he doesn't want to run the ball like Dakota does. He wanted to drop back and extend plays and stuff like that.
 
"Dakota is the guy who I've been searching in all my years as an offensive coordinator. There's times I'm asking Dakota to read…he can run it, he can give it, he can run it later and he can throw it. He's reading all four of those things in the same play. That's the thing I think that non-athletes don't understand watching the game. They think it's cool. But they don't understand all the things that are going on that Dakota has to make a decision on in two seconds. More times than not, he's right. Then they get pissed when he takes an eight-yard sack.
 
"As a coach, you can't be mad at Dakota for taking an eight-yard sack if the play before, he made four guys miss and ran for 25 yards. To me, that's where a good player becomes great.
 
"Off on a tangent but the film I watch with Dakota is mostly Russell Wilson because I think Russell Wilson is the best in the league at extending plays and creating plays but he also knows when to surrender. He knows when to throw it out of bounds. That's what I'm hoping to see in Dakota's improvement is a natural progression from his sophomore to junior year. He has to say, 'Well, they got me. Let's got second and 10.' Last year, he took sacks that he shouldn't have had to take. The Weber game that we were talking about. The thing I will give Dakota credit for is when he took sacks last year, he did it in style. He took a 17-yard sack, a 16-yard sack, a 21-yard sack, fumbled it, North Dakota ran it to the house (laughs). I told him, 'When you went down man, you went down in flames (laughs). I can't be that guy though. Coach Ash, 'What's he doing?!' But you weren't complaining when he ran across, back across, back across and got 30 yards. You didn't complain about that. That's the natural progression of becoming good to great."
 
BB: His ability to read plays on the fly, all these pass-run options, can that be honed, can that be improved?
 
Cramsey: "Absolutely. You can always get into a Sunday afternoon watching film and you think, 'He should've given that one.' We scored a touchdown but he pulled it and threw it to the receiver for a 21-yard gain so if we are going to run this style of offense, we are going to look at some things and say, 'He should've done this, he should've done that.'
 
"But the way I grade him is was the play efficient? Was it an efficient play? That means he made the right choice. That's where I take into consideration his athletic ability. I say, 'I'm going to run you on this. There might be two guys out there and I expect you to make those two guys miss and go.'
 
"Sometimes, as dumb as it sounds, that's part of the play scheme. Dakota's athletic ability is going to beat those two guys. Like Coach asks, who's blocking the Mike? No one. The Mike ain't gonna catch us. I've watched the Mike run and he can't run with us. There are some Mikes that you better get a hat on that guy. That's part of the scheme but Dakota can become more sound.
 
"I also think Dakota predetermines and he gets away with it sometimes because he's so athletic. He decides to pull it because he just wants to run it. The whole 15.7 carries per game he got last year, 50 percent of that time, it was his call not mine. I had a deal and now have a deal with him that I'm going to limit how many times he gets tackled.
 
"Now, if the game is tied with Eastern in the fourth quarter, we are going. If we have a two-touchdown lead and you've been tackled eight times already this game, you ain't getting a carry. To me, it's not about carries. It's about how many times you got tackled. You can go 30 yards and step out of bounds, to me that's nothing. But if you go 15 and get wacked out of bounds, that's a tackle. I'll know how many times you've been hit today. I'm going to start limiting those.
 
"At the same time, if we don't use him, I might as well start Bleskin. I'm going to use him and be smart. If he get hurt up 39-20, that's a fucking back move on my part. He got hurt in the Portland game. That was close. Touchdown puts us up two scores. I'm not mad about that. That's part of football and part of who he is. Can he takes hits? Shit yeah. He's in as good of shape as any running back we've got. Do I want him taking 1,000 hits? No. But I put that on him, your carries that you want are going to be cut down.
 
"I watch film with him and there's times he could've gone out of bounds and didn't and took a hit and he would've gotten the same yards if he would've gone out of bounds. This isn't a flex your muscles, I'm a bad ass thing. I think he learned his lesson. The play he got hurt on, he really hurt himself. He didn't really get hit and then he dove into the end-zone. That's part of it but at the same time, people need to know that we can be a really good offense without him running the ball that much. We just have to get better on defense."
 
BB: Did you go anywhere for professional development?
 
Cramsey: "We went to Colorado. My belief in professional development is you want to go some place where — it's all relative — but equal talent. Colorado, they were 2-11. People were asking why to Colorado? But they do good things. You can learn things from everybody. No. 2, they are doing some good things in the Pac 12 with less talent. It's not like you are going to Ohio State or Wisconsin. Wisconsin had a guy who ran for 400 yards (Melvin Gordon) because Wisconsin runs power. That's what they do. You don't need to go learn how to run power. We know how to do that.
 
"We want to go someplace where you know people and they are going to sit down and talk to you. Pitre, that's where he GA's so he knows a couple of guys on that staff. It was moreso a football conversation than it was a, 'Hey guys, we'll spend five minutes with you.' We had free reign. We went to the meetings, the practices. Sat down with the head coach, the offensive staff, all that type of stuff.
 
"We found a few ways to get the tight ends the ball. That's obviously a huge part of our attack this year. We have to get Big Beau the ball. A couple of screen passes we got. They were 19th in the nation in passing so I wanted to get some more pass ideas, drop back screens, naked bootlegs, that kind of stuff. We got some good stuff out of them."
 
BB: Well you mentioned Beau Sandland so transitioning on you to spring ball. Almost the whole offense back in tact. Tight end Tiai (Salanoa) is the guy you lose, captain, All-Big Sky guy is the guy you lose. You are replacing them with this guy who looks like a cyborg.
 
Cramsey: "If he was sitting right there, I'd say the same thing: we love Tiai and Lee. But this cat is a different person."
 
BB: I saw him in the parking lot the other day and went up and shook his hand. His hand goes halfway up my forearm. He looks a little different than the rest of the guys out here.
 
Cramsey: "He's what they are supposed to look like, man. We are going to have some fun with him. My thing this spring with him is we have to get you caught up. How much mentally will you allow to do with you? I have ideas, a whole bunch of ideas but sometimes with kids, if you give them too much info, it slows them down. How much are you going to let me do? DaPrato, how much are you going to coach this kid up to learn our system and know what everything means? We are going to be able to move him around and isolate him and he won't come off the field. He's a next level guy. You get one year with that guy and you better take advantage of it. We are going to get him the ball a lot of different ways.
 
"He's a great kid too. When he called us — it is such a weird recruiting deal but he just called us out of the blue and was like, 'I'm at Miami and I don't like Miami and my dad lives in Montana and do you guys have a scholarship?'
 
"I was like, 'Who are you dude? What's your name?' He told me his name and I told those guys and those guys know from recruiting, we got two clips of film on him. My old head coach, Mario Cristobal, coached him at Miami a little bit. I called him and he was like, 'Dude, that guy is going FCS?' I was like, 'I think so.' He was like, 'He's a fucking creature. You are going to love this guy. He would play for me at Alabama.'
 
"I was like, 'No, he can't. Bye (laughs).' And he's about as far from Miami as you and I are. I was hesitant at first about the Miami kid do then I was thankful when I met him that he was about as country as anyone in Montana."
 
BB: Yeah, he told me the whole story about how he just hated it down at Miami. They are playing in a pro stadium that is a quarter full crowds.
 
Cramsey: "We are going to do a lot of things with him. We've been watching some Gronkowski film and Jimmy Graham film."
 
BB: Did you see Jimmy Graham just went to the Seahawks today? That was when my phone was buzzing it was my brother calling me to tell me.
 
Cramsey: "That makes them better.
 
"We watch all that stuff to be able to use him and the things we can do with him. We will have some fun with him. To me, it's a 'Where's Waldo?' Put him in the backfield, put him at the No. 2 receiver, the No. 3 receiver. We will split him out to as the single receiver to the boundary. We will do all type of stuff with him. He's a guy, now. He's a guy. I would assume he'd be a drafted guy if all goes according to plan and he stays healthy. That's the type of guy the NFL is looking for."
 
BB: The receivers, Mitch Herbert had surgery and won't play. What else are you looking for out of that group?
 
Cramsey: "Everyone is going to go. Herbert is ready to go. Different than last spring when we had four, two of which we knew were going to leave after spring. One was Jayshawn, one was Will Krolick. We are now going to take 13 into this spring, which is crazy.
 
"Position by position: Herbert…I say this, everyone has to get better this spring. Everyone has to improve their fundamentals and skills and get a better learning of the offense and all that type of stuff. But I know in that X receiver spot, Herbert is going to play for us. I know Manny Kalfell is coming back from injury is going to play for us.
 
"The kid I'm interested in is Connor Sullivan. This is your first spring and this is your chance to play football and prove to us that you can transform from eight-man football to 11-man football. My whole philosophy to those guys is yes you are competing against Herbert and Kalfell. But you are competing against yourself, you can prove to me that you can get on the field and help us, that doesn't mean you are going to start over Herbert but it does make sure that I will create a way to get you the ball.
 
"I don't know what the numbers are, you probably know them better than me. But we had like 13 guys get carries last year and 19 or 20 guys had catches. So we will get you on the field and we will give you the opportunity in the game if you prove to me during spring or fall that you deserve that. We are going to put him in a lot of situations because again, they have to get better and don't get me wrong, but I know what Herbert brings to the table and I know he's going to bring that to the table last year. So I don't need to…he's going to practice and all that kind of stuff but scrimmages, I don't need to see Herbert nor do I want Herbert getting tackled 20 times in the scrimmage. I want to make sure he is there for Sept. 3. Kalfell, been around for a long time, we know what we are going to get from him at that position. Connor is the guy I'm excited to see.
 
"Slot receiver, Griebel, we can do anything we want with Griebel. If he was fast, he'd be dangerous (laughs). To me, Jayshawn Gates is an explosion waiting to happen. He overly exceeded my expectations for him last year. But he's the fastest, smoothest, one of the top three get the ball to me guys on our team next year. So I know what those two bring.
 
"The guy I'm interested in watching is Johnny D'Agostino. He's 6-foot-1. He looks good. He's going to be a step slow. I know that. But the thing that you lose sight of with receivers sometimes is the ability to get open and catch the ball. He has that. I believe productivity follows there. That's another thing I've learned in my coaching career. He was productive in high school. Any time we put him in in practice last fall, he did fine. I'm interested to see if he's going to be a kid who can help us as a kid in the slot position.
 
"That Z position will be an interesting battle. I'm real excited to see Brandon Brown, see what he can do for us. He's probably the third-fastest receiver we have. Jayshawn and Justin (Paige) and Brandon. He's a player. He played a little bit at Baylor and he practiced with them for two years. That's a big deal.
 
"Justin Paige, I want to see him progress from his freshman year to his sophomore year. I know he's going to be able to run and catch the deep ball. I've got to see if he can play football for us on a daily basis, an every-down basis.
 
"And then Roderick, I've been very open with Roderick as to where he is and he better show up because there's some really good players here. Sometimes, he shows up and it's awesome. Other times, he disappears for a couple of weeks. He disappeared from spring ball last year. We have other guys. Kalfell can play the Z. Maybe Sullivan can play the Z. Maybe Johnny D can play the Z. And I know Brandon and Justin can play the Z. He should be able to help us more than what he's done."
 
In 2010-11, Tanner Roderick put together one of the most magical prep senior seasons in Treasure State history. He threw for almost 3,000 yards and rushed for nearly 2,000 in leading Bozeman High to its first Class AA state title since 1917 and just its second ever. He followed that up by averaging more than 20 points per game as the Hawks went undefeated in basketball as well. Roderick was named the Gatorade Player of the Year in both sports, the first time someone earned that distinction and the second Montana male to win two awards. Shane Collins won the Gatorade POY in football and track at Bozeman High in the 1980s.
 
Roderick took his talents to Reno to play for Chris Ault at the University of Nevada. After two seasons, he transferred back home. In 2013, he played receiver as McGhee finished out his decorated career. In 2014, Roderick lost the quarterback battle to Prukop and Jake Bleskin. He's struggled to find his footing ever since.
 
BB: Do you worry about losing him mentally if things aren't going well for him?
 
Cramsey: "Yes, 100 percent. It's part of it. The only way you are going to lose playing time is if that guy is better than you anyways. I do that to guys sometimes. One of my psychological tricks is if I want to test a guy, I'll tell him that he is third string going into Tuesday's practice. You are third string. How do you practice on Tuesday? Do you practice with your hair on fire to get that spot back? Or do you put your head down and sulk all day? To me, that's part of testing.
 
"I do it with Dakota a lot too. I go into that Tuesday practice and I'm going to be a complete dick to Dakota today. I'm going to try to get him rattled, get his mind not working right, get him thinking about something else. Early in his career, I say early but it still is kind of early, but earlier, he wouldn't have been able to handle that. Now it's just taking it in stride, going with it. To me, that makes them better. At some point, we will do that with everyone on the team but with Tanner specifically to find out where he's out because we need him. There's too much potential in there for him to show up every couple of games."
 
BB: Is there pressure there to get him more involved, his back-story, where he comes from, what he was in this community?
 
Cramsey: "I don't buy into that. I've had some talks with him but I don't fall into that. I don't owe you any catches because…the Eastern game, that wasn't anything. I told him going into Eastern on Tuesday that he was going to have an opportunity to have a big game if you show up and make plays. He did. Five catches, two touchdowns, whatever it was. I don't fall into that. I don't fall into that deal. But I know what he had coming out and my point to him is you are playing ok without busting your ass. If you busted your ass, can you imagine what you will be for us?
 
"Troy Purcell at Bozeman cracks me up because I go into Bozeman and he's always busting  my chops. He's always like, 'I don't know what you're looking for because the best I ever had is playing behind a guy that never played football for me in Kalfell and Roderick."
 
BB: That's work ethic right there.
 
Cramsey: "That's the difference. Kalfell is going to bust his ass and work with nothing. And that's it. I'm not bad-mouthing Tanner and it's nothing I haven't said to Tanner. We need Tanner. If we want to be as good as we can be, Tanner has to be that guy. This spring, he's going to get pushed big-time by Justin and he's going to be pushed immensely by Brandon. If you fall to the third guy bro, there ain't that many reps in the game. You have to show up and that's why I really like spring ball.
 
"So I like our receiving corps. Everything happens for a reason. Brian Flotkoetter going down, David Dash going down, those guys going down who were expected to be good players for us last year got us a lot of young guys playing good football for us. In the long run, we are going to be better off because of this stuff happening, for all the reps Herbert got last year. Going into it, we said as a staff that they are playing good football but every rep they got last year is just bonus because it's going to be 10 times better for them the following year."
 
BB: Speaking of injured guys, Brandon Davis, is he a running back again?
 
Cramsey: "He's back to running back. He'll miss all spring. Unfortunately, injuries have put him in a tough spot because we have a lot of good players. It's going to be hard for him to come back and earn time."
 
BB: You mentioned Bozeman High. I know you recruited Montana for the first time this year. What was that like?
 
Cramsey: "It's awesome, man. I had Central Montana. I like Central Montana. There's good football there. The CMRs, the Bozemans, the Helenas, that type of stuff is good. You like walking in somewhere and having kids excited that you are there. We have a couple of kids out of my area, (Belgrade's Brayden) Konkol, (Helena Capital linebacker Walker) Cozzie, and big (Standford product) Kash Perry, (CMR's) Bryan Wilkes as a walk-on.
 
"This is a big year because my area is loaded this year. We aren't supposed to say names but you know who they are. We have to get them.
 
"A few things I've learned from the time I moved here. You can say I understand the Cat-Griz rivalry because I heard about it on the East Coast and I imagined it was really cool. But until you are associated with it that week and until you are in that game, it don't compare. That's one thing you learn is just how intense and how important that rivalry is to people in the state.
 
BB: The way you guys lost it last year, how much does that fuel you?
 
Cramsey: "It does. Shit, there ain't no secret. No matter what the situations are, going in not 100 percent healthy and all that kind of shit. I don't believe in excuses, man. I scored 21 points against them in two years. That's a big part of what we are doing right now.
 
"But you are either a Cat or a Griz in this state. You can say they got the four guys in state this year (Holden Ryan, Dalton Daum, Jesse Sims, Colin Bingham) and they did. It's tough this year. Daum was a die-hard Griz. His mom, his parents, his grandparents, everyone. Jesse, sister is with the Griz. Bingham, they came on a visit and his parents didn't stop talking about the Griz to a point where his mom said, 'I'll come to the Bobcat games but I'm not wearing their colors. I'll wear all black.' I was like, 'Got it. He's going to the Griz.' Holden Ryan, that was a strange one. Whatever. Yeah, they got the four guys in state and they were Griz to begin with.
 
"If I'm a kid and my grandfather is threatening not to talk to me if I go to the 'Cats, then I'm going to the Griz. Period. That's part of it. A lot of the kids we are talking to this year have Cat ties. To me, that's the important part about getting those kids. If you get a kid with Cat ties who then goes over there, it is what it is. But at the same time, you want to win those battles and you want to win the state as Coach Stitt likes to say a lot. Then you better win the game on the field. It's not about winning the food drive or how much money you made. It's not about winning anything except who scored more points that Saturday. The only way you are going to take over the other school is by beating them consistently."
 
BB: The new regime in Missoula, do you guys kind of see that as an opportunity being that you have a new order over there?
 
Cramsey: "That's part of what I'm saying. It's like offense: no matter what type of year you have offensively, you can go through your end of the season stats and put together somehow how you were a good offense. Like we were great on second down and we were great in the red-zone the four times we were there, we scored touchdowns. That's awesome. Like, no. The only stat that matters is how many points you score.
 
"You can say let's take advantage of the new regime and let's take advantage of the book coming out and let's take advantage of all this stuff. It don't matter. It only matters who wins.
 
"When I was at New Hampshire, we played Maine, that was our rival. We beat them eight out of the nine times I was there. So guess what? That's not a rivalry. That's an ass kicking. Every year we beat you, that's not a rivalry. You beat us five and we beat you five, that's a rivalry. You go on a three-game win streak, we go on a three-game win streak, that's a rivalry.
 
"What we need to do is to find a way to beat them, whatever the day is. November 22 or whenever next year. That's the only thing we need to do. That's going to help with recruiting. That's going to help with everything that we do. We have to beat them consistently if we want to take over the state. We've got to beat them consistently. Auburn-Alabama. You have to beat them consistently. The state goes the way that game goes."
 
Colter Nuanez can be reached at BobcatBeat56@gmail.com and followed on Twitter @Bobcat_Beat. Photo by Colter Nuanez.
 
Categories: