Griebel, Sheridan, Newell, Prukop are captains of 2015 'Cats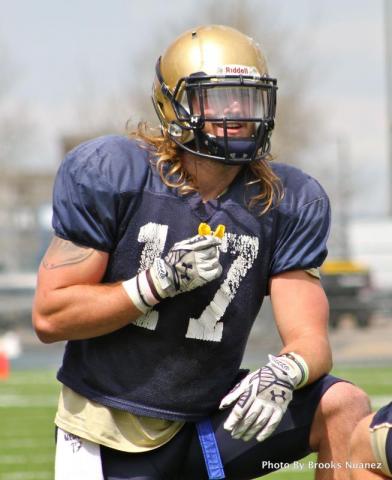 By COLTER NUANEZ
Bobcat Beat
 
Mitch Griebel had himself a day on Saturday.
 
The Montana State senior caught a Sonny Holland spring game-high four passes, including a stellar catch and run in which he avoided a big hit and picked up a crucial first down. Then the former Air Force quarterback put on a show in the post-scrimmage home run derby. The smooth righty stroked three Kane Ioane under-hand pitches into the upper deck of the Sonny Holland end zone, including a competition-winning bomb that served as a walk-off to wrap the day and spring drills for the Bobcats.
 
But the announcement following the home run derby win was the most paramount moment of the day. Two springs ago, Griebel was an option specialist quarterback searching for a spot. Now he's an unquestioned leader for a Bobcat team that will chase a fourth Big Sky Conference title this decade in the fall.
 
The Bobcat players voted Griebel, senior defensive tackle Taylor Sheridan, junior quarterback Dakota Prukop and junior running back Chad Newell as their captains for the 2015 campaign.
 
"It means the world to me," said Griebel, a prep legend as a dual-threat quarterback at Heritage High in Littleton, Colorado. "That's been my goal since I've been here. Teammate-wise, I wanted to be the guy walking out there for the coin toss and not necessarily because it's cool but because I have the respect of my teammates. That's the biggest thing and that means the world to me. That's awesome."
 
Griebel, Sheridan, Prukop and Newell will take the reigns from middle linebacker Na'a Moeakiola, a two-year captain, along with linebacker Cole Moore, tight end Tiai Salanoa and offensive guard Quinn Catalano.
 
"I'm very excited," MSU head coach Rob Ash said. "There was a very clear mandate by the players that these were the four guys they wanted. It was pretty much a consensus. That's always good to see. You don't want split ballots. These guys were on most of them. That was awesome.
 
"All four are all just natural leaders and great guys," Ash continued. "What I like too though is sometimes you have captains that are really good, solid players maybe but they just take care of their own business and they are quiet and don't say much. These guys are more outgoing, more vocal guys. They are not outlandish but they are vocal. I like that. I think they will be more assertive in a good way with our football team and I think that's an important characteristic as a captain."
 
Prukop, a third-team All-Big Sky selection and a Walter Payton Award semifinalist in his first year under center, is the first Bobcat quarterback to serve as team captain since DeNarius McGhee in 2011.
 
"I think it's awesome the peers, his players voted for him," MSU third-year offensive coordinator and quarterbacks coach Tim Cramsey said. "I think that's the key. What I always tell my quarterbacks is that if you are a captain or not, you are still the quarterback so you are still the leader of the team. I think it's a little nerve wracking, if you let the players vote and they don't think the starting quarterback is the captain. You know there's something remiss if that's the case. I don't think his role in his mind or my mind changed for him. But it's a great honor. To be captain, shoot, I still put on my resumes that I was the captain of my college team."
 
Last spring, Prukop battled Jake Bleskin, Tanner Roderick and Quinn McQueary for the right to replace McGhee. Since arriving on campus in 2012, Prukop has  been trying to forge a leadership role for himself, something that gradually came as his performances shined as a sophomore. Now he's the man under center for the Bobcats, among the alpha dog quarterbacks in the league and a true threat to make a run at the Payton this fall. The captain honor trumps anything he has or might someday win.
 
"To me, that's the highest honor I can receive and that's the highest honor I've received in my entire sports career," the Austin, Texas native said. "To be honored by my collegiate teammates as a captain, there's no words. There's nothing more than can honor me than that. I'm humbled and blessed to be a captain for this kind of a group of guys. This is a special group."
 
Sheridan, a second-team All-Big Sky selection as a junior, was in and out of spring drills due to nerve damage in his shoulders. But his teammates know what sort of warrior the 6-foot-3, 295-pound defensive tackle is. He's also got the demeanor of a leader who can be encouraging and intimidating all at once.
 
"I think he's a voice because first and foremost, he cares about all the guys and he cares about winning and it means a lot to him," MSU ninth-year defensive line coach Bo Beck said. "He can both be a friend that he can put his arm around somebody but he can be a bully also. He has the respect of the team. I know that it's been a long way coming for him but he's played a lot of football too. It's going to be good to be a captain."
 
Sheridan is the first defensive line captain since 2013 Buck Buchanan Award winner Brad Daly. During Beck's tenure, Caleb Schreibeis, the 2012 Buck Buchanan winner, served as a captain as a senior, as did Aaron Papich. Dane Fletcher, the 2009 Big Sky Defensive MVP, was a captain for three seasons.
 
"Being a captain, it's big," said Sheridan, a Littleton, Colorado product who spent time in Missoula and Bozeman as a kid. "Growing up, I saw Caleb Schreibeis and Brad Daly do it in our room. I guess it was surreal at first because I heard my name and I was like, 'Oh, that's cool' and I thought back and for me, when I saw those two get voted, it was really cool to see that in them and it was nice having it in the defensive line room. I'm just happy we had a defensive guy. We about got shut out. I'm stoked to do it. It's an honor."
 
MSU has had a linebacker captain every year this decade but the loss of Moeakiola, Moore and three other seniors meant the group is thin on experience heading into the fall. Sheridan will be the lone representative for a Bobcat defense looking to salvage its identity after a disappointing 2014.
 
"It would come with pressure if I didn't trust these guys like I do," Sheridan said. "Every one of them works freakin' harder than you can coach. I'm not too concerned. I know we have six new defensive guys coming already this summer and I'm not worried at all. Everyone just becomes a good defensive player here and figures it out."
 
Montana State already has two defensive transfers on campus. Senior safety Des Carter transferred in from UAB and sophomore safety Bryson McCabe transferred in from Iowa Western Junior College. Cincinnatti sophomore inside linebacker Marcus Tappan, Santa Monica CC junior outside linebacker Zach Stern, College of the Redwoods junior defensive end Shiloh LaBoy, Los Angeles Harbor CC junior defensive end Jessie Clark and Palomar Junior College defensive tackle Joe Naotala will come to Bozeman this summer.
 
Riverside Community College cornerback Cortland Fort was on the sidelines on a visit Saturday. Wyoming junior offensive guard Sam Hardy was in attendance as well.
 
Newell, a two-time All-Big Sky pick on special teams and an honorable mention selection at running back as a sophomore, emerged as a do-everything star last fall. The former walk-on out of Billings Senior rushed for more than 100 yards and a touchdown in a trademark winter-weather 44-38 win over Idaho State. He scored five touchdowns in an inspired comeback effort in MSU's 48-41 first-round playoff loss to South Dakota State.
 
He's gone from special teams ace to go-to tailback. Now he's the captain, a testament to his fortitude and peerless work ethic.
 
"It's a great honor and I can't say enough about this team and how much this humbles me and how great an honor it is to be voted by my teammates as a captain," Newell said. "I'm just humbled, man."
 
Montana State handed out its annual spring awards at halftime with about 2,000 people in attendance at Bobcat Stadium. The D'Agostino off-season training awards went to junior offensive guard J.P. Flynn, sophomore cornerback Bryce Alley and senior tight end Beau Sandland.
 
The Hayden Ferguson Award for academic excellence went to senior offensive tackle Alex Eekhoff, who carries a near-perfect grade-point average in construction engineering. The Chuck Karnop Award for a display of courage went to linebacker Wyatt Christensen, a standout linebacker that has had two straight seasons cut short by severe knee injuries. The Cliff Hysell Award given to the player who best overcame adversity went to senior safety Desman Carter, a transfer from UAB after Alabama Birmingham dropped football. The Tom Parac Award for the most improved offensive player went to junior tight end Austin Barth, a former standout quarterback from Columbia Falls. The Jon Montoya Award for the most improved defensive player went to sophomore outside linebacker Mac Bignell.
 
Saturday wraps up spring drills. The Bobcats made it out of the six-week session mostly unscathed in terms of injuries. Defensively, MSU installed a new scheme and cultivated depth in the front seven, something that should prove beneficial when the transfers arrive on campus.
 
Offensively, Bobcats return its entire offensive line, a unit that will feature four seniors. Prukop is back under center with veterans like Newell, junior Gunnar Brekke and senior Anthony Knight surrounding him in the backfield. Griebel is just one standout in a receiver rotation that will go at least eight and maybe 10-deep. And the tight ends lose Salanoa and Lee Perkins but add Sandland, a physically formidable 6-foot-6 Miami (Florida) transfer. The prospect of all factors culminating have the Bobcats optimistic about 2015.
 
"As an overall team, we want to make a run at a national championship and beat the Griz," Griebel said. "That's No. 1 and No. 2, beat the Griz, win the national title. We aren't going to accept anything less than that."
 
2015 Captains
Senior defensive tackle Taylor Sheridan
Junior quarterback Dakota Prukop
Junior running back Chad Newell
Senior wide receiver Mitch Griebel
 
Awards:
D'Agostino off-season training awards:
For linemen — Junior guard JP Flynn
Stand up positions — Senior tight end Beau Sandland
Skill position — Sophomore cornerback Bryce Alley
 
Hayden Ferguson Award for academic achievement: Senior offensive tackle Alex Eekhoff.
 
Chuck Karnop Award for courage: Junior linebacker Wyatt Christensen
 
Cliff Hysell Award for overcoming adversity: Senior UAB transfer safety Des Carter
 
Tom Parac Award for most improved offensive player: Junior tight end Austin Barth
 
Jon Montoya Award for most improved defensive player: Sophomore linebacker Mac Bignell
 
Colter Nuanez can be reached at BobcatBeat56@gmail.com and followed on Twitter @Bobcat_Beat. Photo by Brooks Nuanez, who can be reached at Brooks.nuanez@gmail.com.
 
 
 
Categories: