Defensive front dominates Sonny Holland spring game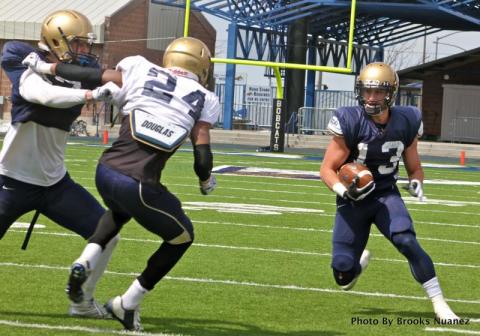 By COLTER NUANEZ
Bobcat Beat
The Montana State defense gave Rob Ash the lasting impression of spring drills 2015.
 
"I think that might be my most positive takeaway from the spring is just the defensive front," Montana State's ninth-year head football coach said as he stood on the Bobcat Stadium turf following Saturday afternoon's Sonny Holland spring scrimmage. "It's the front four but it's like eight. We developed depth and we have guys who are really able right now that can do multiple things. We are way more multiple up there and it's allowing them to use their athleticism and not just get sucked up by blocks or stuck on blocks. We've produced a lot more pressures and a lot more tackles for loss, big plays. I love what I see."
 
So should Bobcat fans.
 
For the six-week spring session, a veteran offense led by a stout, experienced line, a slew of powerful, proven running backs, a group of 11 receivers wide receivers without much separation between them and a pair of stud quarterbacks grabbed headlines and piled up big plays. The defense has been under construction since the New Year, what with the hiring of Jody Owens to work with the linebackers, the promotion of Michael Rider to coach the corners and the anointment of Kane Ioane as the defensive coordinator. Ioane's high-pressure, aggressive, odd-man front defense had shown flashes for weeks leading up to the Sonny Holland. On Saturday afternoon, everything clicked.
 
Led by a monstrous effort from sophomore end Tyrone Fa'anono, Montana State's first and second-team defenses piled up eight touch sacks and 20 tackles behind the line of scrimmage. The Bobcats did not force a turnover but the defense allowed just 23 points on 13 possessions, including 17 points for the first-team offense, a unit that averaged nearly 40 points per outing last season.
 
"There's no doubt that was the best we've played up front this spring," Ioane said. "We got after it a little bit today. Overall, I was very happy, specifically with how we played up front. Out of our games, we got great pressure and we took advantage."
 
No one took more advantage than Fa'anono. The 6-foot-2, 265-pounder out of Oxnard, California, broke into the starting lineup midway through his freshman year when 4-star recruit Garrett Marino was dismissed from the team. Fa'anono, a 3-technique defensive tackle in high school, has earned starting spot on all three of MSU's new defensive line "units", a new strategy under Ioane that helps the front employ eight players. On Saturday, the high-motor end with an unorthodox stance notched three touch sacks and two other tackles for loss as he played the majority of the snaps for the first and second teams.
 
"We said the other day who probably had the best spring of figuring this thing out and we all said Tyrone," MSU ninth-year defensive line coach Bo Beck said. "He's able to be dominant in both the fronts. That's pretty unique because to be able to go inside and be able to play that four-I, I didn't know if Ty could do that. But he's come out and is the best guy to do it right now."
 
"I'm extremely happy with Tyrone," Ioane added. "The thing about him is he is such a coachable player. He'll literally run through a wall. You say that about guys but Tyrone would literally probably do it and not ask any questions. He would just keep trying and trying to run through that wall until he finally breaks through.
 
"That's what initially happened this spring when we went to some of the odd front stuff. It took him a little bit to grasp onto the concept, but once he got it because he just kept going and going and playing, once he got it, it's been fun to watch him ever since."
 
Fa'anono wasn't the only defensive lineman who had a banner day. Senior Taylor Sheridan did not dress out once again, a common theme this spring as he tries to let nerve damage in his shoulders heal. But he was bestowed with one of the highest internal honors offered by MSU. The defensive tackle will serve as one of four captains and the lone defensive captain for the 2015 Bobcats.
 
From the sidelines, Sheridan watched as the Montana State front seven shined. Sophomore defensive tackle Monte Folsom set the tone with 1.5 tackles for loss, using a strong inside push in the early going to earn penetration. That triggered an effort from the MSU defensive line that totaled 13 tackles behind the line of scrimmage. Senior defensive tackle Nate Bignell had a sack and two other tackles for loss. Sophomore Devin Jeffries had a pair of sacks and sophomore Matt Brownlow added another touch sack.
 
"It's a progression," Beck said. "We had to find out the things we needed to work on and fix. I think the guys progressed through spring really well. I think even in Great Falls, they had flashes of good plays. The refs were nice today. They gave us a couple. We had some taken along the way too. But one of our goals was to get back to being dominant and that comes from running to the football and getting off blocks. I thought they did that well today."
 
Sophomore Mac Bignell, the Jon Montoya Award most improved defensive player for 2015, had a sack and 1.5 other tackles for loss. Junior linebacker Joey Michael had two tackles for loss as did redshirt freshman safety DeMonte King. Junior linebacker Fletcher Collins had a crushing hit on redshirt freshman tailback Tavon Dodd for a loss. Senior linebacker Robert Walsh, senior cornerback Bryson Keeton and redshirt freshman defensive lineman Zach Wright all had tackles for loss.
 
The defense came up with a slew of big plays but the offense was not completely shut out. Junior quarterback Dakota Prukop completed 10-of-14 passes for 107 yards, including a five-yard touchdown dart to junior tight end Austin Barth and a 39-yard touchdown to sophomore wide receiver Justin Paige to wrap the action. Senior Jake Bleskin completed 8-of-15 passes for 89 yards and a 25-yard touchdown to junior running back Gunnar Brekke.
 
"It was a little bit of a mixed bag," Ash said. "I have to look at the film but obviously, the number of sacks was high. But if you talk to the offensive coaches, you don't really know if Dakota was down or not because he's so elusive when he's live. We will take that with a grain of salt. I think the offense, there were three or four long drives, some good conversions, a couple of touchdowns and we only really had about 40 plays with the starters, so maybe half a game's work and we scored 17 points. That's not terrible, especially because defense and offense know EXACTLY what each other are doing at this point after 15 practices. That's kind of tough for the offense to come up with any kind of consistency."
 
Prukop was "sacked" five times and rushed for positive yards on five other occasions. The recently anointed captain — Sheridan, Prukop, junior running back Chad Newell and senior wide receiver Mitch Griebel will serve as the captains of the 2015 'Cats — said he's eager to get into action where he's not wearing a red non-contact jersey.
 
"On a live scrimmage day, the quarterbacks are in red so the defense doesn't have to account for the quarterback getting out of the blitz for a 200-yard gain," Prukop said with a sly smile. "We like to call those ghost sacks. Mac Bignell, I felt him one time, he got me on one of them. Other than that, I'm going to say the offensive line had a great day protecting me and I didn't get much pressure."
 
Top running backs juniors Newell and Brekke along with senior Anthony Knight were on a 13-play limit each. The trio combined to rush for 34 yards on 10 carries. Sophmore Nick LaSane led all rushers with 24 yards on three carries. The Bobcats averaged 2.59 yards per carry but sacks were accounted for in the total. The running backs rushed for 75 yards on 20 carries.
 
"I can't say enough about how our defense has progressed," Newell said. "I'm excited to watch them this fall. We have a lot of youth on defense and those guys made so many strides this spring. I can't imagine how many strides they are going to make this summer and going into the fall. The way they ended spring ball was great. Take a little momentum into fall camp hopefully. I think offensively, we have a little tuning up to do but we are right there too."
 
Griebel had one of the highlights of the day. On a third down and long, the slick former quarterback fielded a screen pass as hard-hitting sophomore safety Bryson McCabe bore down on him. Griebel squared up and juked, avoiding a crushing hit before turning up the field for a 14-yard gain. He caught four screens total for 24 yards. Twelve different Bobcats caught passes, including junior offensive guard JP Flynn, who fielded a screen pass before getting taken down for a loss by Nate Bignell. Aside from Paige's 39-yard score on a deep post against Keeton, senior Tanner Roderick had the longest grab of the day with an over-the-shoulder catch and run that netted 31 yards.
 
Aside from the three touchdown passes — Bleskin's came on a rollout to the right and a throw back across his body to a streaking Brekke up the near sideline — the Bobcats' scoring came from Luke Daly's right leg. The sophomore capped nine-play drive by the Bleskin and the second offense that stalled out at the three with a 20-yard field goal. The Billings Central product capped a 16-play drive aided by an 11-yard fourth-down run by Knight and 4th down penalty with a 33-yard field goal.
 
At the end of the scrimmage, Daly lined up from 47, 52 and 57 yards out. He drilled all three kicks with room to spare despite kicking into the wind.
 
"I made a 62-yarder last year after the whole Eastern Washington dilemma when they wouldn't put me out there," Daly said with a smile. "I just need to stay cool because it's just a mental game. Everybody, a lot of kickers have the potential to make kicks like that but it's just about being calm. You think you need to kill it but you don't. You just have to ease, be calm, kick it like a PAT.
 
"I have gotten stronger in the weight room but most of it is I have just been working on my technique a lot. That plays a really important role in how far I can kick it and how accurate I am."
 
Saturday marks the end of spring drills for the 35th time in Ash's long head coaching career. He said he feels his team has a chance to be "really, really good" in 2015 and he counted the blessings of no severe injuries this spring among his greatest. He said the Bobcats will train for the next two weeks as they finish the academic semester and then take three weeks off. By June 1, the team is expected to report back to begin summer conditioning.
 
"Overall, great spring, probably the best I've been a part of here," Newell said. "I can't say enough about those young guys and the depth we built, how hard they worked. I can't say enough about the o-line especially. Those guys are taking 75, 80 reps every practice, each and every one of them. Overall, I think it was an A+ for the spring."
 
 
Sonny Holland Spring Game Statistics
 
Rushing
Montana State (32-83) — Chad Newell 4-11, Dakota Prukop 9-4, Gunnar Brekke 3-9, Nick LaSane 3-24, Tavon Dodd 1-13, Noah James 4-5, Anthony Knight 3-14, Jake Bleskin 3-4, Jayshawn Gates 1-15
Passing
Prukop 13-19 107 yards, 2 TDs
Bleskin 8-15 89 yards, TD
Tavon Dodd 0-1
Receiving
Mitch Griebel 4-24; Chad Newell 1-10; Austin Barth 3-25, TD; Nick LaSane 2-18; John D'Agostino 1-(-1); Gunnar Brekke 1-25, TD; JP Flynn 1-(-5); Noah James 2-18; Tanner Roderick 1-31; Brandon Brown 1-9; Hunter Mahlum 1-(-2); Conner Sullivan
Tackles for loss
Tyrone Fa'anono 4, Nate Bignell 3, Mac Bignell 2.5, Devin Jeffries 2, Joey Michael 2, DeMonte King 2, Monte Folsom 1.5, Fletcher Collins 1, Matt Brownlow 1, Robert Walsh 0.5, Bryson Keeton 0.5, Zach Wright 0.5.
Sacks
Tyrone Fa'anono 3, Devin Jeffries 2, Matt Brownlo, Nate Bignell, Mac Bignell
Kicking
Luke Daly 5-5 – Makes from 20, 33, 47, 52, 57.
 
Colter Nuanez can be reached at BobcatBeat56@gmail.com and followed on Twitter @Bobcat_Beat. Photo by Brooks Nuanez, who can be reached at Brooks.nuanez@gmail.com.
 
 
Categories: