Suddenly stacked group of receivers relishing extra depth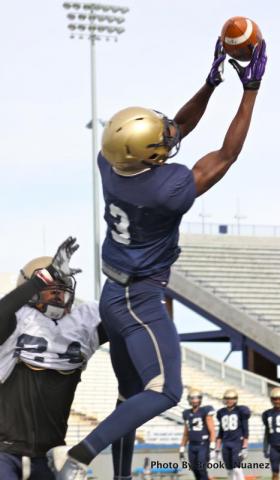 By COLTER NUANEZ
Bobcat Beat
 
A year ago at this time, Montana State had a handful of pass catchers to pick from. Now the Bobcats have wide receivers in abundance.
 
Seniors-to-be Kurt Davis, David Dash and Brian Flotkoetter along with Manny Kalfell all missed the entirety of spring drills in 2014 due to injury. In their absence, Mitch Griebel emerged as a legitimate leader. Will Krolick established himself as a consistent member of the corps. And Shadeed Crockett did his best to earn a scholarship that never did come his way.
 
This spring, the Bobcats have so many solid options at wide out, the top six players in the rotation were able to sit out of last Saturday's Triangle Classic.
 
"It's very interesting to watch what happens with the impact of reps and guys," Ash said. "Last year, we had low numbers at receiver and then we started getting hurt at receiver. This year, we have more numbers and we are not as injured. Now it's flipped over to DBs where we don't have any numbers and guys get hurt. It validates the idea that the more reps you take, the more likely you are going to get some kind of injury. That's been the first benefit. The second thing is it's helped our quarterbacks a lot because they have guys to split time with them, they have been able to throw balls to fresh guys throughout the coarse of each practice."
 
Mitchell Herbert hasn't practiced all spring after off-season elbow surgery, but a breakout freshman season that saw Herbert emerge as the Bobcats' go-to guy has ensured he'll have a spot in the rotation. Justin Paige a freshman season stocked full of explosive plays and is the starter at MSU's Z wide receiver position, a spot where he's getting pushed by Baylor junior transfer Brandon Brown. Griebel, a former Air Force quarterback and one of three seniors in the group, is the starter in the slot. He's solidly backed up by Jayshawn Gates, who like Paige and Herbert thrived as a freshman. The rotation is rounded out by Kalfell, a senior and the current No. 1 X, redshirt freshmen Conner Sullivan (X) and Johnny D'Agostino (slot).
 
Herbert, Paige, Gates, Griebel, Brown and Kalfell sat out at the Triangle Classic. Just because his group suddenly has depth, it doesn't mean second-year wide receivers coach Cody Kempt is working any less hard.
 
"In a sense, it's almost been harder because you have a larger pool to develop," Kempt said in an interview earlier this month. "I script every practice. I script every single rep of every single receiver, so I'm up late at night thinking of who needs to be in, who needs a rep at this spot, who needs to be in to run this play, to run this route. It puts a lot more on the coach but the players are able to get a lot more rest in between so they are able to fully maximize each rep.
 
"Last spring, guys were getting 50 to 60 snaps and they were gassed where as now they can take each rep full gas, full effort, full steam knowing that if they were to get tired, we have someone to come in. A big motto of ours is fresh equals fast so having that depth now allows us to play fresh and fast the entire time.
 
Dash, Davis, Flotkoetter, Kalfell and Brandon Davis all suffered season/career-ending injuries last season. Tanner Roderick, the third senior in the current group, was in and out of the lineup because of various injuries. The Bobcats did not miss a beat.
 
Griebel emerged as someone that could help MSU stay ahead of the sticks. The cat-quick slot turned plenty of bubble screens into first downs. He caught a team-best 45 passes for 495 yards. But it was the freshmen trio that helped ease the pain of loss as MSU set a school record for points in a season.
 
Herbert caught 28 passes for 339 yards and four touchdowns. Gates averaged 29.4 yards per catch on 13 receptions and scored three touchdowns, including TDs of 67 and 48 yards. Paige averaged 31.6 yards per catch, including 57 yards per each of his three touchdowns.
 
"Now as a coach, I have very high expectations for the room but I was pleased with how they handled the situation that occurred last season," Kempt said. "There was times when we could only play four or five guys because of injuries and those guys never complained. They always rose to the occasion."
 
Herbert had a few of the most memorable snags of 2014. He caught the game-winning touchdown in a wild 59-56 win over Sacramento State. He also snared a one-handed over the shoulder grab in MSU's 48-41 home playoff loss to South Dakota State.
 
Herbert practiced the first day of fall camp before his surgically repaired elbow started acting up again. The surgery was required to try to repair some damage from a previous surgery. Since childhood, Herbert has suffered from a genetic disease known as osteochondritis dissecans. The joint disease restricts bone blow to the subchondral bone.
 
"I already have more range of motion than I did before and that was the goal," Herbert. "It kind of started locking up and was uncomfortable during winter conditioning. I had to clean it up and make sure I was ready for the season.
 
"It's been tough to watch because I want to be out there so bad, but I'm learning a lot. I'm just getting mental reps, watching the same guys at my position."
 
"Everyone looks really, really good. There's been lots of improvement all the way around."
 
Paige and Sullivan have been two of the standouts of the almost completed six-week spring session. Paige has visibly added muscle to his maturing young body. His ability to run crisp routes and engage with defenders and make catches in traffic are two of many noticeable improvements in the speedy Houston native's game. Ash said Paige is the single most improved player from last fall to this spring on the Bobcat roster.
 
"He's a workaholic," Herbert said. "He's improved so much over the course of the winter and even the fall. He's a whole different player. He'll be special come August and September."
 
Paige could be found all winter at Brick Breeden Fieldhouse running extra routes and sprints to hone his craft. Now he looks poised to become one of MSU's go-to receivers.
 
"To me, I just didn't want to be average," Paige said. "Coming in to Montana State, I just didn't want to be average. That's my motivation: don't be average."
 
Following the Triangle Classic, Ash stated that Sullivan had made a statement. He seems to have solidified himself as one of the three top guys on the outside, particularly with Herbert out and Kalfell struggling to find his rhythm.
 
"Conner Sullivan has made tremendous strides from the time he came here last July until now," Kempt said. "I've been pleasantly surprised with his progression this spring. His understanding of the offense and also the understanding and the ability to take what we talk about in this room and apply it to the receiver position. The great thing about Conner too is he still has a very high ceiling of potential. He hasn't even tapped his full potential yet, which is scary seeing what he is doing as already as a redshirt freshman out there."
 
Sullivan is the most physical formidable of the group, a 6-foot-4, 229-pound redshirt freshman from just down the road in Ennis. He's the best blocker MSU has on the perimeter and sometimes begins on the line of scrimmage in a three-point stance.
 
"It brings a different dimension because he's like a bigger body type of person so he can box people out and go up for the ball," Paige said. "He can block too. I wouldn't want to go against him."
 
Sullivan credited Kempt and Krolich for showing him the ropes. Given his physical abilities and mass, he believes he can contribute first and foremost in the run game.
 
"I think I would help bring some blocking on the perimeter," Sullivan. "I want to do what they ask me to do and I want to just go out and do the best I can."
 
Sullivan was a Class C standout a year ago. Now he's nine months into his Division I career, a process that's been a transition to say the least.
 
"The speed of the game by far has been the hardest part," Sullivan said. "Going from 8-man to 11-man is ridiculous, especially going to Division I. It took awhile to get used to it."
 
"I wasn't so much nervous for playing but just trying to remember the play I guess, If I remember the play, I can play at full speed. If I'm hesitating, I'm questioning what I'm doing."
 
Learning the ropes in a college offense is something all the Bobcat wide receivers have been through before if they aren't going through it right now. Sullivan and D'Agostino seem to have the upper hand in terms of breaking into the rotation but MSU will add talented true freshmen Keon Stephens and Cam Sutton to the mix in the fall. Regardless of who makes up the final eight, Kempt is pleased with the progress of his group and can't wait for what his second season has in store.
 
"We talk about consistency is the hallmark of a champion," Kempt said. "I really like where they are at right now. It obviously helps too having a year under their belts. The quarterbacks right now are throwing the ball extremely well. That makes our jobs as receivers a lot easier too when they are putting it in the right spots. As long as we as receivers do our jobs and create separation, we should be in a position to catch the ball. I'm happy with how they are progressing right now."
 
Colter Nuanez can be reached at BobcatBeat56@gmail.com and followed on Twitter @Bobcat_Beat. Photo by Brooks Nuanez, who can be reached at Brooks.nuanez@gmail.com. 
Categories: