Off-season Q&A with the assistants: Kane Ioane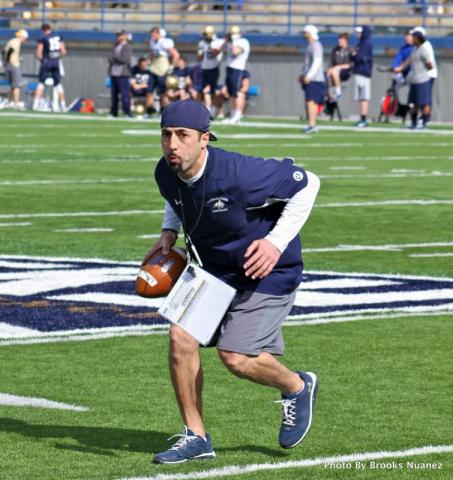 By COLTER NUANEZ
Bobcat Beat
 
On one hand, it seems like Kane Ioane has been a part of the fabric of Montana State football forever. On the other hand, his rapid ascension is a notable accomplishment for a man of his age.
 
Following an 8-5 campaign in which the Bobcats scored more points than ever before but gave up a seemingly endless string of touchdowns, the defensive coaching staff fell under reconstruction. Secondary coach Brandon North left to take an assistant job at Houston Baptist. Michael Rider was promoted to replace North. MSU hired former All-America linebacker Jody Owens to help Ioane with his linebackers.
 
The biggest change comes in the form of Ioane's new position. The 33-year-old has been a stalwart on the Bobcat defense since his playing days from 2000 until 2003. Now the only four-time All-America in school history is calling the shots for the defense. Ninth-year head coach Rob Ash elevated Ioane to defensive coordinator in January.
 
As the Bobcats wind down spring drills 2015, the changes in scheme, strategy and overall aggressive attitude for the Bobcat defense have been noticeable. MSU is employing a much more free-flowing, blitzing scheme that includes almost exclusively using three-man fronts and press coverage.
 
Ioane is still the main man when it comes to mentoring the linebackers as well. That group loses five seniors from last season but looks flush with potential. Sophomore Mac Bignell has had perhaps the strongest spring camp of any Bobcat. Redshirt freshman middle linebacker Grant Collins looks the part of a future star. The rest of the group has been working in and building depth for a group that will add Cincinnati drop-down Marcus Tappan and Santa Monica Community College speedster Zach Stern this summer.
 
The pending addition of hired guns is something that will likely trademark the Montana State defense in 2015. Two safeties — Iowa Western transfer Bryson McCabe and UAB drop-down Desman Carter — are already on campus. The defensive line will add ends Shiloh LaBoy and Jessie Clark and tackle Joe Naotala.
 
The cumulative recruiting efforts and scheme change are expected to overhaul a defense that surrendered 33.5 points and almost 500 yards per game last season.
 
The week before spring drills, Ioane sat down with Bobcat Beat to discuss his elevated role, his theories on leadership, the progress of his group and the change in sense of urgency he hopes to see in the Bobcats next fall.
 
For full audio of this interview, click here.
 
 
Bobcat Beat: As we begin, (new linebackers assistant) Jody Owens just walked out of your office. A few days back in town, how's he doing? Is it weird coaching alongside your former player?
 
Ioane: "It's not. It's the same as he used to sit in my office and do the same thing, just go over everything defensively. He was always a sponge trying to soak up as much knowledge as he possibly could, which in turn helped him be the player that he was. It's going to be the same thing as a coach. He's going to try to sit in and learn as much as he can all of the time to try to get better and better and better as a coach. That's exactly what I expected when we hired him here and first day, he got in here Monday morning going. It will be that way for the next however many months."
 
BB: From your angle and from (secondary coach) Mike Rider's angle too, young guys who played and there's still guys in the program that they've played with…one thing I remember with Jody, especially that one year he was the captain, he was never scared to get after people. He was that guy. What will you tell him to make sure he keeps doing that?
 
Ioane: "He's just got to be himself. His expectations for himself are just as high or higher than anybody else's. He's not by any means going to come in here and shy away from confrontation or shy away from, 'I'm a young guy, the players won't listen to me.'
 
"I will make sure the players are listening to him. But he's got a presence to him and a demanding presence to him that in a lot of respect from everybody that even the players that weren't here when he was a player, they've heard of Jody Owens. They know who he is, what he was able to do on the field which will translate into them listening to everything he has to say."
 
Owens was the captain of the 2012 Bobcats and a two-time unanimous first-team All-Big Sky and All-America selection. His final season, he earned the Big Sky Defensive Player of the Year award.
 
BB: Thinking of your group and the way it's transitioning, you guys are losing a lot of guys that played with him. (Sophomore) Blake Braun, (junior) Wyatt Christensen, (freshman) Grant Collins weren't here.
 
Ioane: "The only guy within our group is Robert Walsh."
 
BB: That might actually make the transition easier.
 
Ioane: "It should be an easy transition. Very few who were on campus when he was playing when it's all said and done. He'll be fine in that regard."
 
BB: It's funny how when you are 19 or 20, a guy who is 24 or 25 like Jody seems really old.
 
From a transition standpoint, now you have this elevated role. How will that change what you do during spring ball?
 
Ioane: "With any promotion or any elevated role comes elevated responsibilities which means that I now have to focus on some of the newer things I have to get done in order for us to be successful. Hence why a guy like Jody can come in and alleviate some of the things I was doing before my new, elevated role. He's going to help me as far as the actual day-to-day linebacker group is concerned. Granted, I'm still going to be the main guy but he'll help me as far as the technical, really getting down and coaching those guys. I might not have the ability to do that as much as I'd like to now. He's going to be the one that really gets after them as far as technique and he knows that I am looking for at that position anyways. It's going to be really easy for him to step in and take that role on.
 
"I'll still be very much involved in it. I can't not. I love that part of it too much to now be heavily involved in coaching a position. But the two of us should be able to work together and make sure we are getting everything we need to get done for the linebackers and in turn getting everything we need to get done defensively."
 
BB: In the coaching room now being the main voice, is that weird?
 
Ioane: "No. It's something that I've always wanted. Initially, it can be…no necessarily awkward but…it's just something new, let's put it like that. It's new roles, new positions. It's something I've wanted and now with it comes extra responsibility and that's what I wanted. It's been fun."
 
BB: Your group, are you going to try some guys at different spots? Break it down by position group. Obviously you have Zach Stern coming in (from Santa Monica Community College) at Sam but he's not here yet. Big spring for Blake Braun coming off of injury. (Freshman) Toti Moeakiola probably fighting him a little bit at Sam. Who else is in the mix?
 
Ioane: "Actually, the guy going into spring that is going to get the majority of reps is (sophomore) Mac Bignell just because he was Cole's primary backup last year with Blake being out and Toti redshirting. Mac did a great job and I don't expect anything less than him in terms of continuing to develop into a potential starter at that position.
"That's one thing when you lose five starters, you have the luxury of saying there really is no starters coming into spring. Every position is wide open. There are certain guys who should have the leg up on the competition because of some experience that they've had in previous years and what they learned last year. Mac is one of those guys. He's had some reps during some lives last fall. I think he forced a couple of fumbles in a couple of games. He's got game experience, he has special teams experience. I'm expecting him to continue to progress and continue to fill a role as a potential starter.
 
"He's had a great winter, great conditioning program, strength, putting some weight on. He's got the athleticism you are looking for at that position.
 
"Cole Moore revolutionized that position for us in our defense. To ask a guy to ask a guy to come in and do exactly what Cole did over the course of three years is going to be hard. I'm looking for Mac to step in and try to compete to do that.
 
"Blake, I'm going to look at him as a potential inside guy. He's bigger and he's got good football instincts. He could be a guy who could fill a role on the inside as far as Mike or Will is concerned.
 
"Toti is a guy who's athletically, because he played safety in high school, he could fit that role at Sam. He can play more out in space, play some man-to-man on No. 2 receivers. He's a guy who is going to compete and try to take that spot as far as Sam is concerned.
 
"As you mentioned, Zach Stern, talk about speed, that guy has the speed you are looking for. He's got the athleticism. He has as well played some safety in high school. I'm looking forward to what he's going to bring to that position.
 
"Looking forward to the fall, we have great depth at that spot. It's going to be some great competition and it's going to make us better in the long run.
 
"Moving inside, at the Mike spot, when you lose your two-year captain and a guy who really ran the show as far as our defense is concerned (Na'a Moeakiola), that's a spot where we need to find a guy. But I think we have that guy in the program. I think Grant Collins is a natural leader and a very instinctual football player. He's going to be a playmaker at that Mike spot."
 
BB: Will you be even harder on him being that this is such a big spring for him coming off a redshirt year?
 
Ioane: "I'm going to demand a lot from him. He wants that though. He's the type of player that wants that coaching and he wants to be the guy. He'll be penciled in as a potential guy to take that spot but you have guys in the program that have been here and played sparing roles here or there with Fletcher Collins that will compete. So it will be the Collins brothers battling it out at the Mike spot. And some young guys coming in as well as we progress.
 
"At the Will spot, it's another competition spot. You've got, as you mentioned, Braun and Wyatt Christensen when he comes back (knee) from the injury. He'll miss spring and be back in the fall. He'll have a good summer and I look for him to continue to progress physically and get himself as healthy as possible. I don't think he'll take a rep in the spring. I want him healthy in the fall. Hopefully that knee is going to hold up. It's tough. But he's got great football instincts. He's showing some things, some flashes when he's been out there."
 
BB: Do you worry about Christensen having the size to play inside?
 
Ioane: "He's a strong kid. He's probably about 215. If we can get him healthy as far as his knees are concerned and give him a good summer, I think he could be 215 or 220 and be fine. Braun has the size. I think he's got the ability. (Senior) Robert Walsh has played Mike and Will for multiple years now. He's very knowledgeable of our defense and what I'm asking of him. He's a guy who will get an opportunity this spring to prove he can be an every-down guy or in a rotation.
 
"Then, we are bringing in some guys at that spot. (Cincinnati transfer) Marcus Tappan who is obviously going to come in and compete to play at either one of those two inside spots."
 
BB: When he gets here, will you play him and Grant off of each other? Will it be a competition for who gets Mike or Will or will you rotate them?
 
Ioane: "I'm going to rotate them and see who fits. I want the best guys on the field. If it's potentially Grant at the Mike and Marcus at the Will or vice versa, no matter how it works out, I want the best guys. Maybe it is another guy on campus right now that steps up in the spring and proves he can be a guy. But again, we are going to have some very good depth at all three positions.
 
"Sam, we already talked about. Mike, when we add Tappan to the group, we have four or five guys that can compete for the Mike and Will spots.
 
"You look at a guy like (incoming freshman) Josh Hill who could potentially come in and be a football player for us at any of those three positions.  Sam Plucker is coming in and he's another guy who is 215 or 220 pounds as a high school kid. So he could come in and compete. And also special teams.
 
"The future is good and the potential depth that we will have at this spot is going to be very nice."
 
BB: You mentioned the way Cole revolutionized that Sam spot. With the prevalence of spreads and how much teams are throwing the ball around in college football, so many teams have gone to 4-2-5s, 3-3-5s. You guys have stayed pat and had that Sam play in space, covering the slow. Why? What is the theory behind what you do defensively?
 
Ioane: "Ultimately, when it's all said and done, Cole was the best guy. He was just better than the next best guy. You'd like in an ideal world to get a nickel out there, a corner-type body who could play man-to-man and still come off the edge sometimes, bring pressure, be good against the run. We just haven't found a guy that was able to take Cole's spot. When it's all said and done, you want the best 11 and Cole has always been amongst the best 11. We built our defense with our ability to keep that Sam on the field because that's one of our best 11 guys.
 
"You always, when you are building a scheme, you have to build it off of personnel and put your best 11 out there and fit your scheme to what your best 11 can do as opposed to vice versa. We had the luxury of a guy who was able to do that all of the time.
 
"But you'd like to get a guy and hopefully in the spring we find a guy who can play that role and then you can potentially substitute your Sam in and out and guys can be fresh. Then you have a guy who has a true role as a nickel who can come in and that's his role week in and week out. There's different ways of looking at it. It's just a matter of how you want to do it."
 
BB: (Sophomore) Khari Garcia played a little nickel for you last year. Now he's got an elevated role as an older guy and you guys are losing three safeties. Will you try him out there? Or is he going to be more playing in a battle with (redshirt freshman) DeMonte King and (Iowa Western transfer) Bryson McCabe and (UAB transfer) Des Carter at safety?
 
Ioane: "For the spring, it will be a focus on safety and find the best guys at that position and find depth at that position. And then we can find out who our second-best free safety is and we can ask if he's our best nickel. Or is our second-best corner, sliding him in at nickel and now your third-best corner slides into the game. It's just kind of finding out who is our next 11 and then who is the next guy up at each position.
 
"I think Khari has the ability. He's got the body type and he's got the versatility to play man-to-man in the slot. He's very good against the run. He's a physical football player and he's good coming off the edge. He's the ideal type but at the same time, you don't want to take away from his ability to take away from his ability to play safety by throwing too much at him to play nickel as well. You have to figure out if certain guys can handle dual roles or do you just find the one guys that that is his role, what he knows best."
 
BB: You are talking about finding your best 11. I was just talking to (offensive coordinator Tim) Cramsey and he was talking about how you have your five offensive linemen, your quarterback and you have five other spots on the field. And you can have as many as 20, 25, even 30 guys for those spots. You can have 10 receivers looking for that rotation, five or six or seven running backs. Is that possible on the defensive side of the ball?
 
Ioane: "Not as prevalent. You can on the back end. With as much spread offense as there is out there, you want to get as many athletes on the field as you can. So when you talk about recruiting, defensively recruiting-wise, you need to find athletes, you need to find speed and then you have to fit them into the roles as they progress. You may not go out and find a Mike or a Will backer or a Sam backer. You may go out there and freakin' recruit five safeties, two of which you have in mind that can grow into linebackers. Or you recruit four corners and two of those corners end up growing into safeties.
 
"You kind of want to recruit speed and athleticism before you just try to recruit this specific Will, this specific Mike, this specific Sam, this specific safety. Recruit speed and athleticism and then fit them in where you may."
 
BB: Do you feel like you guys need to rotate more?
 
Ioane: "Yes. Yes."
 
BB: And last year, was it a product of just not having enough good guys?
 
Ioane. "Yes. Depth. We couldn't quite, with some of the injuries we suffered, we couldn't rotate as much as we'd like to. Up front is crucial. The front four, front three, whatever you are playing, you have to be able to rotate at least eight guys. You just have to or you are going to wear them out. You are not going to stay healthy first and foremost and you'll be forced to play one guy who should be a 20-rep guy and now he's playing 50 or 60 reps. You are now wearing him out and it's a trickle down effect.
 
"Spring is where you create that depth. Fall is where you solidify the depth. Throughout the season, you rotate as much as you can up front.
 
"Linebackers, I am probably the worst at it because I am old-school. As a player, I never wanted to come off the field. It's hard to take your best playmakers off the field. But if you can develop the depth where it doesn't matter who's in, they are making plays, you are going to feel more comfortable as a coach rotating guys in.
 
"At this level, it's hard. With 63 scholarships, it's not an easy task. But you'd like to be able to rotate up front as much as you possibly can.
 
"In the back end, corners, if you get a three-man rotation, you are going to be a lot better off. Safety, you can potentially get away with it, but if you can rotate three…four would be ideal but you have to be able to get some guys some rest here and there."
 
BB: Do you think safety is the spot where it's maybe least beneficial to rotate at? Being at the top, you can see the most stuff so seeing the most stuff is probably the best thing for you.
 
Ioane: "I agree."
 
BB: Safeties don't rotate as much. Corners, do you think that's the hardest position to recruit at this level? If you have any sort of talent, you are going.
 
Ioane: "Corner and offensive tackle at this level. Offensive tackle, if he has the size and athleticism everyone covets, he's gone. Corner, same thing. If he has speed and quickness and size, he's gone. Corner is definitely a spot at this level that, if you can find some gems, your defense is going to be so much better."
 
BB: Speaking of talent, I know Pro Day is coming up. You've got your five seniors. I know Alex is definitely going to make a run at it. Is Na'a going to do anything?
 
Ioane: "I have not talked to Na'a for a couple of weeks but it sounds like he is very much…not necessarily over it but he's got some stuff going on professionally that I think he's enjoying. Alex, for sure. Cole is actually going to grad school. He just got into Washington. He's saving up some money, working and getting ready for that."
 
BB: That's what he should do, man. He should go be a senator or something.
 
Ioane: "I'm telling you, man. He said he's going to be an AD some day. I told him I'd come work for him if he got stuff together.
 
"Mike Foster, just finishing up school. I think when it's all said and done, Alex will be the only one from my group going. I saw him yesterday. He looks good, really good. I am excited for him and the prospects of what he can do and what he's going to show."
 
Singleton, Rob Marshall and Eryon Barnett participated in MSU's pro day as scouts from three NFL teams looked on. Singleton performed well enough to earn himself an official visit with the Bengals this weekend.
 
BB: I know you have been close to these Pro Days for a long time and you've seen these guys go through it. What sort of things will you tell him going into it especially since it is such a make or break day when you are this level? A bad day can kill you but a great day can do wonders for you.
 
Ioane: "My message to him is you can only help yourself. Keep that in mind. You can't feel like you are going to blow it if you don't do the right things or put up the right numbers. You can only help yourself in those situations. The scouts have already watched your film. They've seen you practice, they've seen you play. They already have an idea in their minds of what they think you are going to run, what they think you are going to do as far as these tests are concerned. As long as you get close to those numbers or if you can surpass those numbers, even better. Granted, if you are way below the line you thought they'd be, that potentially can hurt you. But if you go in with a mentality of shoot, I'm just going to help myself, it's just like game day. If you have that no question mentality, that no question swagger and you go out and do what you have been preparing to do for the past however many months, you'll be fine. "
 
BB: The horrendously bad test is a real thing. When I was covering Central Washington, they had so many drop downs but they had this defensive lineman named Eugene Germany. He was Pomona, California who went to USC for fall camp and was  non-qualifier. He went to Michigan. Scout team player of the year, went against Jake Long. Gets busted with drugs, goes to Mount San Antonio, does the junior college thing. Has a resurrection of himself and then doesn't show up for fall camp at CWU because his dad has a heart attack. He rallies from that, goes out has a great senior year, first-team All-American. Comes out on his pro day. He's about 6-3, 282, comes out and runs a 4.75 40. Scouts are looking at him like he's still got USC talent. Goes into the weight room and benches 225 eight times. At that point, they just walked out. It's over for you. You just have to avoid stuff like that.
 
How do you think Singleton will test?
 
Ioane: "I think he'll be solid. I don't think he'll put up eye-popping numbers by any means but I think he'll be solid right there as far as the linebacker averages across the country that people are putting up. I would imagine that he would do nothing more than help himself.
 
"I think he'll be explosive enough with his 40 time and his 10-yard time and his 20-yard time that they'll say, 'Shoot, he's got the explosiveness that we are looking for.' He shows up on film as well. As long as he doesn't show anything different than he put on film as far as his ability to run sideline to sideline, his initial quickness, the scouts are going to go, 'Shoot, he's exactly what he thought he was on film.' He'll put up good numbers. Nothing over the top like, 'Holy crap'. Like the 12-4 broad jump."
 
BB: That guy cheated or something. He put boosties in his shoes or something.
 
Ioane: "A 12-4 broad jump? I wouldn't expect that from Alex (laughs). I would expect good, solid numbers that the scouts will be happy with that will give him a chance."
 
BB: I would love to sit down with a scout and watch his film because he has some pretty, I don't want to say unique because he's not the only one, but I've never seen anyone at this level that is so flush in one on one tackling. He cuts people in half. He had that one play on that dive against Cal Poly, you are going against the triple option and it's party on the pile and he comes in…
 
Ioane: "And all of a sudden the fullback is on his back. That's on a dive. You don't see that against a triple-option team."
 
BB: Or against Portland State, they have that big, long run and the very next time, they run that play, my brother has this picture of Shaq Richards leveled out in air. Singleton just flushing him. He cuts people in half when he tackles them.
 
Ioane: "He has great instincts, man. He's got that unique ability of that flash photo memory. He sees it once and he never forgets it. If you want to run that same play out of that same formation, you are never going to get him twice."
 
BB: He has that special ability to not think about it too much either. It's a reaction and an instinct rather than a thought.
 
Ioane: "That's a strength, man. The guys, the robots, the over-thinkers, they are not successful in this game. You can't think too much in this game. You have to be able to react."
 
BB: Such a key thing in sports. Covering women's sports particularly teaches you that. Women are just so analytical. They think so hard. Women's basketball players, they over think everything. You know how it is. When you play noon hoops or anything, you know how it is. If you are just playing, you're good. If you are thinking, nothing about it is good.
 
Ioane: "No. Not one bit."
 
BB: The not being able to think and just play fast is a huge key.
 
I know we caught up about how the recruiting game has changed. Talk to me a little bit about this last recruiting season. First question for you: being that you brought so many guys in, do you hope that puts the rest of the squad on alert?
 
Ioane: "Definitely! Definitely. If it hasn't, it needs to. If you are not a competitor, it's going to show. When you look at our list of guys, as a guy here on campus, you are excited but at the same time you have to go, 'Well shoot, this guy, we brought in two guys at my position. I better get going.'
 
"That's what it should lead to is a little more sense of urgency through spring drills to show that they are capable. You bring in that many guys, there's only a few roster spots and there's only 95 spots going into fall camp so it's a definite tryout situation for spring ball."
 
BB: We were just talking about your linebackers. Mac Bignell is a walk-on guy. He's got that up and coming mentality and he's achieved more than you might've thought he could have so far. Then you got guys like Blake Braun and Wyatt Christensen who played as true freshmen but now have the injury bug bite them. How do you keep those two guys particularly engaged since you have brought in guys at their spots to potentially steal their jobs while they have been going through these injury things and haven't really gotten the chance they might need?
 
Ioane: "It's the mentality that every job is open, no job is safe. You have to prove every single day what you can offer this team. It isn't just…it's a what have you done for me lately. I don't care if you played as a true freshman or what you have accomplished in the past. And this is the same talk I would have even last year going into it with the five seniors coming back. It's the same mentality of that you can never be satisfied with where you're at.
 
"I'm not satisfied if I'm a starter. I'm not satisfied if I'm Mac and I was a backup last year and played significant time on special teams. I'm not satisfied if I'm Blake just because I played as a true freshman and potentially could be great. I need to prove every single day what I'm worth and what I can bring to the table, what I have to offer. That's the message I have for everyone on this defense and really everyone on this team. Every day is a chance to prove what you have to offer. With more guys coming in, the sense of urgency for that is even more. If you can't show me through 15 practices in the spring that you are going to be a guy who's going to compete for a spot come next fall, then I can't bring you in on the 95. You are taking away from a chance from another guy who could potentially compete for a playing spot. There's a little pressure going into it. But to me, the cream rises to the top and that's where you find your best players is when you put them in pressure-packed situations."
 
BB: Talk to me about some of these specific guys you have coming in. I talked to (running backs coach Michael) Pitre about his five California guys that he was a main guy for. Who were main guys again?
 
Ioane: "McFetridge, big Jake, offensive lineman. He'll be again, and you hate saying it, but the potential is there. He's got tremendous upside, great body, great frame as far as an offensive lineman is concerned. He's very athletic and he's played multiple sports. And he's relatively new to everything that is football. You can mold him. He's a blank canvas in a lot of different ways."
 
BB: Do you look for guys with stories like that? A guy like McFetridge who played baseball before hurting his arm and switching to football?
 
Ioane: "Not necessarily but I like to recruit athletes, multi-sport guys who have not reached their potential in football. Today's recruiting…or not today's recruiting but today's sports as we've talked about before, everyone wants to specialize into something so these kids are specializing at age 12 that they are going to be football players, Division I football players and they are doing all this off-season training and conditioning and 7-on-7s all summer. That's all they do. They are tapped out. By the time we get them here, they are tapped out. Their potential is gone already. They use it all up and they are probably not having as much fun with football anymore because it's not fresh and new to them. For a guy like McFetridge, this is a brand new sport."
 
BB: He's only gone to fall camp one time in his whole life (laughs).
 
Ioane: "Exactly! Every experience is going to be a fun, unique experience for him and there's going to be so much more enjoyment out of that as opposed to the kid who has gone to 16 fall camps because he's been doing it since he was nine years old. That takes away a little bit of the fun and it takes away from their ability to progress because they are tapped out."
 
BB: You have to wonder if a guy like McFetridge is even on the board if he's been playing football this whole time.
 
Ioane: "If he's got junior film or sophomore film, I don't think he is."
 
BB: He told me he had no idea what was going on his junior year and he told me he put on about 45 pounds between his junior and senior years. That's amazing.
 
He's got good size.
 
Ioane: "And he can still put some weight on up top as far as strength, not necessarily weight but shifting some of the weight up top as far as strength is concerned."
 
BB: He's not like John Weidenaar. Weidenaar was like 230 when he was coming in here.
 
Ioane: "Jake is already 295. He'll be 305, 310 easy. Without having to try. That keeps kids healthier when they aren't burnt out as well, when the haven't been doing all this stuff for years and years and years. Their injury rate is going to be better.
 
"So Jake and Zach Stern (Santa Monica junior college linebacker), who we've already talked about. Here's a kid who's been a two-sport athlete at Santa Monica running track and play football and he's never had the opportunity to strength and condition football wise in the off-season. He's running 400s. Forget never having conditioning. That's conditioning in itself. But hard to put on weight when you are running 400s.
 
"I'm excited about Zach's potential when he just spends time doing nothing but football for the first time in a long time. He's got the athleticism you look for in that position. He's got the speed, he's got the strength and he's a competitor. He wants to win and he wants to win championships. I'm excited about what he's going to bring to our group. He's an older guy who is mature. He is going to bring some leadership. Even though he may not have been a part of the program, he's still going to instill some leadership within our younger group."
 
BB: He's a good kid, too. You can tell just talking to him that he's got his head on straight. He was telling me he's been training at this gym. He's had a job and all that. He knows what it's like to be a man.
 
Ioane: "Exactly, man. Responsibilities. His mom and him have been alone since he was four. He knows what it is to be the man of the house and the responsibilities that comes with that. He's not going to be any issues as far as going to class or any of that. He's going to fit in exactly with what we are looking for as far as on the field, off the field, all of the above. He's going to be a great Bobcat.
 
"Marcus Tappan, we did that whole deal. Another great kid who's been bought into Bobcat football since Day 1. He can't wait to get up here, start contributing and start working. He sends me film of him, text videos of him working out back home. We talk every week. He's just anxious to get up here and be a part of everything. He's going to be solid for us. Again, another guy who is going to add some leadership to our group right away."
 
BB: Do you think the other guys will have a hard time buying into that? An upper classmen outsider being a leader?
 
Ioane: "Hmmm. I don't think so. I don't think so. I think we have a good group. We don't have an established leader right now in our room. It's kind of all wide open. I'm looking for someone to step up through spring ball and it's my job as a coach to try to develop that. I think I have a good idea who will naturally do that regardless of his age. He's going to be able to naturally be that guy. And I have some older guys who have the want to but it's just a matter of can they get the other guys to follow."
 
BB: We'll go back to the recruits in a second. You guys always have the four captains. A lot of times, they come from different areas. Do you think it's an essential thing to have a linebacker captain?
 
Ioane: "I don't know if it's essential but it's played out that way because of what our linebackers are asked to do defensively. They naturally have to be leaders. If you don't have a leader at the middle linebacker spot in our defense, you are going to struggle to get lined up and really in any defense. At that position, they have to become leaders. Whether they want to be vocal or not, guys have to follow them and they have to have those leadership qualities that in turn make them a natural pick, selection for being a captain. We've had a long string of captains at that position now.
 
BB: You guys have had a linebacker captain ever since I've been here.
 
Ioane: "Hopefully, by no means is that tradition going to die just because we don't have any seniors coming back in the group. I think there's got to be guys right here on campus that can develop into that regardless of age. I think the guys that are coming to campus have the ability to help in that regard as well. So we'll see. Between now and fall camp, I think we have an opportunity to develop them."
 
BB: Sure. So who else were your recruits? (Palomar JC defensive tackle) Joe Naotala?
 
Ioane: "Rider made that connection initially but with the Polynesian thing, I went down there and helped with the mom and dealing with the family to help them to feel comfortable to send their son up here to Montana.
 
"Then Chris Robinson out of Pasadena, defensive end that I think is a tremendous athlete. Whether he stays a defensive end or ends up a guy inside, we will see because he's got a frame that…he's got long arms and he's played basketball all the way up to his sophomore year. He's another kid that's fresh to the game of football. He didn't start playing until his sophomore year. His potential is yet to be tapped as well. I'm excited about him and what he can bring."
 
BB: Do you think he can play right away?
 
Ioane: "It's going to be tough."
 
BB: Rob just said that on signing day but I think he was just saying that in the flow of conversation but I don't know if he was trying to emphasize that. That's the one he said that I was like, 'I don't know.'
 
Ioane: "Yeah, that one could be tough."
 
BB: He's coming from a pretty small school, right?
 
Ioane: "Yes, it's a private school. I don't foresee that happening. But we will see."
 
BB: A guy with that sort of size potential too, you probably would love to redshirt him and throw him down in the weight room.
 
Ioane: "Yes. Allow Coach (Alex) Wilcox to just go to work on him. That's where he's not done much in the weight room in his high school career. You give him a fall and a winter of nothing but weights and Coach Wilcox and eating the right way all the time, he'll be 275 by next spring. His potential is going to be fun to see to progress."
 
BB: Backtracking on you with Joe. What did you like about him? He's probably a little over looked because he's 6-2 instead of 6-4. How did you get past that? What did you see in him?
 
Ioane: "He's got tremendous get off. He's got great quickness. He's a sideline-to-sideline guy. And he's got some pop to him as far as he's got some power behind his hips and when he strikes you. He's a guy who's going to be a sideline to sideline 3-technique or nose and he'll be a very explosive guy. He's 275 pounds and he doesn't look it at all. He can be 280 or 290 if we need him to, but I'd prefer he stays 275 or 280 and be lightning quick and be that disrupting 3-technique tackle that we need to play our four-down front."
 
BB: Pitre had Robert Evans, Woody Brandom, the two receivers Cam Sutton and Keon Stephens and Chris Harris, the big corner out of Cali. That's all of them, right?
 
That's a good group. I know you have through a lot of recruiting classes. It seems like the new staff…I shouldn't call it a new staff but you have some pieces that are relatively new here. Have you seen the evaluations of guys change at all?
 
Ioane: "Not really. But what I think has been fun about this group in particular Mike Pitre, Cody Kempt and Mike Rider, it's a young group that we are able to really get into these homes and be very dynamic and very enthusiastic about recruiting."
 
BB: You can relate to the kids.
 
Ioane: "Exactly. Exactly. And I think that showed with the class. You look at the 11 from California and Coach Kempt does a great job in the Washington-Oregon area. It's just that is a tough spot because of Eastern and Montana. But he's done a great job."
 
BB: Especially with Washington and Washington State being better now too. Ten years ago, you could go over there and say, 'hey kid, you don't want to go to Wazzuu' but now they are halfway decent and they have that Mike Leach offense and they put up crazy numbers.
 
Ioane: "Yes. Cody does a great job of giving us a presence in the Northwest. Kids know about Montana State. We still got two or three kids, walk-ons, partials. We have a presence in the Northwest, which is good.
 
"Coach Pitre and Coach Rider do a great job in Southern California, Coach Pitre being from Southern California. He's got a great feel for the recruiting game. He relates really well to kids. Coach Rider, same way, a young guy who's great on the phone and great with the parents in the home. We have a good, dynamic staff when it comes to recruiting.
 
"The evaluations, each guy it comes down to what each position coach is looking for. As recruiting coaches, you just go down and recruit to what each position coach is looking for."
 
BB: Do you think you guys have seen an elevated caliber of player that you are able to go after now?
 
Ioane: "A little bit. We set our sights on players that are, we don't want to just recruit Big Sky players. We want to go after the Mountain West, the WAC or whatever used to be the WAC. The Mountain West or the Sun Belt or whatever. If we lose a guy to Idaho, it is what it is. I get it. But I'm going to go head to head with Idaho any day of the week. Same thing with some of these other schools. I don't mind losing a guy to Boise State, San Jose State. I get it. At least I took a swing. If you end up somehow getting that guy, then now you have an FBS guy who's potentially coming here.
 
"We definitely don't hold back, pull back from going after kids who have FBS offers. We feel like we can compete. When it's all said and done, you want to get the guys who want to be here. Those guys turn out to be the best players in the long run anyways. They might not be the most highly regarded coming into any given class. You go down the list and try to highlight who's going to be the best player. I always look at the guy who wanted to be here the most. They end up being the best players.
 
"Jody Owens for example was not the most highly recruited player coming out of high school."
 
BB: You were his only offer, right? You and Sam Houston State maybe?
 
Ioane: "I think it was us and D-II. That was pretty much it. He was on board from his recruiting trip on, he was a Bobcat and was going to do everything in his power to be the best Bobcat he could.
 
"Alex Singleton, same thing. As soon as it was us and Cal Poly didn't offer and it was just us, he was like, 'Yeah, I'm going there and I'm going to show everybody why they should've recruited me.
 
"Those type of guys, Deonte Flowers, guys that have turned out to be great players for us are usually the ones who weren't necessarily the most highly touted coming out of high school or on Signing Day, the ones people were talking about the most. It ends up most of the time being the guy who really wanted to be a Bobcat. That's why the Montana kids end up being such great players. They want to be here. This is there USC and UCLA. This is there University of Texas, their TCU, all of that. This is it for them."
 
BB: On that note, last thing for you. Tell me some stories from USC.
 
Ioane: "I was a Trojan for 48 hours and it was awesome."
 
BB: I saw Bo Beck down at the Cannery the other day for a minute and he showed me the video he had of the trophy room. He said they only display national championships, Heismans and that's it. He said he wanted in the room and there was Butkus Awards laying on the ground.
 
Ioane: "Their Holiday Bowl trophy from this year was in a janitor's closet. They couldn't find it and they finally found it in the janitor's closet (laughs). So one of the coaches finally dusted it off and put it in his office.
 
"Same thing with the Butkus or the Bilitnekoffs. The position coaches actually have them in their offices because no one else wants them displayed anywhere. It's Heisman or championship or nothing.
 
"It's amazing, man. I was talking to their defensive coordinator. He was saying that no one on that staff should ever be considered the recruiter of the year in the conference or in the country because really, the place recruits itself. All you have to do is bring a kid on campus and walk around and see the Heismans, the national championships. Go out to practice and you see the Heisman trophy winners out there at practice. They see Snoop Dogg and Will Ferrell, Hollywood stars right there at practice. What else do you want? He said it's a great place in that regard tradition-wise but it's also pressure-packed because if you go 9-4 again this year, you might get fired. It comes with it.
 
"It was an awesome, experience man. I'm rooting for the Trojans this year because of just how they treated us."
 
BB: Bo said they gave you guys a lot of attention.
 
Ioane: "It was all access, man. The coaches came by throughout the day. I got a chance to sit with their defensive coordinator Justin Wilcox for however many hours. He was at Boise for a long time, Washington, Tennessee and now there. Awesome guy. Their d-line coach spent time with both of us but a lot of time with Bo. Johnny Nansen who was their special teams running backs guy, he was here actually when I was playing so I'd known him previously as well. He went out of his way to come sit down and talk recruiting and anything we wanted. It was fun. Great fun.
 
"The facilities there are from another world. They have thumbprints just to get into the football offices. You have to use a thumbprint to get into the locker rooms. They have food any time a day. You go down to the players lounge, they have anything and everything you want. The weight room obviously has all the Muscle Milk shakes and fruit. It's stupid."
 
BB: Pro football. It's the pro team of L.A.
 
Ioane: "It is. They don't have a pro team there so that's the squad. USC or UCLA. It was funny, we took a picture. They have a big sign in their team room that says, 'We own L.A.' We took a picture of that and sent it to Pitre, a UCLA guy. He didn't appreciate that (laughs).
 
"It was great, man. A great experience. Learned a lot and it was fun. It's what you want to do, man in this profession. There's always something to be learned."
 
Colter Nuanez can be reached at BobcatBeat56@gmail.com and followed on Twitter @Bobcat_Beat. Photo by Brooks Nuanez. 
Categories: