Fish signs four more during late period, bringing total to 8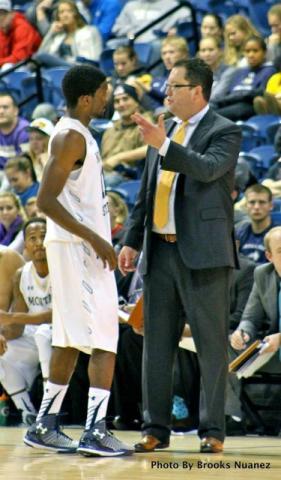 By COLTER NUANEZ
Bobcat Beat
 
The message sent by Brian Fish with his first recruiting class is clear. The first-year Montana State head men's basketball coach wants the Bobcats to get better. Right now.
 
Fish, who's been on the job as a first-time head coach for a year this month, signed the second half of his 2015 recruiting class on Wednesday as the late national signing period opened nationwide. Wednesday's signees are all four junior college transfers and complete a class of eight players. Fish and his staff signed four during the early period — Tyler Hall (Rock Island, Illinois), Mandrell Worthy (Seattle) and Sam Neumann (Minneapolis) from the prep ranks and Quinton Everett out of Gillette Junior College.
 
All eight players are expected to compete for playing time next season. Montana State finished 7-24 in Fish's first season.
 
"Having never been in the league early on, I knew it was a guards league so I wanted to address the guard situation during the early signing period and then when the young man (Kavell Bigby-Williams) didn't get eligible for us and had to go to junior college (Gillette), I didn't want to change recruiting. I wanted to stay with what we were doing and respond to that later," Fish said on Wednesday. "A lot of times later, and I think this will be a little bit of something we have to do, I think at this level you have to go to junior college to get the bigs because they take a little more time to develop. That's certainly the case with these guys. I thought we needed immediate help and factors inside to catch up with where we want to be."
 
Wednesday's signees include Tohono O'odham Community College (Arizona) point guard Nahjee Matlock, Northeastern (Colorado) Junior College forward Shikei Blake, Gillette JC forward Sarp Gobeloglu, and Laramie Community College forward Tyson Kanseyo.
 
In the eight seasons preceding Fish, former head coach Brad Huse and his staff built the foundation of their program by scouring the junior college ranks. JC All-Americas came and went but the results were largely the same: Huse's Bobcats qualified for the Big Sky tournament in all but the last of his eight seasons.
 
"The main thing I was trying to do was balance out the classes," Fish said. "You take Tyson and add him with the freshmen. That's three in the sophomore class. I have three freshmen coming in. I wanted the classes balanced out so we didn't have to get eight in a year again. Balancing was a big factor but the other big factor is I think these guys will come in and help us. They all fill immediate roles. I certainly won't shy away from recruiting junior college kids because sometimes I think they get a bad rap. But it's also one of those things where we are going to continue to build it with the majority freshman. We will go that route. But I will say that probably with bigs, don't be surprised if we go junior colleges more often than not because of the development process."
 
Montana State returns senior power forward Danny Robison, senior point guard Marcus Colbert, junior shooting guard Stephan Holm, sophomore swingman Zach Green and sophomore power forward Quinn Price return from a team that posted a 4-14 league record.
 
Center Blake Brumwell, shooting guard Michael Dison and forward Eric Norman graduate. Fish cut center Bradley Fisher, point guard Joey Frenchwood and swingman Terrell Brown. Forward Ryan Shannon retired due to medical reasons.
 
"The No. 1 thing in my mind I wanted to improve was competition," Fish said. "I wanted the five guys who start to beat out five or seven guys. I want to create competition. I want to create where if I don't bring it today, I won't play mentality. I want the next guy who transfers to leave because he didn't play. I want him to want to go some place and play. That's what winning programs have. That's what we need."
 
THE SIGNEES
 
Nahjee Matlock, Tohono O'odham Community College, point guard, 5-11, 180: The Las Vegas product is a lightning-quick point guard who can score in bunches. He's a blur in the lane and should allow Montana State to full-court man press more often while also pushing the ball in transition offensively. Last season, Matlock averaged 14.3 points, 4.4 assists and almost two steals a game for a team that went 14-18. He made 32-of-117 shots from beyond the 3-point arc (27.4 percent) and 40 percent from the floor overall.
 
At Palo Verde, Matlock was as much a star on the track as on the hardwood. As a senior, he ran a personal-best 10.72 seconds in the 100 meters. He took second in the event at the NIAA 4A State Championships later that month.
 
Coach Fish on Matlock: "He's a jet. One thing that I really didn't like last year was how we went and got loose balls, how we pressed. I wanted to get someone who was a little different than Marcus. I like a lot of things Marcus did. But Nahjee gives us something we don't have in the program. He can self-press. He can eliminate a guy just by guarding him. And his speed is something to be reckoned with.
 
"He reminds me of the Johnny Lloyd kid we had at Oregon. I just remember how many times that speed came into play. I'm a big believer, I think shooting is the most important thing you can bring to the table but I think speed is second. I think speed is a hidden key to winning."
 
Shikei Blake, Northeastern Junior College, power forward, 6-7, 240 — Blake brings much-needed size and strength to the interior. The bullish forward was a scoring machine at the Sterling, Colorado JC. The Region IX Most Valuable Player averaged 15.3 points on 55 percent shooting and 8.2 rebounds for a team that went 23-10. The honorable mention JC All-America selection scored at least 20 points on nine occasions, netting a season-high 28 against Trinidad State Junior College.
 
Two winters ago at North Idaho College in Couer D'Alene, Blake averaged 7.6 points and 5.4 rebounds. Blake attended three high schools back east, finishing at Newark High in Delaware his senior season. He received interest from Virginia Union, LaSalle and Sienna before coming to NIC.
 
Film: http://www.hudl.com/athlete/4663922/shikei-blake
 
Coach Fish on Blake: "He's a classic, throwback post player. He's got the up-and-under moves, step through moves. He has the rounded shoulders and I mean this as a compliment but where you think you are closer to him than you are and he can separate with his body because it's a rounded body. He knows how to score. It's an area I thought was our biggest weakness last year: we couldn't get points in the paint. He immediately addresses that. His size is 6-7 but if you go to his arm length, he's 6-10 and that's what I look at. His length is very, very good."
 
 
Sarp Gobeloglu, Gillette Junior College, forward, 6-10, 210 — The stretch forward has deft passing skills and the ability to handle the ball on both ends of the court. The native of Istanbul, Turkey averaged 9.8 points on 48 percent shooting and 6.3 rebounds while playing next to once and perhaps future Bobcat Kavel Bigby-Williams. Bigby-Williams signed with MSU last year but the Brit was a non-qualifier and is at Gillette until after next season. He's still being recruited by the Bobcats but has also been fielding Pac 12 interest.
 
Gobeloglu shot 35.2 percent from downtown and averaged 5.6 points in just 12.3 minutes per game his first year in Gillette. Before coming to America, Gobeloglu was a standout at FMV Igile High as well a standout on the Turkish national U-16, U-18 and U-20 teams. Gobeloglu also had an offer from Idaho State.
 
Film: https://www.youtube.com/watch?v=4ryCUFwXghg
 
Coach Fish on Gobeloglu: "I thought one of the reasons we didn't get pressed that much this year was our four-man inbounded the ball and Eric Norman could handle to the ball and bring it up. I really thought we were losing a ball-handling four-man that is so important. Sarp gives us that. He certainly has the ability to shoot it very well and he's a very good passer. The other thing with our current group we've challenged them on is the love of the game and the type of teammate they are. Sometimes he was asked to start and score more if a guy was in foul trouble so I liked his team-first attitude at Gillette."
 
Tyson Kanseyo, Laramie County CC, power forward, 6-8, 215 — The long, athletic native of Malden, Netherlands was reclassified by the NCAA earlier this year so after one year in junior college, he is transferring Division I. He'll have three years of eligibility left.
 
As a freshman, Kanseyo averaged 8.3 points and 6.1 rebounds. He shot 51 percent from the field but only 52 percent from the free throw line. Given his ability to slash, get into the lane off the dribble and engage body contact in the air, improved free throw shooting could send his scoring into double figures with ease.
 
Film: https://www.youtube.com/watch?v=riA3ycfcU-w
 
Coach Fish on Kanseyo: "Tyson is not a junior college kid. Tyson had to go to junior college while the NCAA went through his transcripts. He's certified and he has three years. He's 6-foot-8 or 6-foot-9, 220 and I think he's a fantastic athlete. What I noticed first time through the league is you have to have a fantastic athlete. The bigs in our league are fantastic athletes who were taught how to play. He gives us that athleticism that when he walks in the gym, you go, 'Wow, he should be a player.' He gives us that ability again. I want to have a group of guys that we can turn the heat up on teams with pressing and he certainly fills that role."
 
Colter Nuanez can be reached at BobcatBeat56@gmail.com and followed on Twitter @Bobcat_Beat.
 
 
 
 
 
 
 
 
 
 
 
Categories: