Tricia Binford end of the season Q&A 2015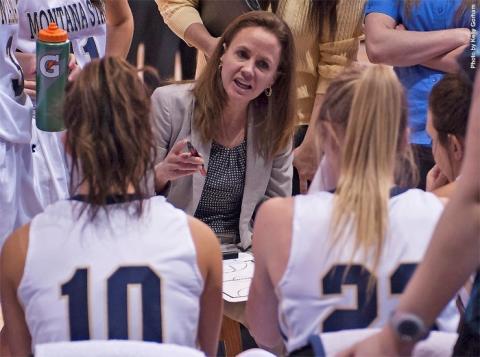 By COLTER NUANEZ
Bobcat Beat
 
Tricia Binford's Bobcats bucked the trend this season an in turn, earned the skipper another season at the helm.
 
Following a 19-12 campaign in 2011, the Montana State 11th-year women's basketball head coach received a three-year contract that included a pay bump of 47.2 percent.
 
The following season, Montana State spurted out to an 8-1 start in conference play only to lose nine of 12 down the stretch, including a loss in the first round of the Big Sky Tournament to finish with a 17-13 record. In 2013-2014, Montana State again started hot in Big Sky play only to lose 10 of 14 down to end the campaign, including another first-round tournament loss that stamped a 15-15 season.
 
This fall, MSU did not have a second-half slide. Rather, the Bobcats posted a 6-5 mark in the non-conference and then stumbled to a 1-6 start in Big Sky play. But in opposition to the trademark of the team this decade, the Bobcats rallied to finish strong. Montana State won eight of 11 down the stretch. But the 'Cats again lost in the first round of the Big Sky tournament to finish 15-15 yet again. 
 
The recently completed season showed flashes of Montana State's potential. Junior center Jasmine Hommes emerged as one of the most dangerous scorers in the league and earned second-team All-Big Sky honors in the process. Sophomore Peyton Ferris adjusted to her move to power forward and earned the Big Sky's Top Reserve honor. Of the top five teams in the regular-season standings, only Northern Colorado swept Montana State. The Bobcats handed Montana, Sacramento State, Eastern Washington and North Dakota losses in Bozeman.
 
As Binford enters her second decade at the helm, the state of the program off the court has never been stronger. The Bobcat women are among the most decorated academic teams in Division I women's hoops. On the court, a program that has been pushing toward and searching for a breakthrough again looks to be on the brink with Hommes, Ferris, point guard Lindsay Stockton and power forward Alexa Dawkins returning to lead the way. Point guard Ausha Cole, shooting guard Kalli Durham and swing forward Jackie Elliott graduate after helping the Bobcats right the ship in their final seasons.
 
Montana State's 62-54 win over Montana in Bozeman during the season-finale punched MSU's ticket to an eighth straight Big Sky tournament and most likely was the determining factor in Binford receiving a one-year contract extension through June of 2016.
 
On Tuesday, April 7, Binford sat down with Bobcat Beat for lunch at Bridger Brewing and a chat about the prospects of her team. The conversation begins after some conversation about the NCAA women's tournament and the dominance of the UConn women's program. For full audio of this interview, click here.
 
Bobcat Beat: Let's start on that note. What has been the biggest factor as to why the conference has improved from top to bottom so much in the last decade?
 
Binford: "I think when you look at the history of Montana, it raises the bar for every other program to match that. We have been talking about Connecticut before we started and I just remember listening to Maryland talking about how they wanted to play that team so they can get the women's game to that level. I just think that that expectation has surfaced and I think the Big Sky Conference has brought in some really talented coaches that make it competitive.
 
"Every single one of the women's basketball coaches in this league have preseason schedules that are as competitive in the Northwest as you'll see."
 
BB: Do you think there will be a tipping point where everyone is chasing Montana and then all of a sudden, multiple teams will catch them and the parity will be even greater?
 
Binford: "Well, I think if you look at the last few years, Montana has won the last couple but there has been quite a few more host sites over the last five or six years than there was previously. I think the parity has begun, for sure.
 
"Every single opponent, you have to show up every single night."
 
BB: How much of an advantage is it to host the tournament? It seems every year if you host, you win.
 
Binford: "If you think about the percentages of when you win at home versus on the road, I think it's close to 70 percent in this league and nationally speaking. When people do the RPI ratings, if you are able to win on the road, that just improves your RPI that much more.
 
"It's so much more difficult to win on the road so for sure, having a host site does protect that team to some extent, which was what the purpose was initially behind it to put our best foot forward for the Big Sky to be represented nationally. But now we have three or four that would all represent us really well so I like the fact that we are going to a neutral site."
 
BB: I read this fascinating article about home court advantage in basketball and how it's still very prevalent but that it's not nearly as prevalent as it used to be, particularly when you are talking about the NBA and high level men's because of the prevalence of sports gambling is more controlled and regulated. It used to be that like at Madison Square Garden in the 60s, women weren't allowed in and the only people who were going were men in suits and they were just betting on everything so the refs were getting paid under the table. The whole concept of a homer, that's where that comes from because the ref really was. He had money on the game so he's going to screw you over. Now, it's much less bias and the refs are much more quality. What do you think makes home-court advantage so strong in this league in particular?
 
Binford: "Well, you look at the attendance and particularly Montana, Idaho State, North Dakota, Northern Colorado, us…I think our attendance matters and I think the Big Sky does a really good job of attendance. I also think a lot of those places, Sac State, the smaller venues make for a really rowdy, strong atmosphere. And the third component that draws some attention is just the difficulty of travel. If you look at how hard it is to get to Grand Forks or how hard it is to get to Flagstaff or Cedar City and vice versa, those teams coming to us, that can be taxing from a physical standpoint.
 
"We are different than the West Coast Conference which can drive almost any place. I think our travel makes it a challenge to win on the road."
 
BB: You mentioned the small venues. I think you averaged about 1,000 per game this year in a large venue. Are you still a proponent of a smaller one like moving to Shroyer?
 
Binford: "To be honest, the Brick felt a lot smaller with the curtains and I thought that was a major improvements in getting the seats and fans closer. I definitely think the Fieldhouse has made us a home court advantage facility in a great way. It's still maybe not as small as Sac State or Idaho State. If we can improve on our successes, maybe we can fill that a little more.
 
"No, I love the Fieldhouse with the renovations. This is one of the best seasons having playing at home. Our three losses this year were to Idaho State, Gonzaga and Northern Colorado so just three losses at home."
 
BB: Speaking of other post-season tournaments besides the one you get an auto-bid for, the success of teams in the WNIT this last year, is that now added to the preseason goals when you are talking about we want to make the tournament, we want to beat the Griz, if we don't make the Big Dance, the WNIT is out there. Do you present that to the girls?
 
Binford: "I talk about postseason obviously and that also means the Big Sky Tournament. But postseason can now be the WNIT and the NCAA. When you have a team of 12 teams and which initially started at eight and it's grown to 12 in our conference, I think the WNIT is very respectful level and tournament that you should be really proud you achieved getting invited to. Yeah, that's definitely something that's brought up.
 
"I think we were probably two games away from getting invited. I actually emailed with her because I met with her when Katie Bussey was a senior because I thought we should've made it. So we have a pretty decent rapport. We didn't finish the way we wanted to this year with Sac State but just our strong finish, I thought it was at least worth sending an email to see where we were at. We were one of the bubble teams because of our strong finish. We were a couple of wins short of being one of those teams that got an invite."
 
BB: You said you talked to her. Who's her?
 
Binford: "Renee Carlson (the director of the WNIT).
 
"Pretty much since that year when I talked to them at the Final Four about our conference, if you look ever since then, our conference has had at least two teams invited since that year to the WNIT. I think that shows more knowledge of our conference and we've gained more respect of what our conference is doing. It really helps that our conference won a couple of rounds this year. Three rounds for two teams. Those things will play favorites for us as well in the future."
 
BB: Yeah, Brian Fish was saying the same thing. On the men's side, with Sac and NAU getting in and NAU making a run, it's good for the reputation of the league.
 
Binford: "How far did NAU go?"
 
BB: They went to the CIT championship. They hosted all the way through and then played Evansville on the road in the championship and lost by two.
 
Binford: "Bummer. That is huge though. I didn't realize they got that far."
 
BB: They had never won a post-season game in the history of their program and they won four this year. Pretty good.
 
You mentioned how well you guys played at home this year. This has something to do with the parity of the league but also to do with the up and down nature of your season. All of the top teams in the league…you split with Montana, split with Eastern Washington, split with North Dakota, won your only one against Sac State. Is that frustrating or is it a double-edge sword. You can say, you can beat the top teams in the league, which provides optimism. But also why can't you do it more consistently?
 
Binford: "I think it's a gage of where we need to go from here and it should build a lot of confidence in our team of what we are capable of. Kind of as I reflected on the season, we had a rocky start with having two players (Kalli Durham, Amy Davis) not available for opening weekend against North Dakota and Northern Colorado. With Kalli being out as a starter and Amy not traveling, we really played well on that road trip. And having those two kids down certainly hurt us to some extent but we played fairly well that weekend. That's a very hard road trip, two top teams. So going 0-2 to start, I don't think is drastically surprising but I think it threw us off a little bit because our kids were expecting to start 2-0.
 
"Looking back, the Idaho State game we should've won. Missed free throws. It just got rockier. Your question of being frustrating, the next step for us is to cut those things out immediately instead of letting them drag and making us a .500 team.
 
"We are in a really good place. We finished really strong, the best that we have finished in a really long time. We showed some mental toughness in that and that's what we are building from right now."
 
BB: Is there anything you can pinpoint as to what trigged the strong finish?
 
Binford: "It was a combination of different changes. I think, No. 1, our upper-classmen stepped up and had a sense of urgency. And so, we are working on our shift of our sense of urgency to make the tournament to our sense of urgency of winning a title. I think that sense of urgency, nipping it when we see it. But our upper classmen drastically stepped up. I think the home stretch played to our advantage. And we got everybody back and healthy. Those things all played a factor."
 
BB: I know this is a contract year. Do you feel you saved your job with how you played down the stretch?
 
Binford: "Not sure that's relevant to our conversation with this.
 
"I'd say I'm grateful for the chance to coach this team and I get to move this team forward."
 
BB: Did that play a factor? Did you ever think about your contract during the year?
 
Binford: "What I thought of more was what our team is capable of and we weren't meeting that. I think that grabbed a sense of urgency for all of us as far as just you know…when you are not meeting your potential and you know it's there, you want to get back to the details and the process and not focus on those things and I think that's what I helped get minds back on.
 
"I'm really, really proud of our upper classmen for doing the same and getting the team back on to those things."
 
BB: I know so many of the girls that you had on the team this year had experienced so much winning, especially during their high school years and coming up through the ranks. I think it was Lindsay that was touching on this and she said you guys didn't really know how to lose if that makes sense. When you have a couple losses in a row, then girls are panicking but then you have this turning point where you turned it around. Do you think that was a factor? You never want to learn how to lose but not being used to it, not being used to rebounding from those things?
 
Binford: "I wouldn't use the word panic but I would say we went in different directions with the rocky start. Even our pre-season, we won at home, we struggled on the road. That's the other factor we really have to get a hold of. We have to figure out a way to win away from the Fieldhouse.
 
"One of our best games was Wyoming at home. Everything clicked at home. Then that little bit of a rocky start, instead of separating, we have to come together when it's most important and things aren't going our way. It took us a long time to get to that point. Once we did, we proved that when you play for the team first and everyone is bought in about how to go about that and not worried about anything else, we can perform with anybody.
 
"What I want to make sure of that I'm really, really clear about this next season about with our team is we need to respect everybody for how talented they are because our conference, I think sometimes and this isn't the student athlete's fault, this is my expectation, I need to make sure they understand the conference is getting better. Even though kids graduate, the conference is getting better. I think our team came into it knowing we had gotten better but so did the entire conference. That respect is really, really necessary to understand every time you show up for a practice, every time you put in extra workouts to make sure you are getting better every single day that you take the court."
 
BB: I know you've been in highly competitive basketball for a long time. The respect of the process…kids now are so instant gratification oriented, is it harder to communicate just how important the mundane details of the process is?
 
Binford: "Ask the question again?"
 
BB: So many coaches talk about having respect for the process. Coach Pitre used this the other day. If you are a running back and you skip one rep a day during practice, then when the season rolls around, all of a sudden you've skipped 300 reps and that's 300 reps that the guy behind you took. So with the grind of the process and you might not get an instant gratification from a Tuesday practice, is it harder to communicate that to kids now? Is it a challenge to get them to buy into the day-to-day grind?
 
Binford: "I think it depends on the kid. Some kids are for sure more hard to reach than others. The kids that have been the most successful in our program have been the kids that have been bought in since Day 1. That part has been easy. The grinders, the workers, the buy in in every facet, those kids are successful and you have to get that buy in and complete trust to move those kids forward.
 
I would say that kids can learn that too. Our kids are moving in a really great direction right now from that understanding from that finish we had. But I understand your question. There's a lot more things in front of them that can distract them and grab their attention. Those things, we try to educate every single year upon. We are getting them off of social media. Put your time into other areas and know what your strengths are.
 
"Some kids can do more quantity. Other kids really need to focus on quality of what they are spending their time in. But yeah, that can for sure be a challenge. But that's why we coach. Those are the things we have to work to develop too."
 
BB: From an academic standpoint, is this group doing well like ones in the past?
 
Binford: "There's been years when we've been in the top four in the nation. We've had some pretty incredible seasons. We are not there but we are very, very successful in the classroom. I think that I'm to the point where we've built the program and a standard academically where it is very clear that the student athletes know the expectations that discipline is transparent in all phases of what they do and they work their rear ends off, they work really, really hard at it. I'm really confident with what their commitment is there. Are we going to be a top four national team this year? Probably not. But we are going to be really good. And we are working on really putting a lot of purpose on the other aspect of mental toughness it takes to be great every single day, just not every so often."
 
Coming off a 19-win season in 2011, the Bobcats landed a stellar recruiting class that included three highly touted Washington products (Jasmine Hommes, Lindsay Stockton, Margreet Barhoum), Bozeman's best player (Alexa Dawkins) and the Montana Gatorade Player of the Year (Peyton Ferris of Twin Bridges). That same year, MSU gave Binford a three-year contract extension, boosting her salary by 47.2 percent to $135,000 annually not including bonuses.
 
BB: The group that will be the core of the team next year, the girls that will be seniors and then Peyton and Margreet, I know that was a very highly heralded recruiting class and here they are now, a year older and some seniors. What is the level of optimism and what are the realistic goals for them next year?
 
Binford: "They are going to tell you that their expectations haven't changed. We just need to get it done. We have the talent to win this conference but we also know that this conference is going to be really tough next year so we can't take a day off.
 
"If I broke it down, I'd say Jasmine (Hommes) is going to be one of the best players in this conference. The way she performed against Montana and Sac State, she was a first-team all-conference kid. The reason she didn't make first team was the fact that she didn't rebound as consistently as she did that last week. That's a major goal of hers right now, to be incredible on the glass because she's incredible in every other aspect as a player. She's been an incredibly consistent kid for us and she's been such a great example, I think she's going to be a tremendous leader. I'd put her up against every other kid in the conference next year.
 
"She's a major kid. You have Lindsay Stockton that had a breakout season. She has the personality to lead the team, a lot of toughness traits to hold the other kids to the level of expectation of hating to lose, which is really, really necessary for us in taking the next step.
 
"You have her there. We had early-season post play with Peyton Ferris and Alexa Dawkins and Amy Davis got a ton of minutes as a freshman. I really hope to see major improvements in the off-season because she is somebody on the defensive end that could really, really do anything else that anyone can do in this conference. There were points when she made plays that were just natural. If she could really develop her offensive game, she could be a really scary threat.
 
"Then we had two other posts redshirt. A lot of core depth there. The biggest unknowns is what is going to happen more at some of that guard play. The conference doesn't know about Riley (Norgaard), which is a huge advantage for us. Riley is somebody that can come in and fill…when you look at championship teams and having a kid that can take over the end of games and help you win games, most of those teams have a guard that can do it. I really feel that Riley's got that kind of ability in her game. And she's also, I'd put her up there with Lindsay Stockton in hating to lose. Extremely competitive. And she can play both ends of the floor really well. As far as what we are putting together right now and getting more size at the guard play, that would be the biggest change that potentially could happen for our fans to see.
 
"We could get a lot bigger at the guard immediately or Hannah (Caudill) and Lindsay get to a point where…Hannah is going into her sophomore year, which for a lot of kids is a major jump. They could make me put them on the court together again, too. So we have a few different dynamics at the guard.
 
"I don't think there's a question mark this last year that we could compete because we did beat those top teams. But we brought up the middle teams. For us to be a championship team. We need to step onto the court every single night and find ways to win no matter what."
 
BB: You mentioned Hannah. Do you feel comfortable off the ball?
 
Binford: "Hannah's growth needs to be on the defensive end, which is probably pretty normal for all freshmen. The defense is the hardest to get. When you look at whether it's her and Lindsay is playing at the two, Lindsay does establish us great tempo when she is at the 1 and she's also a great rebounder. All of our players now, if you are not going to be able to rebound and defend, you are probably not going to be getting a lot of minutes because the difference for us winning at home and losing on the road was rebounds. We out-rebounded and we lost rebounds and we lost so we really need to have consistency there. Lindsay is one of our best guard rebounders so if Hannah is able to make jumps on the defensive end and continuing to grow in handling pressure off the dribble, she's such a fluid, incredible passer, that part is going to make us a lot better."
 
BB: She's kind of like Steve Nash with her passing. She can do those one-handed passes better than any girl I've seen.
 
Binford: "She's got a really, really soft touch on her shot. She definitely keeps opponents honest. There were certain opponents she was really deadly against certain opponents we play against. I want to make sure Hannah is deadly against every opponent we play against. Sac State and Montana is a perfect example. We were able to get through that game without Lindsay. They really did slow down our pace. We get to Sac State and Lindsay is half-speed. And they are forcing you to put the ball on the floor and we have a lot of passing decision makers. We want to get her to the point where she is able to do some things off the dribble too because she can score in a lot of ways."
 
BB: Just the speed bumps that come with every freshman year, how do you think Hannah and Delaney managed that? You come from high school used to being able to go out and dominate every night. It's not like that in college. How do you think those two handled the ups and downs?
 
Binford: "I'd say they had a rocky middle. They had a great start and they both responded well. Delaney was supposed to redshirt and I told her she couldn't. She responded really well to that. Hannah was thrown into the fire really quick. But the middle part where we had a rocky start in league, that was a struggle. But they both finished really, really strong.
 
"Hannah in particular, her last three weeks, I thought finished great. But you talked about these kids who come from winning programs. I mean, these kids were coming from kids were coming from programs where they dominated and maybe got one or two losses in a year coming into a conference that has extreme parity. So it's definitely been eye-opening. But at the same time, they got pretty incredible experience to build from as freshman."
 
BB: You mentioned Hailey Blodgett. She should bring a good presence defensively given her size.
 
Binford: "She's definitely a shot-changer on the defensive end."
 
BB: Do you think you could play her and Jasmine simultaneously?
 
Binford: "Jasmine can for sure play the four. The question is when we put Jasmine out there, we are going to make sure Jasmine is in a position where we play to her strengths. If Hailey is in the game, we would probably be running some things for Jasmine at the four to get her in position to score for sure. Hailey is a lot stronger on the defensive end right now. I still want her to grow and develop that offensive skill sets."
 
BB: One of the stories coming into the season was moving Peyton to the four and she obviously excelled tremendously at it, earning top reserve in the league. What did you think of her and Alexa's ability to handle that platoon they had and both be very productive for you?
 
Binford: "I'm really proud of them having each other's backs at all times. I think they set a great example of what playing for your team and playing selflessly and being all bought in is all about. They did a great job about it.
 
"This was Peyton's first year and I just think watch out, for sure."
 
BB: You have to love having someone like Alexa on the offensive end that can get you eight points on just a handful of shots.
 
Binford: "I think the part that people probably miss out a lot on is how often she is removed from practices because of her knees. For what she's been able to do with the limited amount of reps she's really been able to get to take care of her body, I'm really proud of that. The last couple of weeks is when we really got to our best frame of knowing where she shines the most of being more consistent. That's what was really what we've always ultimately been looking for with Lexi.
 
"If she can go with the mentality of dominating, she really can dominate. She really can be one of the best in the conference. We got her to two-minute intervals and that's where she really started to shine. Lexi's rotations where she can go hard, go all out and then she recovers, sometimes you have to take adversity for what it is and find a solution and that's the solution we've come up with. I think she can be really successful for us in her senior year doing that."
 
BB: You lose three seniors. Lindsay is a proven commodity at the point so that's an easy transition. Kalli, it's easy to find shooters. Do you have someone that can fill the role Jackie (Elliott) filled in terms of energy, rebounding, leadership, all of that?
 
Binford: "My biggest concern is losing such positivity and where that is going to come from. You never replace a kid with the same kid. You always adapt. But there is something to be said for Jackie's optimism. Her positive spirit across the board is always about others. We are going to have to find where that is and hopefully we find it collectively, not just in one kid.
 
"I do feel like we are going to find great rebounding in Riley and I do think we are going to have to get more consistency in other positions. I just want to see consistency across the board from the kids who get the green light to fill those positions."
 
BB: Do you see Riley as kind of a combo? Can she play the two and the three?
 
Binford: "She can play the two and the three. She's an option to give us size at the two. Delaney can play some two next year. A lot depends on how Annika (Lai) comes in. If she has the ability to contribute early on, that's another 6-1 guard. Ashton (Siegler) coming back from her knee, depending on how her quickness comes through, could potentially could be a 3-4 also, which is why the Bahamas is going to be really nice gage for us to take a look at Ashton and Hailey and Riley and the girls that didn't' get to play this year. We won't have Annika with us but those things will give us some insight a little bit to build from."
 
Montana State will make its international tour to the Bahamas this spring. In Division I hoops, teams are allowed to make an international trip once every four years.
 
BB: Who is going to be down there?
 
Binford: "The international team and a club team."
 
BB: That will be fun for you. Riley, how did she get to this point? I watched you practice several times this year and she pops out right away.  She's very good in every way. She can shoot, she can drive, nice pull-up jump shot, she can create, great on defense, competitive like you said. How did her path lead her here? How did she go from D-II to a D-I girl expected to contribute right away?
 
Binford: "Well, her club coach had remembered a conversation he and I had had on another recruit we didn't end up signing. He just remembered how we run our program and thought about what Montana State was about and when she approached him that she was transferring, he thought of us instantly. The things that she's leaving her current place for was she was feeling an untapped ability in her potential. He knew we did a lot of player development. He liked our background, how we spend our time and our style really suited her as well. He felt like it was a natural fit. He put her in front of us. She had other places she visited and didn't think she would go this far away but it made a lot of sense. It's been great for both sides."
 
BB: It seems like she fits in to the team.
 
Binford: "We are definitely going to help her grow in leadership development because she has a lot of traits in which she can be very capable of being great beyond her own self. She puts the time in. She knows what it takes to win. She's been at a high level there. She's seen it from this off-season. She's also someone that took a great deal of energy to our bench when we were playing at home and she didn't get to travel. We will be expecting her to bring the energy on the road for us too. It's been great."
 
BB: Do you see Margreet coming back at the two or are you going to have her at the point?
 
Binford: "It probably depends on the incoming class and what we find for guards and all of them competing. You have Lindsay and you have Hannah. I for sure like Greet at the two more than the one because she's such a scoring personality."
 
BB: Do you worry about her being behind because she's missed so much time these last couple of years?
 
Binford: "I don't worry about her being behind because I know when she goes, she goes all out. I think some kids, they can make up for time by how hard they go. She's one of those kids that is going to put in the time and get the extra reps. When you tell her what she needs to do to get court time, she's going to do whatever is necessary. I think she brings a lot to the table. My favorite part about Greet, even when she wasn't able to practice this year, she still made our practices better because she made her teammates better. She's always been a great teammate and she's a kid that's seasoned and has experience that we can put out there who can instantly put points on the board."
 
BB: Last thing for you. Being that this is such a crucial year for the next step in the program, what gives you the collective belief that this can be a year that you can make a run at the conference title?
 
Binford: "No. 1, we finished really strong. No. 2, we have a lot of tough personalities coming back with a lot of great experience with potentially the best player in the conference. And No. 3, we have depth to have sustainability over the course of the season."
 
Colter Nuanez can be reached at BobcatBeat56@gmail.com and followed on Twitter @Bobcat_Beat. 
 
Categories: