Ground game, offensive backups shine at Triangle Classic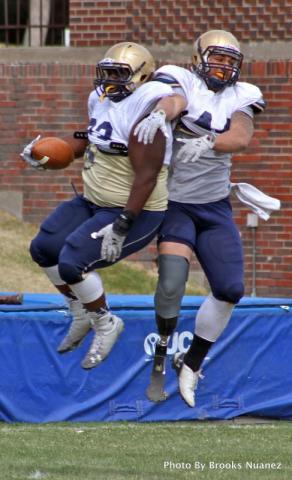 By COLTER NUANEZ
Bobcat Beat
 
GREAT FALLS — With the wind howling even more than usual, the Bobcats took to the ground at Memorial Stadium.
 
At the annual Triangle Classic spring game here on Saturday afternoon, Montana State executed 82 offensive snaps. Despite the fact that none players expected to make plays on offense next season played, MSU still moved the ball with some frequency as wind gusts of up to 45 miles per hour tore through the grass venue at Great Falls High School.
 
Junior starting quarterback Dakota Prukop threw 10 passes and completed six, mostly bubble screens. Senior Jake Bleskin, a Great Falls CMR product, threw 22 times and completed eight, also mostly short routes because of the weather conditions. The rest of the offensive production came from a trio of young running backs battling for a spot in next season's rotation as the offense totaled 13 points.
 
Sophomore Nick LaSane ran the ball 11 times for 78 yards, including a 25-yard burst on the first play of the session and a 13-yard touchdown that served as the only time the offense crossed the goal line. Redshirt freshman Tavon Dodd rushed 17 times for 67 yards and converted three first downs. Redshirt freshman Noah James ran the ball 10 times for 32 yards.
 
"With the wind and the situation with our personnel that we decided to do, we just decided to run the football, see if we could run the ball and stop the run," MSU ninth-year head coach Rob Ash said. "It was great work for that purpose. You just don't get a chance to do that very often and it was an opportunity that we needed. You have to see who can make a tackle, who can break a tackle and early on, we broke a lot of tackles. As the game went on, I thought the defense made a lot more tackles and we got better. I thought we improved today in that respect."
 
Offensively, the following players did not receive a single repetition: senior tight end Beau Sandland, senior running back Anthony Knight, senior wide receivers Mitch Griebel an Manny Kalfell, junior running backs Chad Newell and Gunnar Brekke, junior wide receiver Brandon Brown and sophomore wide receivers Jayshawn Gates and Justin Paige. None were injured.
 
"We needed to get the ball in the hands of some guys who have not played a lot, guys who need to be evaluated by our staff," Ash said. "I thought Nick LaSane and Tavon and Conner Sullivan did a nice job. (Senior receiver Tanner) Roderick came through finally at the end with a couple of good plays. That gives us a chance to see those guys.
 
"Defensively, same thing. There are some young guys over there we have to evaluate. I can't tell you until I watch the tape but guys like (junior) Fletcher Collins and (senior) Robert Walsh and (freshman) Grant Collins, some of those guys who play on the interior, I'm anxious to see the film on them to see how they did."
 
The first-team offense's first possession started with LaSane's pad popping run that included a violent collision with senior strong safety Des Carter. The drive also included a tackle for loss of Dodd by sophomore linebacker Mac Bignell, one of four stops behind the line of scrimmage for the Drummond native. The possession ended with a 31-yard field goal by sophomore kicker Luke Daly.
 
The second-team offense went three-and-out on its first possession, something that would happen four more times as the second offensive line offered little resistance to a pass rush that hurried Bleskin all day. Prukop was tagged for a touch sack three times, including once by Bignell and twice for Zach Hutchins.
 
"The first one was just a pass rush and the second one was just a line game where (sophomore) Tyrone (Fa'anono) opened it up for me," Hutchins said. "He was real physical and he dragged the guard down and I was able to slip right off and get in there."
 
The defense notched nine stops and the lone touchdown came because of a short field. LaSane capped a five-play, 41-yard drive with a 13-yard run that finished with the 225-pound sophomore bulldozing Bignell.
 
"Nick LaSane I thought ran really hard today," MSU offensive coordinator Tim Cramsey said. "He doesn't like getting tackled."
 
The loudest cheer came on the second-to-last possession of the game. After Mac Bignell forced a fumble and Koni Dole recovered it, the MSU coaches gave the second-team offense another play. Bleskin dropped back but found a 5-foot-9, 305-pound bowling ball coming at him.
 
Sophomore walk-on defensive tackle Matt Brownlow flushed Bleskin, lept in the air and batted down the pass. Surprised by the ball in front of him, he scooped up and jostled into the end zone to the cheers of the couple hundred folks in attendance.
 
"In the Great Falls wind, I did hear them," Brownlow said as his teammates surrounded him and gave him a good-hearted ribbing. "Granted, a lot of people knew it was an incomplete pass but it still felt good. You saw about a 30-inch vert up in there so it was a good situation."
 
"Jake's a really quick guy and I was not expecting it one bit. It hit my forearm and I stepped back with my eyes wide open and I didn't know what to do so the first thing you think to do is to scoop and score. I had to make that play real quick."
 
"He's got more fans in the crowd than anybody," Hutchins said with a laugh. "The whole stadium cheered. Good for Brownlow. He's a good kid who works hard and he deserves."
 
The wide receivers were the most noticeable position group hit by holding out players. Redshirt freshman John D'Agostino made a team-high four catches working at the Z and the slot receiver spots. Redshirt freshman Conner Sullivan caught two passes for 27 yards and used his formidable size (6-foot-4, 230 pounds) to dominate MSU's corners blocking on the perimeter.
 
"Conner Sullivan had a great day and he's had a great spring," MSU second-year wide receivers coach Cody Kempt said. "In our room, he's probably made the most improvements where you can say he's been the biggest surprise in our room at least. He has been stepping up and making big plays. He's really proving himself and he's really earning time for next season. He's earning a spot on that bus. He's earning a spot next season to play for us."
 
"Johnny D'Agostino is consistent. He's a Mitch Griebel clone. He catches everything; he's always in the right spot. We've thrown a lot on his plate. He is playing F and X. Today, he was at both. He had a great day. He's always consistent and he does great things."
 
Cramsey praised Sullivan's blocking on the perimeter as well. The head coach noticed the former Class C 8-man stud too.
 
"I think he's made a quantum leap this spring," Ash said. "He's confident now. The thing you don't notice just watching it like most people watch it is his blocking. He's a big guy, he's aggressive and physical and he's becoming an outstanding blocker. That's going to be as good of an element in our game plan as his catching."
 
In the second half, Bleskin made a concerted effort to throw the ball to Roderick at the demand of the coaches. Roderick, the 2010 Montana Gatorade Player of the Year in football and basketball, is entering his fifth and final season. The former Nevada quarterback is in a battle with Sullivan and junior Will Krolick for the eighth and presumably final spot in MSU's rotation. Roderick was targeted seven times. Bleskin over threw him twice and three other times Roderick dropped the pass. Late, Roderick converted two first downs, including an 18-yard gain on fourth-and-16, Bleskin's best throw on an 8-of-22 day.
 
"We really made an effort to get (Roderick) the ball in the second half of this game," Ash said. "We basically said throw it to him. Initially, he did not convert but then he got tougher and made some plays at the end. He's got another week to build on that and hopefully he'll continue to show that he can make those plays."
 
Overall, Kempt was impressed with his group, especially considering the pace setters like Griebel and Paige did not see the field.
 
"Those guys took a lot of snaps today so I thought they were warriors out there to be honest with you," Kempt said. "We ran 82 total snaps with only six receivers and at the end of the second half, we had like four guys we were playing. I was proud of those guys for being warriors in these conditions."
 
Because of injuries, MSU has depth issues at a few key positions. Senior cornerback Bryson Keeton did not dress with a hamstring issue. Senior cornerback Trace Timmer was slowed by a hip flexor injury. Sophomore cornerback Jaylen Price wore a red No. 7 non-contact jersey. Sophomore cornerback Bryce Alley played every snap.
 
"Bryce Alley ought to be getting better because he's getting about a million reps," Ash said with a chuckle. "He played the whole time on both teams. He got a lot of action. I thought he made some good pass breakups. Sullivan is a tough matchup for a small corner like Bryce. That was his toughest battle of the day, the rest of the time I thought he played well."
 
Junior Dillon Fraley, a Bigfork native, manned right guard for the first team and left guard for the second-team. Sophomore Dylan Mahoney, a CMR product, held down right tackle for the starters and left tackle for the backup. Each played every snap.
 
"It was good for me," Mahoney said. "Staying in the game the whole time was tiring but I did ok. Today was a little tough given the conditions and stuff but Coach Eck talked about doing your assignments right and your technique right."
 
The spring game wrapped a whirlwind weekend filled with success for MSU football. The Bobcats cleared more than $200,000 at Friday night's banquet, a dinner attended by more than 1,500 people when including the media and the players. It was the most well attended Triangle Classic in the history of the event.
 
"The game is great and the speakers are always great, they are awesome to come out here to Great Falls and do this for us but what's most important to me and our players is the show of support that we have from the fans," Ash said. "The turnout at the banquet is just stunning when you walk in that room. To have the people out here today, the good crowd for the scrimmage, all the money that was raised for Bobcat athletics, I think our guys walked away kind of shaking their heads at how amazing, how positive this is for Bobcat football up here in Great Falls and throughout the state."
 
Colter Nuanez can be reached at BobcatBeat56@gmail.com and followed on Twitter @Bobcat_Beat. Photo by Brooks Nuanez, who can be reached at Brooks.nuanez@gmail.com.
 
 
 
Categories: