Urlacher talks of humble beginnings at Triangle Classic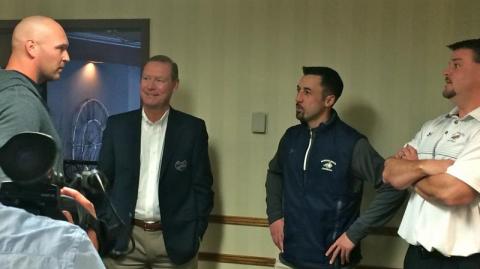 By COLTER NUANEZ
Bobcat Beat
 
GREAT FALLS — To look at him now, it's hard to imagine. But once upon a time, Brian Urlacher wasn't all that different than many of the Montana State Bobcats he addressed here on Friday night.
 
Urlacher, a five-time NFL All-Pro during his 13-year career as a Chicago Bear, once was a kid from a rural town in New Mexico with just a single scholarship offer. Urlacher was born in Pasco, Washington and grew up in Lovington, New Mexico, a southeastern town of a little more than 11,000 people.
 
After an all-state prep career, Urlacher accepted his lone offer to play for Dennis Francione at New Mexico. By his third year, Rocky Long was the head coach and he created the "Lobo-back" position for Urlacher, at the time a large safety with elite speed. By the time his college career was finished, Urlacher had blossomed into a 6-foot-4, 258-pound blend of size and speed rarely seen anywhere. Chicago selected him with the No. 9 pick in the 2000 NFL Draft, sparking a legendary career that included eight Pro Bowls, four first-team All-Pro selecitions, the 2000 NFL Defensive Rookie of the Year, the 2005 NFL Defensive Player of the Year, a 2006 NFC championship and a spot on the NFL's All-Decade team for the 2000s.
 
Urlacher, who was brought to the Electric City to be the keynote speaker for Montana State's Triangle Classic, hoped to pass on a message of optimism to the Bobcat players and coaches that all things are possible through belief, hard work and determination.
 
"I love talking to these guys at small schools because my thing is, if you can play, they are going to find you," Urlacher said as he addressed about 10 members of the Montana media at the Heritage Inn on Friday afternoon. "If you get into a camp and you can play, you are going to stick. Once you get there, it doesn't matter where you came from. Guys would give me crap because I went to New Mexico. I would say, 'I'm where you're at now, buddy.' So it doesn't matter. It's fun to get a chance to talk to these guys who might not think they get a chance to make it. But once you get a chance, you have to take advantage of it."
 
Urlacher got to Great Falls on a whim. His marketing director presented him with a chance to come to Montana and Urlacher happily obliged.
 
"I was born in Pasco, Washington and my uncles used to come hunting here all the tiem so I've been here before," Urlacher said. "But it's been a very long time."
 
Urlacher's appearance is part of a crucial weekend for Montana State on many levels. The Triangle Classic is a chance for the athletic department to raise money as well as to spread the Bobcat brand.
 
Urlacher is the second Bears Hall of Fame middle linebacker to speak at the event. Dick Butkus, the godfather of a long lineage standout Bears defensive players, spoke at the Triangle in 2008. Urlacher played his entire career at middle linebacker for a team steeped in defensive tradition.
 
"Dick Butkus is the man," Urlacher said. "Playing middle linebacker for the Bears is an honor. Bill George was the first middle linebacker in NFL history. Then you had Dick Butkus, Mike Singletary, so many good players. If you are a defensive player, playing on that defense is one of the most coveted thing you can do as a player. Our fans love defense and we are known for it."
 
In 2012, Urlacher suffered a knee injury the same year his mother passed away. By the end of his 13th season, he decided to retire. He wanted to walk away from the game before he was unable to do so.
 
"My knee wasn't where I wanted it to be and I always told myself if I couldn't play at the level I wanted to, I would walk away," Urlacher said. "My body was telling me otherwise.
 
"The No. 1 key to my success and development I had was I stayed healthy until the end. I had one little injury in high school and didn't miss a game in college. Obviously being 6-4, 250 didn't hurt. That's something you can't coach, being born with size. I worked my butt off and worked hard to stay on the field."
 
When Urlacher was on the field, he was as transcendent and talented a player the NFL has seen in the last generation. He ended his career with 1,353 tackles, 41.5 quarterback sacks and 22 interceptions. He will almost certainly be a first-ballot NFL Hall of Famer. When he stepped away from the game, he said the camaraderie and relationships, not the bright lights and the glory, were what he missed the most.
 
"I missed the guys," Urlacher said. "It was hard my first year out. Now it's not as hard. I didn't miss football. I didn't miss being beat up all the time. But I missed the guys and being in the locker room. I miss the meetings even though I hated them. The locker room was so fun and practices were so fun even though I hated them. Being around the guys all the time and doing the things we did in the locker room is the thing I missed the most."
 
Urlacher still lives in Chicago with his three children, including his son Kennedy. A prevalent story line throughout professional football during his playing days and since his retirement has centered upon the safety of the game, particularly pertaining to head injuries. Urlacher said he believes football is a game that builds fortitude and character and he hopes it's an institution that remains in America for years to come.
 
"I love football and football has taught me so many things," Urlacher said. "My son plays football now. He plays flag football and I'll let him do that as long as he wants to. He gets to play all the different positions. But if he wants to play tackle, I'd love for him to play tackle. By the time he gets to that point, it's going to be tag anyways. In four or five years, you aren't going to be able to tackle anybody. The helmets are getting safer. I personally only had one concussion in my life. I was very fortunate. If it ever was an issue with him, he could stop playing but if he wants to play, I want him to play. I know it changed my life for the better."
 
Colter Nuanez can be reached at BobcatBeat56@gmail.com and followed on Twitter @Bobcat_Beat. Photo by Colter Nuanez.
 
 
 
 
 
 
 
 
 
Categories: