3 Electric City natives will make final Triangle appearance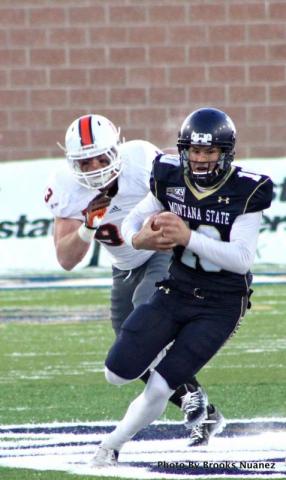 By COLTER NUANEZ
Bobcat Beat
 
For the last few years the sight of Jake Bleskin blasting bombs into the upper reaches of the Sonny Holland end zone signals the eve of the Triangle Classic.
 
This spring, Montana State head coach Rob Ash chose to forego his team's annual spring home run derby in favor of a punt catching competition between the offensive and defensive linemen. Thursday's practice wrapped early due to a freezing north to south wind without Bleskin, MSU's senior quarterback, getting to show off his home run hitting prowess like the past few Aprils. Still, the Great Falls native took a moment to stop and talk to the media the day before the Bobcats hit the highway north to Bleskin's hometown.
 
"I think it's really special on Friday when we all get together at the banquet and we get to see how many Bobcat fans there really are out there," Bleskin said. "It's really easy to forget when you are doing winter conditioning and spring ball and stuff. That event propels us into Saturday."
 
Friday night kicks off this year's Triangle Classic, a two-day event in Bleskin's native Electric City. Friday night includes the annual Triangle Classic banquet, an event that starts with a cocktail hour at 5:45 p.m. at the Four Seasons Arena. Friday's event includes dinner, an auction and an address from former Chicago Bears All-Pro linebacker Brian Urlacher. More than 1,000 tickets have been sold. On Saturday, the Bobcats will take the field at 1:30 p.m. for the Triangle Classic spring scrimmage.
 
"It's absolutely critical for us to say thank you," Ash said. "The money we raise is huge. It goes toward scholarships. It's the biggest part of the football team and the athletic department budget. I told the guys, 'These people buy you dinner, your football scholarships and they donate money to the program. You owe them.' So we are going to spend some time with them."
 
In an effort to maximize the interaction between fans and players, Ash said he is taking all the players and coaches' cell phones.
 
"We are going to give everyone our undivided attention," the ninth-year MSU skipper said.
 
Bleskin, a fifth-year player who's started four games in his Bobcat career, estimates he's played 30 times at Memorial Stadium, Saturday's venue. The CMR product has some good memories from the cross-town field at Great Falls High but he's not taking his last football trip home too seriously.
 
"That Bozeman High game (a win in the 2009 Class AA playoffs) was a fun one and playing those cross-town ones were too against Great Falls High," said Bleskin, who led CMR to the state title as a junior. "Really, it was just fun winning.'"
 
"I don't really feel anything but I will tell you it will be nice to be back in front of the hometown fans. It's not high school anymore and it's not a real game. It's a scrimmage where I'm wearing red so it's pretty different."
 
Bleskin is one of four Great Falls natives making the voyage home, including three who will be making their final Triangle Classic appearances. Cornerback Trace Timmer and punter Trevor Bolton were teammates at Great Falls High before coming to Bozeman almost five years ago.
 
"It's pretty crazy to think this is it because I always look forward to going back and seeing the family, seeing the friends and all that kind of stuff," said Timmer, who didn't practice this week with a hip flexor injury but plans to play on Saturday. "It's kind of cool to go back one last time and play in that stadium. That's where I learned to play, where I developed into a football players so it's cool to go back one last time."
 
As a high school senior, Timmer and Bolton, each the sons of famed former Bobcat players, took their lumps. The Bison won just one game entering the duo's prep finale at Memorial. The season included several of lopsided losses. Still, Timmer has fond memories of the field.
 
"My first start was in there and I set a school record for tackles with 31 in a game but I'll tell you that wasn't good since I was a safety," Timmer said with a laugh. "We didn't win that one. I remember my last game in there too against CMR. We'd won one game all year and we came together. We won. To have our final game in Memorial Stadium go out with a win was sweet."
 
Timmer, a strong special teams contributor the last two seasons, is currently in a battle for a starting spot at cornerback with sophomores Bryce Alley and Jaylen Price opposite of senior Bryson Keeton. Bolton would've led the FCS in net punting last season if he had enough attempts. He will not participate in the 60 to 70-play session that will not include any punts on Saturday afternoon due to a foot contusion suffered last week. Sophomore offensive tackle Dylan Mahoney, a CMR alum like Bleskin, is getting the first-team reps at right tackle with senior Alex Eekhoff on the shelf with an injury.
 
"It's pretty cool for the Great Falls guys to play on that field," Ash said. "It's their hometown and I think they are proud to be from Great Falls when we go back because they can show their buddies the support that their hometown shows for the Bobcats. I think that's a tremendous source of pride for those guys. It's also an opportunity for the town to say thank you to those kids too for the careers they've had here and the fun the Bobcat fans have had watching them play."
 
Saturday's scrimmage will be in the format of a traditional game with the exception of punts, kickoffs and live quarterbacks.
 
"We are just going to try to get some situational awareness, the down and distance, the flow of the game, the impact of turnovers, the impact of missed opportunities," Ash said. "We are going to flow it like a game. There won't be any special teams up there except field goals and PATs. Hopefully we can get some situations. We may not get a turnover or a red-zone opportunity but hopefully we will. We aren't going to choreograph anything."
 
MSU's offense returns largely in tact after setting a school record for points in a season a year ago. But battles still abound near the bottom of the depth chart.
 
MSU is still looking for a fourth running back, a battle that includes sophomore Nick LaSane and redshirt freshmen Tavon Dodd and Noah James. Senior receivers Manny Kalfell and Mitch Griebel, sophomores Mitch Herbert, Justin Paige and Jayshawn Gates and Baylor junior transfer Brandon Brown already have spots in the rotation locked down. MSU will likely travel seven or eight wide receivers when it takes road trips that require flights. Redshirt freshman Connor Sullivan is the front-runner for the seventh spot in a battle that also includes junior Will Krolick, senior Tanner Roderick and redshirt freshman John D'Agostino.
 
Defensively, players like ends sophomore Devin Jeffries and junior Zach Hutchins along with redshirt freshmen tackles Zach Wright and Tucker Yates are jockeying for position before three junior college transfers arrive in the fall. At linebacker, it's a similar situation as junior Blake Braun, redshirt freshman Grant Collins and sophomore Mac Bignell look for a leg up before Cincinnati transfer Marcus Tappan gets to town. In the secondary, redshirt freshman DeMonte King is looking to beat out junior college transfer Bryson McCabe for one of the safety spots next to UAB senior transfer Des Carter.
 
"We have some personnel battles that are coming down to the stretch," Ash said. "We need to know who the receivers are going to be, the running backs, the d-line, the linebackers. We are curious where we have some people competing. Those jobs these last two scrimmages will be really, really big."
 
Colter Nuanez can be reached at BobcatBeat56@gmail.com and followed on Twitter @Bobcat_Beat. Photo by Brooks Nuanez, who can be reached at Brooks.nuanez@gmail.com and followed on Twitter @Brooksnuanez.
 
Categories: