Off-season Q&A with the assistants: Mike Rider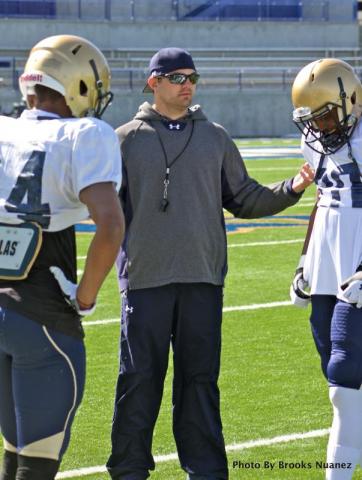 By COLTER NUANEZ
Bobcat Beat
 
Michael Rider has his own group for the first time but that group seems to keep shrinking.
 
The former Bobcat player — the Billings West product captained the 2010 Bobcats to a Big Sky Conference title — has risen through the coaching ranks rapidly. After a year as an intern at MSU and another as a graduate assistant on Bobby Hauck's staff at UNLV, MSU head coach Rob Ash hired Rider as a defensive assistant. In 2013, Rider helped Bo Beck with the defensive line. Last fall, Rider was the assistant linebackers coach.
 
With the departure of fourth-year secondary coach Brandon North to Houston Baptist, Rider now has a group all his own. Co-defensive coordinator Jamie Marshall is working with the safeties while Rider is the cornerbacks coach.
 
During the off-season, MSU lost redshirt freshman Braelen Evans at least for spring drills and potentially for the fall to a torn ACL. The Carrolton, Texas native was expected to compete for a starting spot. The Bobcats began spring with four corners: seniors Bryson Keeton and Trace Timmer along with sophomores Jaylen Price and Bryce Alley.
 
As the Bobcats trudge through the second-to-last week of the six-week session, the cornerbacks have just two healthy players. Keeton is nursing a pulled hamstring that's hindered him most of spring. He did not practice on Tuesday. Timmer suffered a head injury last week and is out for an undetermined amount of time, leaving just Price and Alley. During Tuesday's practice transfer safety Des Carter and freshman safety DeMonte King tried their hands at cornerback with the second-team defense.
 
Rider will try to mentor a group that took its lumps last season. The Bobcats finished with the second-worst statistical pass defense in the entire FCS in 2014. Montana State has two scholarships available and could get a third if defensive end Robert Wilcox does not return from Texas after taking the spring semester off because of a family tragedy. It's widely believed that the Bobcats will be in the market for a transfer cornerback before fall camp.
 
The 26-year-old Rider is the son of a coach and is already making waves in the recruiting game. He helped Montana State landed four players from Western Montana and had a strong bead on the San Diego area as well in his first year recruiting Southern California.
 
In mid-March, Rider sat down with Bobcat Beat to talk about his new group, transitioning from coaching the front seven to coaching defensive backs, the upward growth of MSU since his arrival last decade and some tales from the recruiting trail. For full audio of this interview, click here.
 
Bobcat Beat: First of all, how's the transition going? How's being back coaching the secondary?
 
Rider: "It's awesome, man. I really am enjoying it. I think the crazy thing right now and I said it to Bill (Lamberty) earlier is that I've gone from seeing what's going on in the box in the front seven helping with the defensive line and most recently with the linebackers to now, really seeing honestly two guys. I'm seeing the secondary when we watch film, the whole picture and I see the run fits when we are watching film. But when it comes to practice time, you have corners and they are on an island and you can only watch one at a time. I go from watching the box and the run fits to literally not even knowing if it's run or pass. I'm just watching a lot of times technique.
 
"It's totally different but with that being said, it's definitely more of a comfort zone with technique and fundamentals and things that are certainly more natural for me, so I'm loving it."
 
BB: Statistically, the past few years, the defense was one of the worst in recent memory, especially in concern to the secondary. Is there pressure taking over a secondary that is expected a lot out of this year?
 
Rider: "I don't think we can look at it like that. I think we have to obviously improve. Our guys know that last year wasn't a great year just as a defense as a whole. It wasn't just secondary-wise. We have to fix things on all three levels and we will.
 
"Our guys are resilient, man. Kids are resilient. They know they have to put the work in. They know they have to show up every day. I'm just trying to get guys to focus on the process and not the product."
 
The Bobcats graduate first-team All-Big Sky cornerback Deonte Flowers from last season's 8-5 squad. Bryson Keeton, a former Nevada transfer, returns for his senior season. The other cornerback spot will be occupied by sophomore Bryce Alley, who played sparingly as a true freshman. Montana State will look for depth in the form of senior Trace Timmer and sophomore Jaylen Price, another player coming off an injury. Braelen Evans was expected to contribute coming off a redshirt season but tore his left ACL in the off-season and is out indefinitely.
 
BB: How do you think you are doing depth wise? I know Bryson Keeton is a proven commodity out there? Is Jaylen Price ready? Is he going to be ready off that injury?
 
Rider: "Right now, no. But he is working his tail off and taking the coaching and getting back into some football shape and knocking the rust off a little bit. He'll be ready to go. I tell him that we are counting on him and really all four of those guys, we are going to try to play. Ideally, you want to have four guys who can come out and play and contribute and spell somebody if we need it.
 
"Bryson is doing a really, really good job of leading the way as the older guy, picking up the slack and keeping guys accountable. I'm lucky to have a good group, man. Those are four guys right now that are currently playing and five with Braelen and all five are just good kids. I'm really lucky."
 
BB: Bryce Alley has the tools, no doubt. He's got swagger and he has the physical skills. What does he need to do to put that together and be a main contributor for you guys?
 
Rider: "He's growing too. He's a young kid who came in and played as a true freshman. He's a kid who's working as hard as he can and taking coaching. He's a guy who is so coachable and wants to get better. I always tell him and am nitpicking him on little things with footwork and pad level and he loves it. He takes it and embraces it and that's why he's going to be successful. He has to continue to grow and mature and get experience and he'll continue to lift and get stronger, which is another big piece for him."
 
BB: I assume the fourth guy you are talking about is Trace Timmer. Just having a senior there who's had a backup role and been there before, how has he acclimated to that? And is there a chance for him to break through and start?
 
Rider: "You know what, it's an open competition right now. I know obviously with Bryson being a returning starter, he is definitely leading the pack. But we have opportunities and jobs up for grabs and that's why spring is so important. Everyone is going to get equal reps and get a chance to contribute. That's the beauty of having four guys because everyone is going to get a chance to show what they can do each and every day."
 
BB: With the way that offenses are going in this league, do you think you have to have four ready to go?
 
Rider: "I do. I really do. You have to have three, that's for sure. You have to have three but if you have four and you can rotate guys in, the more the better. That's all across the board too. With the way the offenses are going, you have to be able to rotate guys in and spell guys and feel comfortable with it. You can't just do that on Saturdays. You have to practice that during the week as well. We are definitely working on that hard."
 
BB: Do you see Khari Garcia as maybe a flexible guys? He did play a little nickel last year so maybe when he's back healthy, will you try to use him on your side of things a little bit?
 
Rider: "You know what, I'm not sure and we haven't even discussed it right now just because of where he is at. We have to wait and see what happens with him coming off the shoulder. First things first, he has to go ahead and play safety and get that thing locked down and make sure he's comfortable there and then expand roles off of that."
 
BB: What's his potential? Like last year against North Dakota, the pick-6 he had, he even admitted in the post-game press conference that he did the wrong thing, went the wrong way but he's so athletic he can go get it.
 
Rider: "He's a kid again, who's young and he's learning and he's got all the tools. He's a physical kid who is strong and fast and quick. He's physical at the point of attack. But a lot of it is just little technique stuff that will come with more experience. With each and every rep, he'll get better. He's got all the abilities and the intangibles and the want to."
 
BB: How's he doing as far as buying in and acclimating and everything? He's got a lot of confidence.
 
Rider: "He definitely does, which is a good thing. I think it's good for him right now — not saying it's good that he's hurt — but it does force him to get mental reps, to really see it from more of a coach's perspective in the attention to the details. When it comes time to actually get reps, hopefully he will have those banked mental reps throughout the spring."
 
BB: The safeties, what do you think the new guys — I'm considering DeMonte King a freshman too since he's fresh off a redshirt along with (UAB transfer) Des Carter and (Iowa Western transfer) Bryson McCabe — three new guys right there so how will those guys be different? What does Des and Bryson and DeMonte bring that maybe you guys didn't have last year?
 
Rider: "I think Des brings a whole load of experience, which I know that we did have some last year but he's got a different experience. He's got a different life experience. He's got a different game experience with playing at a higher level. And he's played a lot of football from his time at Nevada to his time at Riverside CC to UAB. He's been around. He's definitely bounced around and he has a lot of intangibles."
 
BB: Physically he looks like a beast.
 
Rider: "He is. But he's football smart too. He's got some things you can't really coach."
 
BB: How about those other two. How are they fitting in?
 
Rider: "They are doing well. DeMonte is a kid that is also getting acclimated back into our defense rather than running off of cards, which he did on the scout team. He played some corner on the scout team last year. Again, another physically gifted kid who is a striker and has a whole lot of ability. But he's along the same lines as Khari in that he's working on the mental aspect of things but he's doing awesome. He's a coachable kid.
 
"Bryson McCabe is another kid who again has some football experience being at Iowa Western. He's got a little age on some of those guys. He's a physical, coachable kid who we are going to count on as well.
 
"All four kids are kids we are going to count on special teams-wise too. That's a huge piece to the puzzle. We have to have guys in the secondary being big contributors on special teams."
 
Rider served as the captain of the 2010 Bobcats, an all-league safety known for his intensity and leadership. He helped MSU win the first of three straight league titles as a senior.
 
BB: Five years out from when you were playing. From Kane's days on through your days, Montana State always had safeties that could hit. That's maybe been something that has been lacking. You've had some safeties that have had some great ball skills but maybe not the strikers that yourself or Jordan Craney were. Is that something you can instill in these guys?
 
Rider: "Yes. I think that, especially with my corners — I don't work as specifically with those safeties — but I know Coach Marshall is a big, big proponent of two things: getting off blocks, you have got to get off blocks and you have to tackle and strike. I'm saying the same thing to my corners. There are two things that I don't tolerate. I'm pretty low-key. I'm not a big yeller or screamer. I get excited but I don't get after guys unless it falls under two categories. It's either a hustle thing — if we aren't giving hustle, I lose it and the second thing is just being soft. I don't deal well with that. We are going to at least be physical and run to the football. Those two things are going to make up for a lot of other things we may lack. Those are the two things I preach to my guys along with the fundamentals."
 
BB: In the other interviews I've done, the one common thing with Kane's promotion was simplifying the scheme a little bit so you can play faster. What does that mean on the back end?
 
Rider: "Just some simple coverage adjustments. In the past, within our quarters system, there's always a handful of adjustments. That's the beauty of the quarters system is you can adapt it and it's really flexible. With that, there are also times when there are too many adjustments and too many options to go to. So we are trying to limit those and really hone in on a few adjustments that are going to allow our guys to play fast.
 
"We are still going to be aggressive and fast and physical. Again, the beauty of the quarters system is that it is adjustable and you are also going to get your safeties involved in the run game and more guys in the box."
 
BB: Do you think it was a little too complicated for the players last year?
 
Rider: "I think it was a little bit of that. And I think as a coaching staff, that's our job to look back and what do we need to adjust? That's what we are doing. It may have been a little too complex but it also forces us to reevaluate how you are coaching. We can't just assume we are doing everything right and it was just our guys' fault. That's not right. As coaches, it's our fault. That's what we are doing. We are trying to simplify some things and do some staff development and become better teachers. We are all committed to that and on board."
 
BB: How are things different with Kane's elevated role?
 
Rider: "It's obviously a change in leadership. Coach Marshall still has a whole lot of say in what goes on but I think it's just a different approach. Any time you have a new teacher or you have a new boss, something like that, everyone is different and brings something else to the table. His skill set is different than Coach Marshall's. They are very similar in a lot of ways and very different in a lot of ways. But he does bring a lot of energy and passion and that's a plus. Again, he's a guy who's a Bobcat through and through. He lived it, man. He played in the secondary and was arguably the best player to ever play here defensively. Our guys are responsive to him but it's about all of us. We all have to do our job as a coaching staff too. We are all on board and pressing forward and it's all about getting these kids better and coaching them up?
 
BB: Did you go anywhere for professional development?
 
Rider: "I went down to Indiana University to see (former MSU secondary coach Noah) Joseph. He's coaching the safeties. We had a good chance to sit down and chat about secondary play and really just some fundamental things, not so much Xs and Os but bringing back some drills, some fundamentals to get my guys in good positions to make plays."
 
BB: How's Noah doing?
 
Rider: "He's doing well, man. He's doing well. He likes it there. Good staff."
 
BB: Talk about a challenge. Not much tradition there.
 
Rider: "It is getting better and their head coach is good. I think he's enjoying it. It's definitely a step up with recruiting and things like that. It's an all day, every day type deal. But from what I can tell, he enjoys it, likes Bloomington. They have a lot of support, honestly. I think they are looking to have a pretty good season. They should be pretty good."
 
BB: If they can break through there, that would be big because in that league, you are surrounded by the monsters, Wisconsin and Ohio State on either side and Michigan and Michigan State in between.
 
Rider: "It's a tough conference but I think they have some pieces to the puzzle and offensively, they are going to have some guys. They have a quarterback coming back that is supposed to be really good who was good last year and ended up getting hurt. Noah thinks they are going to be pretty dang good."
 
BB: I figured the guy they had would be pretty good at quarterback because that kid from Illinois State (Tre Roberson) was a transfer from Indiana and that guys is FBS all the way. I was thinking if he got beat out, they must have a pretty good dude in front of him.
 
One interesting thing Bo (Beck) and I talked about yesterday was just defensive theories in terms of yardage and how everything has gone by the wayside now just for the pure fact that everyone now is running break-neck pace. Last year, I think North Dakota was the only team in the league that averaged less than 375 yards per game. Everyone is going to get their yards. You are going to move the sticks. How do you express that to the guys? Between the 20s might not matter as much as it used to but now when you get in the red-zone, it may be even more important.
 
Rider: "It is. And you don't want to sit here and say that between the 20s is nothing because it is something. It's something. But it is changing. You have to be able to sub and that's something I've already hit on. You have to have the ability to sub some guys in and feel confident and do that in practice because that wear and tear adds up throughout a season. It's not even about the stats or things like that. You have to take it one play at a time, get yourself lined up and also be simple enough that you can do that and then play fast. But our same things are going to apply in terms of goals. We are going to stop the run. We are going to create big plays. We are going to eliminate opponent big plays. And we are going to get off the field on third downs. That's what we are going to really, really strive to do. And I firmly believe anything you are willing to emphasis and put time in and emphasize with your players over and over again, you are going to get results. That's what we are going to do.
 
We have to worry about us and not so much what is going on offensively. We are going to adjust. But in terms of yardage and things, if you are playing fast and physical and running to the football, good things are going to happen."
 
BB: Your offense has transformed so much too. Now it's running at a break-neck pace. You guys are running 80, 85 plays a game and not only that but you look at some of these games; I remember last year, there was a time when the offense scores, the defense forces a turnover, offense scores again and all of a sudden you guys are back on the field after you just forced a punt after a nine-play drive. All of a sudden, you are playing like 20 out of 21 plays because you can score so fast. Is there any adjustment you can make there? Is that a mindset? A conditioning thing? How do you get your guys prepared when they might really play 20 or 25 plays with one or two offensive snaps in between?
 
Rider: "I think again how you combat that is having the ability to rotate guys in. That starts during the week. It's not just on Saturdays. You have to feel comfortable and say your stud is going to come off. If you have a guy like (All-Big Sky linebacker) Alex Singleton, you have to be able to say, Ok, he is our guy but we do need to get him a blow even if it is you are in the middle of the field and he's getting gassed. You have to be able to rotate guys in. Then you get in the red-zone and your guys are coming back on, your 1s are on. But you have to have the ability to rotate and that's at all three levels: defensive line, linebackers and secondary. We are really putting an emphasis on that this year because like you said, the game is changing man. And you can't just pretend you can play the same 11 dudes for four quarters every game."
 
BB: It's almost impossible to turn a play into a 60-play game anymore either. And Cramsey is not trying to do that. Even three or four years ago, you guys could get a lead and it would be Cody Kirk, Tray Robinson, Cody Kirk, Tray Robinson. He's not trying to do that.
 
 
Rider has been Montana State's primary recruiter of Western Montana the last two years. In the Class of 2015, MSU signed 10 kids from the Treasure State, including three — Josh Hill, Brady McChesney and Logan Jones — from Kalispell Glacier.
 
Switching gears on you to recruiting. First, let's talk in-state. You got a good haul from Kalispell Glacier. What's it been like these last couple of years developing relationships up there and trying to make that into your territory?
 
Rider: "It's obviously challenging with the location being in Western Montana and being in that neck of the woods. But it's also a good challenge. It's like anything, man. If you are honest with kids, at least my approach, I'm going to be honest with kids, straight forward and if you treat people the right way — coaches, players, parents — and you sell something you believe in and you are honest throughout the whole process, to me, you can't lose. When it comes down to it, I tell all the kids that I want what is best for them and I truly mean it. I want what's best for them and I want somebody who wants to be at Montana State.
 
"I'm not…I'm into recruiting and I want to recruit guys and I want to do it the right way, but I'm not going to beg kids to come to Montana State. This is a very good program and I believe in what we have here with what we do in terms of on the field and off the field, in the community. I believe in that so it's easy for me to sell. For me, it's an honesty thing and establishing relationships with a coach like Coach Bennett up at Glacier. He's got his Grizzly ties, but at the same time, I think he values my approach, my honesty and how I treat his kids. And also, he has kids in this program and they go back and I know they have good things to say. It's just like your relationship with anybody else: you just have to do it the right way and treat people the right way and you will get the results you want. That doesn't mean you are going to win every recruiting battle. But at the end of the day, we want guys who want to be Bobcats."
 
BB: Was it frustrating for you — there was a couple of other Western side of the state guys like Jesse Sims and Colin Bingham. Obviously, Bingham was a 99.9 percent chance he was going to be a Griz from Day 1. But Sims, was that frustrating to lose him?
 
Rider: "Yeah. I think it was because he's a great kid. First and foremost, he's an awesome kid but he's also a great football player. Again, I want what is best for him and I told him that. I said, 'If that's what you think is best for you in your life educationally and football-wise and you sat down with your parents and you made an educated decision and that's best for you, I'm not going to argue that. I'm not going to try to beg you or convince you.' It can be frustrating but you have to move on and take the guys who want to be Bobcats."
 
BB: Out of those Glacier guys you got, Josh Hill, do you think he's ready to contribute the earliest?
 
Rider: "I think he's going to have an opportunity to, especially on special teams. He's a kid that I watched very early in the season against CMR. He showed up a lot on defense but he would turn around and go play special teams and he was a war daddy. He was an animal. I like Josh Hill a whole lot. I think he's going to be a heck of a player. He's a worker. Everything I've heard, he's a coachable kid. His future is bright and I did tell him that he's going to have a chance to play some special teams early. Nothing is guaranteed but he is going to get a shot to do it."
 
BB: And Marcus Ferriter is the only other in state guy I wanted to ask you about. Talk about a kid that has a lot of upside, a kid who has developed tremendously. He went from a 190-pound offensive tackle to a record-setting defensive end in one year. What is his potential and do you think he could become a scholarship guy before this is all said and done?
 
Rider: "I think all of these kids, they are preferred walk-on kids because for one reason or another aren't initially on scholarship but they are kids that we regard highly enough to recruit. He's a kid that is a worker and anyone that you talk to, he'll tell you that he's going to out-work anyone in front of him. Those are the kids you want in the program.
 
"He has the ability. He's got a great frame, a great motor. Very coachable, comes from a great program. He wanted to be a Bobcat. Education is very important to him. He's going to be a smart engineer guy like his dad. His future is very bright."
 
BB: I know you spent some time in Vegas with Mike Ferriter (Marcus' cousin). When he got the job coaching receivers at Montana, were you worried about him stealing Marcus from you?
 
Rider: "You know, I was a little bit. I was aware of the family connection but I figured at that point with where Marcus was at in terms of his decision of narrowing things down and what he wanted with school because he is an engineer guy and also with his brother (All-Big Sky weight thrower Sean Ferriter) helped. They made a run at him and that's how it works in this state."
 
BB: They were mad when they didn't get him. You just have to have Marcus lift like Sean does and you'll be fine. Sean was not much when he came here and now he's one of the best throwers in the region.
 
Rider: "And he's all muscle. He's a beast, man. That's what everyone says. Marcus is that same mold."
 
BB: With even more potential to work with.
 
Let's talk about California real quick. You were down in San Diego. What was the most surprising thing about being down there?
 
Rider: "It's obviously totally different from Western Montana. I think that's a good thing for me personally to experience recruiting California because it's a different fabric of player in terms of their upbringing a lot of times but also sometimes the caliber of football and just what they grow up with. San Diego and Bozeman aren't very similar. At all. That was definitely a challenge but it still boils down to it's still recruiting and it still boils down to me being honest with kids and being honest with coaches and parents. You sell the place you believe in. You sell the education and the special program we have. But it's a really, really good experience.
 
"There's a good load of talent in San Diego. There's always a handful of top guys that come out of there. You have to sift through those BCS guys but there's definitely a bunch of talent down there."
 
BB: When you recruit in state, you are going against Montana or maybe sometimes Washington State or Oregon State. You are down there, Amadeo West for example, he's getting some FBS offers. Quarterback Kareem Coles, a guy who was already with Utah State, coming back down, a borderline FBS guy. That experience, recruiting head to head against one tier above and maybe losing some of those guys, what was that like for you?
 
Rider: "First and foremost, you have to let that kind of stuff just sift out because Kareem had an offer early from Utah State and Amadeo was a guy we had all the way until the end and then Army came in. It can be frustrating. You are probably sick of me saying it, but I want what's best for these kids. I had a great relationship with Amadeo. I knew this was a great place for him educationally and football-wise and socially. But I told him that if Army was going to be a better fit for him and what he was looking for and if that's what he sees his life looking like, I'm not going to stop you from doing that, especially when it comes to the military. I'm not going to stop a kid from doing that."
 
BB: If a kid makes a bad decision and goes to an academy, he's going to regret it bad. But if that's what he really wants, that's who we want right? That's who we want to protect and serve us, right?
 
Rider: "That's what I want. And if you do have a good enough relationship with a kid like that and something does happen and he decides maybe that's not something he wants to do, maybe he'll come knocking."
 
BB: Big Joe Naotala from Palomar JC, maybe a little undersized and maybe that's why he was under recruited but his film looks great. High motor guy. Talking to him, he seems very mature and grown up. That must've been an easy sell.
 
Rider: "He's a special kid. I was on the phone with him yesterday. He's working his tail off finishing up at Palomar while also lifting and knocking out his classes. He knows he's going to come in and have a chance to contribute right away. We are counting on him.
 
"He's a special kid. He's fought through some stuff. Most recently, some family stuff, moving from house to house. He' provides a different perspective. I think he's such a good individual and such a good person first and foremost. Football wise, he can go. He's got a high motor. He plays really, really well with his hands. Great pad level. And he runs to the football. I think he's going to be a force for us and in the conference."
 
BB: Last thing for you. I know you have been a part of this rise as a player when Coach Ash first got here and now coaching. The expectations have changed and that has been a product of your own success. From a coaching staff perspective and from a personal perspective, what's that been like to watch? Now 8-5 isn't good enough. You have to be cream of the crop in the Big Sky and a national title contender. What's that like?
 
Rider: "One, it's cool to be a part of it and see it from the players' perspective too. And selfishly to know you did have a hand in it. At the same time, moving past that and seeing where we have to get to, and this is really our message to the kids, is it's all about taking that next step. It's been neat to see the whole thing unfold and the growth that has happened and the expectations rise. That's what you want. We are always talking about being never satisfied. That's the approach we take as individuals and that's the approach we take as a defense and then as a whole, as a team. We cannot be satisfied. We have to keep going, pushing forward, getting better. We can't worry about the end result in terms of your record and national championships and this and that. That stuff will come if you focus on the process and doing the little things right and getting better every day. I think that stuff will happen and we will continue to climb and we will reach all of our goals."
 
Colter Nuanez can be reached at BobcatBeat56@gmail.com and followed on Twitter @Bobcat_Beat. Photo by Brooks Nuanez, who can be reached at Brooks.nuanez@gmail.com.
 
 
 
 
Categories: