Off-season Q&A with the assistants: Michael Pitre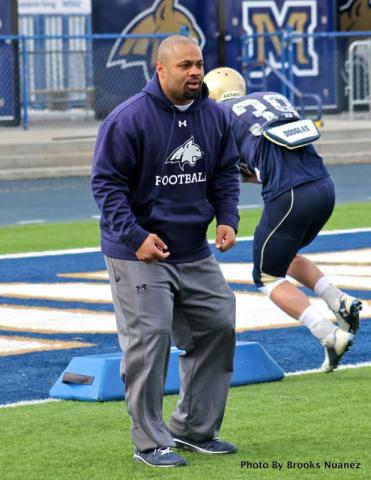 By COLTER NUANEZ
Bobcat Beat
 
Michael Pitre will be the first to admit that his group must replace a rare player but when it comes to Montana State running backs, the Bobcats seem to be flush with talent.
 
Shawn Johnson was one of just five players in the entire Big Sky Conference to earn All-Big Sky honors at two different positions. The All-America return man as a junior didn't have as many opportunities as teams kicked away from him with frequency as a senior. Idaho State was so scared to kick it to him, the Bengals elected to straight up kick the ball out of bounds instead. That coupled with a hamstring injury meant Johnson's senior year numbers were down both fielding kicks and out of the backfield. But the results were still formidable as he earned second-team all-league honors as a returner and third-team as a running back.
 
Johnson is now a member of the Canadian Football League's Ottawa Redblacks. The good news for Montana State is two of the other five multiple-position All-Big Sky players return as tailbacks in Bozeman.
 
Junior Gunnar Brekke led the league in kick returns as a byproduct of Johnson's production the year before. He also gained 630 yards from scrimmage and scored six touchdowns. Junior Chad Newell is also back after a breakout season. The bruising former walk-on out of Billings Senior rushed for 110 yards and a score in freezing temperatures in a signature win over Idaho State then piled up 111 yards and tied a school record with five touchdowns in a home playoff loss to South Dakota State. He's also a standout that earned all-conference honors on special teams.
 
Pitre's group in 2015 will also include senior Anthony Knight, a burly former Nevada transfer who led the team with 12 rushing touchdowns last season. As spring drills approach their end, redshirt freshman Tavon Dodd and sophomore Nick LaSane are battling for the right to replace Johnson in MSU's four-running back rotation.
 
As of February, Pitre has been in Bozeman for one full year, his first full year as a full-time coach and going on his second full year as a full-time father. A week before spring drills began, Pitre sat down with Bobcat Beat  to discuss his group, his first year out on the recruiting trail, the brutality of playing running back at a high level and what's next for his good friend former NFL star Maurice Jones-Drew. For full audio of this interview, click here.
 
Bobcat Beat: Was there anything that surprised you about Bozeman? What was the hardest adjustment point?
 
Pitre: "The hardest adjustment is what goes into to being a full-time coach. First year, adjusting with a baby."
 
BB: I was going to say, it's probably hardest being a new dad.
 
Pitre: "It's hard when you have to go on some of these road trips and the time you spend with your family is spent on Facetime. Thank goodness for technology. But we knew what we were signing ourselves up for. We have no complaints. Bozeman has been good to us. Tara has met some friends. Coaches' wives have been great. To be honest, that's my biggest worry because it's easy for me. It's natural. I have a natural group of friends when you walk into an office. It's been a transition but it's been really good. She's hit it off with Coach Cramsey's wife and Coach Kempt's wife and quite a few other wives. It's been good."
 
BB: One thing I've talked to with some of the other guys around here too, when you are in the college coaching game, you meet all these people from all over the place. But there's such an insecurity that comes with the job. Do you feel good being in a spot where the security is maybe a little bit great?
 
Pitre: "Yeah, especially as a young coach that doesn't have a ton of money saved up because you've been doing this for a while. It's definitely a good place. Coach Ash is a good person to work for. Coach Cramsey is a great person to work for. You do feel somewhat more secure here because as a family, we can get ourselves established here and figure out what we like about the profession, what we don't like about the profession. We want to be somewhere as long as we can as long as it works for us as a family."
 
BB: How does Bozeman compare to Boulder?
 
Pitre: "It's Boulder on a smaller scale. It's a lot of similarities. It's a mountain town, same type of feel, especially for a California kid. I'm not a guy that goes out and does a whole bunch of anything anyways. I don't go out a lot. I'm not one to really go skiing or snowboarding or any of that kind of stuff. The thing I enjoy more than anything, the thing that puts me in awe every single day is just waking up and looking at the mountains and looking at how pretty and how gorgeous everything is outside."
 
BB: There's so many jobs and so many college towns out there but as far as quality of life, this is a pretty damn good one.
 
First winter in Montana, what did you think it was going to be like?
 
Pitre: "I thought it was going to be way worse."
 
BB: This was a mild one!
 
Pitre: "My wife and I, Tara, were talking about that and thought this must be a pretty light winter. I'll be honest with you, there was way more snow in Boulder than we've had up here. We are just kind of enjoying it, not having to wipe your cars off every single day. It's been good, man.
 
"It's exceeded my expectations in the sense that, I expected it to be a whole lot worse because when I got out here last February, it was terrible. It was negative 15, it was frozen tundra for a couple of weeks. That was quite an adjustment. But it's been good, man."
 
BB: Year one in the program, now that you have that full year under your belt, what were your impressions of FCS football and the Big Sky?
 
Pitre: "It's big-time football. In that sense, it exceeded my expectations a great deal. I didn't know a whole lot about FCS football growing up and didn't even know a whole lot getting myself into this job. Once you get here, you see a whole bunch of guys that, for one reason or another, aren't playing at BCS or FBS schools and you think, man, this kid can play, this kid can play, that kid can play.
 
"For me, we are really fortunate because we have a group of guys, a good team of guys that could be playing at other places and could be contributing at other places. I think we have a very good football team. We have a very good football team. Coach Ash and the staff have done a great job of getting the job done and putting this program back on the map from a national standpoint. Now it's our job as coaches that are still here to take that next step as a program. That's really what we are trying to do as a staff is take that next step and really make ourselves contenders on an national level on a consistent basis."
 
BB: The Montana thing too, getting Montana kids, I think that's one element that adds to the surprise of people that have never been around it because…you look at a guy like Gunnar Brekke. If he grows up in Denver, Colorado instead of Helena, Montana, he might be a Fresno State guy or a San Jose State guy.
 
Pitre: "Yes. Exactly."
 
BB: A guy who can run like him, he might not have to go both ways in high school if he grows up in California. He's a first-team all-state corner in high school. I remember joking with him when he first got here telling him they are going to stick him on defense because they need corners way more than they need running backs. He knew he would play running back.
 
Pitre: "The thing with these Montana kids is they just have so much pride in the program in itself and they feel like they have so much to prove. That creates the foundation for the program and how they go about their work. That's the thing that really surprised me is just how hard these Montana kids work on a daily basis. I'm very fortunate in my room alone to have Chad Newell, Gunnar Brekke and Noah James. All three of those guys, in the classroom, they work their butts off. In the weight room, they work their butts off. In the weight room, they work their butts off. In winter conditioning, all they do is work.
 
"I've walked into a very easy situation where I have kids who naturally work and who naturally take the lead of the team and the lead of the group. That's been our big thing in the running back group. Those guys know how to do it the right way so show these other guys how to do it the right way because you are doing it all aspects of your life."
 
BB: On that note, your group is coming back strong with the exception of Shawn Johnson. It had to be cool for you as a coach to see him get this opportunity at the next level. At the very lead, he's got this invite to go play for the Ottawa Redblacks. You're a guy that's played some pro football too. How do you think his skill set fits in? I don't know if you are very familiar with the CFL, but what do you think makes Shawn Johnson have the ability to go to the next level?
 
Pitre: "His speed. Shawn has world-class speed. He still has a lot of room to grow. I think Canada could be good for him because it will teach him how to be a professional. You can probably make some mistakes that aren't going to cost you your job up there where are you down here playing in the National Football League, it's going to cost you. That's where I think Shawn just as a young man still has some room for growth. So I'm excited for him because the way I presented it to him was, 'This is your first job out of college and you are making X amount of money.'
 
"That's a great opportunity for you and your family to do what you want to do and do what you love to do and also be able to help and provide in areas you may not have been able to in the past. So I'm excited for him but like I tell him every day, it's work. It's work. That's how people feed their families so understand that. It's not going up there and having a good time. It's going up there and taking care of your business and when you can have a good time, have a good time but make sure you are going up there with the right mindset and mentality from Day 1.
 
"I'm excited for him. I really am. I think it doesn't matter, Canadian football, Arena Football, the ability to play football beyond college is a blessing and he's been blessed to have this opportunity. It's on him to make the most of it."
 
BB: Being a guy like you that had a cup of coffee in the NFL, how hard of a transition is it….I've talked to a lot of guys who have tried this. Dane Fletcher is a guy who comes to mind, but you go to this locker room where it's all about camaraderie, it's all about your teammates, it's all about the Montana State Bobcats or the UCLA Bruins. Then all of a sudden, you are in a locker room and all of a sudden the guy next to you is trying to take your job. It's a true business. At what point does a young player realize that?
 
Pitre: "Day 1. When you walk in that locker room, you understand that these guys are in my group and I need to help them because the better we do as a group, the better we do as a team, the more likely it is we are all going to keep our jobs. But at the same time, I'm not going to help that guy too much because I'm not going to give him the trick of the trade to help him take my job. There's this fine line. I call it the Brett Favre rule. It's what he did with Aaron Rodgers. He saw that guy had some talent and he knew he was eyeing him so he didn't want to help him too much. But at the same time, you don't want to be a complete jerk but you don't want to help a guy too much either. You still have to have that camaraderie and that team-first attitude but you still have to understand that this is how I feed my family.
 
"I think Shawn will see that Day 1. Everyone understands it. Everyone respects it so everyone respects everyone in there. So you go about your business and go to work, man."
 
BB: When the news came out about Shawn, I told him I hope he's still doing that pro day because I want to see what he can run. There's always been the urban legend lore of Shawn Johnson's speed. He's been the fastest guy in the conference since he was a freshman. I want to see him run.
 
The whole dynamic between the CFL and the NFL is fascinating too because of the timing, the way it works out. He'll make a run at the NFL I'm sure but then he'll have to make a quick decision to get up there. If you roll the dice too hard, you can miss out.
 
Pitre: "That's the thing I've said: you hired an agent for a reason. Let your agent worry about that stuff. You go do what you love to do and play football. Don't worry about the business side of it. That's why that guy is there. That's how he makes his money. He puts you in the best position to be successful. If that means you are in Canada for a year or two before going to the NFL, do that. You don't want to be caught chasing this NFL dream for a year or two and get caught bouncing around from camp to camp to camp to camp to camp. Then you haven't really played football for a year and a half, two years. I said go where you can get some film and those things and give yourself an opportunity to do what you want to do."
 
BB: The CFL game, with how wide it is…What Shawn lacks in size that might be a disadvantage in the NFL might be to his advantage especially with his speed in the CFL.
 
Pitre: "That's a natural great fit for him. That's why Canadian teams come down here. They come to find speed. And they found him. It should be a good opportunity for him."
 
BB: Good opportunity for him because they are a fledgling team so he doesn't have any entrenched veterans. It will be fun to watch.
 
One of my roommates in college (Cole Bergquist) was a kid who played quarterback for Montana. The CFL deal for him was such an interesting deal. He signed with the B.C. Lions. Then he rolled the dice and entered the draft. He didn't get drafted but he signed with the Chargers. He goes to Chargers camp, makes it to final cuts and then they make a trade to be the backup and they decide they only want one backup QB. So he gets cut. Now he's already missed part of the CFL season. So he sat out a full year. As a QB, if you have camp film, that's good. So he ended up signing with the Saskatchewan Roughriders. He played up there for three or four years.
 
They make decent money up there.
 
Pitre: "That's all you're asking for, man. That's what I try to tell these guys. It's your first job out of college. These guys that go to the NFL, that is their first job out of college as well. But guess what? They just had a gift or something else they were able to maximize where they could go make more money right off the top. But at the end of the day, guys need to not look at at NFL, CFL, whatever. It's your first job out of college. That's all you're asking for is a decent first job out of college. That's why you've gone to college is to give yourself an opportunity to go be a good citizen of the world."
 
BB: Speaking of pro football, before we start talking about other things, I know you are friends and former teammates of Maurice Jones-Drew. That was kind of a kind of shocking yet telling story of the NFL, right? The guy goes out and he's an All-Pro five times and he gets 350 carries three years straight and here he is, 29, retired. Have you talked to him?
 
Pitre: "I have not talked to him. I'm sure it's really tough on him. He's a crazy competitor. That was hard for him because we had talked and he said it was a possibility and I didn't know he was going to do it. And then, on Twitter probably a week and a half ago, he had it that he was still working out and his teammates commented that it was good. Then he puts out just the statement.
 
"To me, that shows a lot of who he is as a person. He didn't want big, long, drawn out conversation. He wanted to make his decision. Have that be his decision and be done with it. That's why I've given him time to take everything in and see what his next step is in his life.
 
"I know he's big into coaching. He's working with a 7-on-7 team up in Northern California. He's been doing that for a year and a half or so. I think he's finishing up his degree to see if he can get into this coaching thing. Now my job is to see if I can see him for three or four months, see if I can get him up here to be a volunteer coach."
 
BB: The NFL has just gotten so violent. It's unreal. Patrick Willis is arguably the best player in the whole league and he walks away.
 
Pitre: "I mean, honestly though, Maurice is 30. I'm 30 and my body feels like absolute hell. I go to play noon hoops and it's the most embarrassing thing in the world. I'm doing just to keep my cardio up and break a sweat so I couldn't imagine being 30 years old and having to do work out that extensively on a daily basis and go hit people. It's hard, man. Especially at those positions. Both those guys came in around the same time. Middle linebacker and running back and at 30 years old, they are walking out because their bodies are saying, 'Hey, if we do it now, we will be happy. We could probably keep going, but if we keep going, in 10 years, I might hate myself.'
 
"I respect both of those guys for making that decision because it's hard. When that time comes you have to stop playing, it's very hard so I know for both of those guys, it's a difficult decision because it's a game that we've played our whole lives."
 
BB: With the way the new salary cap is, you get to the point where you are going to get your second contract after your rookie deal is up. Patrick Willis is going to get paid one more time, but if you are a guy like MJD, you are going to not make as much on that next contract.
 
Pitre: "They probably would've thrown the veteran's minimum at him, which is a million bucks. That's great money. But do I want to sign this vet for a million dollars when I can go get this rookie for a third of that. And he's probably going to practice every day and contribute on special teams. That's when you see the business side of it.
 
"Am I getting enough for my investment? Maurice, knowing how prideful of a person he is, he wasn't going to have anyone tell him no he can't do it anymore. He's going to tell them he's not doing it anymore before they tell him.
 
"He probably felt it. He saw his production and those things go down. Part of it was probably the team around him. I thought he had at least another year in him. But he sees the business side of it so he gave himself a chance and got out before someone could point the finger at him and tell him he's done."
 
BB: Staying healthy too later on in life is worth more than money.
 
Pitre: "He has three young kids and a wife. He's in a situation where it's a good decision for him. He's very serious about this coaching stuff and wants to get going in this thing. He's always been one of the best football minds I've ever been around."
 
BB: Talk to me about transitioning into being a full-time coach. On the recruiting trail, was that a transition at all? How did you make waves in your first year?
 
Pitre: "It was a transition but I jumped in both feet and I thought it went really well. Inland Empire, being that I'm from out there, I thought it had some natural connections. More than anything, I wanted to make sure as a program that we would get the best opportunities to get the best players in here to make sure we are continuing to be successful.
 
"I was very fortunate to find some guys who I felt slipped through the cracks. They will be able to come in here and contribute and compete on Day 1."
 
While recruiting the Inland Empire in California, Pitre was able to get commitments from five players who received FBS interest. Tight end Robert Evans (Victorville) had interest to play offensive line from several Mountain West schools. Wide receiver Cam Sutton (Norco) had a tryout with Washington and an offer from Montana before choosing MSU. Wide receiver Keon Stephens (Etiwanda) received interest from UCLA, Cal and Utah and had a late visit to Salt Lake City cancelled, helping the Bobcats land him. Woody Brando (Corona), a one-time Montana commit, is a 3-star tight end prospect. And Chris Harris is a 6-foot-3 cornerback from Wildomar who might have played in the Mountain West if not for a knee injury that cost him his senior season.
 
BB: Just that area in general, what was Montana State's reputation like there before?
 
Pitre: "It was somewhat known but I think one thing I made sure I did was a lot of handwritten letters to people, a lot of prospects that were really high on the list and a lot that weren't very high on the list just to get to continue to get the propaganda out there and to make us more relevant in that area, especially since that area is highly recruited. Coach DaPrato and the coaches who have been down there have done a great job of establishing the repoire. I just think naturally with me knowing the area and knowing the land, there was probably more than a dozen coaches where I walked in there and I had some type of connection to them. That helps a lot too. I think all those factors combined led us to doing a really good job in that area this year."
 
BB: Being that you are from that area yourself, how do you think that kids from there will transition to Montana?
 
Pitre: "I think they'll be fine. I think they'll be fine. That's probably the biggest thing is just finding the right fit for a kid to come to this place. I think Cam Sutton is a natural fit because he comes from Norco High School and if anyone knows anything about Norco, it's a farm town. He'll transition into this environment very well.
 
"You look at a kid like Keon Stephens and he isn't from this environment but he was looking for this type of college atmosphere and this type of college team and this type of college experience. So a lot of it is investigating some of the background of those guys and making sure that there transition would be good here. Obviously, we are speculating but I think between myself and the other coaches who recruited those guys that we got a pretty good feel on their personalities and how they will fit with the team and when they had their official visit, they got with the guys so I think it looks good."
 
BB: The whole staff is out recruiting and you guys do it in a whirlwind way too to hit it so hard for the six or eight weeks at the end of the season before signing day. When you are out there presenting guys, does it get competitive trying to get your guys onto the big board?
 
Pitre: "Yes and no. Yes because you take so much pride in the area you recruit and you take pride in yourself in evaluating these guys. No just because the cohesiveness of this staff, we all understand it's not that guy, it's not that guy, it's what is best for us as a program. There was some guys that I could've said selfishly darn I wish we would have gotten them because I know I could've closed that deal but there was some other guys that came up that were better fits for us as a program."
 
BB: No running back, which is a pretty rare thing this day in age, especially with everyone using so many running backs so often. Did you lobby to get a guy?
 
Pitre: "No. No, that was Tim's (Cramsey) call which ultimately means that's our call as an offense and I trust him 100 percent and that's where he wanted to go with it. I said, 'Alright man, if your wit it, I'm wit it.' We talked about it.
 
"And we do have some depth there. With Anthony (Knight) being the one senior, then you have Chad (Newell) and Gunnar (Brekke) as our two juniors and you have Nick (LaSane) being a sophomore and Tavon (Dodd) being a freshman, there's a lot of talent there. If we would've done that, we'd have been shorting ourselves as a team for possibly getting a scholarship player elsewhere where we probably needed it. It will work itself out."
 
BB: You guys, 8-5, coming off two straight losses though to end the season, when you first got together to scheme this whole recruiting plan, what were some of the points of emphasis? Was there a sense of urgency there? What was the driving factor being that you did have a somewhat successful season that might not have ended like you wanted it to?
 
Pitre: "Our driving factor is what do we need to do to get over the hump? 8-5 is not good enough at Montana State. 8-5 is good enough at some places but it isn't good enough here. The reality is, yes we are here for many reasons but the main reason is we are here to win football games. We have to find what we need to do.
 
"What do we need to do? We need to get bigger, stronger, faster. That's, if you look at the type of players we brought in, we brought in bigger, stronger, faster type of guys. I'm not saying the guys we have here aren't good enough to win. But we have to continue to push it. The way we see it is the way you are going to continue to get better is bringing in more competition. How can we bring in more competition for the guys who are currently on our team? That's going to breed success and that's going to win us games come December, come January when we need to win football games."
 
BB: I talked to Bo Beck on signing day and he gave me a good quote. He said, 'Any staff that doesn't out-recruit their own talent every year deserves to not be there.' And that's what you have to do."
 
Pitre: "Yes. Yes. For sure."
 
BB: Was there anything about the recruiting game that surprised you?
 
Pitre: "Yes. You hear stories about teams poaching players and those type of things. And I know Coach Ash had his talk about commitment and all that stuff. That was surprising just to see that you may have a relationship with some of these kids and these other coaches but they are right behind your back and they are having a conversation. My whole thing is, dude, I don't care, just tell me. Just be honest with me. Because guess what? If you decide you want to go somewhere else, that's fine because there's another kid who wants this opportunity. And in all honesty, my thing is all these kids have ever worked their butts off for was for an opportunity to play college football and get a free education. I don't want you to waste my time when I can give that opportunity to somebody else.
 
"That was the most surprising thing, some of that stuff going on. And you are trying to hold on to kids or kids committed and a school is still trying to get them on a visit and you're like, 'We can play that game if you want to play it but I don't want to go down that road because again, that's not me'. But you see there are some schools and programs and coaches that do that. You are like, 'Ok, I have to be more conscientious about that team or that program or that coach per se.' But I guess that's the nature of the beast."
 
BB: You guys are in an interesting situation in that you are a prestigious FCS program in a place where this is such a big deal. You guys are going up against some FBS conferences. You recruit against the Mountain West quite a bit. It's interesting, the situation you are in because you can sell this prestige and success and game day atmosphere and all this kind of stuff. Sometimes you are recruiting against teams that are struggling a little bit, up and coming teams, or teams that are on the bottom of the Mountain West or whatever. Then they can just throw the FBS card out there, the facilities card out there. It's an interesting game, fighting them off.
 
Pitre: "We ran into that a few times this off-season in recruiting. For an 18-year-old kid, it's a lot cooler to say I'm going to this FBS school than it is to say I'm going to one of the top schools in FCS football. It's a whole lot cooler and I'll be flat out honest and say that and I think everyone in here would say that. But, I also take enough pride in this university and this football program that I can say that I think I can out-recruit anybody in the country if you ask me to. That's arrogant. But you have to have that mentality because if you won't have that mentality, you are never going to give yourself a chance to get players that are again some of these fringe guys who can somehow slip through the cracks.
 
"I think specifically talking about the Inland Empire and some of those guys, you go watch the film and some of these guys do develop the way we think they will, we think people are going to say, 'How the heck did that kid end up at Montana State?' That's what I want. That's what I told every last one of these kids was, 'I'm recruiting you but we are recruiting you to come in here and do some special things.' There's obviously going to be a transition period but I told all my guys flat out that I expect them to come in here and take jobs. The reason I say that is I want them to understand that that is the way we look at them. It's not, 'Hey, we expect to come in and redshirt for a year and wait around'. That may be the case and there's nothing wrong with that. But I at least want them to have the mentality Day 1 when they sign that piece of paper that they understand that they are coming here to compete, not just to say they are a part of something. They need to think, 'I'm coming here to compete to make this a better program.'
 
BB: True freshmen have played every year I've been here. It definitely can happen.
 
I think California and Texas too are two spots where the FBS mentality or the prestige of the FBS is so much more prevalent too. If you are sitting there in the Inland Empire, you probably heard from 10 FBS schools and a ton of FCSs. You go out to a place like Wisconsin, if that kid knows he's not going to go to Wisconsin, he's going to go D-II. So the FCS is a level up. Same thing in Minnesota. Those are two one big school states that don't have FCS teams. You have an elevated reputation there. But Texas, shit, you could go to 35 different Division I schools it seems like if you wanted to. It's an interesting dynamic.
 
You mentioned Cam Sutton, Keon Stephens. You were the main guy for Woody Brandom too, right?
 
Pitre: "Yes sir."
 
BB: All three of those three are three-star recruits, guys who are definitely on paper above an FCS level player. What was your pitch to them. What was your main selling point about Montana State?
 
Pitre: "Starting with Cam, I saw Cam, I watched all…every guy who was a junior, I watched all their highlight film on Hudl. I had my notes and stuff. So I went by Norco and saw Cam in the spring. He was a guy who looked really raw but you saw a frame on him. Talking to his high school coach and I met his 7-on-7 coach who was really big in helping us get Cam, was he just continued to send me training stuff he was doing and some things. I said, 'Man, this kid looks like Bambi. He looks like Bambi. He looks like he just has not grown into his body yet.' But you see something there. We saw enough as a staff that we were like hey, let's go get this kid before everyone else does. He's all of 6-foot-6 and he's a young senior as it is already. So to me, that's something. Convincing him to come here, I told him it was an opportunity to come play big-time football. We are one of the first schools…we actually were THE first school to offer him. We just built a really good bond and relationship throughout this process.
 
"And then Coach Kempt, with him being a receiver, built a really nice repoire with Cam as well. I'll be honest. Cam, I don't want to say was easy, but it wasn't a whole lot of selling. We just got in there early enough and for whatever reason, enough schools slow played him. It picked up for him the last week and a half, two weeks of recruiting. I wasn't getting a whole lot of sleep then, but it worked out for us.
 
"With Keon, he's a guy who was on our board but there was some guys ahead of him. Then we had guys commit, decommit, all the different recruiting processes. As soon as an opportunity presented itself, Coach Cramsey and I went out there and saw him. He was like, 'Oh man, I love this kid.' I said, 'I told you'. This kid looks the part. He's got big, wide shoulders, big hands, always smiling. It was really just a matter of getting Coach Ash down there to see him. His big thing was just going somewhere where he felt cared for and felt people were invested in him as a person and not just a football player. And that's one thing that Coach Ash and this program, that's one thing we make sure these kids know. We want them to know we are invested in you as a person not just as a football player.
 
"And Woody, Woody's situation was interesting. I saw him and their practice field that they do for the colleges down there. They put on a practice in the morning, all the Corona schools. They will go at like 6:30 or 7 a.m. and it's just a practice but all the coaches that are out there are recruiting and they can come watch. I saw him and you could tell there was something there because he was transitioning form tackle to tight end. But we wanted to see some film on him. Coach Delaney and Coach Williams were there from Montana and they offered him and I said 'Gosh darnit.' They offered him and we had to wait. We saw one or two games of his senior year and we knew he had committed but we still wanted to put the offer out there just so he knew he had another option. We were the second school to offer him. It just worked out with the transition of the staff over there, there was enough limbo and we had build enough of a relationship with John and Woody that we could get him on his trip. I know it wasn't easy for him. I know the new coaching staff at Montana made it a little easier for him than it would've been but it worked out. The big thing for Woody was that he will be able to come in here and compete for a starting spot with us graduating two tight ends. We have big Beau (Sandland) that should do what we think he's going to do but after that, he'll have an opportunity to compete once he graduates. That's all the kid wanted to hear. He just wanted an opportunity to compete to be a four-year starter at a big-time program."
 
BB: Robert Evans is an interesting kid just in that he was the only one I never got ahold of once he committed?
 
Pitre: (Laughs) Yeah, Rob is a little bit of an introvert. He doesn't have Twitter, doesn't have Facebook, doesn't have social media for people to get ahold of him. I think actually, it probably hurts kids from recruiting standpoint because you are like, 'How do I get ahold of you?' I need to talk to you without having to get ahold of your head coach sometimes.
 
"He was another kid that we saw his frame and some of his body movements and we were like, 'Dude, we can get this kid?' We were able to get him. We had a great home visit with him and his family. He naturally wanted to get out of California because he's been up in the high desert his whole life. It worked out well. We showed him a couple of pictures of Bozeman and he was sold. He just needed to get on a trip up here."
 
BB: And Chris Harris.
 
Pitre: "Big Chris. Chris and I built a relationship early in the process. And you don't see 6-3, 180 pounds who runs as well as he does just walking around that often. He had some situations and some things that happened in his life that made me like him that much more. His mom had just passed away. And a lot of different things. And I wanted this kid. 'I said, I like this kid because he's overcome a lot and he's still very successful.'
 
"His coaches and people in his community had nothing but great things to say about him. We had offered him. Montana had offered him. I see how that goes now. That happens quite often. I'm learning that. We stayed with him. He got hurt. We stayed with him and we kept things really, really quiet with him. And then it got down to I was talking to him and I asked him what was going on and he said, 'Well, everyone has kind of fallen off, Coach.' He had quite a bit of Pac 12 interest up until he got hurt. I think if he's healthy, he's not a Bobcat."
 
BB: What was his injury again?
 
Pitre: "He tore his ACL in Week 3 or Week 4 of his senior year. Disappointing for him but for us, I think it's a great get. Again, that kid, I think, is going to have a very, very successful career here and do some special things. He's going to go make people think 'How in the heck did he end up at Montana State?'
 
"It's funny because when he was on his visit here, he had a layover so his whole flight from Ontario to Salt Lake was sitting next to a Utah coach. The Utah coach was talking to him and thought he was a player at Eastern Washington for some reason because he's a big old kid. He said he was a high school kid going to Montana State. The coach was like, 'Huh? What's your name?' He got all his information and stuff. I was like, 'Dude, I won't let you leave Bozeman. I will take your phone, your ticket. I said this ain't happening! He said, 'No, no coach.' I said, 'No, no, nothing, this is not happening.' But that worked out well for us."
 
BB: I think the rest of the California guys were from junior college.
 
Pitre: "I was the primary for (Los Angeles Harbor Community College defensive end) Jessie Clark and that was from my area. I was watching some film and I started seeing some things and then we decided we were going to go after some JC kids. He was one that kind of popped up."
 
BB: That kid, you watch his tape and it's ridiculous. What made him fall through the cracks?
 
Pitre: "I don't know. I just think people see him in person and maybe he doesn't pass the eyeball test because he's 6-2. He's not 6-4. But he's long-armed and explosive, really wide back. I think he's an absolute steal and is going to do some special things up here. I know he's excited about it. It came down to him and I, our relationship we had and talking. The thing he told me was he felt I was honest to him throughout this entire process and was being real rather than the whole recruiting sales pitch.
 
"That's one thing I don't do: I don't do a sales pitch. I did sales when I was done playing ball and I am not a salesperson even though some what of recruiting is sales. But I don't really use a general sales pitch talking to guys. I just try to be real with them and tell them this is what we have to offer. This is going to help you be successful. Is it all the glitz and glamour that some of these other places have? No. But I promise you this: you are going to have an opportunity to get a great degree and you are going to have an opportunity to play on a national level every year you are here. What we make of it is going to be what you make of it. That relationship just really helped make that decision. That's why it went a little after signing day.
 
"All in all, recruiting went well. We got the guys we wanted to get. There was obviously some we wanted that ended up going elsewhere. But our mentality as a staff was that we had to get bigger, stronger, faster because you look at some of these teams that are playing late into the championship and they are bigger, stronger and faster. They look the part. Some of it is us doing a better job as coaches throughout the year but also making sure we are bringing in the right guys who maybe aren't the most talented but at least guys who want to be here because those are going to be the guys who buy into the program of what we want to do."
 
BB: Transitioning on you to spring ball. Spring will be a crucial period for you just because you are bringing so many guys to town in the fall. You have to think that there are some spots out there guys are going to be fighting for. From an overall team perspective, how do you hope the guys that are coming back react to the fact that there are a crew of guys coming here to take their jobs?
 
Pitre: "Compete man, compete. That's what it's about, man. Nothing easy is going to be given to you and where we want to take this program is to the next level, which means we want it to be a competition on a daily basis for everyone when they walk out on that football field and that's coaches as well. We are coaching for our jobs every single day. I think if we have that mentality, we will be successful and achieve our goals.
 
"I think that's our biggest thing going into spring, specifically talking about our room, we don't have a starter. Our starter graduated. Right now, there's six guys — seven in the room but one (Brandon Davis) — but six guys who are competing for that starting spot. Every single day, you are going to be evaluated on what you are doing in the meeting room and you are going to be evaluated on what you are doing special teams. You are going to be evaluated on what you are doing on the football field. That way we put ourselves in the best position to be successful. So that's where I'm excited because I want to see who steps up to the competition. I already have guys in mind that I know are going to thrive in it and there are going to be guys that it's tough to compete on a daily basis.
 
"For myself, I did goals for all the running backs and I did goals for myself and that's where one area I want to improve is I said I want to be more demanding. I want to be more demanding of these guys to do all the little things correctly because we truly have to find a way to separate the gap because basically one to six right now, there's not a whole lot of separation in my room. Are you doing what you are coached to do? Are you doing what you are asked to do? Are you putting maximum effort in? Are you doing it for your teammates, not for yourself? Those are going to be the things. I'm excited for it, man."
 
BB: You played four last year. Is there a dead-set number this year?
 
Pitre: "No. It's whoever rises. If it's four again, it's four again. If it's five, it's five. Six, that would be tough. But we are going to play whoever gives us the best opportunity to win games week in and week out. That's what I tell guys: find your role. Your role might not be the same as Jimmy or Joe, you know what I mean? But what's your role? Find your role. Love your role. Take your role very seriously and then that role will contribute to you getting a more expanded role because we can trust you. That's really what it comes down to is a trust factor.
 
"We used Chad…Chad ended up being that all-purpose guy toward the end of the year but more than anything, that's a testament to Chad's care but it's also a testament to saying, as coaches, we felt comfortable putting Chad in those situations knowing he would execute those things with great attention to detail and know what he's coached to do. Does he have his limitations just like everyone else has their limitations? Yes. But at the same time, his limitations never contributed to him not being able to do his job. So as long as those limitations don't hurt you from being able to do it, we will put you in there so you can go be successful."
 
BB: Do you think these guys have a little incentive too because Cramsey and you as an offensive staff, what you guys are doing is so diverse so you can almost create roles for guys. You created a role for Chad based on what he does well. Is that the carrot out there for these guys?
 
Pitre: "I think so. I do. At the end of the day, all these guys came to college to yes get an education but they came to play college football. They came here to play football. I don't foresee there's too many guys that are just here to be here. I think them knowing they can earn a role and it doesn't necessarily have to be the starting whatever it is and that you can still have a very important role on the team, I do think that entices some of these young guys to say, 'Well, I want to be like him, how he was when he was a redshirt freshman or how he was as a redshirt sophomore.' I think that gives them a glimpse of hope so they don't all feel like it's all or nothing. To me, that helps keep guys driven on a daily basis to come to work and to get better and competing, as bad as it sounds, competing to take that guy's job. That's really what you are doing."
 
BB: Last point we will touch on. Every guy in your room now has a narrative around him amongst the fan base and your followers. Chad Newell comes off a breakout year, down the stretch he carried you guys, became a little bit of a fan favorite with a great story, a walk-on from Montana. Gunnar Brekke, obviously a guy everyone in Montana has known about for a long time with his Gatorade Player of the Year and just how talented he is. Anthony Knight, a maybe that got slighted a little bit at the end of the year with the all-league honors. He scores 12 touchdowns and he doesn't even get an honorable mention nod. That might be a chip on his shoulder. Nick LaSane is a guy everyone around here has loved since he first came here because his high school film is so great and he has the great story of coming through all the injuries and everything. Tavon Dodd gets added to the mix and he's another guy who's real high on the board a couple of years ago. How do you help those guys manage all that, just kind of the noise that is around them, the hype they are receiving and how do you hope that influences them?
 
Pitre: "In terms of managing it, it doesn't matter. That's what I tell them. It doesn't matter. All that noise outside this place doesn't matter. The only thing that matters is the people within this building because those are the only ones that know what you are doing on a daily basis, the work you are putting in. If you are putting in the work, you are going to get the results. It's that simple.
 
"If you are not putting in the work and you think you can just continue to skate by and skip quarters and skip reps here or there, it's going to catch up to you because that one rep on Monday and that one rep on Tuesday and that one rep on Wednesday and Thursday start to add up and the next thing you know, you've missed 150 reps just because you've missed one rep a day. That's where, again, the leadership and the grown men in the running back room specifically, Chad, Gunnar, those type of guys, they go about their work in such a professional manner on a daily basis, it makes my job easy. I'll tell them I'm not big into feelings. They are your feelings so you can control your own feelings. I'm just going to be real with you. Some guys like it, some guys don't like it. I'm never rude, I'm never disrespectful. I'm always asking them ahead of time, 'Can I be honest with you?' And if you tell me no, I will keep it to myself until you feel like you can handle my honesty.
 
"The way I want it to be in our room is yes, I'm the coach and you are the player but at the same time, you guys are young men and I am a man so we can have men conversations. There's going to be a time as a coach where I tell you, 'Hey, quiet down, I have this.' But at the same time, that's where we have an open policy in our room and I will call guys out. If I can tell a guy is moping because he's not getting the reps he thinks he deserves, I'll call him out in front of the entire group of running backs. The reason why is because your attitude isn't just affecting you or me. It's affecting everyone in this room.
 
"We and I say we as a staff are not dealing with selfish players. We don't want selfish players. That's the beauty of this offense. Again, four running backs can play, eight receivers can play, four tight ends can play. That's the beauty of what we do because by title, someone is a starter but really, how we look at it is you have five starting lineman and you have a starting quarterback. Other than that, everyone is interchangeable and we want to put the next best five players out there to be successful. So if you've earned that role to be one of those next five, then you've earned that and we will ride you until we can't ride you anymore.
 
"Some guys don't like it and some guys like it. I'm not too worried about if they like it or don't like it. At the end of the day, it's the success of this football team that is the most important thing to me and it should be the most important thing to them. Their individual goals and aspirations have to be put on the backburner to put this team first and if you are not willing to do that, you are not going to be here or be successful here."
 
BB: Last thing for you. You guys have a little transition on the offensive staff for the first time since you've been here so Coach McEndoo leaves and goes to Oklahoma State and now you have Jason Eck coaching offensive line. I know Coach Mac was the run game coordinator. I know Eck and Cramsey are going to work a little bit together in that. How will a new offensive line coach affect your group?
 
Pitre: "It won't affect us at all. We just have to make sure like last year that we are on the same page as the offensive line in terms of pass protection, make sure where they are going so we understand where they need to work to. Run game wise, it won't affect us at all. We have very simple rules. Those guys are going to block those guys and we are just going to run and let your God-given abilities go to work.
 
"I'm looking forward to it. Obviously, we will miss Mac a lot. But at the same time, next guy up and that's the mentality. If it's next guy up, just because Mac left, we cant miss a beat. I think Coach Eck, as much trust as we put in Coach Cramsey, he was big into hiring Coach Eck so I have 100 percent faith in Eck and I'm excited to work with him because I think I may be able to learn some things from him. As a young coach, it helps me continue to learn and broaden my horizons as well."
 
Colter Nuanez can be reached at BobcatBeat56@gmail.com and followed on Twitter @Bobcat_Beat. Photo by Brooks Nuanez.
 
 
 
 
 
 
Categories: