Battle in trenches defines final half-scrimmage for Bobcats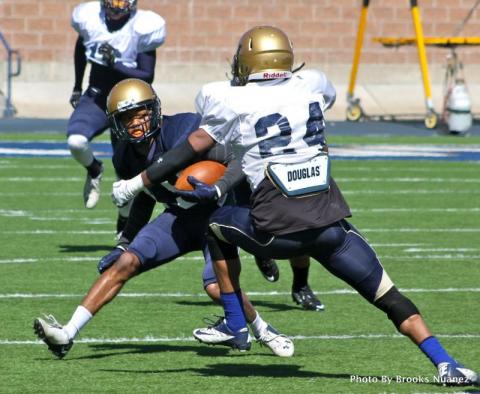 By COLTER NUANEZ
Bobcat Beat
 
 On a crisp Bozeman afternoon, the tailbacks continued to battle, the fronts showed fortitude, the defense continued to acclimate, Dakota Prukop demonstrated precision and Austin Barth showed why he should not be forgotten.
 
On Friday at Bobcat Stadium, Montana State executed a half-scrimmage, the last dress rehearsal before spring games in Great Falls and here the next two weekends. The Bobcats ran 30 lives plays before breaking for "halftime". The second portion of the scrimmage was a third-down game in which Tavon Dodd and Nick LaSane each proved they could pick up tough yards, the offensive line mashed some heads and the defensive front proved it could hit a little bit too.
 
With a largely healthy group in tact, the Montana State coaching staff got an hour and nine minutes of film that should prove to be the best evaluation point for spring drills thus far.
 
"I think we got a good look today at the lines because of all the situations we created with the third and fourth downs," Montana State head coach Rob Ash said. "It wasn't all defense. The offense ground out some good third down conversions, some inside zone, some power and some hard running by the backs. I thought it was really good on both sides and it will be great on tape to watch and see who is getting it done when it's full-out live and there's no excuses."
 
The session included a total of 65 live plays and either Dodd or LaSane got the ball almost half the time. Neither Chad Newell or Gunnar Brekke got a carry. Senior Anthony Knight picked up 15 yards and trucked sophomore cornerback Bryce Alley on his second and final carry of the afternoon before giving way to the upstarts.
 
LaSane, a third-year sophomore from Dallas, bruised his way to 15 yards on four carries in the first part of the scrimmage and picked up 48 yards on 10 carries during the third-down challenge. He converted 4-of-7 third downs and 3-of-3 fourth downs. Dodd carried the ball four times for 20 yards during the first half and five times for 83 yards, including a 60-yard touchdown. He converted 3-of-4 third-down tries and his lone fourth-down carry.
 
"Tavon is a playmaker, man. And Nick, he's a bulldozer, a big bull in a china shop," said Barth, who caught a touchdown on the offense's first possession. "Those two are awesome to watch."
 
Dodd, a redshirt freshman out of Houston, is battling LaSane for the fourth spot in the running back rotation. The 5-foot-8, 180-pounder is as fast as they come on the FCS level but he's also deceivingly strong. He showed his power on a pair of 12-yard gains to convert long third downs.
 
"Tavon is an explosive, game-breaker type of back but he does have some pretty good instincts inside too," Ash said. "There are some plays we are going to see on film where he needed to stick it up there even more. That's the phase of his game he needs to work on the most but he's pretty dynamic on the edges."
 
Following the action, defensive line coach Bo Beck addressed his linemen and said he felt the offensive line had won the battle in the trenches. The two offensive units rushed the ball 33 times for 170 yards, which included negative yardage for touch sacks recorded by junior linebacker Joey Michaels, freshman linebacker Toti Moeakiola and sophomore defensive end Devin Jeffries. The offenses averaged 6.5 yards per carry otherwise and 4.6 yards per tote without Dodd's long run in the equation.
 
But the defense held it's own, limiting the offenses to conversions on 11 of 27 third-down tries. The offenses converted six of eight short-yardage fourth-down tries.
 
"I thought they did an outstanding job in the second half of the scrimmage," Ash said. "I thought early on the offense had their way and made some really good drives, which was good to see. But when we got into the short yardage, third and fourth downs, I thought the defense really raised their level."
 
Montana State's defense is under reconstruction this spring. The Bobcats have a new coordinator in Kane Ioane, a new cornerbacks coach in Michael Rider and a new linebackers assistant in Jody Owens. Montana State is also in search of at least nine new defensive starters to play in Ioane's 3-4 scheme.
 
One of the biggest adjustments in philosophy is the prevalence of pressure off the edge. All three sacks on Friday were out of designed blitzes. Moeakiola, a redshirt freshman from Euless, Texas, added a pair of tackles for loss to go with his sack.
 
"(The offensive line) dominated us last week but this week, we really showed our toughness," said Moeakiola, who's older brother Na'a was the captain of the last two Bobcat teams. "Our defensive line really battled today. Our front four, they started it up front by going toe to toe with those guys and that allowed us to get open sacks."
 
Redshirt freshman defensive tackle Tucker Yates knifed through the line to smear LaSane in the backfield on one fourth-down stop. Senior defensive tackle Nate Bignell chased down freshman Noah James on the other. The offense converted the other six fourth-down tries as well as all four of the third downs in which it needed less than four yards thanks to great push from the veteran offensive line.
 
"I was really pleased," first-year offensive line coach Jason Eck said. "It was really the first time we've had a full series where we've played it out. The first series, we go down there and score. That was encouraging to see us finish a drive. And it was good work in those situations. It's good to get into situational football, working those third and fourth down conversions. I thought we did a good job being physical in short yardage. We had some good power plays. We still need to clean some things up, but that's why you practice."
 
The offensive line with have four seniors and a junior starting in the fall. Right now, senior tackle Alex Eekhoff and senior guard Kyle Godecke are on the shelf with injuries, meaning junior Dillon Fraley and sophomore Caleb Gillis are splitting reps at guard while sophomore Dylan Mahoney is filling it at right tackle. Still, the line has All-Big Sky players in senior center Joel Horn, senior left tackle John Weidenaar and junior guard JP Flynn. The defensive line is without senior tackle Taylor Sheridan and junior tackle Conner Thomas yet still held its own on Friday.
 
"You would think on paper with the experience our offensive line has and the inexperience our defensive line has, it would be one-sided but I really don't see it that way so far this spring," Ash said. "The defensive line guys have been working hard and they've been holding their own. In the short-yardage plays, they did a really good job."
 
The scrimmage began with the offense marching 75 yards in eight plays, capped by Barth's touchdown. The score came on a hurry-up play where junior quarterback Dakota Prukop faked a bubble screen to Mitch Griebel in the slot and lofted a pass into the window as Barth ran a route up the sideline.
 
"'Baylor' is our speed call where the tight end usually blocks and I think the defense saw that on film and assumed I was blocking," Barth said. "I was pretty open. It was pretty easy."
 
"He was in the right place at the right time," Ash said. "He got a good call with the trick play kind of thing, the fake bubble where he scored the touchdown. That was a good play but he executed it, made the play and had a couple of other tough catches in traffic. He's a tremendous player too and we are not counting him out at all. He's going to really figure into our offense"
 
Prukop completed all nine of his passes during the first half of the scrimmage, including a 41-yard touchdown to Baylor transfer receiver Brandon Brown, his former high school teammate in Austin, Texas. Prukop appeared to get touched by freshman linebacker Grant Collins but instead rolled out and threw on the run to a wide-open Brown. He also found Miami senior transfer tight end Beau Sandland three times for first downs.
 
Brown finished with three grabs for 99 yards, including a great catch on a perfectly thrown by senior Jake Bleskin for a 34-yard gain.
 
Barth has been somewhat overshadowed this spring because of Sandland's presence. The 6-foot-6, 265-pounder is a physical marvel with ACC credentials so it's easy to see how a converted quarterback from Columbia Falls could get lost in the shuffle. But Barth's hard to miss himself at 6-foot-6 and 255 pounds. He's played as MSU's third tight end behind departed seniors Tiai Salanoa and Lee Perkins the last two seasons. Now he's hoping to earn a role as Sandland's bookend.
 
"It's kind of nice not being the third guy in line," Barth said. "Beau is a beast. Everyone knows that. It's been nice learning from him and I know he can learn some stuff for me because I know the offense a little bit better. We are working amazing together, the chemistry is building and we are going to be a great duo I think."
 
Colter Nuanez can be reached at BobcatBeat56@gmail.com and followed on Twitter @Bobcat_Beat. Photo by Brooks Nuanez, who can be reached at Brooks.nuanez@gmail.com.
 
First Half
 
Passing
Prukop 9-9 106 yards, 2 TDs; Bleskin 4-6 60; Mitch Griebel 1-1 3
 
Rushing
Dodd 4-20; LaSane 4-14; Gates 1-3; Bleskin 1-(-7)
 
Receiving
Sandland 3-28 ; LaSane 1-2; Brown 3-99 TD; Gates 2-12; Barth 1-31 TD; Prukop 1-3.
 
Sack: Joey Michaels, Toti Moeakiola
 
Pass Breakup: Joey Michaels
 
Third down game
 
Offense converted 11-of-27 third downs, 6-of-8 4th downs.
 
Rushing
Dodd 5-83; LaSane 9-43; Prukop 3-17; James 3-9; Gates 1-0; Brown 1-4
 
Passing
Prukop 1-3 for -2 yards; Bleskin 2-3 for 8 yards
 
Receiving
D'Agostino 1-(-2); Barth 1-10; James 1-(-2)
 
Tackles for loss: West Wilson, Devin Jeffries (sack), Bryce Alley, Demonte King, Mac Bignell, Grant Collins, Robert Walsh, Zach Wright
 
PBU – Trace Timmer, Zach Wright
 
Totals
Dodd 9-103; LaSane 13-57; Prukop 3-17; James 3-9; Gates 2-3; Brown 1-4; Bleskin 3-(-25)
 
Passing
Prukop 10-13 for 104 yards, 2 TDs; Bleskin 6-9 for 68 yards
 
Receiving
Sandland 3-28; LaSane 1-2; Brown 3-99 TD; Gates 2-12; Barth 2-41, TD; Prukop 1-3; James 1-(-2); D'Agostino 1-(-2).
 
 
Categories: