Bobcat defense adjusting quickly to Ioane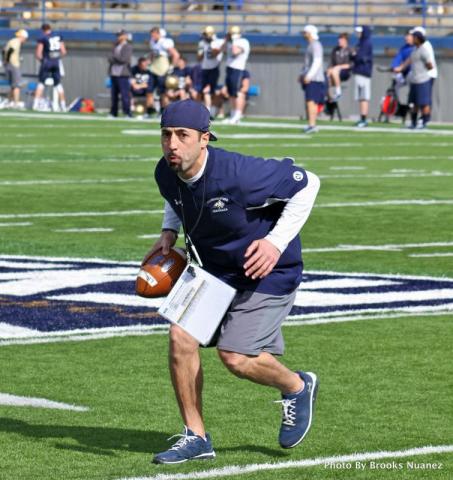 By COLTER NUANEZ
Bobcat Beat
 
Kane Ioane is no stranger to addressing a crowd. But when he stood up to talk to the Bobcats on the eve of 2015's spring drills, it was different.
 
Now Ioane is running the show.
 
"It was intense," MSU ninth-year defensive line coach Bo Beck said of Ioane's first speech as Montana State's defensive coordinator. "It's Kane. He brings that swagger with him and the philosophy of the no question attitude. He's never satisfied. The guys are going to develop to that. And finish: that was his big message to the guys. We have to finish."
 
Last season, Montana State had a hard time finishing. The Bobcats were next to last in the Big Sky Conference in points and yards per game allowed. A team with once-proud defensive tradition has seemed lost for a season and a half, dating back to a 54-29 loss at Eastern Washington in which the Bobcats didn't notch a single stop.
 
As a Bobcat Hall of Fame player, Ioane had no problem finishing. The only four-time All-America honoree in school history finished his career as the Big Sky Conference's all-time leader in tackles and the league's 2003 Defensive MVP. This spring, he's still coaching the linebackers, a unit looking to replace five seniors. Jody Owens, the 2012 Big Sky Defensive MVP under Ioane's tutelage, is helping out as the Bobcats passed the midpoint of spring drills with a snowy Thursday session.
 
"(Ioane) is bringing in some new things in that will really help us," senior defensive tackle Nate Bignell said. "He has a different view and that's good for everyone."
 
"Kane brings a lot of energy," added junior defensive end Zach Hutchins. "He's a good speaker and a good motivator."
 
Montana State will hold a half-scrimmage of 40 plays beginning at 11 a.m. on Friday morning. MSU does not have school because of Good Friday. The Bobcats will take the weekend off for Easter before the final two weeks of the spring session. MSU will play in the annual Triangle Classic in Great Falls on April 11 before hosting the Sonny Holland spring game in Bozeman on April 18.
 
As the two main performances of spring draw near, MSU head coach Rob Ash is pleased with the promotion he awarded Ioane.
 
"He's embracing it and he's got that energy that we thought would be a change," Ash said. "Guys are embracing him very well, coaches and players both."
 
Ioane tried his hand at an NFL career but didn't make it out of camp in Tampa Bay. By the next fall, he was a graduate assistant on Mike Kramer's staff. In 2007, Kramer was fired but Ash elected to retain Ioane. By 2009, he was the full-time linebackers coach. But he watched as Roger Cooper — his former "D-Block" teammate and a year his junior — was hired as Idaho State's co-defensive coordinator by Kramer. Two years later, Ioane's a co-defensive coordinator himself, sharing the duties with Jamie Marshall.
 
"It's been a lot of fun," Ioane said. "I'm enjoying it. Obviously, there's a lot of responsibility that comes with that. That's what I wanted and that's what I looked forward to and I've enjoyed it so far."
 
Although the title is co-defensive coordinator, there's no doubt who's calling the defense. The Bobcats' scheme has somoe noticeable adjustments, primarily the presence of three down defensive linemen with the Bandit end standing up almost 100 percent of the time.
 
"We are playing an odd front where our Bandit defensive end is standing up — I don't want to dive into too many specifics but bottom line, it is more freedom up front," Ioane said. "Those guys are two-gapping on the line and allowing them to get off blocks and make plays as opposed to here's your gap, stay in it. It's been fun for those guys and it's fun to see them really take to it."
 
Blitzes from the linebackers, particularly the Sam, are more prevalent and the corners are in pressing man-to-man coverage on the outside more often than not.
 
"There's a few more pressures and different pressures and those are always difficult without a game plan to put together and a week of practice to get used to it but that's good for us," Ash said. "I think the defense is experimenting with some things, which is good. We aren't necessarily going to run some of the stuff we are running right now but we are seeing what looks good. It's a work in progress and I like it. I like the fact that it's putting pressure on our offense. This is a challenge for our offense mentally and physically, which is good. They aren't just coasting through the spring."
 
The transition has helped for players like Hutchins, Bignell and his little brother, Mac, to stand out. Mac, a sophomore, is playing the Sam spot and thriving.
 
"Mac Bignell is a flat-out playmaker," Ioane said. "He's forced two fumbles by flat out desire. He's really taken to his role. We are bringing him off the edge at times and he can turn that corner. He's an absolute stud."
 
On the outside, MSU has had to overcome a thin secondary. All four safeties — senior Des Carter, sophomores Bryson McCabe and West Wilson and redshirt freshman DeMonte King — have worn red non-contact jerseys this spring. Sophomore Bryce Alley is the only cornerback among a group of four (seniors Bryson Keeton and Trace Timmer, sophomore Jaylen Price) who hasn't been banged up.
 
Although Keeton has battled a tight hamstring, Ioane has been impressed with the former Nevada transfer's performance.
 
"Thus far, those corners have been on islands the majority of the time and he's been great in press coverage," Ioane said. "He's held up and has been very good in run support. He's had a great, great spring. I'm excited about him and his potential being an All-Big Sky type player for us which is what he has to be for us to be successful."
 
Up front, Hutchins and Jeffries have both shown the motor and pursuit to play as standup ends. Hutchins, at 6-foot-3 with long arms, can also play in space because of his range and athleticism. He played linebacker as a senior at Bishop Gorman High in Las Vegas.
 
Bignell, who's up to almost 300 pounds, is the anchor this spring with senior tackle Taylor Sheridan and junior tackle Connor Thomas on the shelf. Redshirt freshmen Zach Wright and Tucker Yates have also gotten reps for a unit that needs to replace Taylor Dees and Odin Coe from last season's lackluster group.
 
"Devin Jeffries has had a great spring so far," Ioane said. "He's really showing up on film as far as running to the football and making plays and being very physical and aggressive. Nate Bignell has been very good this spring and has made a lot of plays in the backfield and has been sideline to sideline, which is what was ask of our defensive tackles. Zach Hutchins has really played to his new role and looks good coming off the edge and playing in space sometimes. Really, everybody up front it's been fun to watch. Tucker Yates has been a very good player. Zach Wrigth…we are going to have great depth, especially when the transfers get here."
 
Ioane's unit will add Cincinnati transfer inside linebacker Marcus Tappan and Santa Monica JC outside linebacker Zach Stern along with defensive ends Jessie Clark (Los Angeles Harbor CC) and Shiloh LaBoy (College of the Redwoods) and tackle Joe Naotala (Palomar).
 
Under Marshall's direction, the Bobcats led the Big Sky in total defense three times. MSU has had two Big Sky Defensive MVPs and two Buck Buchanan winners with Ash and his staff at the help. Since 2003, MSU has seen a standout capture the league's top defensive honor five times.
 
And that's just recent history. From Gary Gustafson to Bill Kollar, Lester Leininger to Mark Fellows, Dane Fletcher to Brad Daly, Montana State has a rich defensive tradition on par with anyone in the FCS. And it's something the current Bobcats are desperate to capture the magic once again.
 
"The kids have got to have some swag to them. They have to," Beck said. "I'm not talking starting fights or anything like that. We've developed it and we've had it in the past and the kids that could handle it, they would walk on the field and know you are going to beat that opponent. As a group, we are going to have that with Kane."
 
Colter Nuanez can be reached at BobcatBeat56@gmail.com and followed on Twitter @Bobcat_Beat. Photo by Brooks Nuanez. 
Categories: