Off-season Q&A with the assistants: Bo Beck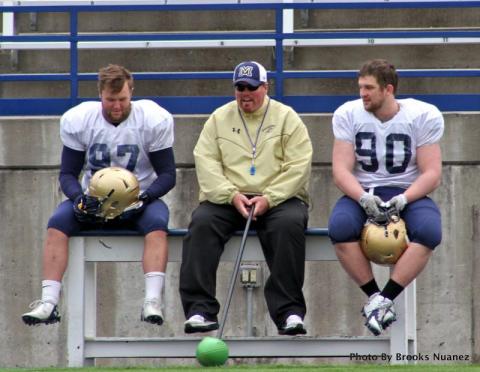 By COLTER NUANEZ
Bobcat Beat
 
Bo Beck wondered what his group could do for an encore. And when the Montana State defensive line did not perform to its elite standards, no one was more disappointed than the ninth-year Bobcat coach.
 
Between 2009 and 2013, Beck helped the Bobcats produce at least one All-America up front. Dane Fletcher was a finalist for the Buck Buchanan Award in 2009 while winning Big Sky Conference Defensive MVP honors. Caleb Schreibeis won the Buck in 2012 and Brad Daly swept the Buck and the Big Sky MVP in 2013.
 
Last season, Montana State's defense experienced its lowest point of the decade. The Bobcats gave up almost as many yards and points as their record-setting offense gained. MSU surged to an 8-3 mark only to lose two straight down the stretch, including a 34-7 beat down in Missoula and a 48-41 loss at home in a driving snow storm to South Dakota State in the first round of the FCS playoffs.
 
The defense was porous on all three levels. The Bobcats surrendered nearly 200 yards per game on the ground, including 265 and five touchdowns to SDSU's Zach Zenner. Through the air, opponents sliced MSU for nearly 300 yards per game, one of the worst totals in the country.
 
The poor performance brought on massive scrutiny from around the state. In the off-season, MSU re-organized the coaching staff and midway through spring drills, appear to have tweaked the defensive scheme. MSU will add five more junior college transfers to its defense, bringing the total number of new faces on that side of the ball to seven with two safeties already on campus.
 
MSU's previous scheme was predicated on getting a four-man rush and isolating the Bandit end for opportunities to put up gaudy sack numbers. Rushing the passer will remain a key but football has evolved and Beck and his coaching camarades know it.
 
On the Wednesday, March 18, Beck sat down with Bobcat Beat to talk about the evolution of football, the reaction MSU must have to it and the overall philosophies for the 2015 Bobcats defensively. For full audio of this interview, click here.
 
 
BB: You showed me those videos from USC of the trophy rooms. Those are ridiculous. Can you even take anything from that? They are so far ahead of everyone else…
 
Beck: "It's funny because I thought their stuff was good but Notre Dame's stuff was good too. It's an arms race. The craziest thing to me about USC was they had a thumb pad and that's how we entered every building. It was like Star Trek. What they sell there is tradition and that's what that Heritage Hall really showed. They weren't playing around. They said they only showcase Heisman Trophies, Rose Bowl trophies and National Championship trophies. They won the Holiday Bowl and they said it was one of the best bowls they've ever been to and they couldn't find the trophy because it was in a janitor's closet for three months. They were like where's the trophy?
 
"You go into the linebacker's coach office and there's three Butkus Awards on the floor. They said it was very Ricky Bobby there. If you ain't first, you're last. That's the expectation there. They had security at their practice because they have that many people who show up. But you go on trips like that, but unless you really know somebody, you can get a little scared because they will just send you into a room with a GA and you'll never see the light. They'll give you the token 'Hey, what's going on?'
 
"It was kind of like that when we went to Utah one time. Gary Anderson was really good with us but we never met the head coach or anything like that. Kane (Ioane) and I went down to Boise one time. Kwiatkowski laid it out for us. This year was the first time in a long time Coach (Ash) has let us do our own thing. Usually we bring somebody in and like we've brought in Chris Ash (Ohio State defensive coordinator) in. But I said this year, I wanted to go see a d-line guy. And I've known Chris (Wilson) for years. When he was at Colorado, I was in Colorado. I would go visit him. But I hadn't talked Xs and Os with him for over 15 years. Since then, he had been to like Mississippi State, Georgia. He's coached some big-time dudes. So I said it's time to go see Chris.
 
"We were going to bring him out here and we couldn't get the date to work. He's on spring break now, we were on spring break last week. He just said, 'Why don't you guys come out here?' And we were like, 'OK!' They were really, really, really good. Coach (Justin) Wilcox, their DC, was unbelievable. (Johnny) Nansen, who had coached at Montana State, was great."
 
BB: Wait, who's the guy who coached at Montana State?
 
Beck: "Nansen. He was here with Kramer. He coached Kane. He went to Idaho and then got hooked into Washington somehow with Sarkisian and somehow got hooked into USC. He's energetic as hell.
 
"But we learned more than we've ever learned going to a place there. Not only Xs and Os but philosophies of just listening to Chris talk and Wilcox talk. And Wilcox was cool because he asked Kane and I, he said, 'I'm going to take an hour of your time and ask you guys what you do. And this guy, he's been at Washington, he's been at Boise, he's been at Tennessee. Now he's kind of a hot name in coaching but he's super cool. He asked us what we do and he thought he could learn from anybody. I thought that was awesome.
 
"To see the place…they let us eat training table with them. We went down to the Santa Monica Pier and ate dinner."
 
BB: What's that training table look like?
 
Beck: "It was big-time. The breakfast was unbelievable. They had corndogs at breakfast. It kind of, they built this athletic cafeteria but the common folks can use it during lunch and stuff I think, breakfast. We met in the morning and we went over there to have breakfast and then they had training table for dinner. Even down in the players' lounge, they had all kinds of bags of food in there for them. They were constantly feeding those guys.
 
"Every time you turn a corner down there…the locker room was big-time. The weight room was unbelievable. You know you are at Southern Cal when the women's water polo team is working out with a  strength coach.
 
"It was worth every minute of it. We picked up a lot of stuff that we are excited about."
 
BB: You mentioned the way you address guys and culture. What do you think of the expectations you've set for yourselves here? If you would've had 2014 in say 2008 here, people would've thought that was a great year. Last year was good, getting to the playoffs, but a lot of people wanted more. A lot of people were thinking 8-4 is where you should be no matter what. Ten wins is on the table. Being at a place like USC…if they go 9-3 this year, they are on the hot seat. Does that show you how to handle those sort of expectations?
 
Beck: "Oh yeah. One, you never frustrated for expectations. You are grateful you constantly have fans. You don't ever want to take that for granted or be frustrated with it or things like that. Out there, a lot it is that same philosophy. You have to have some swag to you. You have to. You have to teach the kids that that is the expectation. You have to let them know that this is not ok and you don't ever downplay it. That was there deal out there. One thing they said is 'Before you change a scheme, you have to change a culture.' The thing you can't do is when you do have the good years and we had those runs with the good years, you can't get complacent. I felt a little bit of that slipped in.
 
I think out there too with all the stuff they had, their kids are a lot more humble than I expected. They have kids who are five-star recruits, the best of the best and they were very cordial and coachable. You have to keep these guys humble with everything they have and it's the same here. You have to keep them appreciating that the stadium is full. You are only going to keep that thing full if you keep winning. It's good.
 
"The only frustration of it is just common knowledge football. You hear from fans and when you walk out on the street and stuff, they will get after you and you are like, 'That's not even what happened'. But you just let it be."
 
BB: It's pretty crazy because everyone only see it how they want to see it. It's like journalism. We studied the phenomenon of bias, human bias and the way it lingers. It's said that 95 percent of people will have a preconceived notion before they consume any piece of information. And no matter what that piece of information is, 95 percent of the time, it will reinforce the preconceived notion no matter what it is because that's how they are going to absorb it.
 
People can read my story and if they think it will be the greatest thing they've ever read, when it's done, they thought it was even better than it ever was. But if they think it's going to be some Grizzly bias BS, it reemphasizes that no matter what it really says. It's hard for people to look through a completely clear glass.
 
You are talking about common knowledge football. People see things how they want to while they are in the stands or they just don't have the football IQ to really break it down. Plus when you in the stands, you are emotional and you've probably been drinking.
 
Beck: "I call it the regurgitation effect too. Somebody will say something and then that's the reason when and then it gets stuck. The one that is just eating at me right now, and before I say this, I take full blame for some of it. But to blame the pass rush for our issues last year is crazy.
 
"That's one of the things we went to USC for. Football has evolved. We are trying to figure out how to survive 105 plays. It's evolved so fast. It's become a perimeter football game. You look and you really truly watch the three-step drops and the bubble game and the screen game and it's taken the lines out of it. People have watched what we've done here. Their game plans are going to change. They are not going to drop back and let us just tee off on them like we have in the past. We can do that.
"I went back and looked at all the pass plays from last year. It's like 300 and something. And out of that, how many of those were true drop-back situations where we could've gotten there? Out of all those plays, it was something like 42. Forty-two times that we truly had a chance. Now, I don't feel we got there enough. I feel there was times when we were not good at it.
 
"But to hear that, it, it's something that we are going to be better at for sure. But it's not like it's something we haven't emphasized. It's what the game has become. It really…I'll show you this. This is what I believe."
 
At this point in the interview, Beck stands up and begins to draw on his white board.
 
Beck: "The days of defense, judging a defense based upon yards is over because offenses are kicking ass with what they are doing with the perimeter game. To me, your guys, your 1s have to come in here between the 20s and everything that happens in here between the 20s is just a story. It doesn't matter. We have to be better at setting role players in here to survive this. But once it gets back in here (Beck's pen starts coloring in the red-zones) you've got to stop touchdowns. You cannot let them run into the end-zone. And we were not good at that last year. That's where it ends up.
 
"If they end up getting 500 yards — our offense does this — if they end up lighting it up between the 20s, who cares? It's how many field goals did you limit them to and how many turnovers did you create? That's where defensive football is right now. I truly wish it would go back to 21 personnel with full backs and a statue quarterback standing back there so we could turn the corner and rip his ass.
 
"You look at Arkansas State, they didn't drop back once. We had no chance. Zero. Some of the philosophies we went into, when we went into Eastern Washington, we did not rush Vernon Adams. We didn't. We still got two sacks I think in that game. But we were like, 'Let's contain this guy.' At the end of the day, what we are deciding to do between the 20s is not the perception of the people. What we are saying is we know we aren't going to have 44 sacks like in 2012 with this philosophy. One of the things we did last year was we had six linebackers on the field and two defensive ends. We better hit home with those cats. And we didn't do a good job of that either."
 
BB: I thought Rob made a great point after the Sac State game before the UC Davis game. We talk to him so much and there's so much he says that goes on the record that I think a lot of people get lost. But he likened college football to a tennis match. The offenses are going to gain yards, both teams, no matter who you are playing. Even UC Davis who won a few games last year, they still move the ball because of the perimeter orientation, how many guys you roll through. But like Rob was saying, like in tennis, you have to break the serve. And if you can break the serve…say someone has eight possessions and you can break serve four times and your offense only gets the serve broken once, you just won 49-28.
 
Beck: "And that's where turnovers are huge. That's something we are emphasizing right now is the creation of turnovers and how to work on that."
 
BB: I covered Montana in 2008 and 2009 and they were in the bottom five in the country in pass defense two years in a row yardage wise. And top five in the country in takeaways and they led the league in scoring defense even though they were giving up about 400 yards a game. But they were among the leaders in takeaways. That's what it's all about.
 
Beck: "It's frustrating being a d-line guy. They pull back and throw the bubble out there and we are just standing there. We came out of our stance and the ball is out of the quarterback's hands and we just had to hope and run and help. But it's gone."
 
BB: Do you think the way success is measured is your worst enemy? There's probably not going to be a day now the way it's evolved where you guys are going to get 40 sacks again.
 
Beck: "Probably not."
 
BB: I guess it depends on what sort of league schedule you get, but now everybody in the Big Sky is running stuff like this.
 
Beck: "What we have to do is we have to be creative in our coverages to get the ball clutched. If we can get the quarterback to hold the ball for a second or he has to pump it, then we have a shot. Then we have a legitimate shot. We have to do a good job of getting them into third and long situations and then it's on. We didn't do a good job of that last year.
 
"And I don't want to sound like I'm bitching. I stood up during the season and took blame for it and I'll do it all day every day. But it was not the reason our defense was the problem. It played into it. But that's just the frustration I hear all the time and every time somebody says it, I just say they are right."
 
BB: You mentioned not letting the guys get complacent. Sometimes, it's easy to do that with so much success. Do you think you guys will have a new attitude on defense given all the changes? Last year, you had a lot of seniors but also guys who were very diverse in their pursuits. Guys who football wasn't life. A guy like Odin, a great player but maybe he's not all in on the football side of things.
 
Beck: "I think Odin was all in. I just think this opportunity was too great to pass up. I still think that Odin was developing to the point where he would have had a monster year this year. But you can't blame the kid for taking that chance.
 
"There was different developments of players that we didn't have the national player and that expectation is always going to be there and that's something that we are going to strive for."
 
BB: How hard is it when you invest in guys that maybe don't become that?
 
Beck: "I guess you don't ever want to set the bar too low. If that's what you shoot for and you don't get it, oh well. But you want to push them to never be satisfied like Kane says all the time. Never be satisfied with any play. Always try to be the best.
 
"We did not do a good job in my room last year of running to the football, getting off blocks like we used to do. We are going to go back to some old-school stuff. And get more people involved. That's the only way we are going to survive 100 plays a game.
 
"The complacency issue, guys not buying in, that's fixed itself because it was rough last year, especially the way it ended. That Griz game was rough and that playoff game sucked. It's got to crawl in our guys. Also, we take a lot of pride in our room in who we are and what we've done and we are not going to let that happen again.
 
"We have to be more involved and that's what helped with going to see Chris and seeing what they do. They fight the same battles against Arizona and Utah and Oregon and Washington and their own offense. Just the little tweaks they showed us is going to help us and I think that like I said earlier, to change the culture.
 
"Odin gave me this book the Seals gave him. It's called "The way of the Seal". It's intense, man. There's two books. There's "The Way of the Seal" and there's "Unbreakable." That second one is big time. But in "The Way of the Seal", he talks about how in order to move forward, you have to go and purge everything and start new and take everything in your life and throw it away. Relationships, if you have bad ones, gone. And I need to do it in my office here. All this shit I never look at, I have to throw it away.
 
"And this book says it will be bad and you will hurt people. And it will change your life. He says what you need to do is embrace the suck. I loved it. I told the guys that we are going to strain this season. We are going to strain mentally and we are going to strain physically but we are going to play and gain. And when times are bad, we are going to embrace it and enjoy it and that's what will make us stronger. I'm excited. The guys are in on it."
 
BB: You mentioned wanting to play more guys and how you have to for the survival aspect of it, especially with a team like Idaho State running 85 plays a game. You are bringing in at least three defensive lineman that aren't here yet. How important is this spring for those guys that are here?
 
Beck: "It's big. It's real big because they have to show what they can do. But what I'm trying to create is roles for guys. In our certain packages, everyone is going to have a role. I think if I can do that and put them in the best spot, like are they a first-down player or a third-down player and we are going to root for each other in those situations. Then everyone does have a role. As long as they can compete at a high level, we are going to roll through those different roles. In between the 20s, those guys will be the story tellers. I think that will help.
 
"The three guys who are coming will have their roles too. I think certain things we are going to do on defense is going to help guys in my room that aren't the Brad Dalys but it's going to put them in a good spot.
 
"Even right here with the depth chart, I'm not going to call them 1s, 2s and 3s anymore. We are owned by colors. Everyone is a group. And certain guys might be in multiple groups. It's like yesterday when I was yelling, we have a blue group, a gold group and a white group. We are going to play five plays as hard as we can go and then we are going to roll. As long as they can do it. There cannot be a drop off.
 
"So I'm trying to create a culture in the room right now with those guys and that's why the spring is big. They have to find their role and if they can't do it, they are going to get passed up somewhere."
 
BB: A guy like Taylor Sheridan, he was a freakin' warrior but he wouldn't come off the field. You couldn't get him off the field. He's playing with one arm and taking on double teams. How do you get him to buy into this?
 
Beck: "Honestly, he's got to come off the field. He's got to. And he knows that now. But it's creation of what role does Taylor Sheridan have? We have to create matchups for him where we take advantage of who he can be. That's something that we haven't done in the past. He's going to have to learn more. And he can do it now. Being a senior, he can handle that type of stuff.
 
"It was really Odin who never came off the field. We would roll Nate (Bignell) and CT (Connor Thomas) in for Taylor. But Odin never came off. We wore Odin out. We can't do that anymore. You've just got to pick your battles.
 
"That's the other part of the spread that is hard. Chris Wilson told us out there that he finds in the Pac 12 that offensive guys are really slick about keeping the ball on their hash because that makes it had to substitute if they can keep it on their hash. That's why the minute it comes to our hash, we are rolling. They are so damn fast, you can't get in and get out over there. So anytime we it on our hash, we have to get fresh.
"That's how we are going to have to learn to survive this day in age and be better. It's unique and fun. I say I wish it would go back to the old stuff but then that's just the safety zone where d-line guys are going to shine. Now it has to be more like a full team deal.
 
"We used to say that a sack is a coverage sack or a true sack. I used to say they are all coverage sacks. If they aren't covered back there, the ball is going to be gone. We have to go back to the philosophy that everyone has to help everyone get their deal. We have to put pressure on the quarterback to get a pick. If it's not a three step deal or a bubble that is."
 
BB: You look at how many guys offenses are playing now too. You have to think about subbing more. Look at your offense. They played 25 guys last year. When those guys are always fresh, that's an automatic advantage. It's like the Sac game, you didn't have much depth at corner so Sac was just rolling receivers, receivers, receivers and throwing, throwing, throwing, throwing and your guys are puking on the sidelines.
 
Beck: "There's no doubt. The other thing you can mention about last year is that you can make an argument that there were five quarterbacks in our conference that were All-American caliber.
 
BB: (Montana quarterback) Jordan Johnson was an honorable mention all-league guy. He was a first-team all-league player as a sophomore and a junior.
 
Beck: "(Garrett) Safron from Sac led the nation in total offense I think. He led the nation and was second-team All-Big Sky. Dakota (Prukop) was three times national player of the week and he's third-team All-Big Sky.
 
BB: Dakota was a Payton finalist and third-team All-Big Sky. The kid from Cal Poly (Chris Brown) sets the all-time league rushing mark for a quarterback and he's not first-team all-league.
 
Beck: "And then the Idaho State kid (Justin Arias) was unbelievable."
 
BB: And that's not to mention Vernon Adams.
 
Beck: "Right! But it's a good thing. It's good for the conference and it's good for us. But we have to wake up and be better."
 
BB: It's a real deal arms race when it comes to quarterback now because everyone knows that if you don't recruit your guy out of high school, you can go get one at a junior college like Kramer did and you can go get one at BYU like Jay Hill at Weber State did. That BYU kid (Billy Green) is solid, man. He's a good player and he's not even sniffing the top eight QBs in the league.
 
Beck: "I think Sac got a drop-down this year. I can't remember from where but he's from the Sacramento area and he's really, really good.
 
"I think recruiting philosophy-wise, we have to create the hybrid safety-linebacker kid too who can play the spread stuff. That changes everything too."
 
BB: On that note, while I have it in my head, do you remember Fotu Leiato, the kid from Steilacoom, Washington? Is that the type of guy you're talking about?
 
Beck: "Absolutely. That guy is it."
 
BB: Did you follow that recruiting?
 
Beck: "I read that article you sent me."
 
BB: How crazy is that? He went from nothing to a few FCS offers. I used to cover 2A football in Washington so I had followed Steilacoom on Twitter. I'd been following that since I was in Ellensburg. Then then tweeted this kid's film out one day and I knew he'd been at your camp. So I watched it and I was like, 'Damn, this is really good film.' I was wondering why he was only getting FCS offers. But then I figured out that he was a 6-foot, 200-pound tweener. Then all of a sudden, that film just went boom, viral. And then he was just the top recruit in the country.
 
Beck: "We were just like, 'Oh well.' How can we compete with Michigan State and Oregon?
 
"There was another kid at Manvel, B.J. Ojo's school that was a receiver who was good, really, really good, fast but he was undersized. But he wasn't getting much. I was all over him. But he put that video on YouTube this video where he would throw and catch the ball himself. Did you ever see that? He would heave the ball as high and far as he could and he'd go catch it. It was a YouTube sensation. All of a sudden, he had everyone in America recruiting him. I was like, 'Really, dude?'
 
 
BB: You mentioned recruiting. The guys who are going to be third-year guys, those are your first class as the recruiting coordinator, guys like running back Gunnar Brekke, linebacker Blake Braun, safety Khari Garcia, defensive end Devin Jefferies and receiver Jayshawn Gates. Do you see any change in the dynamic and chemistry of the team now that some of these young guys are in more prominent roles? Do you see a change in the vibe?
 
Beck: "Carefully I say this, but I think the talent might be a little better than it was. It's still a program and they fit into the program. I think there's different dynamics that are helping them as well with Cramsey here and the changes we are going to make on defense.
 
"That benefits you when you have…I remember Jerry Glanville at Portland State coming out and talking to me at the game once and I was just making small talk. And I said, 'What time did you get here' and he said 12 o'clock or something. And he says, 'Ever since I've been in the NFL, I always had a deal where we will walk out on our field for our pregame the day before the same time the game starts.' He always thought that was important for consistency. But then he says, 'You know what doing this as long as I have, it's not important…it's not the Xs and Os, it's the Moes and Joes and who you are getting off the bus.'
 
"That does play a part in it. We have learned how to identify players at the Big Sky level during the time we've been here. The Montana recruits have gotten better. They've always been good (as he points to a poster with Schreibeis and Daly on it.)
 
"Gosh, four out of the five All-Americas we have (Dan Ogden, Daly, Schreibeis, Dane Fletcher) are Montana kids. I think we do a good job of recruiting as a team. We are not individualized. You don't have to pound your chest. It's your job to bring your guys to the table and it's all of our jobs to get them here. When they get on campus, we have to work really hard to get them here, especially when you are dealing with the better players and you are fighting the better schools. I think that the big areas, California and Texas, fight their own battles because we are different in Texas. We fight the Stephen F. Austins and the Sam Houston States of the world whereas California might be tougher because they fight the Big Sky.
 
BB: The group before all seemed very mature, very wise beyond their years, intent on being the best men they could be. Now, just watching that pro day the other day, those guys that came out to watch, those guys just want to be ballers, man. They just want to compete all the time. JP, Dakota, Blake Braun, they carry themselves with swagger.
 
Beck: "A lot of that comes from Wilcox. A lot of that. The guys in the past, he was either in the transition of coming here or changing the culture down there. Now it's set. He has developed that competitive nature."
 
BB: You could see it yesterday, Day 1. Dakota is a whole new guy up top. He's not the sophomore battling for the starting job. He's the alpha dog now. Yesterday, there was no screwing around. He was throwing ropes all day. That's a sweet mentality shift. Just talking to him, I asked him what was different. He said, 'Last year, it was me against Bleskin. This year, it's me against the FCS.'
 
Beck: "Ha, it should be the country. That's the culture you want right there. That's what we went to…I used to tell recruits 'If you want to play for the best d-line in the country.' They told me to stop saying that and wondered how we could be the best in the country. I didn't know because I didn't know how to define it.
 
"They defined it. They wanted to lead the nation in sacks, the wanted to be top 10 in stopping the run and they wanted to win the Buck Buchanan. I said, 'Let's go.' We did it and did it and did it. I can't remember the name but sometimes he comes on and he talks about the matchups in the country. The College Sports Madness guy. He said one time in the playoff game against Stony Brook or New Hampshire, he said 'the one thing Montana State brings is the best defensive line in the country.' The guys were like, 'YEAH!'. So Dakota needs to have that mentality and the rest of the kids need to have that mentality. You talk national championship and stuff like that but it's not hearsay here. We are shooting for that and we can get that. We just have to believe it and be better."
 
BB: You mentioned how you guys are trying to change the philosophy, the dynamic of this defense. I heard Kane gave his first address to the defense on his own the other night. How did that go?
 
Beck: "It was intense. It's Kane. He brings that swagger with him and the philosophy of the no question attitude. He's never satisfied. The guys are going to develop to that. And finish: that was his big message to the guys. We have to finish. The other day, he pulled the guys together and he told them, 'It starts here and we have to finish.' It was good.
 
"The kids have got to have some swag to them. I'm not talking starting fights or anything like that. We've developed it and we've had it and the kids that could handle it, they would walk on the field and know you are going to beat that opponent. As a group, we are going to have that with Kane. It's a good dynamic."
 
BB: It will be fascinating to watch the intangible aspect, how he sparks it just from his attitude and the way he is. Is it easier to motivate the guys given that you had the down year defensively?
 
Beck: "It shouldn't be. But…the down year (laughs). Making a playoff game. It's the truth.
 
BB: 34 points per game, the most you've given up by a long shot since you've been here.
 
Beck: "There's no doubt. When I saw the guys on the first day of spring yesterday, I told them that the things that I let happen last year will never happen again. I take all the blame for it. But I said we are going to go back to who we are. And they are ready for that. Maybe I didn't push them hard enough last year. There were times that, maybe when they didn't run to the ball, I let that slide. That's not going to happen this year. And they know it too. I said, 'You aren't going to be around.'
 
"We are going to go back to who we are. They are ready for it. It's a different shift in the room a little bit. Odin was very much the alpha dog in the room. He was more of a lead by example, intense. Where Taylor (Sheridan) is kind of a bully. He's very, very vocal. The guys will listen and buck up to him. CT and Nate and those guys, they are older now. They want to bring the guys along. And with Tyrone and Hutch, they've played. Even though they are younger, they've played.
 
"They are all good kids. Tucker (Yates) is a kid who is interesting. What is his role? That's what I have to do: find the mismatch for Tucker. Where is the mismatch with Hutch and what he can do? (Points to the board) That's cake.
 
BB: I know, you were yelling Cake at Tucker yesterday and he wasn't listening. Can he rush the passer?
 
Beck: "He's quick. He's quick and what he can do is, when you think of it, what you want to create when rushing the passer is a triangle. You have to have two ends be the point and you have to have a push in the middle and be the point in a triangle. That's what he can do. He can pick up a guy and push him backwards. He's not going to be slick like Minter and be able to beat a guy with shake and speed. But he's powerful. Tucker has leverage and stuff.
 
"But I heard the other day that CT beat Tucker in a wrestling match."
 
BB: Wow. I would've loved to watch that.
 
Beck: "I would've too. I think CT was a state champion wrester."
 
BB: He was. Connor has got to be coming. I watched him in high school and he was as nimble of a big kid as I've seen. He was a state champion wrestler, a standout shot put thrower. Like Tucker but he was doing it at AA not Class B. He was like the dog up there. He has it in him for sure. He's got great athletic potential and he's so big.
 
Beck: "I think this is the first time in a long time CT has felt good. He had the back issue that lasted for over a year. He had a great off-season. His numbers are up. He feels better and he looks better. But he's like a brilliant kid. Like a neuro surgeon. He's always focused on that. He's taking him MSATs right now. Some of that comes into play. He has a hard time letting that go and just going and playing. He's got to be a guy this year."
 
BB: And Nate, Nate was heralded as the Montana recruit this year. He's played a lot for you guys but he hasn't ever been the guy. And he's got the legacy behind him. Do you think he's feeling the pressure of that?
 
Beck: "He's never been THE guy but he's coming. He's not feeling that pressure. Nate is Nate. Nate had some growing up to do. We fought some stuff with him. But I think he's come through that. And ever since Mac has gotten here, he's tried to be a role model for Mac to not do the things he did and stuff like that. Nate cares and he wants to do well and he works hard. That's just kids growing up, kids who you have to crack the whip to get them to buy into the program.
 
"Nate has had to wait his turn because the other kids were just a little bit better at the time but he's grown into that role."
 
"The other one is Zach Wright. He's gotten big. And he's quick. We tease him because we call him Preston Gale. He's got the Texas accent and stuff, all that from Friday Night Lights. But he's a hard working kid too. He's got to let the game slow down for him. He's got to control himself a little bit. But that will come. He's just a pup.
 
"Tyrone is just a little more matured in his body. His demeanor, that's why he was capable of playing last year. It was night and day from No. 1 (Garrett Marino) and Tyrone. Tyrone is the type of kid that will come in here and I'll be like, "Hey Tyrone, go to the roof and jump off' and he'll be like, 'Ok, I'll be right back.' He'll just do it, no questions asked and walk away. I think he's going to be a very, very good player."
 
BB: Let's talk a little bit about recruiting and then I'll let you go. You guys  have had these late to the party stud d-linemen for several years. Dallas Hayse, Kris Cooper, Garrett Marino and now here we have Jessie Clark coming. Are you confident he can break that trend?
 
Beck: "I do think he can. I mean, Dallas and Cooper were more…they came on the board because we lost a kid. They were the fourth or fifth kid on the board. Their expectation level wasn't as high as Garrett. Garrett was just Garrett. I'll leave it at that.
 
"Jessie was always the top of the board. It just took a lot of time to get to the process of getting him up here. He'd gone to Louisiana and Alabama and then he had some conflicts with school. That's why it was so late getting him here. And then it was the conflict of going home to mom and his kid or does he choose to be closer or does he come here? This was a stretch for him. Where Garrett was, he fell back onto us. We weren't even recruiting him that year. But Jessie, we targeted. So yeah, I think Jessie's demeanor is different than all of those kids. He's very, very introspective. It took him a long time. He wasn't enamored with having to sign on signing day. He was going to make the right decision for him. That shows maturity in itself right there. He doesn't expect to come in there and be the man right away. He wants to come earn it. I think he will trump the trend because he's very talented and he's versatile. He's just got to finish his classes out there. He's great and he keeps in contact with everything we need from him. He just has to get the work done.
 
"And then when he shows up, he's an interesting kid. His mom was very good in the recruiting process. They are duck dynasty now. They've got some stuff…to talk to them, you really have to listen up because they are from the country. And they've got that Cajun southern accent. He's unique. He'll bring a diversity to our program and to our kids in the room but I think he'll be humble enough where he can fit in. He won't have the ego others have had."
 
BB: Joe Naotalo, he seems like he has a different aura to him as well. He seems like a grown man. They have that Polynesian thing going, that reverence about them.
 
Beck: "He's a humble kid too. I like his film. I like the way he looked in person. Just like Jessie. Jessie looked like a dude. That's what we need. We need to create depth and survive it, especially the way our schedule is set up. We are going to have the bye week and then we are going to have to run the gauntlet. That's a lot in the FCS when you have this scholarship count. It's not like FBS where you have the depth created with the scholarships. That's where your walk-on kids become so important."
 
BB: Talk to us about Texas and being down there. The story about B.J. Ojo is a great one. That just must be a powerhouse at Manvel.
 
Beck: "They are monsters. You watch their film too and they have eight or nine different uniform combinations. They are in the same category as Bryce Alley's high school, North Shore in Houston. They are very, very well respected in the state. If you can recruit those two schools…for us to get kids from those two schools is huge. It will start a pipeline.
 
"We almost got a receiver out of Manvel two years ago. It ended up his mom really pushed him to stay at home. The coaches have been good to us. They are excited as anything that we got a kid out of Manvel. With all the kids that go everywhere…every time I go there, I see Coach Butler and he's the recruiting coordinator and he pulls out this sheet of kids. He'll look at me and he'll go down the list and he'll say, 'Uh, LSU, Alabama, Missouri, Texas A&M'. Down the list. They had two quarterbacks go Division I a year ago. One went to Colorado, one went to Missouri. So he'll get to the eighth or ninth kid on the list and he'll be like, 'Here's a guy. Here's a kid who is a Mountain West type kid'. And that was B.J. this year. It's mind-blowing to me the talent they have. He said they are going to be better next year than they even were this year."
 
BB: You look at pictures of B.J. How does a guy who looks like that get overlooked?
 
Beck: "I honestly don't know. He went to three different high schools. He went to Lamar, which is a powerhouse. Then he had to go to Manvel because he transferred to another school which was within the ISD area. By the time he got to Manvel, those Division I schools are already done. We survived some scares, man. Colorado was legitimate on him. UNLV was on him so hard late. It took the coaches to really protect B.J. for us. Hell, if recruiting rules would have allowed it, I would have just lived for B.J. for a week just to keep everyone else away.
 
"I told him, 'Don't come to the football offices. Don't pick up your phone (laughs).' In the end, B.J. is a smart kid. He knew it too. He kept saying the right things. He kept saying, 'I don't want to be somebody's after thought or last option. You guys have been with me since the beginning. I want to be the guy who everyone loves.' And he wanted to get out of Texas. He's a good kid and I'm excited to see what he can do."
 
BB: I know Sidney Holmes moved around a lot. Is that a similar situation with him?
 
Beck: "No because the Beaumont area is a different animal, man. I won't say I've avoided Beaumont but to me, the Beaumont area is very heavily recruited. They call it the Golden Triangle. I thought for our purposes, I could go outside of Houston and have better results. This was a year where they didn't have any kids really. So I said I was going to Beaumont.
 
"Having a connection with the coach there helped. He told me…he was one fo the easiest recruits I've ever had. He was really in to us."
 
BB: I would agree. Of all the kids I talked to, Sidney was loving it.
 
Beck: "We were in cahoots because we were only taking one high school DB. I kept telling the whole staff that he was going to get off the plane and try to commit. I didn't know what to tell them. He's unbelievable. He loves us.
 
"I thanked him at the end. I said, 'I appreciate the way you stuck through this process.' He said, 'Coach, I knew I wasn't going to Baylor or Texas A&M from when I was young but it was my dream to play at Sam Houston State. They came back in this week again and I could tell them with a full heart no thank you because I love Montana State so much.' I was like, man this kid is unbelievable.
 
"He's a good player and he's kind of that tweener, hybrid kid. It was hard on his dad. His dad was very introspective in the sense that it was hard for him to say that an 18-year-old kid could make this decision on his own. Sid was unbelievable and now he's opened Beaumont for us. Now I can go in there. Every time I was in there, Alabama was in there. They have a running back who's a junrio who has every SEC offer but Alabama but he's waiting on Alabama. Last time I was there with Sidney, Oklahoma came in there. Same situation like Manvel. It's a rougher area. It's more blue collar.
 
"It was crazy because I had to go down to Gavelston from there and Beaumont is up here, Manvel is over here, Beaumont is over here and here's the gulf Mexico. So I found a different path where I could take a ferry for 20 minutes across the gulf instead of driving for hours.
 
"I show everyone this because recruiting is such a nomad lifestyle. At one point, Mikey Rider are over with Jesse Sims and we roll through Wisdom. On Monday of the last week, the fourth trip over to the Bitterroot, we are rolling through Wisdom and Divide. Mikey took this picture (pulls out his cell phone and shows a gorgous picture of the Pintler mountains). Mike took this picture on Monday and I was sending it to some friends. And then on Wednesday, I was here on the gulf of Mexico. (Shows a picture of the beach). It's a world away. I sent it to a friend and she just said, 'You have an insane job.'
 
"But that's recruiting. I think Texas is the best situation we've ever done. Having Jody Owens back is going to help. Having familiarity with Dallas, that's throwing fuel on the fire. That's your first recruiting gig is Dallas? We are going to have to blanket him a little bit with him and DaPrato just to get through Year 1. But recruiting is recruiting. I never recruited a day in my life and the first place I went was St. Louis and that was before the days of GPS. You had to MapQuest everything and write it down. You can either do it or you can't. I think we have good enough recruiters here to teach him."
 
BB: Last question for you. This year, you had to prioritize transfers and Texas kind of got pushed to the backburner. How does the priorities shift this next year? Montana will be a big year next year. There will be some in-state dudes. Do you see it shifting back to being able to prioritize Texas a little bit too?
 
Beck: "There's no doubt. We are going back to high school kids and drop downs. That's what we are going to try our best to do. I don't feel the need to do transfers and I feel Texas will be more prioritized but it will have the same fight with California. It shifts back and forth. When I was at Iowa State, it was Texas and Florida. Those were the two states. One year, you'd sign eight kids out of Texas and one out of Florida, the next year the opposite. It's really kind of the need too. You are going to go to Texas to get speed and not lineman really. But more than anything really, Montana is the most important state. It always is the most important state but this year, there's some dudes that we have to go and get after. It should be fun."
 
 
Categories: