Change in defensive philosophy starts with D-line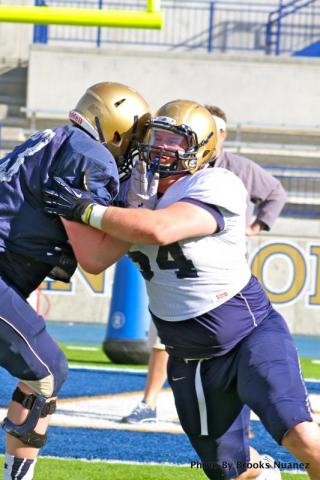 By COLTER NUANEZ
Bobcat Beat
 
Beau Sandland ran a route to the boundary and then up the sideline. The hulking tight end appeared to have a step on the defender so Montana State quarterback Dakota Prukop tried to thread the needle. As the ball floated and looked like it would be a touchdown, Zach Hutchins leapt through the air and got both hands on the spiral.
 
Hutchins, a defensive end, didn't pick off the pass. That will come, he hopes. But the junior is relishing the changes Montana State has made to its defensive scheme, particularly the ability it gives the 6-foot-3, 215-pounder to play on the perimeter and out in space.
 
"The defensive changes help us play more to our strengths," Hutchins said following Tuesday's windy spring session at Bobcat Stadium. "We are using the guys we have, what they are good at and I think we are a lot more dynamic than last year."
 
Hutchins signed with Montana State as a defensive end/outside linebacker hybrid out of Las Vegas powerhouse Bishop Gorman High. He put on close to 30 pounds and saw some time at defensive end opposite Odin Coe last season. Coe left to join the military, leaving a void at  MSU's Bandit spot, but the Bobcats also lost five linebackers. Following last season's 8-5 campaign, the coaches told Hutchins they were moving to linebacker and asked him to cut pounds. He did, dropping back to his high school weight.
 
"They told me after the season that I would be going back to linebacker and then things changed and they told me they were going to play me at Bandit and put me in space and mix it up a little bit," Hutchins said. "It's a flashback to high school."
 
Hutchins' transitional period is a microcosm of the overhaul the Bobcats are currently going through defensively.
 
"I don't want to give anything away," sophomore defensive end Devin Jeffries said. "We have a lot more freedom. We aren't like robots anymore. The change is putting us in a position to make plays."
 
Under the coordination of Jamie Marshall, Montana State's defense has largely been predicated on tight and disciplined run fits, an all-for-one and one-for-all defensive mentality where the unit filters ball carriers back to teammates and doing your one-eleventh is key. The pass coverage was based on strong coverage in the secondary setting up a line of marquee pass rushers, from Dane Fletcher to Caleb Schreibeis to Brad Daly to pin their ears back and get after opposing quarterbacks. But last season, the Bobcats experienced the most brutal defensive campaign they've had in eight seasons with head coach Rob Ash at the helm.
 
In the off-season, Ash promoted Kane Ioane to co-coordinate the defense. During spring, the Bobcats have experimented with a variety of new fronts, alignments and pressures along with a stark change in philosophy.
 
"Football has evolved. We are trying to figure out how to survive 105 plays," ninth-year defensive line coach Bo Beck said in an interview during the first week of spring ball. "It's evolved so fast. It's become a perimeter football game. You look and you really truly watch the three-step drops and the bubble game and the screen game and it's taken the lines out of it. People have watched what we've done here. Their game plans are going to change. They are not going to drop back and let us just tee off on them like we have in the past."
 
Beck said he broke down film of all 13 of MSU's games from 2014. He found opponents dropped back more than 300 times and he estimated 42 times the Bobcats had a realistic chance to sack the quarterback. The Bobcats notched 19 sacks. In 2011 and 2012, the Bobcats led the Big Sky Conference in sacks, notching 39 and 44 respectively.
 
On March 18, the day after MSU opened spring drills, Beck sat in his office, dry-erase marker in his hand, drawing some of the Bobcat defensive staff's change in philosophy on the white board in his office.
 
"The days of defense, judging a defense based upon yards is over because offenses are kicking ass with what they are doing with the perimeter game," Beck said as he draws a football field and colors in the space between the 20s. "To me, your guys, your 1s have to come in here between the 20s and everything that happens in here between the 20s is just a story. It doesn't matter. We have to be better at setting role players in here to survive this. But once it gets back in here (Beck's pen starts coloring in the red-zones) you've got to stop touchdowns. You cannot let them run into the end zone. And we were not good at that last year.
 
"If they end up getting 500 yards — our offense does this — if they end up lighting it up between the 20s, who cares? It's how many field goals did you limit them to and how many turnovers did you create? That's where defensive football is right now. I truly wish it would go back to 21 personnel with full backs and a statue quarterback standing back there so we could turn the corner and rip his ass. But that's not realistic."
 
With Coe gone to the Navy SEALS, senior defensive tackle Taylor Sheridan on the shelf for spring with nerve damage to his shoulders and junior Connor Thomas out with a sprained toe on his left foot, Beck is getting a chance to evaluate a slew of young players. Hutchins, senior defensive tackle Nate Bignell and sophomore Tyrone Fa'anono have game experience. Jeffries, sophomore tackle Monte Folsom, sophomore tackle Matt Brownlow along with redshirt freshmen Zach Wright and Tucker Yates are largely unproven commodities. Each is trying to make waves this spring before three stud junior college transfers arrive on campus in the fall.
 
 
 
"Spring is real big because they have to show what they can do," Beck said. "But what I'm trying to create is roles for guys. In our certain packages, everyone is going to have a role. I think if I can do that and put them in the best spot, like are they a first-down player or a third-down player and we are going to root for each other in those situations. Then everyone does have a role. In between the 20s, those guys will be the storytellers.
 
"Even right here with the depth chart, I'm not going to call them 1s, 2s and 3s anymore. We are owned by colors. Everyone is a group. And certain guys might be in multiple groups. We have a blue group, a gold group and a white group. We are going to play five plays as hard as we can go and then we are going to roll. As long as they can do it. There cannot be a drop off."
 
The Bandit end has been playing standing up and out in space so far this spring. Hutchins and Jeffries have been rotating into the spot and showing flashes of play-making ability on the outside.
 
"I'm really comfortable in that spot," said Jeffries, the 2012 Class AA Defensive MVP at Kalispell Glacier. "It's actually nice not having your head down and being able to see everything."
 
On the inside, Wrigth has shown that his added size (he's up to 250 pounds) comes with added strength. His high motor and aggressive style has been a highlight of spring drills thus far as the San Antonio native has played tackle and end so far.
 
"Zach Wright flies around the field," Hutchins said. "His hustle is tremendous."
 
Bignell, Sheridan and Thomas will play come fall. So will Fa'anono. Jeffries and Hutchins are battling at end like Yates, Folsom and Wright are at tackle, trying to gain positioning on the depth chart before ends Jessie Clark and Shiloh LaBoy and tackle Joe Naotola arrive on campus in the fall.
 
"That is motivation because there are going to be contending to play right away, but spring ball is our advantage," Jeffries said. "We have to get ahead."
 
Part of the reason MSU prioritized transfers in its front seven is to build depth. Part of the reason is the results of 2014 were not good enough. The Bobcats gave up 487 yards per game, including 193 rushing. MSU allowed 33.5 points per outing and notched just 19 sacks, their lowest total of the decade.
 
"That is so much motivation," said Bignell, who had two sacks and three tackles for loss in spot duty last season. "Looking through the whole season, the defense needed to pick up. We had a great offense but we let us down. That has to change. We are coming."
 
Since Ash and his staff arrived in Bozeman, Beck has refortified a defensive line tradition built upon hallowed names like Gary Gustafson, Bill Kollar, Mark Fellows, Jon Montoya and Adam Cordeiro.  Beck helped Fletcher, Dan Ogden, Zach Minter, Schreibeis and Daly earn All-America honors as the latter two claimed the first two Buck Buchanan Awards in school history. But last season, the team experienced a dip. Beck vows to not let it happen again.
 
"When I saw the guys on the first day of spring, I told them that the things that I let happen last year will never happen again," Beck said. "I take all the blame for it. But I said we are going to go back to who we are. And they are ready for that. Maybe I didn't push them hard enough last year. There were times that, maybe when they didn't run to the ball, I let that slide. That's not going to happen this year. And they know it too. I said, 'You aren't going to be around.'
 
"We are going to go back to who we are. They are ready for it."
 
Colter Nuanez can be reached at BobcatBeat56@gmail.com and followed on Twitter @Bobcat_Beat. Photo by Brooks Nuanez, who can be reached at Brooks.nuanez@gmail.com.
 
Categories: