THE EXIT INTERVIEWS: Head coach Rob Ash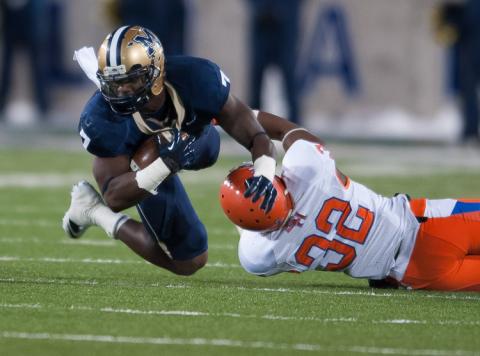 By COLTER NUANEZ
Bobcat Beat
 
The Montana State Bobcats sustained their status among the top programs in the FCS this season. In a campaign filled with roller coaster-like highs and lows, MSU saw its season end for a second straight season in the same way.
 
Montana State fell in the FCS quarterfinals for a second straight year to Sam Houston State. This year's 34-16 loss to SHSU in Bozeman ended an 11-2 season that saw records fall and streaks extended. But for a team that preached taking the next step all season long, the loss left many wondering if the task was accomplished.
 
Bobcat Beat caught up with head coach Rob Ash on Wednesday morning to recollection the 2012 season and all the joys and heartaches that came with it. This is the first installment of a series of question and answer pieces interviewing the entire Montana State football coaching staff.
 
Bobcat Beat: After you've had a few days for the playoff loss to set in, what our your thoughts? Was Sam Houston a bad matchup for you?
 
Rob Ash: "They are a pretty good team. Honestly, I think they are one of the top three teams in the country. That was a tough draw in the quarters for a third-seeded team to play a team that's probably one of the best teams in the country. That was the tougher quarterfinal match, although you are going to be playing tough teams no matter what at that point.
 
"Looking at the film, to me, it wasn't as wide a margin as it looked like at the time. There were some key plays. For example, on (junior quarterback) DeNarius' (McGhee) interception (in the first quarter), (junior wide receiver) Tanner Bleskin was way behind the Sam Houston defense, behind them by 20 yards. They did come out of coverage. That could have been a big play, but there was a guy in DeNarius' face right there. By the time he scrambled around, and tried to gun it in there, it was a bad decision, but if he could have thrown it earlier downfield, that could have been a long touchdown. They had a fumble that bounced right back up to them and the next play is a touchdown (a 45-yard Chance Nelson reception). The next play is a touchdown. We have a technique error in our secondary on a third down that should have been an easy stop and we could have held them to a field goal, but instead they get a first down and the next play was (Richard) Sincere's (12-yard second quarter touchdown).
 
"I found five or six plays in that game that were just kind of unfortunate plays where we weren't terribly outmanned, but if we could have gotten some breaks in those situations, we could have made the game closer. When the game is closer, there's more pressure and more tension and the crowd is in the game. I could see a situation where we could have been right in that thing right down to the wire. I fell like we were much more competitive than a year ago. I thought we stopped the run better (MSU gave up 204 yards rushing in 2012 compared to 428 yards in 2011). They threw the ball better (SHSU quarterback Brian Bell threw for 254 yards and three touchdowns) which is a credit to them improving in the offseason. I think we can defend the pass better than we did in that game.
 
BB: You almost look at their schedule and think if they don't play two FBS games (at Baylor, at Texas A&M), then they come into the playoffs with 10 wins like you guys and they get a seed. They were a deceiving team in their playoff draw.
 
ASH: "Exactly, that's part of my point. The other thing is, Colter, is that they lost to Central Arkansas and they had that game by 10 points in the fourth quarter, but Central Arkansas got the ball back, threw two deeps balls and beat them And that's the only FCS game they've lost in two years except the (2011) national championship game. They are a tremendous team and I think they are probably one of the top four or five teams in the country. It was a tough, tough matchup for us."
 
Montana State shared a third straight Big Sky Conference championship, marking the first time in school history the Bobcats have won three straight league crowns. Since the beginning of 2010, MSU has won 21 out of 24 league contests and 30 games overall. The 30 wins is the most in a three-year span in school history.
 
McGhee and senior Jody Owens helped MSU sweep the league postseason awards. McGhee was the league's Offensive Most Outstanding Player for the second time in three seasons. Owens won the league's Defensive Most Outstanding Player honors. Senior defensive end Caleb Schreibeis is a finalist for the Buck Buchanan Award, given to the best defensive player in the FCS.
 
MSU spent the entire season ranked in the top five of the polls. But of MSU's 30 wins since 2010, only two have come in the playoffs.
 
BB: What does your program need to do to break into that top four? Georgia Southern is so strong right now, as is Sam Houston and North Dakota State. What is it going to take for you to break into that?
 
ASH: "We have some work to do in the trenches. That's probably the biggest area. I like Alex Wilcox, our strength coach and he's only been here a year. That's paid some huge divedends with our big guys. Our offensive linemen will be bigger and stronger next year than we've ever been here. Defensively, we lose some guys but we have some guys coming up who will be bigger and stronger. I think we are closing the gap in terms of our skill, but I think in the trenches, that's probably where still need to make some strides.
 
The Bobcats had to replace six players who started on the offensive line at some point in 2011. MSU brought in junior college transfers Christian Williams (6-foot-3, 298 pounds) and Charles Lee (6-3, 315), but both ended up redshirting due to injury.
 
MSU's starting line up for the first four weeks of the season included redshirt freshmen John Weidenaar at left tackle and Matthew Devereux at left guard. Sophomore Quinn Catalano became a full-time starter for the first time at right guard. Steven Foster, an all-league tight end in 2011, moved to right tackle.
 
By the fifth week of the season, Devereux was out with a concussion and another redshirt freshman, Kyle Godecke, moved into the starting line up. Redshirt freshman Alex Eekhoff also saw time at tackle. Senior center Shaun Sampson was the only player who was a returning starter up front defensively.
 
BB: When you take a step back and look at this thing, everyone thought Christian Williams and Charles Lee were going to be contributors. The four transfers (Lee, Williams, cornerback Eryon Barnett from Texas, wide receiver Kurt Davis from UNLV) were expected to all play. When you look at this thing, what did you think of that group up front's ability to handle all of that adversity  with an unproven offensive line?
 
ASH: "I think winning 11 games with the offensive line that we had was a great accomplishment. I'm not knocking those guys because they played great. We had two redshirt freshmen, well actually three when you count Godecke, and you have a new starter in Catalano and you have a tight end playing tackle and he doesn't weigh very much (268) and you have Sampson playing center and he's pretty undersized (6-0, 267). That group really overachieved and played great. I thought they had just a fabulous year.
 
"We had an outstanding defense and that helped us. But winning 11 games and having that offensive line was a great accomplishment. I don't want that to sound negative toward the offensive line because those guys played very well all season."
 
McGhee continued to move up the ranks of the MSU record book and his legend continued to grow. He broke Kelly Bradley's record for touchdown passes in a career (60) and now has 71 scoring tosses. His 3,154 passing yards were the fourth-most in school history and his 24 touchdowns were the second-most ever. He now has 9,116 passing yards in his career, the second-most ever by a Bobcat behind Travis Lulay's 10,746. McGhee earned an All-America nod from the American Football Coaches Association.
 
BB: Talk to me about DeNarius. You look at the stats and all that, but the game goes so far beyond all of that. You saw that with the AFCA All-America nod for him, you saw how much the coaches realized he can change a game and carry a team even if he isn't throwing for 5,000 yards or 35 touchdowns. What did you think of his ability to mask some of your deficiencies on offense?
 
ASH: "I think that was a huge factor in this season. I think everyone recognized that.. The fact that he was the player of the year in the conference and that he got a first-team All-America nod from the coaches, both those things speak volumes to what coaches see in DeNarius McGhee.
 
"He makes everyone else better. When things break down, the first half of the season when that offensive line was just getting their feet wet, he had to turn third-and-longs into first downs miraculously and he did that repeatedly. When we were struggling at the end of games, he carried us. He protected the ball better and better as the season went on and it was a big factor in us being able to close the season so strong like we did.  I thought he had a magnificent season.
 
"You know me, I've never been a big stats guy. I've always been about winning and that's what DeNarius does. He will never lead the league in passing or total offense or any of that stuff because it's more about moving the chains. Sometimes you have to throw the ball away or sometimes you throw the ball less as a football team to do more as an offense. Sometimes, you have to take the air out of the ball to protect the lead. Sometimes, that doesn't add up to stats, but it does add up to wins."
 
BB: After the Sam Houston loss, DeNarius was really torn up. He talked all about the ways he needs to improve his game. How does he take the next step and not let the pressure he puts on himself become too much pressure?
 
ASH: "I don't think it will be too much pressure. I don't think he feels pressure, especially when he's playing. He might feel it in his preparation, which is a good thing. We need to be a better drop back passing team, protection, all the way to route concepts and he needs to be comfortable in the pocket that he will be protected and will have time to throw and we need to be able to be a big-play passing team as opposed to being a playaction and quick-game passing team. That's going to be the focus in the offseason."
 
Montana State graduates 17 seniors, including all-league defensive players like Owens, Schreibeis, safety Joel Fuller, defensive tackle Zach Minter and cornerback Darius Jones. Owens, Fuller, Minter and Jones all saw significant playing time the past three seasons.
 
Offensively, wide receiver Everett Gilbert graduated after starting for four years. Sampson was a three-year starter and Foster was a two-year starter.
 
BB: Last year, it seemed like we were talking about the opposite things. We were talking about how you are going to have to replace the offensive line and (wide receiver) Elvis Akpla, but that you had so much back on defense. This season, it's the opposite. You lose all these great seniors on defense. How do you replace guys like Zach Minter, Jody Owens, Darius Jones, Joel Fuller, those kind of players?
 
ASH: I think that's exactly right on. Our offense has to bear the burden in this coming season to put points on the board. The stat that I had (Assistant athletic director for media relations) Bill (Lamberty) look up was what our record was when we score 30 or more points in a game since I've been at Montana State, we are 32-0. Our offense has to score, we have to stay at that level. We've had a defense that holds people in the 20s, but we aren't going to win a lot of games 16-10, 16-7. We are going to have to score some points.
 
"We are going to miss Jody a lot, but (sophomore) Alex Singleton is a great player. Zach Minter is going to be extremely difficult because he was such a presence. The guy we might miss the most is Caleb Schreibeis. He was absolutely one of the best defensive players in the country this season.
 
"His numbers (12.5 sacks, eight forced fumbles) prove it. He is a guy that we will really miss out there. Guys like (junior defensive ends) Brad Daly and Preston Gale, those guys have a ways to go. They have the ability to do it, but they are going to have to go some because Caleb really made it happen this year.
 
BB: When you look at your program, this might be a unique time for MSU. This was the first class who came in here and bought in and got you guys to this point, was the winniest class in school history. Now it's like you have so much depth in your program, it's unlikely you will have guys like Darius starting at cornerback for four seasons, guys like Jody starting for four seasons. What do you think of the depth of the program at this point?
 
ASH: You're absolutely right and that's called building a program. That's how you do it. That's what we are doing here and that's what we will continue to do. You have a guy like Alex Singleton, great player and he's waiting till his junior year to play. (Junior middle linebacker) Mike Foster is another great example. A junior before he gets to play.
 
"Those guys play on special teams, which makes our special team better. We have guys who could be starting players who can't get into the lineup. Hopefully, we have guys coming up in the ranks all the time. That particularly needs to start showing up on the offensive line, where guys have to be here for at least two years, they have to be a redshirt sophomore and have developed for a few years and they are finally good enough to get in the lineup on the offensive line, the defensive line. That has to come from guys having to work for a few years to get on the field. Hopefully, our continued mission is to make sure we have guys here who are back up and ready to go."
 
 BB: What's the biggest concern for this offseason?
 
ASH: I'll go back to the guys in the trenches, both sides of the ball. We have to have a tremendous offseason in the weight room. I think our guys on the perimeter, linebacker, running back, wide receiver, quarterback, DB, I think we will be fine. We have to get big and strong up front.
 
Montana State surged to a 7-0 start and a No. 2 national ranking. No. 6 Eastern Washington came into Bobcat Stadium and upset the apple cart.
 
EWU capitalized on MSU turnovers and special teams miscues to leave town with a 27-24 victory. The Eagles blocked a punt and converted the recovery for a touchdown, then scored on an interception on MSU's next possession.
 
BB: What was the biggest surprise this season?
 
ASH: "Boy…I thought we were going to be pretty good, honestly.
 
"Really looking back on it, the thing that really sticks in my craw was how close we came to having an undefeated season. You really never go into a year thinking you're going to be undefeated. Looking back, that Eastern game, we dominated the thing on both sides of the ball and had the lead. We had a field goal to tie it. It was really close to being a win for us. I don't know if it's a surprise, but it was kind of a surprise that we were that close to having an undefeated regular season. It was frustrating.
 
"Someone mentioned this the other day. The only two teams we lost two (SHSU, EWU) are still playing. There's only four teams left, so I guess it wasn't that bad of a loss. You hate to see them still playing thinking it could be you. We would probably be the first seed in the tournament and have a different draw and all that. But you can't say that because there was a couple of close ones that we won that you can't take for granted."
 
Four captains who played integral roles for MSU all graduated. Sampson started the last 34 games of his college career. The Helena product was a first-team All-Big Sky selection this fall.
 
Running back Tray Robinson transitioned from the 2011 Big Sky Newcomer of the Year who rushed for 641 yards to more of a versatile tailback/fullback hybrid. Robinson was third on the team with 34 catches for 256 yards and four touchdowns. The former Nebraska Cornhusker carried the ball 54 times for 195 yards and four more touchdowns. But it was as a blocker that the 6-foot-1, 228-pounder from Euless, Texas contributed most, both run blocking as junior Cody Kirk and senior Orenzo Davis combined to rush for 1,441 yards and 20 touchdowns.
 
Schreibeis was one of the most disruptive forces in America. His eight forced fumbles led the nation and his 12.5 sacks led an MSU pass rush that totaled 39 sacks, the second-most in the nation.
 
Owens won the league MVP award and received All-America accolades from the AFCA, the Associated Press and the Sports Network. The 6-foot, 223-pounder from Mesquite, Texas totaled 96 tackles, 14.5 for loss, and four sacks. He also forced five fumbles.
 
BB: Who needs to step up from a leadership perspective to replace the great leaders you lose?
 
ASH: I think the leaders of next year's team will be Cody Kirk, DeNarius, Tanner Bleskin on offense. I think Quinn Catalano will be kind of the fiery leader on the offensive line and he will do a good job with those guys there.
 
"On defense, I think (middle linebacker) Na'a (Moeakiola) has to step up. I had a good meeting with (safety) Steven Bethley to step up. Brad Daly. Those guys don't have the vocal leadership characteristics, but also those guys sat behind some pretty good leaders. It's funny how leadership comes out when there's a vacuum. I think those will be the guys who step up."
 
BB: It's also always interesting to see guys who gain more authority through their roles as players and how that changes their leadership qualities.
 
ASH: "Guys like Alex Singleton, Mike Foster, they will be great. (Defensive end) Preston Gale is another guy who is a key to our season. He's a very fast, strong, physically talented guy but he just hasn't played much full-time. He needs to be a guy who goes out there and plays full time and has a great year."
 
BB: I know you can't talk about specific guys, but what's the plan for recruiting? How many guys are you looking to bring in?
 
ASH: "What we do, some of those 17 scholarships will go to guys who are in the program now who has earned money. We don't have 17 scholarships to give out to recruits. It will be more like 13 or 14. It won't be a huge numbered class because I have to reward the guys internally first.
 
"We will bring in between 15 and 20, that will be the number we announce in February. There will be some partials and stuff. Across the board, we aren't needing numbers in any place, just quality."
 
BB: I assume more assistants are out on the road recruiting.
 
ASH: "There's seven of them on the road and we tag team a couple of those spots. (Offensive line coach Jason) McEndoo went out and came back, then (tight ends coach Erik) Link went out and came back then (wide receiver Brian) Von Bergon goes out and comes back. You have really all the coaches and the two coordinators will be on the road these next few weeks in one way or another."
 
Colter Nuanez can be reached at BobcatBeat56@gmail.com or followed on Twitter @Bobcat_Beat. Photo courtesy of Montana State athletics. 
Categories: