Defensive Ends
Selections
East: Luke Poetzl - Billings Senior
East: Chandler Allen - Fairfield
East: Brett Delp - Circle
West: Connor Rauckhorst - Missoula Sentinel
West: Eric James - Dillon
West: McKenzie Holt - Thompson Falls
West: Ty Morgan - Ennis
Alternates
East: Alex Cunningham - CMR
East: Cade Wessel - Bozeman
East: Kyler Rogers - Belgrade
West: Jarrett Kessler - Kalispell Glacier
West: Ethan Jones - Missoula Sentinel
West: Caelen Cummings - Helena Capital
West: Brian LaFond - Butte
SELECTIONS:
Luke Poetzl
is a 6'5", 225 talent from Billings Senior. The OT/DE was one of the best two-way lineman over the past two seasons at the Class AA level, earning 1st-Team AA All-State at OT in 2015 and 2016 along with earning 1st-Team at DE in 2016. He was the starting left tackle in the Badlands Bowl for Montana. As an offensive tackle, Luke rarely got beat and the only player that maybe got him a few times was Jaxen Hashley (Luke also beat Jaxen his fair share). He was the best offensive tackle in the state last year and could have easily developed into an excellent one in college. On defense, Luke uses his long arms and strength to his advantage, standing up offensive lineman and owning the line of scrimmage. He was also athletic enough to dip his shoulder and get around the edge in pass rushing situations. Overall, I was always impressed with Luke's tape his junior and senior seasons and he was the only recruit in my "Top 20 Montana Recruits of 2017" list that didn't sign with a college to play football. He was definitely good enough to play at either FCS in-state school. Instead, you can read about Luke's future plans in this excellent Billings Gazette article by Kyle Hansen:
http://billingsgazette.com/sports/high- ... 43858.html
.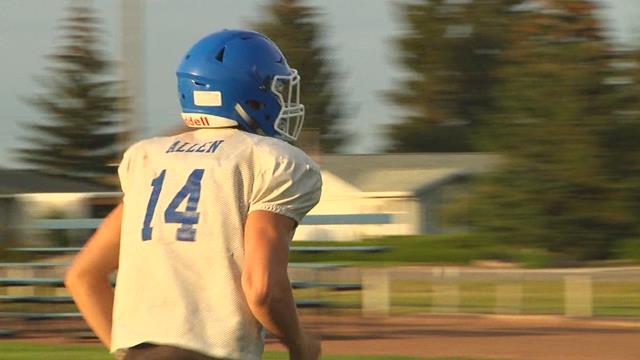 Chandler Allen
is a 6'2", 200 lbs. athlete from Farfield, MT. I call him an athlete because that's what he is as a football player. Chandler played everywhere on offense and defense for Fairfield for three years. The past two years, Chandler was an All-State performer at TE/WR and DE. Allen was an integral piece of Fairfield's 2015 State B Championship squad but his best effort was saved for his last Eagle game in my opinion. Fairfield lost in the semifinals to Missoula Loyola, 24-21, but Chandler put up a monster performance on offense finishing with 9 catches for 227 yards and two touchdowns. He played WR for the Montana squad in the Badlands Bowl but will line up at DE for the Shrine Game. Chandler got interest from both the Cats and Griz as a PWO but eventually accepted a scholarship to play for Montana Tech.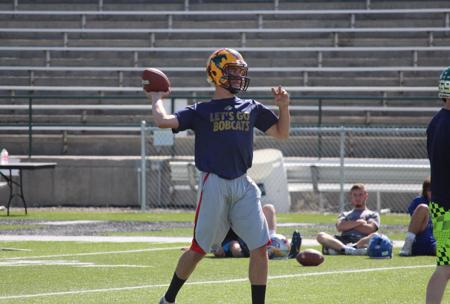 Brett Delp
is a Circle, MT product who started at QB and DE during his high school career. The 6'3", 195 lb. 8-man standout will line up at DE for the East squad., giving the East three DE's with excellent length and athleticism. Brett was the star QB for the Wildcats, leading his team to the quarterfinals where they lost to Belt, 33-28. Belt was a heavy favorite in the game but Circle almost pulled off the upset thanks in part to Delp's play. Brett also excelled in basketball and track in high school. I'm not sure about Brett's college plans but I think he could turn into a decent TE in college as he has a lot of room to fill out. I've heard he may walk-on to MSU or just be going there for school.
Connor Rauckhorst
is a 6'0", 210 lb. defensive end from Missoula Sentinel. He earned 2nd-Team AA All-State honors at defensive end and special teamer. At defensive end, Connor was a disruptive force at the line of scrimmage and in the backfield. He had well over 10 tackles for a loss during his senior year and was excellent against the run. As a pass-rusher, he displayed a swim move that was hard to stop along with a speed rush around the edge, using his hands to get the tackles off his body. Connor is a good football player but I do not know his college plans. If anyone knows, let me know as I would like to see how he develops.
Eric James
is a 6'4", 215 lb. OL/DE from Dillon, MT. He earned Class A All-State honors at DE his senior season and 2nd-Team Southwestern A All-Conference honors at DE his junior season. Eric doesn't have the best athleticism but he makes up for it with great effort and strength. He is your standard strong-side defensive end that can hold his own at the line of scrimmage and stop the run. Eric will travel north to Butte for college as he signed with Montana Tech on Signing Day 2017 as a DL.
McKenzie Holt
is one of the athletic freaks of the 2017 signing class out of Montana. The 6'4", 235 lb. athlete played RB, WR, TE, DE, and MLB in high school for Thompson Falls. He earned All-State honors at RB his senior season and put up monster numbers in 8 games: 116 carries for 1,316 yards and 15 rushing touchdowns. On defense, he was a tackling machine averaging about 12-15 tackles per game since his junior season. McKenzie also excelled in track and field during his high school career, placing second in discus with a throw of 165'9" and 6th in shot put with a throw of 46'.5" at the State B meet. He also ran a sub 12 second 100m dash in high school which will be plenty fast for a kid his size. Bob Stitt liked what he saw from McKenzie at a Grizzly 2016 summer camp and offered a partial scholarship. McKenzie accepted and signed with the Griz on Signing Day 2017 under the position of "ATH". In my opinion, McKenzie is a future DE where he can use his straight-line speed, long arms, and strength all at the line of scrimmage.
Ty Morgan
(making the tackle) is another athletic freak coming from Class C 8-man Ennis. The 6'5", 230 lb. lineman earned All-State honors his junior and senior seasons on the offensive and defensive lines for the Ennis Mustangs as well as being selected for the Badlands Bowl & Shrine Game. If you got to YouTube and watch the "Ennis MT Football Highlight 2016" video, you will see #77 flattening opposing players left and right and running all over the field as a blocker on offense. Ty also was the starting center on the basketball team and was a multiple state champion thrower for the track & field team. His senior year, he won the shot put with a throw of 55'9.25", won the discus with a throw of 154'9", and was the anchor on the 1st place 400M Relay. Ty's 1st place shot put throw was the 4th best throw in the state in 2017 at any level. Montana State saw a future defensive lineman at the FCS level and offered Ty a preferred walk-on spot on the team in 2017. Ty accepted and signed with MSU on Signing Day 2017.
ALTERNATES:
Alex Cunningham
(#35) comes from Great Falls, MT where he played for the CMR Rustlers. He earned Honorable Mention AA All-State honors at DE but was used as more of a hybrid DE/OLB. Alex played primarily linebacker for his first three years and moved to DE mostly due to injuries and overall roster depth. I don't think Alex will be playing college football but he had the talent, especially in the frontier conference. He's a quick twitch athlete could've translated to the college ranks at OLB.
Cade Wessel
is a Bozeman, MT product who played TE, DE, and OLB during his high school career. The 6'4", 200 lb. athlete earned 1st-Team AA All-State at DE in 2016, Honorable Mention AA All-State at TE in 2016, and 2nd-Team AA All-State at OLB in 2015. He was a key starter for the 2015 Bozeman Hawks championship squad at OLB and TE. Cade also had a lot of success at throwing the javelin in high school, winning the Class AA title in 2016 with a throw of 185'5" and the 2015 title with a throw of 191'5". Cade received an offer of appointment from the U.S. Naval Academy and accepted it so congratulations to Mr. Wessel on his future service in the armed forces.
Kyler Rogers
is a 6'3", 240 lb. lineman from Belgrade, MT. He earned Class A All-State honors as a defensive tackle his senior season. According to MaxPreps, he totaled 46 tackles, 4.5 TFLs, and 2 sacks his senior season for the Panthers where they fell to Columbia Falls in the State A Semifinals. He was also the teams kickoff specialist with a long of 60 yards. Kyler also was a standout offensive lineman earning 1st-Team All-Conference honors in 2016.
Jarrett Kessler
was a two-way starter on the offensive/defensive line for Kalispell Glacier in 2016. He earned Honorable Mention AA All-State honors at offensive guard and defensive end his senior season. Jarrett (6'4", 230 lbs.) was an integral piece of the Wolfpack's potent run game, blocking for RB Drew Turner and QB Tadan Gilman in 2016. Defensively, he teamed up with Jaxen Hashley to make one of the better pass-rushing duos in AA.
Ethan Jones
is another Missoula Sentinel DE product. The 6'1", 200 lb. TE/DE was solid two-way player for the Spartans in 2016, earning Honorable Mention AA All-State honors at TE and DE. On offense, Ethan hauled in 14 receptions for 201 yards and 3 touchdowns. On defense, Ethan wreaked havoc as a pass-rushing specialist opposite of West selection Connor Rauckhorst. Montana Tech saw a future for Ethan somewhere on the Oredigger roster and offered Jones as an ATH. Ethan ended up signing with Tech on Signing Day 2017.
Caelen Cummings
is the most undersized defensive end out of any defensive lineman on the roster (selection or alternate). However, the 5'10", 185 lb. product from Helena Capital played more of a hybrid role for the Bruins and turned in a 1st-Team AA All-State performance at defensive end. He racked up 57 solo tackles, 10 TFLs, and 10 sacks his senior season. Caelen's story is interesting as he didn't play his junior season and almost didn't play his senior season before being convinced by his teammates to strap on the pads one last time.
Brian LaFond
(#23) is a 6'4", 190 lb. pass-rusher from Butte, MT. He earned 2nd-Team AA All-State honors at DE in 2016, leading AA with 11.5 sacks (unofficially because MaxPreps doesn't have updated info for every AA team). Regardless, he really improved his pass-rushing skills his senior season. His length and burst off the line were a hard combo to stop for opposing offensive tackles as he also tallied 32 solo tackles and 12 tackles for a loss. Brian had a great senior year that earned him looks from every NAIA school in the state. He accepted an offer from Chuck Morrell of Montana Tech and will join the Oredigger program this fall as a DE.
ADVANTAGE:
East
This one was tough because both side's defensive ends have good length and talent. In my opinion, the East has the best defensive end playing in this game in Luke Poetzl while the West has two athletic freaks in McKenzie Holt and Ty Morgan. The East's Chandler Allen and Brett Delp are a little undersized in weight terms but have good athleticism. Connor Rauckhorst and Eric James are relentless effort guys who are great against the run. But I think the East has good run-stuffers listed at DT so they wash out Connor and Eric. In this game, I think it comes down to the best players on each side so I say the combo of Poetzl and Allen will be a better duo than Holt and Morgan. Holt and Morgan have more athleticism and size but Poetzl and Allen have made plays in big games against some of the best competition. Allen and Holt are both Class B but Allen has played deep in the Class B playoffs nearly every season and made plays against some great Class B teams. Also, Holt is raw as a DE since he mostly played LB in high school. Would it surprise me if Holt and Morgan tear it up in this game? Absolutely not. But I'm going with the proven performers over the more talented prospects.